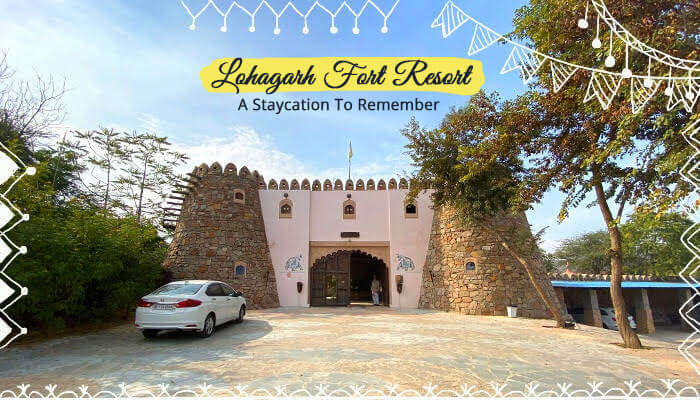 Ever since I turned twelve, I knew that the one thing that united my family was our common love for road trips and resort getaways. From hill stations to all the resorts nearby, we have driven to all kinds of places together over the last 13 years. But little did I know that as old as I'll grow, the frequent family trips will become rarer and the places to be via a road trip will become fewer. So, after our last quick (read hectic) road trip to Lansdowne ended and a properly planned winter trip got canceled, I decided to plan a perfect resort stay at Lohagarh Fort Resort. A stay of 2 days at Lohagarh Fort Resort, a gorgeous property near Jaipur seemed like a perfect escape to soak in bliss and spend quality time together. Third time's surely a charm and discovering this luxurious resort proved that well for us!
Here's a short glimpse of our journey and stay at an offbeat yet most serene location (i.e. Kukas, some 20 km away from the Pink City). Take a read, maybe?!
Details Of Our 2 Days At Lohagarh Fort Resort
Duration of our stay: 1 night and 2 days (6th and 7th January, 2020)
No. of people: 3 adults
Room type: Sujan Mahal Deluxe Room
Room's Price: INR 14000/- per room per night. double occupancy basis.
Inclusions: Accommodation, 4 complimentary water bottles in the room along with other amenities, breakfast, high tea in the evening, and all the fun activities at the resort such as cycling, outdoor sports & games, and camel safari (seasonal), and access to the library & swimming pool
Exclusions: Lunch and dinner, and spa
Cost For Lunch & Dinner: INR 1,200 (including taxes) for a delicious lunch/dinner buffet spread.  Most Popular Dishes To Order: While you're at Lohagarh Fort Resort, please make sure to indulge in their scrumptious Laal Maans (if you're a non-vegetarian), Paneer Lababdar and Kadhai Paneer (if you're a vegetarian), along with Penne Arrabiata Pasta and Dal Baati Churma (if you wish to indulge in Italian or Rajasthani). Besides, the resort's desserts are a must-have too, especially the delicious Gajar Ka Halwa which is made from their local cow's milk.
Weather In Jaipur In January
Pleasant is the perfect word to describe the weather during our trip in the first week of January. The temperature stayed around 18 to 19 degrees Celsius with the sun shining until 4 in the evening. And since Kukas is located in close proximity to Jaipur, the weather was exactly the same as in the city. So, carrying all those extra layers and mufflers was of no use then. But on the brighter side, touring the property and enjoying the main attractions in Lohagarh Fort became all the more convenient, comfortable, and enjoyable.
Jaipur In March: A Handy Guide For Travelers To Enjoy The Rajputana Vibe At This Royal City!
How I Came Across This Property?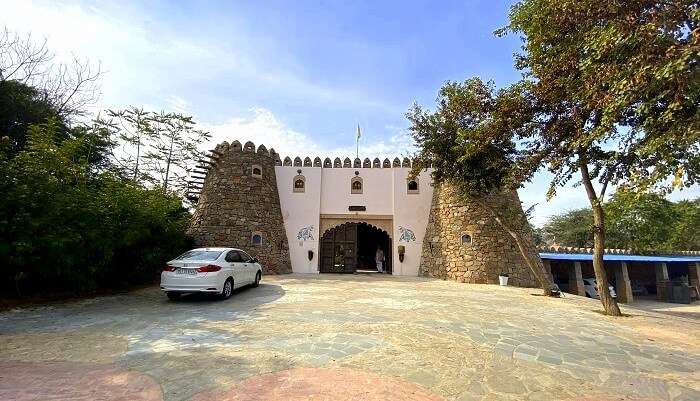 Since I was so keen on planning a fun getaway with my family, I was looking for the best options near the city where we could spend ample time together without having to spend too much time traveling. And so I knew that this one had to be a resort stay because that's the only thing that could assure lots of pampering for each one of us.
However, random browsing through the list of best luxury resorts near Delhi on Google led me to umpteen options where we had either already been before or couldn't go due to tight office schedules. Soaked in disappointment when I came to office the next day, that's when a colleague of mine told me about the Lohagarh Fort Resort in Jaipur. They had already been on an adventure-filled group trip to Lohagarh's Corbett resort which is why they assured that the Jaipur one was all the more perfect for a relaxing stay with family. And so that's how we started our 2020, enjoying amid nature's lap whilst soaking in luxury at the majestic Lohagarh Fort in January!
What Is Unique About Lohagarh Fort Resort?
Well, ask me what is not! Right from the location of the resort to the way it is designed, everything makes it a one-of-its-kind place for an ultimate staycation. It is adorned with nature's beauty in abundance which means that we were walking amidst colorful flowers under the shadow of 100 years old trees almost all the time. The moment we reached the resort and entered it, not only I but even my parents were in awe since every nook and corner there oozes luxury and serenity. Besides, what's more intriguing is that some legends say that a couple of Banyan trees near the open hall are not just 100 to 150 years old but their soil has unmatchable positive vibes that can make any distressed couple's life who spend a night at the resort joyful again.
Furthermore, accommodation at Lohagarh Resort is quite appealing as there are around 80 extraordinarily designed rooms. The property is spread across 90 and features lush greenery. However what really caught my attention was not just the ultra-luxurious interiors of these rooms, but another interesting fact. The Luxury Suite With Indoor Pool room has a bed made up of stone that grows on its own every year. So, you can totally imagine the size of the bed by 2050!
Furthermore, the property features 4 outdoor venues including Maharani Krishna Aangan, Maharaja Bhag, Maharani Bagh, Aravali View Garden, and Jal Mandap for travellers' fun and relaxation. Each one has its own uniqueness that can only be experienced when you visit here. The resort also allows travellers to host their functions, personal events, and other celebrations at their 3 banquets, namely Raj Darbar Banquet Hall, Sheesh Mahal, and Surajmal Banquet.
And as far as the hospitality is concerned, we were overwhelmed. The staff is super polite and helpful. I remember that on the morning of our trip, I fell extremely sick and a BRAT diet was all I could follow for some time. So, besides the toothsome dishes served on the menu, the staff members came to my rescue and went the extra mile to provide me with everything that could make me feel better.
9 Resorts Near Jaipur Where You Can Live Like A Royalty Without Pinching Your Pocket!
Our Room At Lohagarh Fort Resort, Jaipur
Given that this 4-star property has around 80 rooms as of now suiting all kinds of budget and needs, we went ahead and chose the spacious Deluxe Room for our stay of 2 days at Lohagarh Fort Resort. A rustic entrance opened to an ultra-spacious room which was well equipped with a comfortable bed, a sofa with a table, a mini fridge, a kettle with tea and coffee condiments, mineral water bottles, a television, and a spacious bathroom with a huge window view of the classic balcony where a piping hot tea could be enjoyed at any time of the day.
I was so flattered by this room that I couldn't stop myself from requesting the manager at the resort to allow me to see the other rooms. In no time, he arranged for a quick tour of the rooms that were unoccupied and I made sure to capture their beauty as well.
The most striking of all was the ultimate luxurious Dream Villa which is a spacious accommodation suitable for couples, families who wish to enjoy some privacy, and even for a group of friends who are planning a bachelor party. The room is gigantically huge with glass walls, 7 spacious rooms, big private pool, one room with jacuzzi, one with mini pool, and an area for indulging in Yoga. It costs INR 1,50,000 but just a look at it will convince you that a stay there will be worth every dime.
(P.S. Click on the right arrow on the pictures above to see the kind of accommodation that awaits at Lohagarh Resort Jaipur.)
Lunching And Dining At The Resort
Upon our arrival, we were welcomed with an apple drink post which we soon freshened up and headed to the Banyan Restaurant & Bar for lunch. We ordered laal maans and kadhai paneer along with chilli paratha and tawa roti. Needless to say, the food was as delicious as its colour made it look. On special request, the staff agreed to serve us smaller portions than usual because we didn't have much appetite. Besides Banyan, Shikar Gha is another restaurant that serves a wide range of scrumptious delicacies. Notably, outside food is not allowed at the property and we really didn't need to order as both the restaurants treated our tastebuds like never before.
Besides this, we also tried gajar ka halwa made from cow's milk at the resort itself, gulab jamun, and ras malai. Each of the desserts and dishes proved that there's nothing that can beat the taste of food made with ingredients that come straight from the farm.
For dinner, we just had paneer tikka and fish along with lemon coriander soup which were so filling and toothsome that we had to skip the main course. Whereas, next morning started with a breakfast that included aloo parathas, poha, and bread toast.
While the food was undoubtedly super delicious, one thing that I really like about Lohagarh Fort Resort is that unlike many resorts that are pretty uptight when it comes to lunching and dining anywhere at the property, the staff here was so accommodating that they would happily serve you anywhere you wish to eat. So, we had our breakfast out in the open to the soothing sound of live flute and birds around which I had never seen before.
25 Best Restaurants In Jaipur To Relish Royal Meals On Your 2022 Vacay!
Things To Do At Lohagarh Fort Resort That Added Fun To Our Stay
Of the many things to do at the resort, my parents and I made sure to indulge in a few activities together that really added more fun and memories to our overall stay experience of 2 days at Lohagarh Fort Resort.
1. Horse Riding
We enjoyed an amazing horseback riding experience at Lohagarh Fort Resort. The trained riders helped us befriends the horses. It was indeed a memorable experience to enjoy horseback riding in the Aravalli Hills.
2. Cycling And Outdoor Games
Of the many fun things at the resort, one is that it lets you relive your childhood days. Not just I but even my parents got super excited upon seeing cycles in the activity ground area along with a pool table, TT table, cricket kit, carrom, and a swing. So soon after lunch, we hit the ground, cycled around for some time and then played cricket together. Since I had never seen my mother play all these games before, it was surely a first for me! Besides this, the resort also offers guests to play volleyball, football, badminton, and other exciting games.
3. Wildlife Spotting
Escaping to a resort surely promises a lot of comfort and pampering, but little did I know that it could offer an opportunity to get up close and personal with wildlife too. From seeing swans to meeting kitty (literally the sweetest cat I've ever met) and from feeding rabbits to spotting exotic birds in the morning, we experienced it all. At that moment, I sulked a little for living in a developed city where it's hard to spot even a single bird these days.
Get The Rajasthani Bohemia On! 15 Amazing Shopping Places In Jaipur To Explore In 2022!
How To Reach Lohagarh Fort Resort, Jaipur
Located amidst the aravalli hills of Kukas, Rajasthan, Lohagarh Fort Resort is around 253 kilometers away from Delhi. It took us about 5 to 6 hours via our own car to reach the resort since we made a couple of pit stops for having breakfast and stretching our legs a bit. We started around 8 in the morning, drove via NH 48, and sighted beautiful views on the way, which made our Lohagarh Fort trip from Delhi even more enchanting.
32 Best Places To Visit Near Jaipur For A Refreshing Weekend Break In 2022
From driving to this offbeat location in Rajasthan to staying at the resort amidst nature's bounty for two days, we experienced moments of sheer joy together. It was indeed a picture-perfect, most relaxing, and memorable staycation that all three of us are going to cherish forever. My next vacation goal? Well, as of now I am already thinking of dates to plan another stay of 2 days at Lohagarh Fort Resort, but this time with a big group of my friends and family!