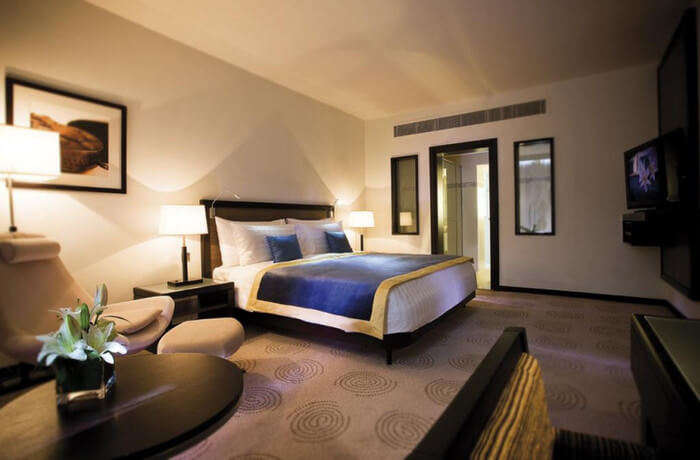 Overview
Dubai thrives on tourism, and as such it has risen to fame due to the various facilities that it has for the travelers. Whether travelers are seeking some time to themselves or they are here to shop, 5 star hotels in Deira Dubai are sure to make any vacation great. Located along with Dubai Creek, the city of Deira was once a major trading center with a bustling port.Now, this city is all about the touristy grandeur that one can see here.
The hotel that travelers choose to stay at carries a lot of importance in deciding the mood of the vacations. 5 star hotels in Deira Dubai are well equipped to match all the expectations concerning the next holiday to Dubai. Situated at exquisite locations and designed with beautiful interiors, these hotels are like a visitor's paradise. Guests will enjoy staying inside the elegant and luxurious rooms and suites of these hotels that come with all the facilities like flat screen TVs, Wi-Fi connectivity, mini bars etc. to ensure a pleasurable time. One can experience the heart-warming hospitality and services provided by their highly efficient, skilled and hardworking staffs that remain ever ready to help with the same comfort and ease that guests desire for.
Special Experiences
The 5 star hotels in Deira Dubai offer some exclusive services that help the guests to enjoy each moment at its best. Enjoy an indoor pool, Jacuzzi, and saunas at the Flora Creek Deluxe Hotel. Pullman Dubai Creek City Centre Hotel offers a tennis court and an airport shuttle. AVANI Deira Dubai Hotel provides transfers to the nearby shopping areas complementarity. Gym, fitness centers and spa facilities are available at most of these hotels. With so many entertainment and relaxation options, one would not need to head out of the hotel apart from sightseeing. These hotels really go the extra mile to ensure that their guests have a luxurious experience at the hotels. These unique experiences offered by the hotels are worth looking forward to.
Facilities
The services and facilities provided by the hotels matter a lot in deciding their reputation. The 5 star hotels in Deira Dubai leave no stone unturned in this regard. The hotels come with elegant suites and rooms equipped with all the facilities like flat screened TVs, minibars, tea and coffee making facilities, Wi-Fi connectivity etc. The room service deserves a special mention. Parking facilities are also made available. Flora Creek Deluxe Hotel offers babysitting services as well as prayer mats. Park Hyatt Hotel Dubai offers baggage storage, currency exchange, and concierge facilities as well. These facilities provided by the 5 star hotels in Deira Dubai not only mean comfort and relaxation but also ensure pleasure and enjoyment.
Dining
Relish the taste of the delicacies served at the exclusive restaurants and eateries of these 5 star hotels in Deira Dubai. They cater to the traveler expectations and demands with the food of various cuisines coming from all over the world. At Pullman Dubai Creek City Centre Hotel, enjoy dining at a sophisticated restaurant with live cooking stations. The hotel also has other dining options including a rooftop bar alongside a heated pool. Flora Creek Deluxe Hotel has a café in addition to a casual restaurant that offers the Mediterranean, Arabic and Asian cuisines. Park Hyatt Dubai Hotel includes chic dining options like French and Thai cuisine and also a shisha bar. With the service of their bartenders, staff and management, the 5 star hotels in Deira Dubai make sure that holidaymakers have no chances to regret or complain.
FAQs
Q1. Do the hotels provide an airport shuttle service?
A. Yes, most of the 5 star hotels in Deira Dubai have the provisions for airport shuttle service.
Q2. What are the modes of payment in these hotels?
A. It usually depends on the hotel. Debit cards and credit cards come handy at most of the hotels. Cash payment is accepted at some places.
Q3. Do the hotels have wheelchair accessible facilities?
A. Yes, most of these hotels provide wheelchair accessible facilities.
Q4. Are kitchens available in the rooms?
A. Yes, some of the hotels do offer kitchens in some of their rooms and suites, but it is advised for the best to confirm beforehand.
Q5. Are concierge services available at the hotel?
A. Yes, guests can have this facility at the best of these hotels like the Park Hyatt Hotel Dubai but do confirm before checking in.
The 5 star hotels in Deira Dubai have got everything that the customers can wish for. They take care of every little detail and do not hesitate in taking an extra step for their satisfaction. Most of these hotels have wheelchair accessible facilities that take care of traveler comfort in all possible ways. Also, each hotel has something or the other out of the ordinary to offer that makes the stay a little more special than what one might expect. The outdoor pools wait for travelers to come and spend some amazing time at the hotel. One can relax and rejuvenate oneself at the spa centers and also enjoy some leisure time at the sports or fitness centers that they have to offer. The restaurants and eateries help diners to come and satisfy their appetite in the best possible ways. One must spend a few days at the 5 star hotels in Deira Dubai and make every moment meaningful and satisfactory. Dubai is a city of superlatives with amazing facilities and the amenities offered by the hotels making it a perfect holiday spot for one and all.