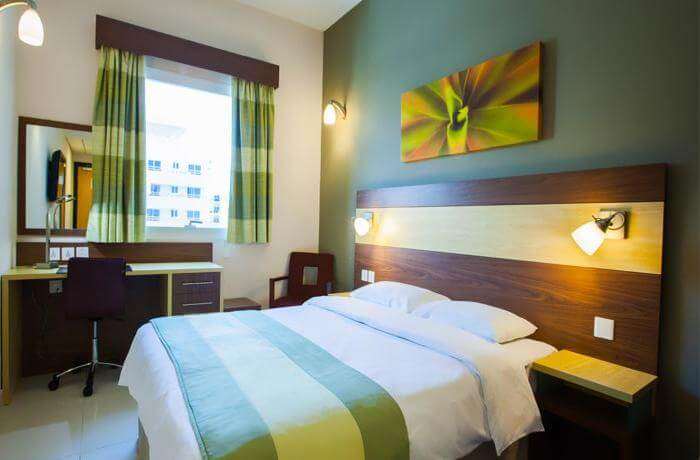 Overview
Bur Dubai, which means Mainland Dubai, is a popular tourist area owing to its rich history, shopping attractions, temples, and mosques, including the Grand Mosque which has the city's tallest minaret. Bur Dubai spoils one for choice when it comes to hotels. The largest city in UAE, Dubai is a global commercial and tourist hub with something for every kind of traveler. Dubai skyline boasts of some iconic architectural marvels such as the world's tallest building, the Burj Khalifa, Dubai has plenty of budget hotels to choose from. It is an ideal city for family holidays as it also has a range of tourist attractions from restored historical buildings and museums to a dolphinarium and exotic bird shows. It is home to one of the longest cable car lines in the world that overlooks the city's glittering skyline. If one wants to go shopping, the city has one of the world's largest shopping center, Dubai Mall.
Guests traveling Dubai on a budget need not worry as there are many cheap hotels in Bur Dubai that only only give a comfortable stay, but a cherishable one as well. all of these hotel provide basic facilities like free wifi, luggage storage laundry service, tour desk, 24-hour front desk and many more. Hotel Ibis One Central is close to the modern landmarks of the city such as Emirates Tower, Dubai World Trade Centre, and Dubai Mall but is also conveniently located near Dubai's old souks (traditional marketplaces). The Palm Beach Hotel is another budget hotel in Bur Dubai, situated right by the 18th-century Dubai Museum and the Dubai Gold Souk market.
Special Experiences
Cheap hotels in Bur Dubai have a wide range of variety one can choose from. Many of these hotels have an outdoor swimming pools where guests can spend a relaxing time. Also, for the convenience of fitness lovers, some hotels maintain a gymnasium. The Country Club Hotel Dubai is an excellent choice as it is appropriately situated and offers comfortable rooms in a lively, bright hotel with six themed restaurants, live music, and two rooftop pools. The Ibis One Central provides facilities such as gym and spa services, in addition to a differentiated Cuban restaurant. To promote tourism, most cheap hotels in Bur Dubai have in-house nightclubs which certainly adds a dash of fun and zing to the holiday.
Facilities
A majority cheap hotels in Bur Dubai provide facilities that are required and generally offered by all hotels. Apart from sprawling global cuisines in the restaurants, hotels offer various local sweets such as Baklava that melt in the mouth. Continental food is served widely, with different complimentary breakfast platters. Rooms are equipped with Wi-Fi and are serviced 24 hours by courteous waiting staff. Other facilities include room service, laundry services, and cleaning. The hotels are also be happy to arrange rental cars for one to explore Dubai unencumbered.
Dining
Most cheap hotels in Bur Dubai have in-house restaurants that serve world-class cuisine.
Breakfast is complimentary and mostly consists of continental food. To have an enriched experience in terms of cuisine, one can try the restaurants during lunch and dinner to relish some varied cuisines. Hotels also have bars that serve international as well as domestic liquor, to tingle the test buds. It doesn't matter if it's a budget hotel, sea-facing and poolside cafes in these budget hotels are a delight to dine at. The hotel staff are friendly, helpful and speak English to be of help to international tourists. The Ibis One Central houses a lively Asian fusion restaurant, while the Country Club hotel boasts of excellent Indian and Mexican restaurants.
FAQs
Q1. Do cheap hotels in Bur Dubai serve a variety of cuisines?
A. Yes, almost all hotels in Dubai serve international cuisine, apart from some standalone restaurants promoted by the large Indian expat population.
Q2. Which area should one stay in Dubai?
A. Bur Dubai, with its historical monuments and modern amenities, makes for a satiating fusion of choices during a holiday. Otherwise, downtown Dubai (near the Burj Khalifa), near Jumeirah Beach, the Dubai
Q3. Which are some cheap hotels in Bur Dubai?
A. The Ibis One Central Hotel, The Palm Beach Hotel, and The Country Club Hotel are some of the best properties close to Bur Dubai's popular tourist locales. If one wants an apartment hotel, Golden Sands 5 Hotel Apartments should be the ideal pick.
Q4. Do budget hotels offer spa services?
A. Cheap hotels in Bur Dubai have a wide range of facilities they offer. One has to check with the hotel before booking.
Q5. Are the hotels in Dubai pet-friendly?
A. No, the hotels in Dubai are not pet-friendly.
As a tourism hub, Bur Dubai has abundant choices when it comes to budget hotels. Apart from quintessential global hotel chains, one could also experiment with hotel apartments, such as the Golden Sands 5 Hotel Apartments, where one can have an entire apartment to self instead of individual rooms and save some cost by cooking own meals. These apartments are generally well-equipped with necessary utensils and ingredients. Cheap hotels in Bur Dubai also provides basic amenities like free wifi, luggage storage, conceirge services, laundry and dry cleaning services along with various other facilities that are sure to make the stay hassle free. Many of these hotels also own a tour desk where guests can get help in planning their tor plan. Basic facilities, coupled with luxurious ones, these hotels strive best to provide their guests a happy stay.