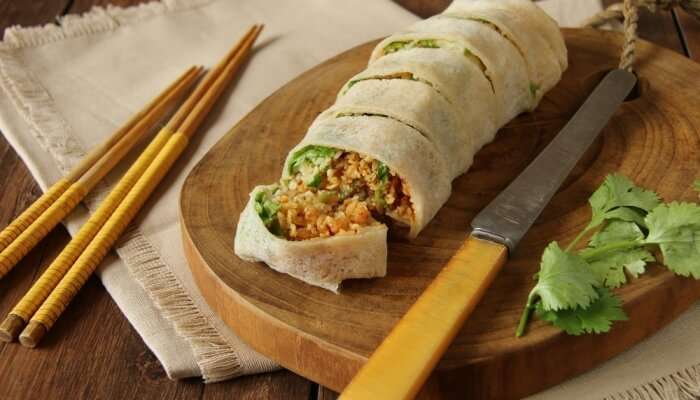 Chinatown has bagged the tourists' attention over the years due to its temples, museums, and most significantly, its restaurants. Chinatown food has been multiplying in terms of popularity due to its richness and variety, ranging from spicy and tangy Chinese cuisine to some smoky and saucy Seafood and barbeque. Its wide collection of stalls and happening restaurants make it a perfect place for tourists to engage in a food tour in Singapore.
You can dawdle around the beautifully decorated center to find some good food in Chinatown which mainly comprises of street food which you can savor on the go. The street food is the main highlight of Chinatown and comprises of a diverse variety of lip-smacking delicacies prepared by local street vendors. If you explore the place even deeper, you'll also come across some fine restaurants offering you a lavish feel. Such is Chinatown, the deeper you go, the greater you'll know.
Top 6 Chinatown Foods
The food in Chinatown takes you to a flavorsome journey full of mouth-watering delicacies. Have a look at the dishes you must try on your next visit to Chinatown.
1. Xiao Long Bao: Try From Yum Cha
The Xiao Long Bao is one of the best Chinatown chinese foods you can come across during your tour in Chinatown. These delicate steamed dumplings stuffed with moist pork and fragrant and tasty soup is truly a delight for any tourist. Served in a traditional bamboo basket, these piping hot dumplings must be a part of your checklist on your next food tour in Chinatown. Some restaurants specializing in this dish include the Yum Cha Chinatown and the Zhong Guo La Mian Xiao Long Bao.
Address: 20 Trengganu Street Off, Temple St, #02-01, Singapore 058479
Opening hours: Mon-Fri (10:30AM – 10:30PM)
Saturday, Sunday (9AM – 10:30PM)
Must Read: Chinatown Shopping: 7 Great Places To Shop Until You Drop
2. Chicken Rice – At Hong Kong Soya Sauce Chicken Rice Noodle
The Chinatown Complex Food Centre is well-known for the chicken rice dish and this small stall at the center serves some succulent soy sauce chicken rice and noodles at super affordable prices. If you are a Chinese lover then this eatery is surely going to impress you with its diverse variety of flavors and spices they use in their dishes. This is truly the best Chinese food in Chinatown you can savor with your friends and family.
Address: 335 Smith St, #02-126 Complex Market & Food, Singapore 050335
Opening hours: Mon-Sun (10:30AM – 8:30PM)
Suggested Read: 3 Things To Do Near Chinatown Singapore To Explore City's This Corner
3. Egg Tarts – Relish At Tong Heng
After enjoying some Chinese delicacies it's time for you to indulge in some sweet and savory Egg Tarts. These delicate and perfectly baked tarts will win your heart from the first bite. The yummy custard at the center is enough to satiate your sweet temptations for the day. Running successfully for about 109 years, the Teng Hong Bakery has mastered this drool-worthy delicacy and is now much more than a household name in Chinatown.
Address: 285 South Bridge Rd, Singapore 058833
Opening hours: Mon-Sun (9AM – 9PM)
Suggested Read: 3 Things To Do Near Chinatown At Night To Explore The Best Of Singapore Nightlife!
4. Cheng Teng And Yam Paste – Order At Mei Heong Yuen
Who says no to dessert? Another inclusion to the sweet dish list is the Cheng Teng and the Yam Paste which you can enjoy with your family if you are at the Mei Heong Yuen dessert parlor. These traditional Chinese desserts are some of the best foods in Chinatown for people having a sweet tooth. Apart from these, the restaurant serves numerous other varieties of desserts to its customers.
Address: 133 New Bridge Rd, #B2-32 Chinatown Point, Singapore 059413
Opening hours: Mon-Sun (12PM – 10PM)
Suggested Read: 4 Interesting Things To Do In Chinatown On Your Trip To Singapore
5. Grilled Meat – Savour At Burnt Ends
A Barbeque is always a joy to relish with your friends and the Burnt End restaurant with its wide variety of meat items including its specialties like pulled pork burger, suckling pig, and oven-roasted fennel. The smokey flavor leaves an everlasting impression on the taste buds. The restaurant features a classy ambiance and is an ideal place to spend your nightlife in Singapore. When in search of some good food in Chinatown, the Burnt Ends restaurants must be one of your top preferences.
Address: 20 Teck Lim Road, Singapore 088391, Singapore
Opening hours: Sunday, Monday (CLOSED)
Tue-Thurs (6PM – 12AM)
Friday, Saturday (11:45AM- 2PM, 6PM – 12AM)
Suggested Read: 3 Restaurants Near Chinatown, Singapore For Indulging In The Best Cuisines!
6. Succulent Seafood – Visit Luke's Oyster Bar & Chop House
A pleasant night in Chinatown calls for some authentic Seafood and exotic cocktails. Sometimes some succulent Seafood is an answer to your midnight cravings. The restaurant specializes in some delicious raw oysters, crab cakes, and lobster rolls, which are one of the most famous Chinatown late night foods. Seafood tastes much better with a glass of wine. The vibrant ambiance and sleek design of the restaurant make it a highly visited place in Chinatown during midnight.
Address: 260 Orchard Rd, #03-02 The Heeren, Singapore 238855
Opening hours: Mon-Sun (12PM – 10PM)
Further Read: Chinatown In Singapore: Take A Pleasant Stroll In Singapore's Most Happening Town
Varying in taste, prices, and cuisine, the Chinatown food proves to be a complete meal for a hungry tourist who wishes to try some delicious food belonging to different cultures. In the hub of Chinatown, food plays a vital role in attracting tourists towards the place in large volumes. The list of food one can try at Chinatown does not reach an endpoint. So, have you made your mind? If yes, plan your trip to Singapore with TravelTriangle right away!
People Also Read