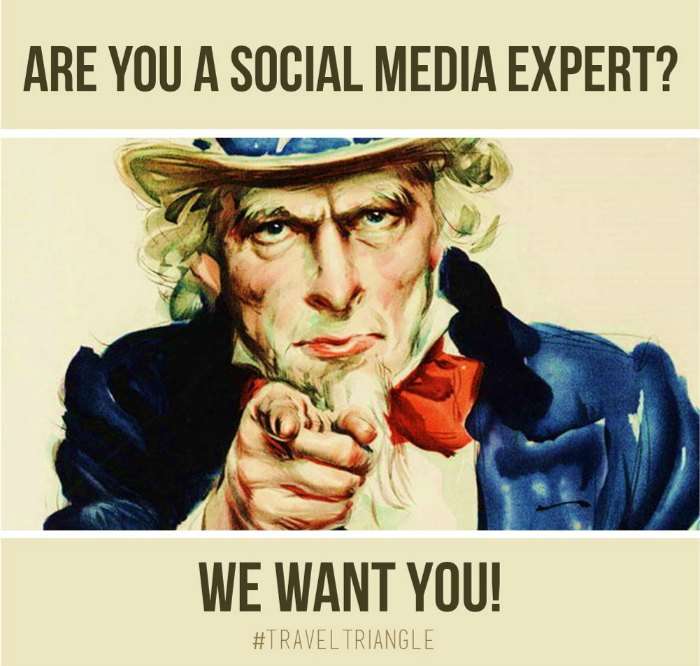 Are you a social media expert? Well you're in luck because we are looking for one.
Do You Have What It Takes?
Can you get a Facebook post to have maximum number of likes?
Can your tweets create superlative buzz and becoming the trending topic of twitter?
And what about the insta pics, can you get people to like them more than the selfies of a bimbo?
If solving such challenges interests you then you're welcome to join our passionate and crazy gang of mavericks!
Read the JD below & Apply now at hr@traveltriangle.com or can call at 8800491898-Sonal Kapur -HR Deptt.
Job Description –Social Media Executive/Analyst (Exp-1 to 3 years)
Job Location:-Noida, Sector-4, Near by Sector-16 , Metro Station
Educational Qualification:-  Any Graduate/ Postgraduate with Excellent Grades
Key Responsibilities/Job Description
The person will  be responsible for managing Popular Social Media Channels (Facebook, Twitter, Google Plus, Pinterest, LinkedIn etc) to ensure the company's specific goals are met. He/she will need to gather actionable data from various sources to ensure consistent and continual optimisation of the campaigns.
Details (Applicable for Facebook/Twitter/LinkedIn)
Ongoing campaign maintenance and monitoring

Making regular bid adjustments to campaigns based on budget constraints, lead generation goals & engagement metrics
Get insights from existing data and making informed decisions to improve post reach or lead generation goals.

Schedule posts on various social media platforms as per the Social Calendar
Figuring out the right audience and how to reach them via paid campaigns and organically on Facebook/Twitter/Gplus.
Regularly Curate Content from across the web and identify trending topics timely.
Improving/Writing creative headlines and description text to ensure maximum engagement with posts
Create creative graphics/images for the posts
Required Skills
Minimum of 1/3 years of social media experience
Must have knowledge of Facebook/Twitter

Must have managed campaigns on Facebook
Familiarity with Facebook groups, twitter, forums etc

Ability to perform research, analyze websites, document changes
Strong & Creative oral and written English communication skills
Excellent analytical and strategy skills
Ability to compile and analyze search data and metrics and suggest changes regarding campaign direction
Ability to perform CTR/Engagement Metrics Study & Creative analysis to identify growth/optimization opportunities
Ability to work independently and within a team environment
Now all that's missing is you to build a rockstar team. Sounds Interesting?
Apply now at hr@traveltriangle.com or can call at 8800491898-Sonal Kapur -HR Deptt.
Comments
comments