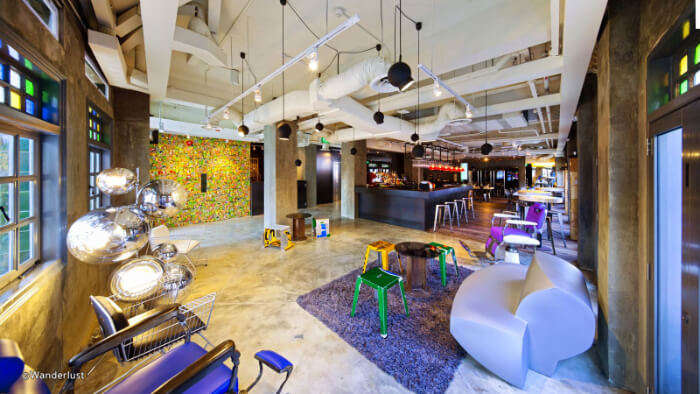 Overview
Singapore has a rich amalgamation of Indian, Malay and Chinese cultures and is a melting pot of vibrant traditions. The heritage of this amazing city state can be seen in the daily lives of its people and the best way to experience this is to stay among these people. As such the hotels in Little India Singapore are a perfect choice for anyone looking to experience the real nature of Singapore and all its underlying history and facts.Little India is a small area in the heart of Singapore where a large Indian community has lived for centuries. The way of life of the people here has played an important role in shaping the Singaporean culture into what it is today and as such even the hotels here are all about this heady mix of the two. The area of Little India is frenetic, messy and fun while the hotels here are miles away from the chaos that envelopes the streets of this bustling town. Where the streets are full of shops selling vibrant, colourful and at times gaudy clothes, the hotels in Little India Singapore are picture of elegance with their plush lobbies decorated with architecture from different parts of the world, spacious rooms where on can find ample amount of space to relax and lush green gardens to enjoy long walks where one can unwind from all the stress. Spending a vacation in these hotels can be a rewarding experience if one chooses the right kind of hotel.
Special Experiences
Being one of the most loved attractions in Singapore, Little India and its hotels have grown to cater to all the different needs and requirements of those who visit. There are many experiences here in these hotels in Little India Singapore that can elevate the vacation from just another holiday to an unforgettable getaway. As it is true with the rest of the country, the hotels here and their services differ from one hotel to the other based on the category that one chooses to stay at. When people stay at these hotels can always be close to water with most hotels offering a huge swimming pool for its guests to splash around in, while some hotels like the Park Hotel Farrer Park are also equipped with a jacuzzi where the travelers can relax in warm, hypnotic waters of the hot tub with their friends and family. Hotels in Little India like the The Daulat boutique hotel offer acres and acres of wide open spaces where the guests can enjoy a wonderful walk through the well maintained gardens as well as a terrace where guests can enjoy amazing views of the city.
Facilities
With growing tourism, hotels all over the world have stepped up their game when it comes to the facilities they provide for their guests, and the hotels in Little India Singapore have not been left behind. World class amenities, like huge swimming pools, children's play area and outdoor play equipment, wheelchair accessibility throughout the hotel etc, are some things that travelers can find in all these hotels, irrespective of the category of the hotel. When traveling on a budget, these hotels can prove to be a blessing where they can give the tourists some of the best services at a very affordable cost. Basic facilities that one can find in these hotels in Little India Singapore are Wifi connectivity, free and secured parking, luggage storage services, room cleaning services, laundry, as well as access to the fitness centers where one can continue their workout routine even during their vacation. As such these hotels in Little India truly think about all the needs their guests might have and cater to their requirements in an efficient way, making all travelers who come here very pleased.
Dining
Since these hotels are located in Little India, there is no shortage of home food for Indian travelers visiting this country. Hotels in Little India Singapore are well known for their multi cuisine restaurants where one can enjoy food ranging from authentic local Singaporean dishes to the food from their homeland made with the freshest ingredients grown in this area. Almost all the hotels here have one or more onsite restaurants where the guests can savour a lovely meal any time of the day as well as snack bars and coffee shops where guests can enjoy a light snack whenever they are hungry. Special kids menus can also be prepared for the little ones, if the kitchen staff is informed in advance.
FAQs
Q1. Do these Hotels in Little India Singapore provide airport shuttle services?
A. Yes almost all the hotels in little India provide airport shuttle services.
Q2. Are these hotels child friendly?
A. Though there are special kids menus and play areas in almost all the hotels, it can be difficult to find child care services or babysitting in the budget hotels here.
Q3. Do these hotels provide Ironing services?
A. Yes almost all hotels provide laundry and ironing services but the guests have to pay a small amount extra for these services.
Q4. Can one hire a vehicle for sightseeing from the Hotel?
A. Hotels in Little India do not give vehicle options to hire for sightseeing, one can always rent a bicycle from the hotel or ask the concierge services to book a sightseeing tour.
Q5. What Languages do the staff at Hotels in Little India Singapore understand?
A. Malay, Chinese, English and at times Hindi are some of the most common languages that the staff in these hotels use to communicate with the guests.
With everything within the reach, like the MTR train station, and amazing bus connectivity, Hotels in Little India Singapore are a very good option for accommodation with looking for a place to stay in Singapore. Being centrally located these hotels are close to many tourist spots and the tour desks and concierge services at these hotels can help the holidaymakers plan a perfect way to spend their days when vacationing in Little India. Here are a few names, apart from the ones mentioned above, that can help guests start their search for the right place to stay: The Great Madras, Hotel Boss, Mayo Inn, Hotel Yan, Parc Sovereign Hotel – Tyrwhitt, Village Hotel Bugis by Far East Hospitality, Hotel G Singapore.