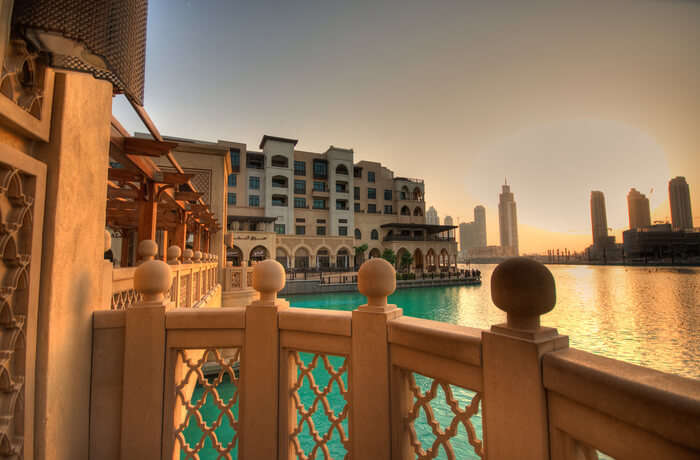 Overview
An exciting reason why people like to spend their vacation in Dubai is that of the abundant shopping opportunities that this city provides. Right from Gold Souks where one can buy trendy, real gold jewelry and the Spice Souk where one can get the spices and condiments of the Gulf countries, to some of the largest shopping malls in the world, Dubai Shopping is a whole different experience in itself.One such shopping plaza that tourists should not miss is the Dubai Mall. Being such a major tourist attraction in Dubai, a lot of people like the convenience of staying close to the mall giving rise to many hotels near Dubai Mall. Hotels near Dubai Mall comes in all shapes and sizes right from the top end hotels where one can spend the most luxurious time to a few more budgeted option for those who want to save all the money for shopping. Located so close to the mall, these hotels near Dubai Mall are also very well connected to the rest of the city for the ease of its guests. Being in Downtown Dubai, one can expect to see some vibrant nightlife scenes around the hotels.
Special Experiences
Located in the same square as Dubai mall as well as up and down the main street, hotels near Dubai Mall are nothing but lavish. From 5 star properties like the Roda Al Murooj to budget options like the Rove Downtown, travelers can rest assured that these hotels near Dubai Mall will make the stay here a truly memorable one. Swimming pools that offer majestic views of the surrounding area as well as offering shuttle services to take the guests from the hotel to the Dubai Mall. Even budget hotels like the Rove Downtown understand that the guests would like to enjoy the beach when in Dubai. For such times when travelers feel a longing for the beach, Rove Downtown hotel offers its guests a salt-water pool to lounge in. While the 5-star hotels can offer their guests tennis and squash courts, the hotels with limited space offer specially designed game rooms with dart boards and carrom boards as well as table tennis. Overall the hotels near Dubai Mall, irrespective of the class of the hotel can sure make anyone's stay here worth remembering for the rest of their lives.
Facilities
The hotels near Dubai Mall understand the kind of guests that they receive at the properties and as such as built in a way to accommodate all the modern amenities that the guests might require. Being so close to the Sheikh Zayed road, hotels all provide parking services for their guests who might drive down to shop at the mall. Fitness centers along with spa services and swimming pools with stunning views are a common sight at all the hotels. Palace Downtown hotel provides for its guests, jacuzzies as well as steam rooms and relaxation areas where the travelers and unwind and relax after having walked all over the Dubai mall during the day. Also, these hotels make sure that come back to a well-made room with quick and efficient room cleaning services, where they also keep the bathroom clean and well stocked. Even in budget hotels near Dubai Mall like the Ibis One Central – World Trade Centre Dubai travelers can avail airport shuttle services as well as air-conditioned and spacious rooms equipped with television sets showing all international networks, airport shuttle services as well a currency exchange services.
Dining
Emirati Cuisine is a must try when visiting Dubai, even if it is strictly a shopping trip. All the 5 star and boutique hotels near Dubai Malls offer their guests some stunning twists on the local food as well as multiple dining options serving international cuisines. Some of the budget hotels do not have restaurants on site, but the option of in-room dining is available at all the hotels near Dubai Mall. One such breathtaking example of dining at the hotels, in-house dining option- 'The Restaurant' at the Address Boulevard is laid out like a private home with lounge, kitchen, library, and art room sections. Here guests can enjoy some stunning local as well as international delicacies. At the Armani Hotel Dubai, diners can truly experience fine-dining at its best with seven different restaurants including the Armani Hashi where the travelers can enjoy an authentic Janapnese experience.
FAQs
Q1. Are these hotels near Dubai Mall kid-friendly?
A. Yes, most of the hotels near Dubai Mall offer childcare services for infants while for the toddlers and young adults, these hotels have special outdoor play equipment, game rooms, and nanny services.
Q2. How far are these hotels from Dubai International Airport?
A. All these hotels listed above are anywhere between 10-15 minutes drive away from the Dubai International airport. As such these hotels offer airport shuttles and private airport transfer services for its guests.
Q3. Can one find ATMs on-site when staying at these hotels?
A. Most of the luxury hotels do have ATMs on-site. However, it may be tough to find it at one of the budget hotels.
Q4. Is it necessary to pre-book these hotels?
A. Yes, these hotels operate on their full swing all the days of the year since there is no wrong season to go shopping, travelers from all over the world book these hotels all year round. It is always better to make a reservation at these hotels at least a month before traveling.
Q5. Will the restaurants at these hotels cater to guests with the particular dietary requirement?
A. Yes, all hotels near Dubai Mall cater to guests with dietary restrictions or special needs. Just inform the kitchen staff in advance, and they can whip up some delicious treats for the guests while keeping in mind the instructions given.
From hotels that have direct access to the Dubai mall from within the hotel itself to those where guests can find some fantastic services to pamper themselves, hotels near Dubai Mall are one unique experience that all travelers must enjoy during their visit. These hotels provide their guests with all the facilities required to unwind after they have spent the day shopping, walking and getting tired at the Dubai Mall. Some luxury hotels include Radisson Blu Hotel, Dubai Waterfront, Fairmont Dubai, Crown Plaza Dubai, Sheraton Grand Hotel, Dubai, The Ritz-Carlton, Dubai International Financial Centre while the more budget options are Al Khoory Executive Hotel, Al Wasl, Rove Trade Centre, Chelsea Plaza Hotel.