Every individual who possesses the traits of a 'true traveler' will always find reasons to unravel the hidden mysteries of a different land; whenever life allows. If you are one of those few, what is a better excuse to book tickets and apply for leaves than the ever so beloved long weekends?! Be it escaping to the hills of the north or the backwaters of the south, this country gives too many reasons to not lead a life too minimal. Scan through this tailor-made calendar of all the long weekends in India 2020 and give yourself a break you very much deserve!
9 Long Weekends In India 2020
Start marking your calendars, updating your travel bucket lists, and saving some extra bucks for your next long weekend in India. Let's just say that 2020 is going to be one of the most chilling ones for most of you. Scroll down to know about all the stops that you can make this year!
1. All About New Beginnings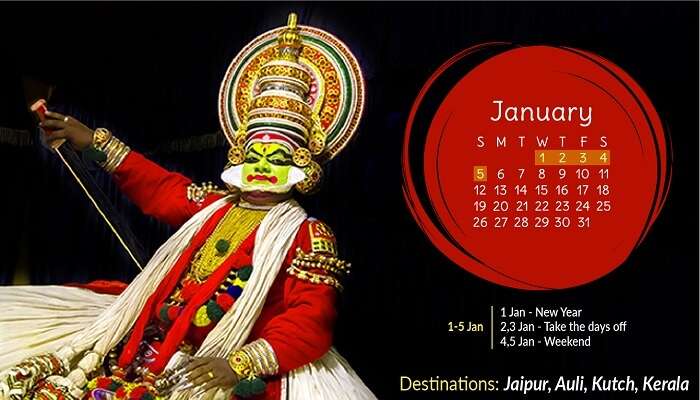 Give your year a kickstart that it needs with some of the most culturally inclined long weekend destinations in India. Right from exploring the Havelis of Jaipur and staying at houseboats in Kerala to skiing in Auli, January is a month full of action-packed experiences. Also, one of the things that are a must-try in this month is attending the Rann Utsav of Kutch!
Must Read: 18 Best Valentine's Weekend Getaways In India For A Sweet Escape With Your Love!
2. A Heaven To Portray Love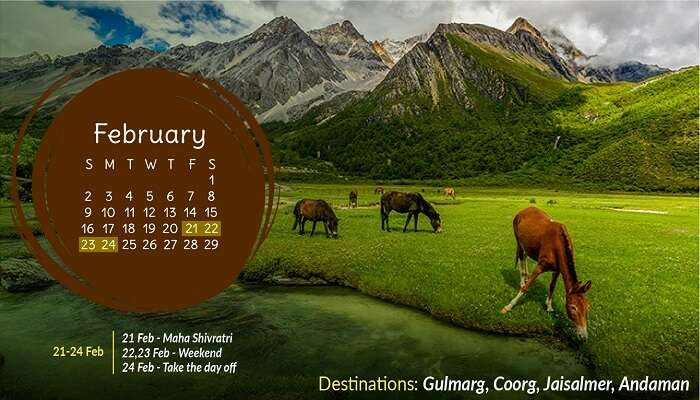 The month of Valentine calls for some of the most beautiful and romantic lands of this country. What's better than planning a surprise sojourn for your loved one to the 'Golden City of Rajasthan', Jaisalmer. Or why not travel to one of those places to visit for a long weekend in India that leaves the jaw dropped to the ground- Gulmarg. Hurry, the d-day isn't far!
3. 'Rang Barse' From All Corners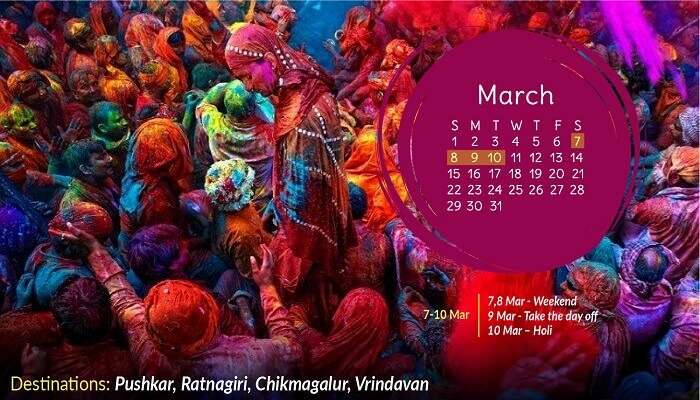 Reeking of vibrancy all month long, March is the most colorful one. An excursion to Vrindavan or Pushkar on Holi gives one a chance to witness those shades of colors that one has never seen in their life. For those who feel Holi is a festival too overrated can head to Chikmagalur or Ratnagiri to spend their upcoming long weekend in India amidst nature!
Suggested Read: 24 Romantic Sites For Valentine's Day Celebration In India In 2020
4. Nothing But Travel Goals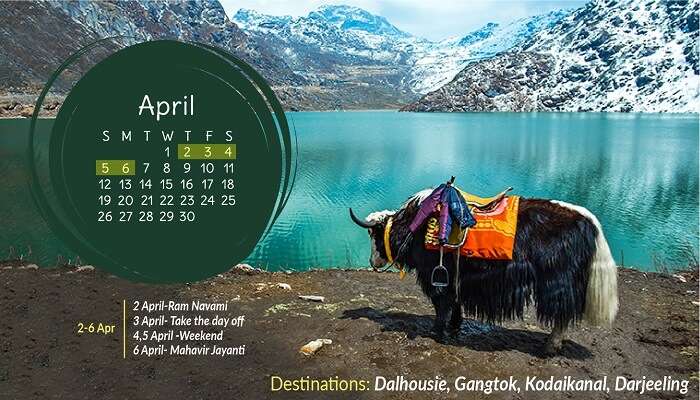 Make sure that your long weekends in India in 2020 are less of being lazy and more of finishing as many travel goals as your pocket allows! Talking about travel goals, Kodaikanal is a destination that literally translates to 'the Gift of the Forest' and is a must on your bucket list for all the nature admirers out there. If you have a hunch that mountains are waiting, what better than the 'Little Switzerland' – Dalhousie?
5. Adventure And Adrenaline Rush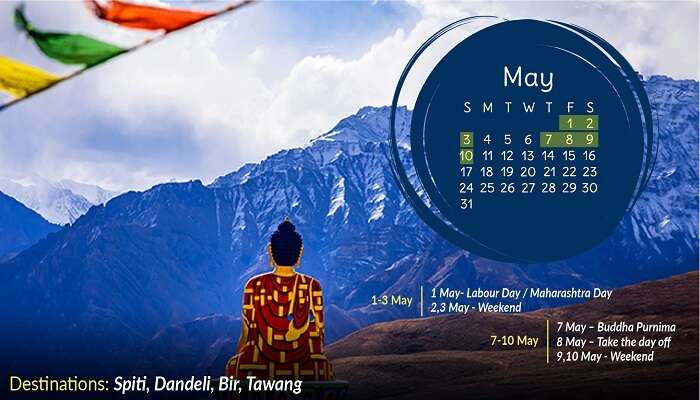 May is the month when all the destinations open their arms and welcome some or the other form of thrill. Be it taking the Royal Enfields to Spiti or fighting the waters while river rafting in Dandeli; shedding some weight by hiking in Tawang or getting the bird's eye view of the village of Bir while paragliding, make this May a month of best Instagram feeds ever with the long weekend trips in India!
Suggested Read: 10 Incredible Indian Destinations Under 20k You Need To Explore This Year!
6. Summer Vacations To The Rescue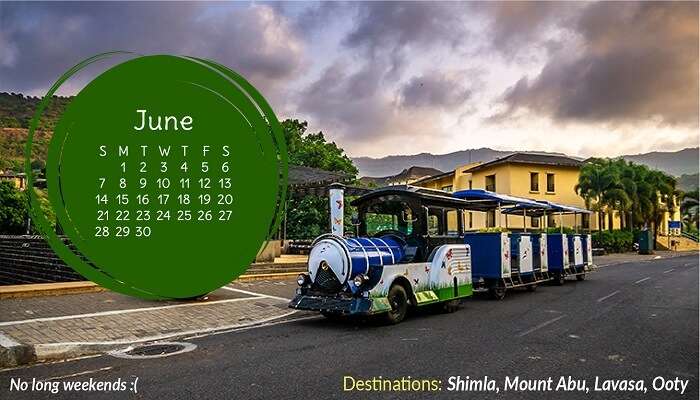 Though there are no long weekends this month this year, this doesn't give one a reason to skip sneaking out of the town for a mini vacation. June is when one gets a perfect chance to give sudden plans a try. Why not book last minute tickets to explore the city of Lavasa and embrace the Italian vibes it oozes off. Or how about the classic escape to Shimla for the summer vacation and reliving those childhood memories?
7. Don't Let The Monsoon Be A Blocker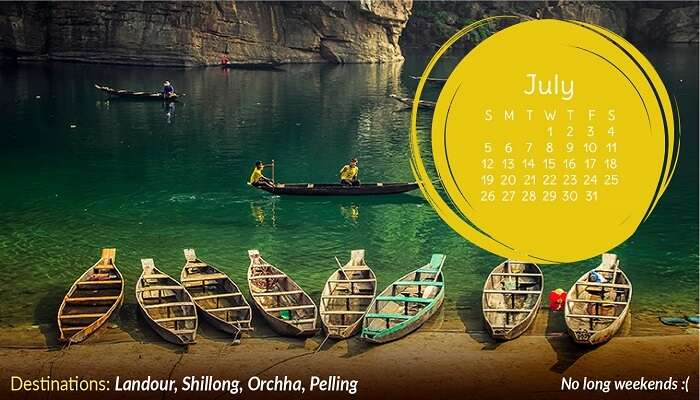 Rains are either loved by an individual or loathed. There is no in-between. If you are pro-monsoon, head to Shillong with an umbrella and spectate the lush green marvels of mother nature come alive as rain pours hard on them. If you are actually looking to get away from the rains, head to Landour which is nothing less than heaven on earth!
Suggested Read: 35 Perfect Destinations To Spend Your Summer Holidays In India In 2020
8. Nature At Its Best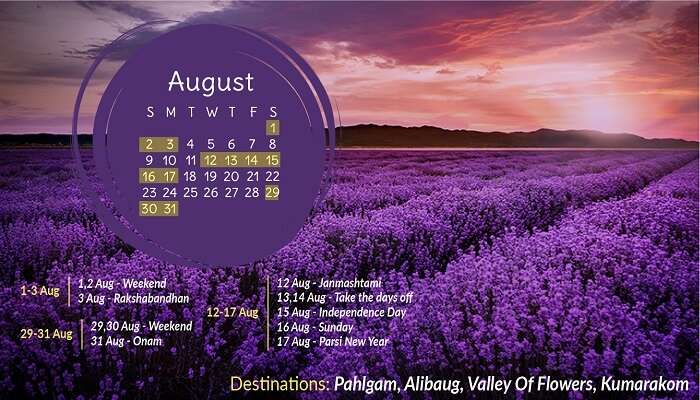 Independence Day is the first thing that crosses the mind when someone says long weekend getaways in India. This is the most ideal time to make bookings for the trek to Valley of Flowers which happens to be one of the must-visit destinations in India at least once in the lifetime. For those who are all about offbeat hotspots can visit Pahalgam that exhibits the most paradisaical views ever.
9. Travel To Calm Your Soul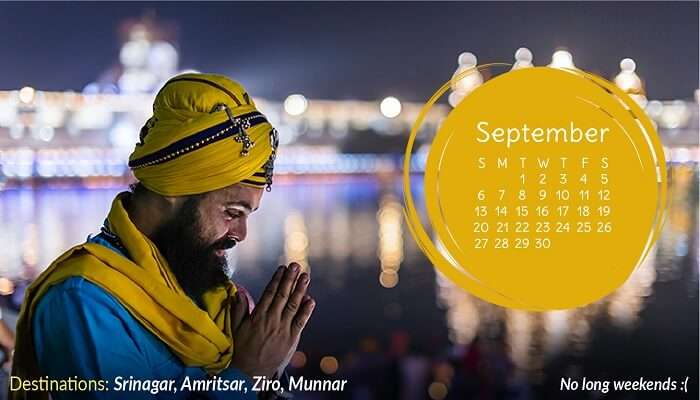 With monsoon bidding adieu and the town getting all ready for the most vivacious festival, Ziro is a destination to not miss on. The two destinations might be sitting on different ends of the country, but Srinagar and Munnar do not fail to reek of serenity from every nook. Also, Amritsar happens to be one of the best places to reflect upon life and calm your soul in a soul-stirring setting which makes the place worth visiting even if there are no long weekends!
Suggested Read: 36 Best Family Holiday Destinations In India To Have A Gala Time In 2020!
10. For That Sound Of 'DHAAK'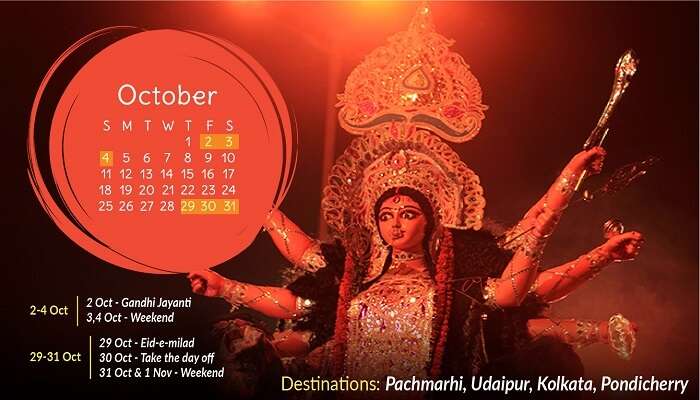 The only and the major reason Kolkata attracts travelers in October is because of the much-awaited Durga Pujo. This festival showcases the true colors of the 'City of Joy'. Another one of the culture-oriented destinations, Udaipur has its floor completely covered with palaces, lakes, and the traditional Havelis. Let the long weekends in India 2020 be dedicated to varied traditions.
11. Enlighten Your Soul This Diwali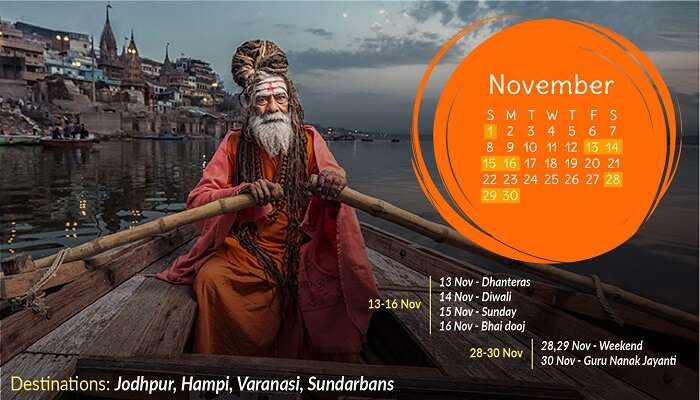 With the festival of lights giving one another reason to embrace the beauty of long weekends in India, November is when one starts wrapping up the year, trying to end it in the happiest way possible. Varanasi is one such destination where happiness can be found even in the little corners. Another plus about this place is the extravagant celebrations of Diwali that are a must-attend!
Suggested Read: 30 Best Honeymoon Places In India For The Summer Of 2020 – Apr, May, June
12. Happiest Holiday Season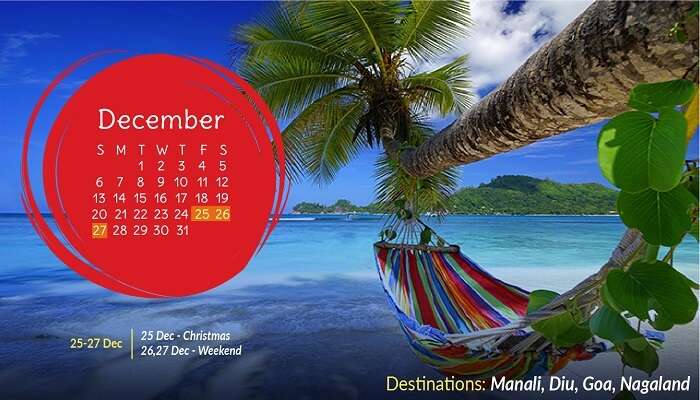 One of the most favorite months of the entire year, December is nothing less than magical. A favorite amidst all the young crowds, Goa is the party capital of the country and should be experienced at least once in the lifetime. If loud music is not your taste and you are one of those who seek to get an insight into various cultures, you wouldn't want to miss out on attending the Hornbill Festival of Nagaland!
Further Read: 27 Budget Trips In India For That Pocket-Friendly Escape In 2020
Be it a solo excursion, a romantic getaway, or a long-due family vacation, don't let these long weekends in India 2020 go to waste. Take those hiking boots out of the closet, blow the dust off that camera, and go achieve those travel goals that have taken a back seat in this world of race. You really don't want to regret it later!
Comments
comments