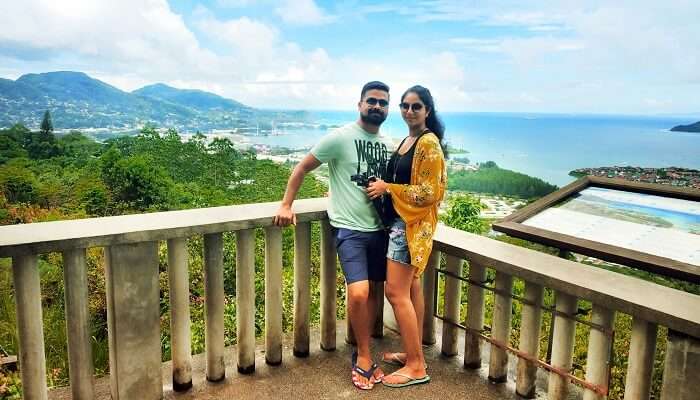 This adorable couple's love for traveling knows no bounds. And when they're at it, they like to scale relatively untouched places. So, a few days after they tied the knot, this duo gallivanted away to the pristine realms of Seychelles. What they discovered while spending one week in Seychelles will have you booking your tickets to this island paradise right away!
We love to explore new places, experience new cultures, meet new people, and we travel almost every month. Seychelles has always been on top of our bucket list and we had decided long ago that this is where we would go for our honeymoon. Till now, that has been the best decision of our lives!
We have always been fascinated by the landscapes of this uncharted island nation. We find them better than those over-rated and over-priced tropical destinations that couples keep flocking to. And it totally lived up to our expectations.
Our agent let us customize our trip to whatever lengths we wanted, and that is what made our escapade so exciting! With all plans in place, we finally flew away to this utopia together to make loads and loads of "Stamped Memories"!
Table Of Content
Details Of Guru's Trip To Seychelles
Trip Type: Honeymoon
Trip Cost: INR 2,43,500/-
No. Of People: 2
Trip Duration: 7 Nights 8 Days
Inclusions: Breakfast, airport transfers, accommodation, sightseeing, ferry transfers, English speaking driver cum guide
Exclusions: Lunch, dinner, airfare, visa, travel insurance
A Sneak Peek Into Our Customised Seychelles Honeymoon
Here is our 7 days itinerary in Seychelles, the 8th day being departure.
Day 1: A breezy jetty ride from Mahe to Praslin
Day 2: Half day tour of Cousin Island & Curieuse Island | BBQ lunch | Turtle Island | Swimming in the ocean
Day 3: Private tour to Fond Ferdinand hilltop
Day 4: Transfer to La Digue | Anse Source d'Argent Beach
Day 5: Transfer to Mahe | Leisure evening
Day 6: Complimentary trip to Silhoutte Island
Day 7: Private tour of Mahe Island | Shopping for souvenirs
Day 8: Departure
Must Read: Summer In Seychelles 2019: A Travel Guide For All Those Who Love Beaches!
Best Things We Experienced In One Week In Seychelles
Here are a few of the finest places to visit in Seychelles and the experiences we had there during our honeymoon tour to Seychelles that you can too!
---
Looking To Book An International Holiday?
Book memorable holidays on TravelTriangle with 650+ verified travel agents for 65+ domestic and international destinations.
---
1. Fond Ferdinand, Praslin – Trekking & Stunning Views Of The Ocean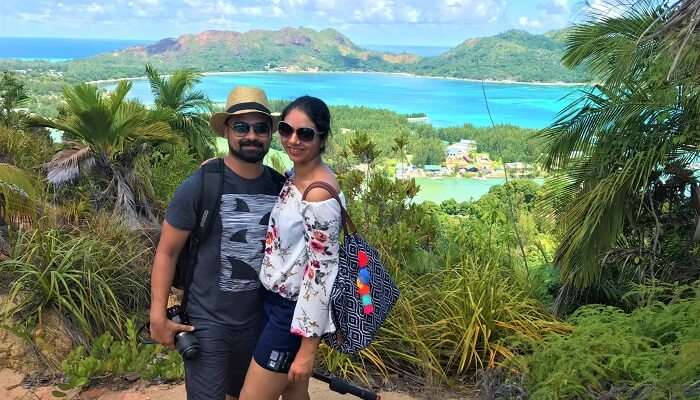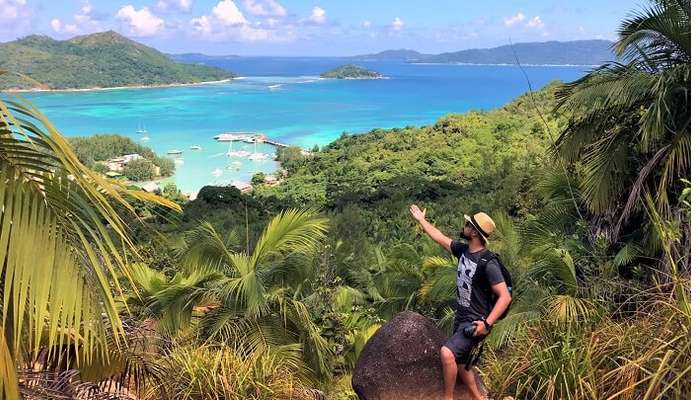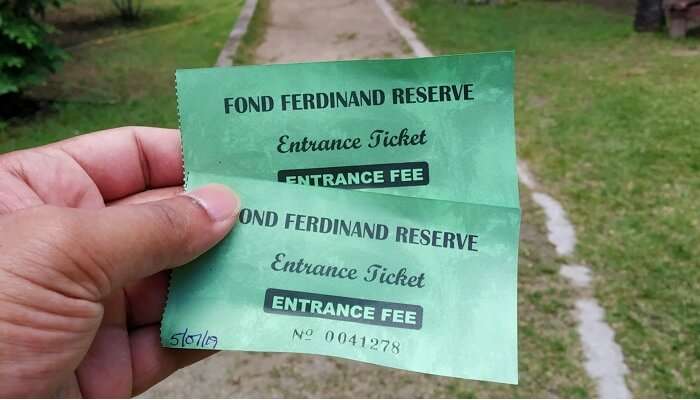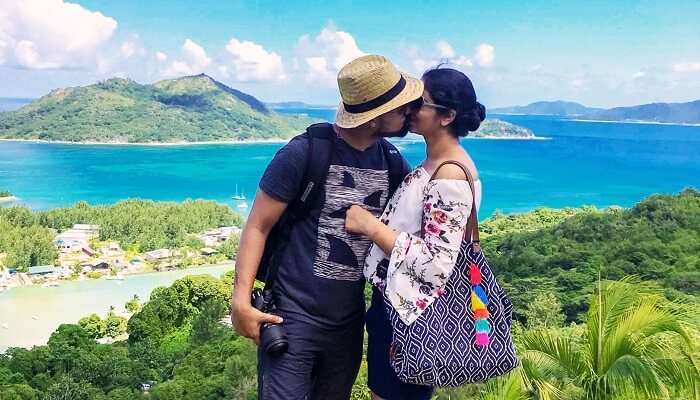 All Seychelles tour guides will tell you to visit Vallée De Mai in Praslin. We beg to differ. From here you can hike up to Fond Ferdinand that is a lot better in terms of the gorgeous views of the island and the ocean that it offers. Though the hike only takes about 20 minutes, you will need a guide to take you uphill, and you will find that the scenery at the top of this small hill is breathtaking! Other than the views, you will find generous vegetation of Coco De Mer plants here, the local and famous nut of Seychelles! This was also one of the best places to visit in Seychelles in 7 days.
2. Curieuse Island – BBQ Lunch & Interaction With Giant Turtles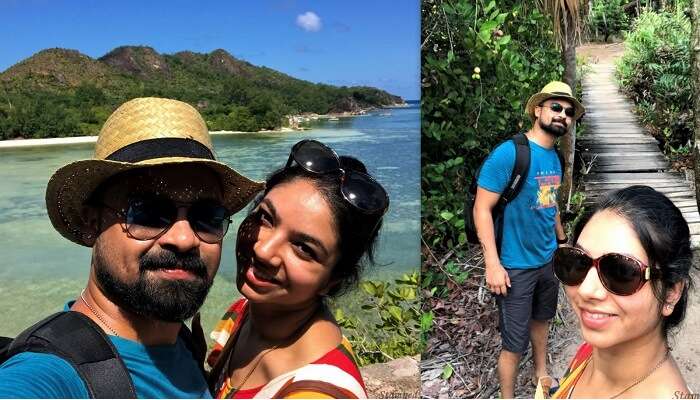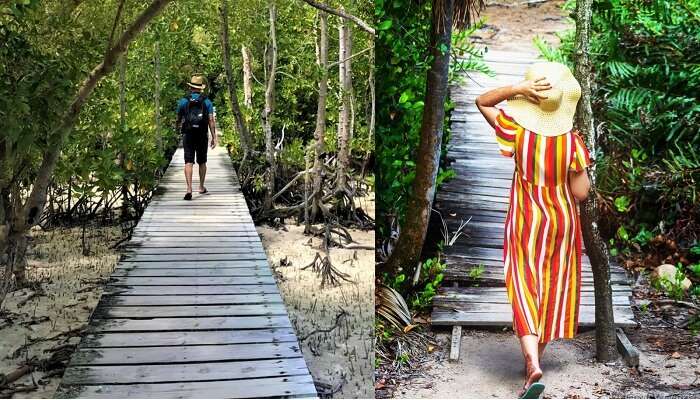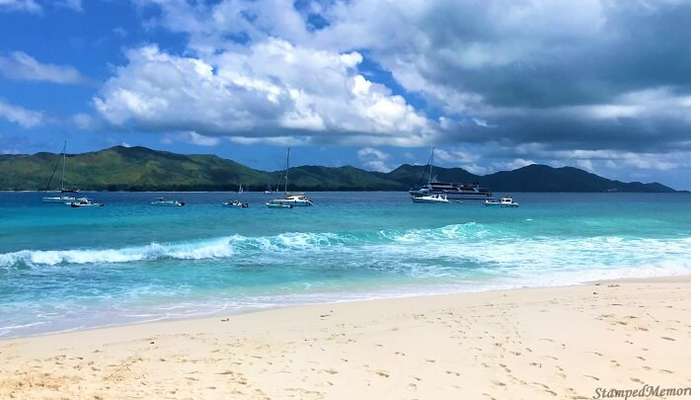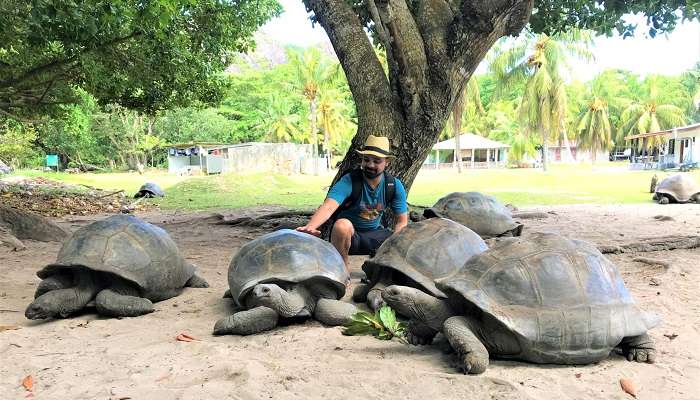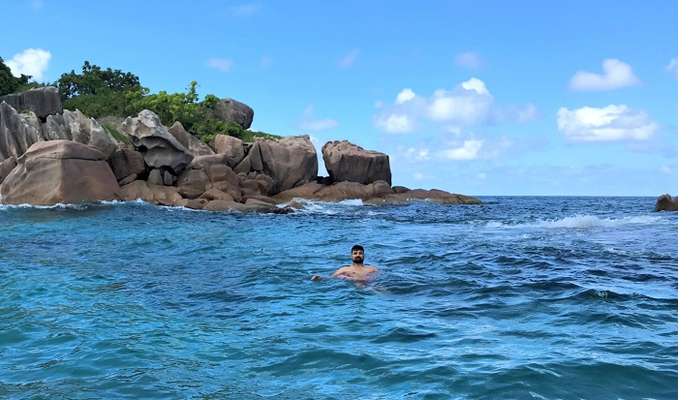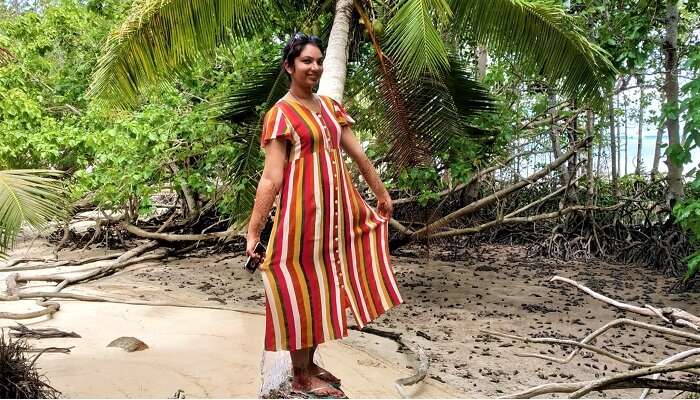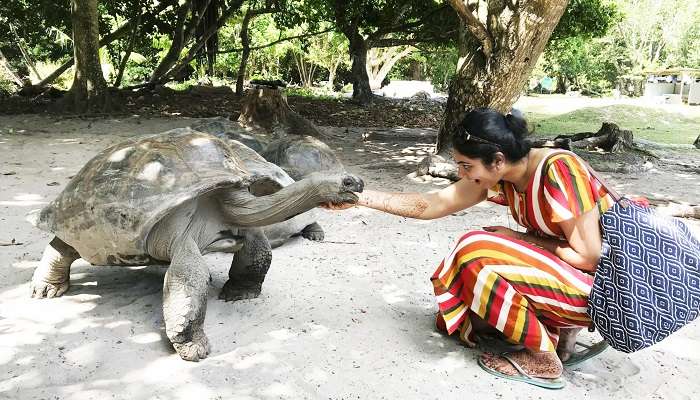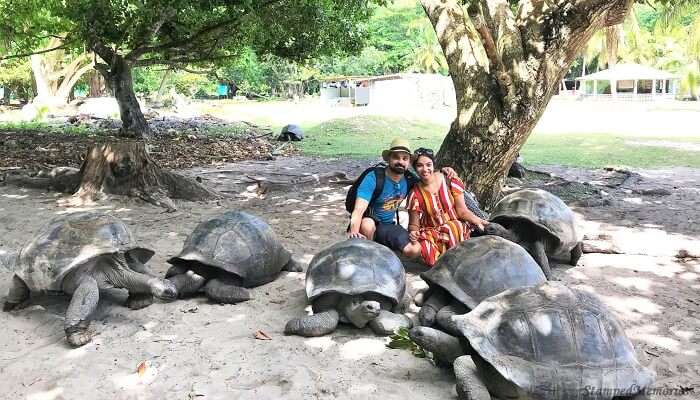 View this post on Instagram
Both the Cousin and Curieuse Islands in Seychelles are pure delight. But if we had to choose between the two, we'd pick Curieuse owing to the fabulous experiences it offered. Upon reaching Curieuse via speed boat, we were met with the most splendid views and weather. To top it all, we were treated to a delicious and sizzling Creole barbecue lunch where the options were unlimited and the items ranged from vegetarian, chicken, and seafood.
After a sumptuous meal, we hiked a 1.7 km distance to the other end of the island where we met the Aldabra giant tortoises in huge numbers. We clicked plenty of pictures with these enormous yet gentle beings who didn't seem to mind our presence. We were lucky enough to see a turtle creating a nest to prepare for breeding.
Then, we took a boat to a diving point in the middle of the ocean where we just jumped into the water and spent some time swimming and splashing there like silly kids!
Suggested Read: Monsoon In Seychelles: A Handy Guide To Explore The Country In The Rainy Season
3. La Digue – Cycling Around The Island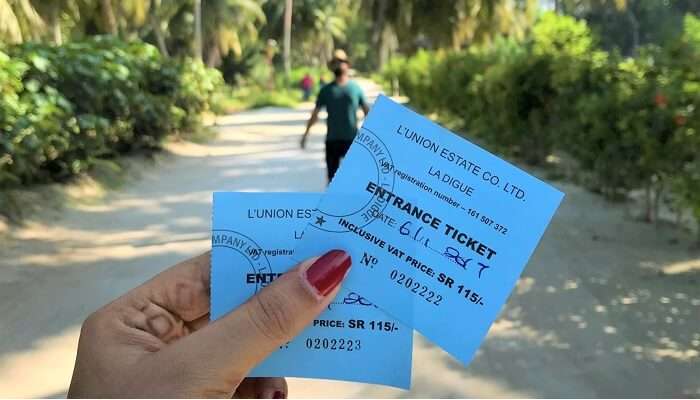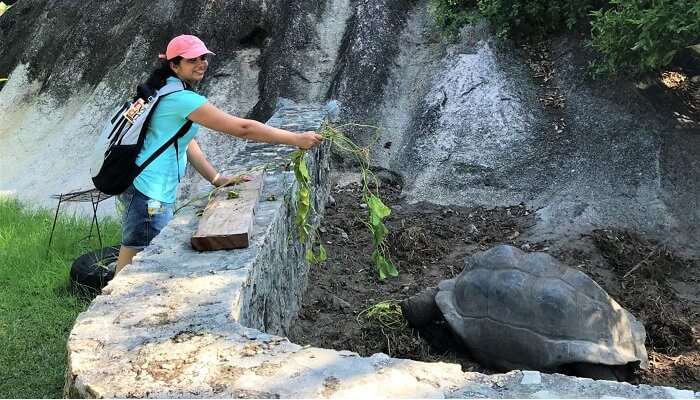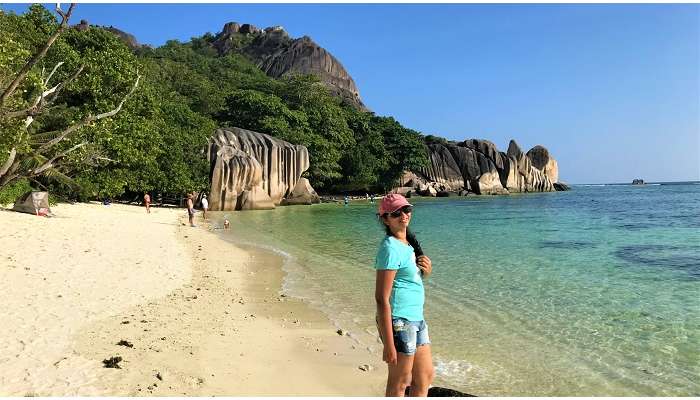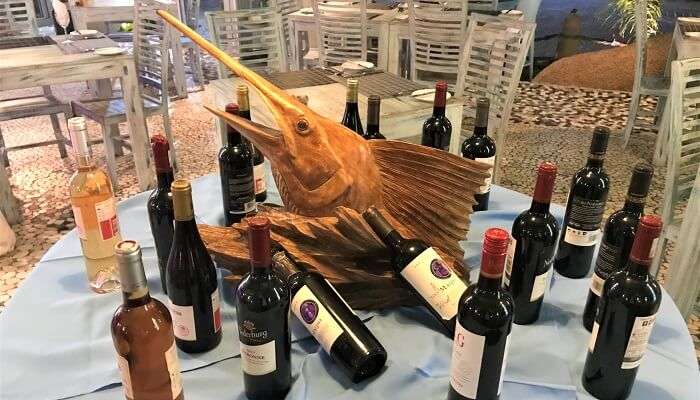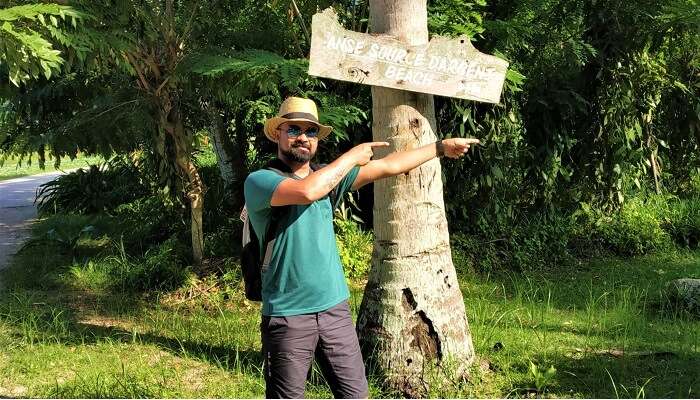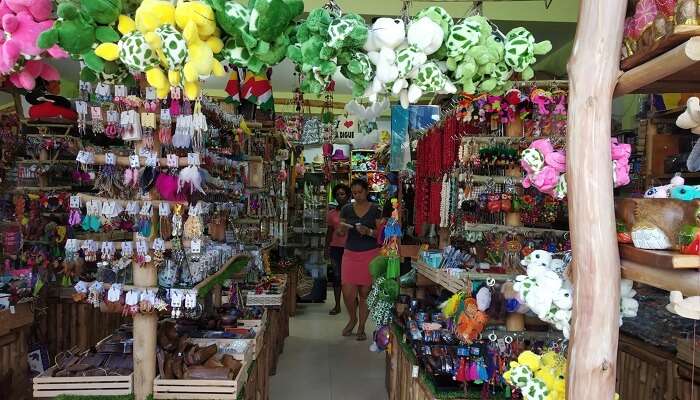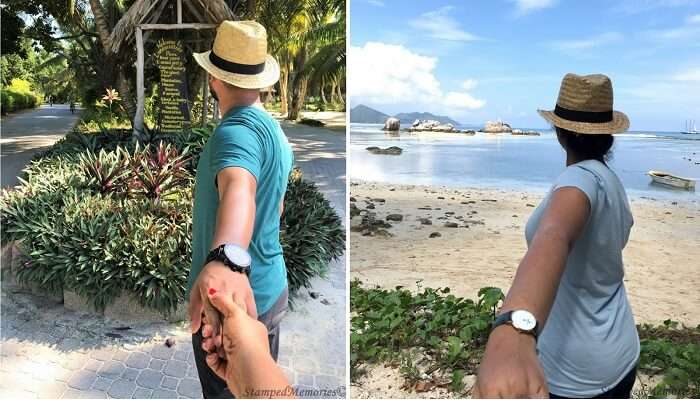 La Digue is a small town that can be covered in a day's cycle tour. While the island itself is very beautiful, it serves as the location of the most photographed beach in the world that just adds to the charm. Our hotel was located right next to the L'Union Estate Farm in Seychelles that is probably the most beautiful garden we have ever seen! It has pretty coconut and vanilla plantations that have been here since the time of the colonial rule in Seychelles, along with a vintage wooden house, antique farm tools, souvenir stores, and resident giant tortoises roaming around freely.
The entry to the Anse Source d'Argent Beach is through this garden. You need to pay an entrance fee of INR 506/- (SCR 100) at this garden in order to access the beach.
The beauty of this beach is unparalleled! There's no doubt as to why it is referred to as the most photographed beach in the world. It completely deserves that title! Other than that, it's a very long beach where you can take a stroll or sit on the warm sands to enjoy a gorgeous sunset! Another one of the best things to do in Seychelles in 7 days.
---
Planning your holiday but confused about where to go? These travel stories help you find your best trip ever!
Real travel stories. Real stays. Handy tips to help you make the right choice.
---
4. Silhouette Island – A Complimentary Trip By Hilton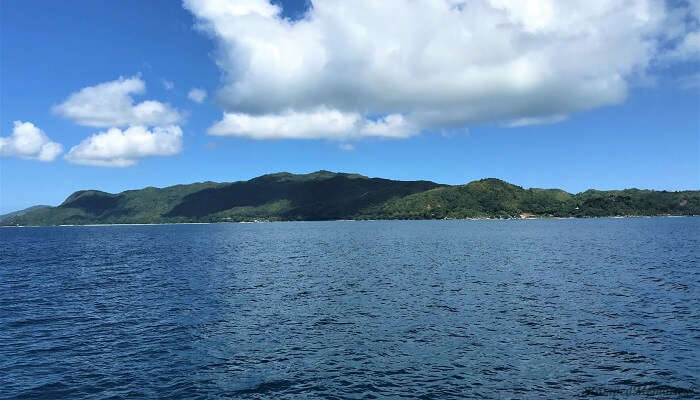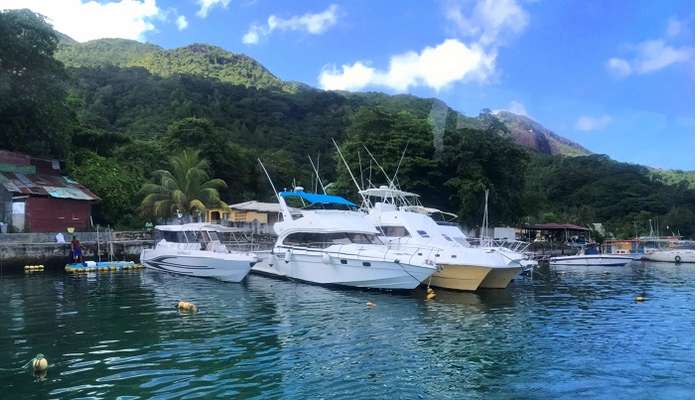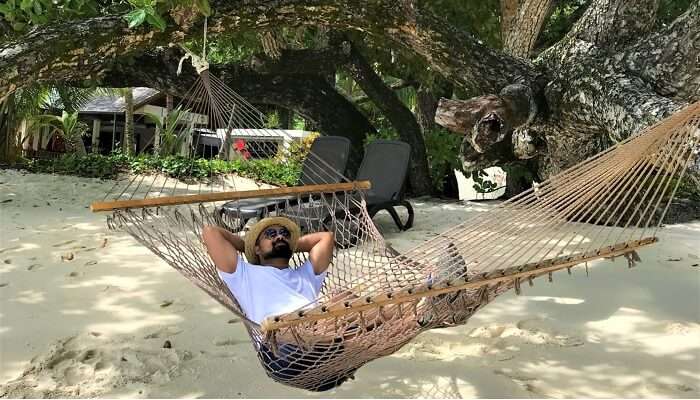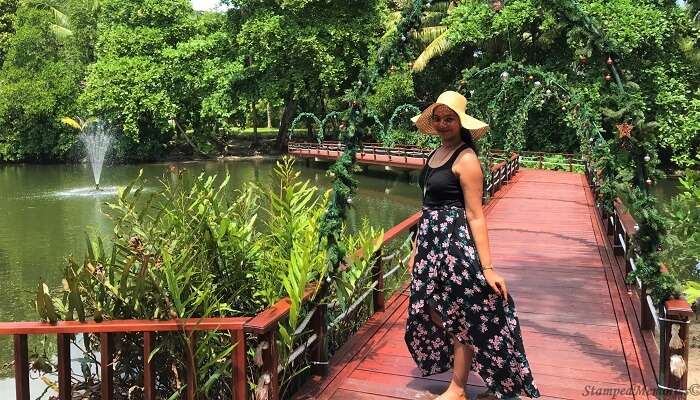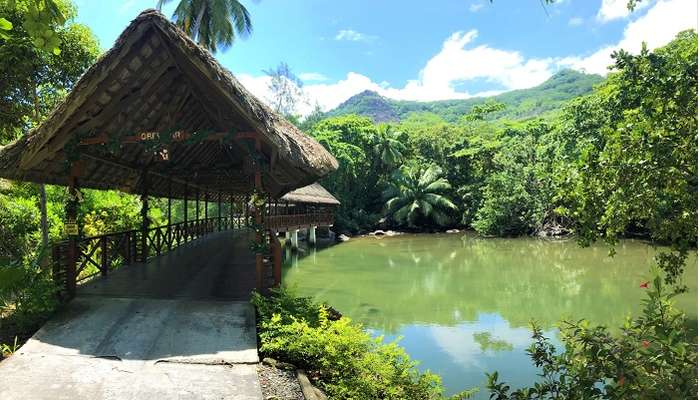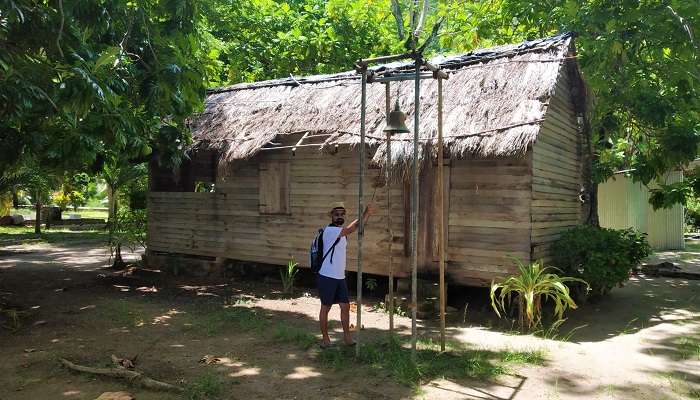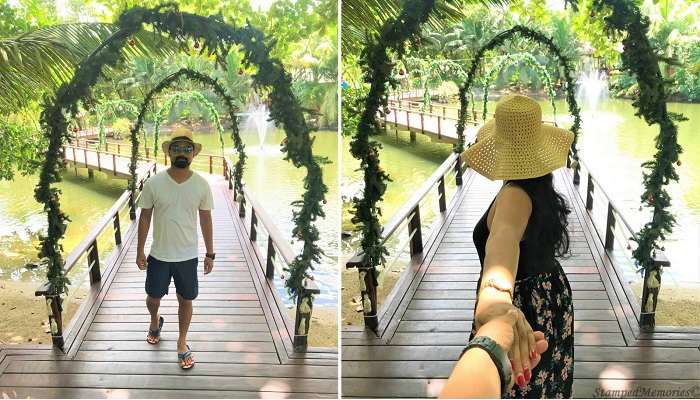 Owned by the Hilton Group of Resorts, the Silhouette Island in Seychelles houses the Hilton Seychelles Labriz Resort & Spa and is amongst the most beautiful islands in this archipelago.
Our hotel – Hilton Allamanda Resort and Spa – gave us a complimentary tour of this island. Our cab picked us up in the morning and dropped us at the port of Mahe, from where we boarded a ferry and got down at this surreal island located 20 km northwest of Mahé where we were warmly welcomed.
This beautiful place is home to a diverse array of natural attractions. Here you will find incense trees, rare plants and herbs, and a huge population of 125-year-old giant tortoises among other animals. The island has a rainforest, the most beautiful white sand beaches, and the mountain Mount Dauban soaring 740 meters above this forest! The rainforest is home to exotic flora like hardwood, wild orchids, and the carnivorous pitcher plants. There are well-maintained trails to allow visitors to explore the rainforest.
Other than the natural attractions, this picture-perfect island has a museum, a hospital, and a dilapidated school. People generally come to this island to simply relax in its peaceful environs and end up liking it so much that they eventually decide to stay here longer and get their luggage shifted here to the Labriz Resort. The resort property is gorgeous in itself and very well maintained with a courteous staff.
Suggested Read: 15 Best Hotels In Seychelles For A Perfect 2019 Tropical Holiday On The Beach
5. Victoria, Mahe – Souvenir Shopping & Local Sightseeing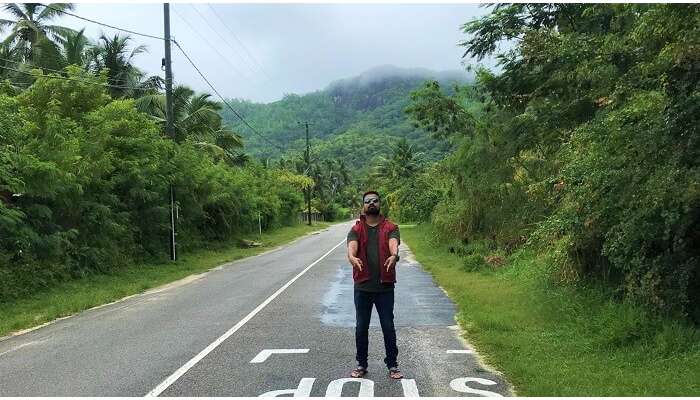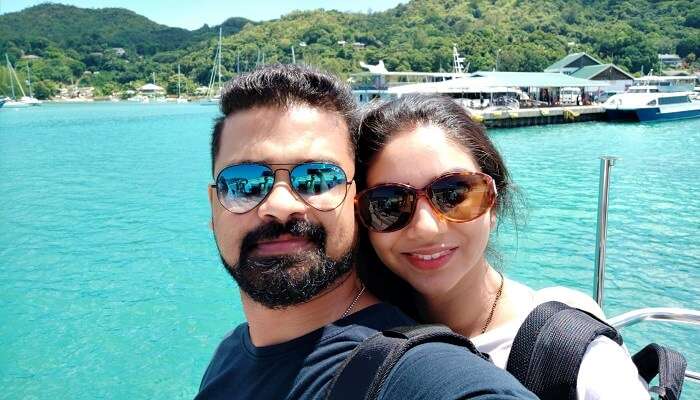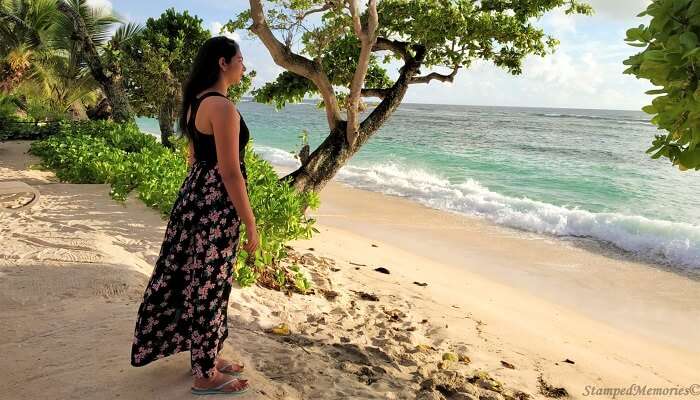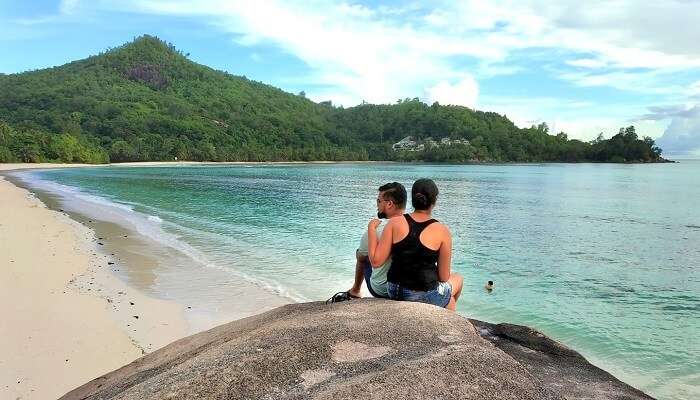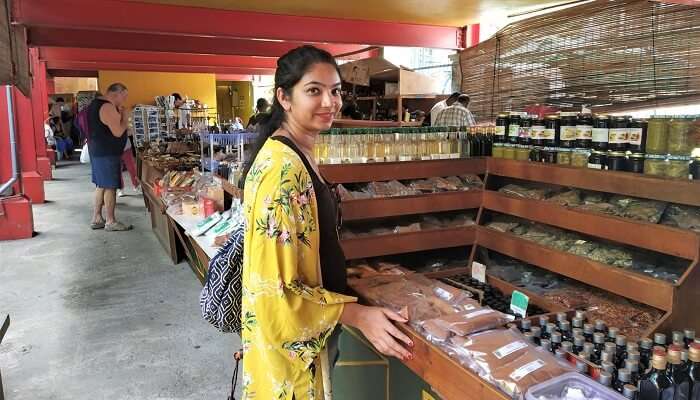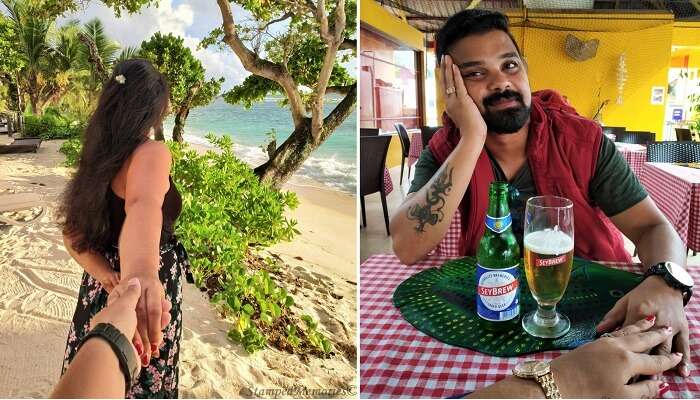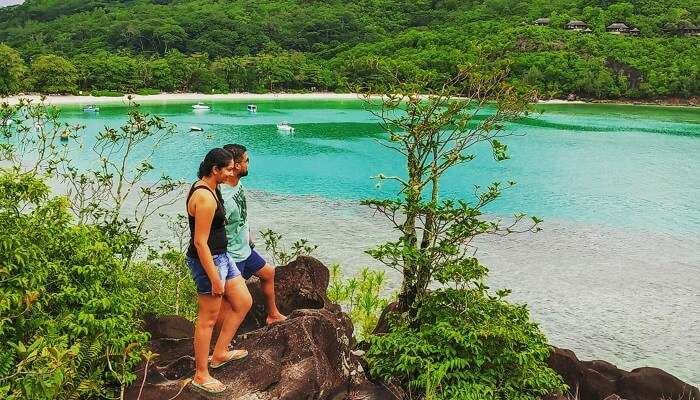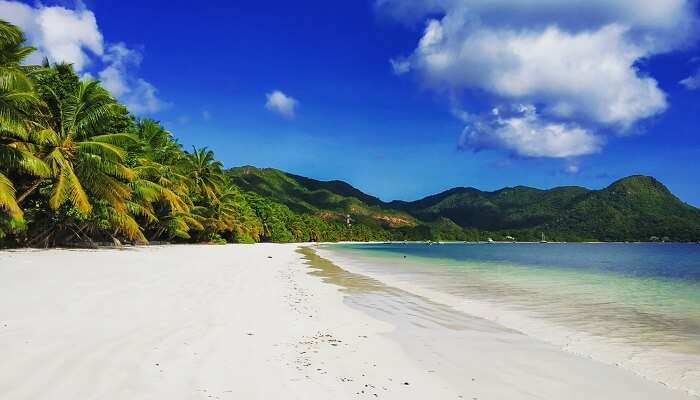 As per all Mahe island travel guides, you should go shopping in the markets in Victoria. Sir Selwyn Selwyn-Clarke Market in Victoria is a great place to buy souvenirs, handicrafts, home decor, and gift items for your friends and family. If you're out for souvenir shopping in Seychelles, you must buy handicrafts made out of seashells and corals in the form of items like fridge magnets, paperweights, wall hangings, and more, at around INR 100-300 each.
You can also purchase local tea and spices, tee shirts, and the Taka Maka rum. This is a local rum made in different flavors like vanilla and coconut. We especially took a tour of the Taka Maka factory to learn how it's made and bought it from their retail store itself at much cheaper rates than what other stores would offer. You can buy this bottle for a price of around INR 630 each.
We also visited various charming attractions in Mahe when we were there. Some of the must-visit places there include Seychelles Tea Museum, Victoria Clocktower (that looks like London's Big Ben!), Seychelles Natural History Museum, and Tempio Hindu (the only Hindu temple in all of Seychelles).
Some Seychelles Travel Tips For A Hassle-Free Holiday
Do keep these Do's and Dont's in mind if you travel to Seychelles in 8 days:
Everything in La Digue is closed on Sundays. Plan your trip in a way so that you don't end up in La Digue on a Sunday. You can instead spend this day relaxing in your hotel.
Try the local Creole cuisine. Typical Creole food is made with coconut and is absolutely delicious. If you like seafood you'd absolutely love Creole dishes.
Use local transport to get around.
Carry an exact change in hand for the bus fare as the drivers there don't appreciate bigger denominations.
The day starts early in Seychelles. Everything is open at 8 AM and starts closing by 5 PM, so plan your itinerary accordingly.
The roads are very narrow and steep in various parts of Mahe and Praslin with dangerous hairpin bends. Tread carefully.
Most locals in Seychelles speak fluent English so you won't have any communication problems. They are very lively, chilled out, and friendly folk who will always help you out if you ask nicely.
For a peaceful stay away from the hustle and bustle of Mahe, pick an accommodation near South Coast Road. However, if you wish to stay close to the markets and experience the nightlife, then stay in or near Victoria in the north.
Suggested Read: Nature Travel At Its Finest: Our Romantic Trip To Seychelles Was A Delight!
Our Experience With TravelTriangle
They are the most cooperative lot. We had asked for a zillion customizations and they were all incorporated. The person handling our trip was always just a call away and did not leave our side until the last day of our holiday. Our agent representative was also a very fun and jovial guy to be with. He gave us a tour of the entire Mahe island on the last day and we loved his company and his witty sense of humor! While our holiday was a little expensive since we had picked luxurious accommodations for our stay, we did the Mahe Island tour in half the price than what other tour agencies would normally offer.
Common Queries We Had While Planning Our Seychelles Honeymoon
We had quite a few doubts while we were planning our vacation. Now that we're back, we would like to answer them to help you book yours smoothly.
Do you know any interesting facts about Seychelles?
Here are a few of the interesting things you will encounter in Seychelles.
There are way too many crabs on these islands. But what's more fascinating is that the locals have built small houses for these crabs at many places, with their names on top! There even are crab crossings on roads, which is very adorable!
Paniki is a delicacy in Seychelles and is made from the meat of fruit bats that inhabit the island. There are hardly two or three places in Seychelles that serve this dish now and the taste is awful!
The local nut called Coco De Mer, or Lodoicea, or just the Sea Coconut, is endemic to the islands of Praslin and Curieuse in Seychelles. It has a very odd and hilarious shape which has made it super popular amongst tourists.
What is the best month to visit Seychelles?
November is ideally the right time to visit Seychelles. The Seychelles weather is at its most pleasant during this time with a warm temperature and a cool breeze. We went in the monsoon season when there was an expectation of heavy rains. Luckily, it did not rain so we were able to enjoy our trip to the fullest.
Is Seychelles good for honeymoon?
There's no doubt about it! Seychelles is amongst the best places for honeymoon owing to its splendid beaches, total seclusion and peace, myriad exciting experiences and adventures, and much more.
What should I buy in Seychelles?
You can buy souvenirs in Mahe made out of corals, seashells, and other local stuff. We bought pretty fridge magnets, tea and spices, tee shirts, paperweights, and more things to gift to our family and friends. You must also buy the Taka Maka – the local rum in flavors like vanilla and coconut. You can take a tour of the Taka Maka factory to learn how it's made and buy it from their retail store itself at economical rates. We bought two bottles for INR 630 each. You can buy classy fridge magnets for as less as INR 100 here. You can also take home packets of the local delicacy called Breadfruit Chips.
Is it dangerous to swim in Seychelles?
You can go swimming in Seychelles only during the time of day when the tides are favorable. Most hotels in Seychelles put up printouts of tide readings on their notice boards every morning indicating the level of tides throughout the day. Travelers are advised to read it carefully and plan their swimming schedule accordingly. Many coastal areas completely prohibit swimming due to the presence of sea urchins, like the South Coast in Mahe.
What currency is best for Seychelles?
You can carry US dollars to Seychelles and exchange it into the local currency at the airport or your hotel here (preferably the airport for a better exchange rate). Make sure that you carry local currency in smaller denominations to make it easier for yourself to make transactions at local stores and in buses. It'll be beneficial for you to have a fair idea of how much you'll need beforehand so that you don't have to hunt for exchange stores while exploring.
How do you get around in Seychelles?
Use local transport to get around. Bus travel is very cheap, reliable, and convenient. It takes not more than SCR 5-7 for a one-way bus ride anywhere in Seychelles. You can ask your hotel staff to help you with the bus schedules and directions, and they'd gladly assist you. For getting around in La Digue, you can hire bicycles. In Praslin too, you can easily take a bus or hire a cab.
What should I wear in Seychelles?
Seychelles is a normal tropical destination where you can wear light colored cotton and linen shirts, trousers, shorts, and sundresses. Wear comfortable footwear so that you can walk around with ease. Don't step out without hats, shades, and a generous amount of sunscreen (SPF 50 or above).
How much does a meal cost in Seychelles?
Food is a bit pricey in Seychelles. But then it also depends on where you are eating. We tried everything from the local cuisine in small eateries to that in fancy restaurants, and the prices obviously differed in both. The cost of a meal at a restaurant in Seychelles would usually vary from INR 1,000 to INR 2,500 per person. Don't forget to try breadfruit chips, the local snack in Seychelles.
How many days do you need in Seychelles?
You need at least one week in Seychelles to fully explore it. You will ideally require 1 full day in La Digue, 3 days in Mahe, 2 days in Praslin, and 1 day for Curieuse and Cousin Island.
Is Seychelles a party place?
While Seychelles is more or less a laidback and peaceful tropical destination, you can find various party hubs in Mahe Island. There are many bars, pubs, clubs, and casinos in Victoria that you can check out.
Is veg food available in Seychelles?
There are plenty of options for vegetarian food in Seychelles. Though there aren't any pure veg restaurants, you'd still find an extensive veg menu in all the restaurants and eating joints there.
Further Read: Seychelles Visa For Indians: Applications, Requirements And More
You didn't know Seychelles had so much to offer, did you? Now that you do, why delay booking your romantic escapade. Plan your holiday in Seychelles right away and have the most fabulous time at this delightful tropical paradise down south. And once you're back, don't forget to write to us about your trip experience!
---
Looking To Book A Holiday Package?
Book memorable holidays on TravelTriangle with 650+ verified travel agents for 65+ domestic and international destinations.
---
Comments
comments