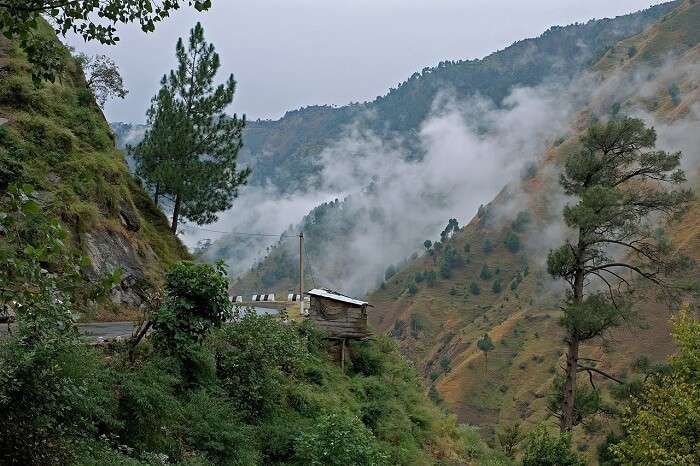 Located halfway between Kalka and Shimla, Kasauli is a small hill station nestled among the Shivalik Range. The cantonment town, established during British Era, is now a favorite destination for weekend trips and small retreats. But there is a lot more to the quaint hill station than just scenic views. For those who wish to visit this peaceful getaway soon, here are our recommendations for the most awesome things to do in Kasauli. You will have the time of your life here and will not be disappointed by anything that Kasauli has to offer you.
Best Time To Visit Kasauli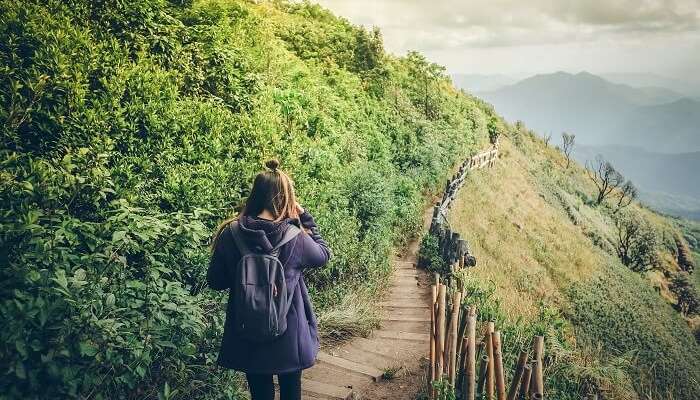 Monsoon is the best season to visit Kasauli. During the months of July, August, and September, tourists flock-in in large numbers to try some adventurous activities to do in Kasauli. The summers and winters, however, are equally pleasant. And so, it is a year-round weekend getaway from Delhi and Chandigarh.
14 Things To Do In Kasauli
Here are the fun things to do in Kasauli. Read further to know all about the various activities that this beautiful town in Himachal has to offer. Take a look:
Trekking Tours
Nature Walks
Gilbert Trail
Toy Train Ride
Kasauli Tibetan Market
Tibetan Food
Hangout Bar
Gurkha Fort
Christ Church
Timber Trail
Monkey Point
Gurudwara Sri Guru Nanakji
Kasauli Brewery
Sunset Point
1. Trekking Tours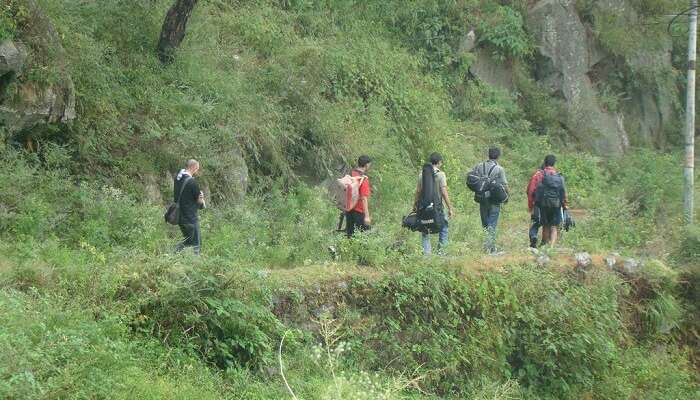 Image Source
Jaw dropping vistas, sharp and mesmerizing winding hilly tracks, cool and comfortable weather, and not so crowded surroundings make trekking tours one of the most fascinating things to do in Kasauli. Trek along the Lower Mall Road up to the picture-perfect attractions in Kasauli – such as Manki, Jabli, and Sunset Point – is relaxing as well as revivifying. Do not forget your walking shoes and tracksuits. It is one of the best things to do in Kasauli Himachal Pradesh.
Best time: Dawn to dusk
---
Himachal Holiday Packages On TravelTriangle
Head to Himachal to witness lush valleys surrounded by snow-capped hills. Indulge in skiing, paragliding, and other adventure sports. Book holiday packages inclusive of airport transfers, cab, resort, sightseeing, and meals to Shimla, Manali, Kasol, Dharamshala, and more.
---
2. Nature Walks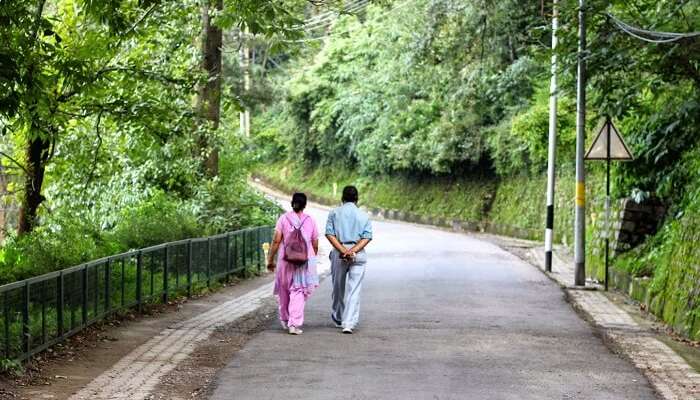 Image Source
This is one of the top things to do in Kasauli. Kasauli has romance in its air, and that's why nature walk amidst the most picture-perfect environs is one of the amazing things to do in Kasauli. Enjoy the weekend holiday with your spouse by strolling from Lower Mall up to Kimmughat & Sunset point and around the Sanatorium, the Lover's Lane, and the cantonment area. The walk is serene and refreshing and offers the best panoramic views of Himalayan peaks in the distance.
Best time: Dawn to dusk
Suggested Read: 10 Places To Visit In Kasauli In 2020 That Prove It's The Best Town In Himachal To Get Close To Nature
3. Gilbert Trail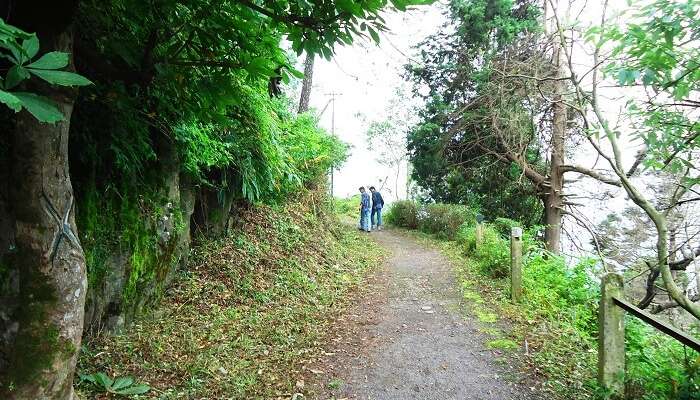 For all those wondering what to do in Kasauli, taking the Gilbert Trail is among the best things to do in Kasauli. The 1.5 km kachha walkway from Lovers' Lane, along the narrow winding paths of rocky cliffs, is very slippery. It is, thus, advised to be extra cautious while strolling along this trail. Make sure that you walk very carefully on this trail and wear sturdy, comfortable shoes. Also, stay on the lookout for prickly bushes.
Best time: Dawn to dusk
4. Toy Train Ride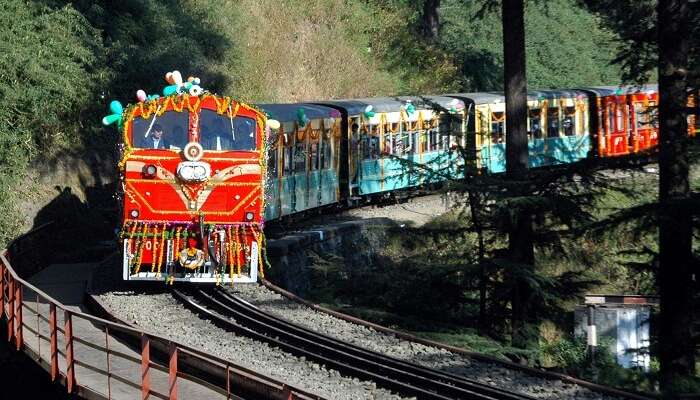 Image Source
Make your vacations in Kasauli a little unique and mesmerizing by taking the heritage toy train ride between the two stations of proximity. From Kasauli, one can travel up to Dharampur (about 10 km) and take the train up to Barog and return. The journey through the hills tunnels, oak & pine forests, gorges, and small hilly hamlets is a dreamy affair.
The toy train – a World Heritage as declared by UNESCO – is definitely a joy ride and one of the mesmerizing tourist attractions in Kasauli. One can even experience the longest tunnel at Barog, which is 3 minutes' travel, during this trip. Do not forget to carry your camera.
Opening Hours: The train times keep on changing. For updated timings, click here.
Charges: Toy train tickets can be booked in one month advance from all partner websites of IRCTC.
Suggested Read: 25 Best Resorts In Kasauli For A Tranquil Getaway In The Peace & Quiet Of Hills!
5. Kasauli Tibetan Market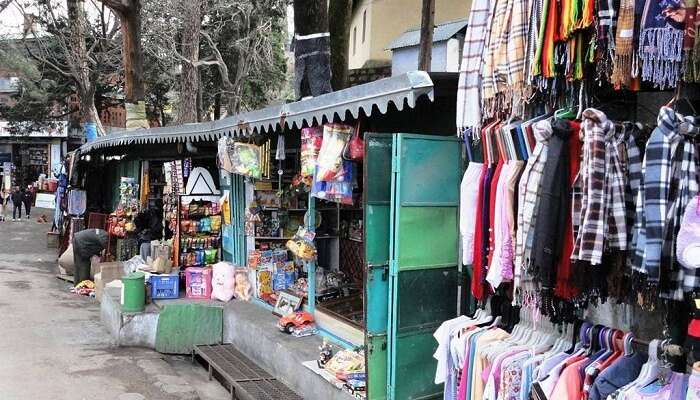 Image Source
The lower Mall road is dotted with numerous local Tibetan shops selling small handicrafts, woolens, hand-woven shawls, stoles, and scarves. The fruit markets sell fresh seasonal fruits like apricots, plums, and peaches picked from the orchards. Also, there is a wide variety of jams and marmalades to choose from. Among the popular tourist attractions in Kasauli are the two souvenir shops – Pinkonez and Mug Studio on the Mall Road – that offer large varieties of gift items. Kasauli is also famous for its large assortment of locally produced and reasonably priced fruit wines. Some of the popular savors are apple wine, plum wine, sherry wine, peach wine, and black grape wine.
Opening Hours: 7 am – 8 pm; Every store has different time slots. We recommend you to check out while roaming around.
6. Tibetan Food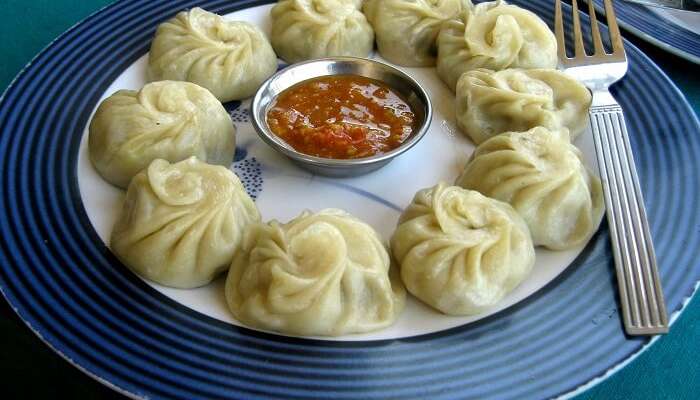 Image Source
Savoring Tibetan food is among the best things to do in Kasauli for foodies. A range of dumpling and thukpa varieties are available at the local Tibetan food stalls lined up in lower Mall area. One can also try the local bread called Sidu, poppy seeds Halwa, and Madara. One can also relish the invigorating and healthy teas like Green Ginger Tea. Kasauli is also famous for Band Samosa – a stuffed bun served with chutney and chhole. Utterly delicious! Along with local Tibetan food outlets, NH22 Dhaba and Narinder Sweet House are quite popular among tourists.
Opening Hours: 9 am – 10 pm; Varies from outlet to outlet
Suggested Read: 10 Best Hotels In Kasauli That Offer Incredible Views And Homely Warmth
7. Hangout Bar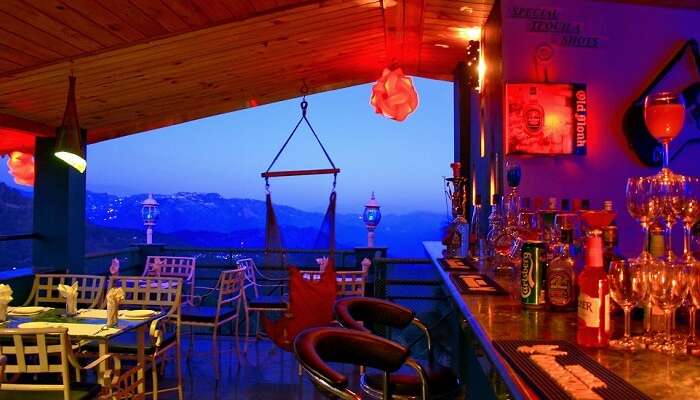 Image Source
Those staying over for the night at Kasauli can't afford to miss Hangout: The Rooftop Bar of Kasauli Regency. It is terrace set up – well decorated with cane and smart looking furniture, neon illuminated bar counter, and hammock – that serves a wide range of refreshing beverages and sumptuous food. The most interesting and highlighting element of Hangout is Live DJ performances on weekend nights. The music varies from Bollywood classics to latest peppy numbers, retro Hollywood to hip-hop, and from rock & roll to the classic jazz.
The ambiance of Rooftop Bar is mesmerizing. It overlooks the lofty hills, foggy valleys, and thick pine forests. You need not be a resident of Kasauli Regency to enjoy the musical gigs, lovely breakfast spread, or finger licking lunch comprising of Indian and Continental cuisines. The staff, as well as the bartender, are extremely polite and courteous and the hotel manager himself stays up and active to look after the guests every evening.
Opening Hours: 8 am – 12 am
Suggested Read: Travel Tips For Himachal Pradesh: 11 Things You Need To Know Before Visiting This Paradise!
8. Gurkha Fort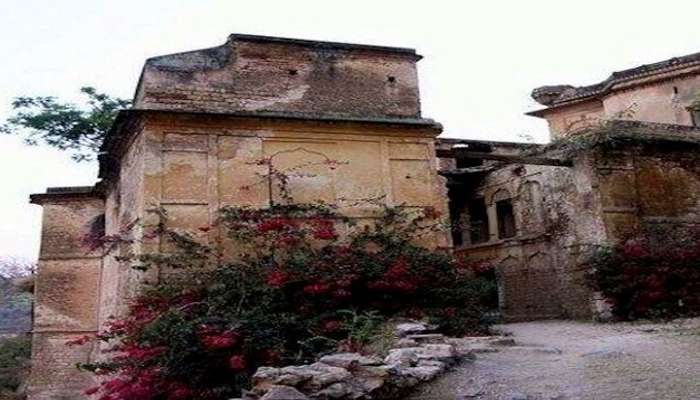 This is an old historical place located in Parwanoo in Himachal Pradesh. Perched on a hillock in Subathu, the Gurkha Fort is around 16 km away from Parwanoo. It is easily accessible by road. This heritage fort is located at the corner of the town and surrounded by a dense forest. Perched at 4500 feet above sea level, this is an amazing spot for photography. One can also trek to the nearby villages which are quite serene and beautiful. In fact, trekking is among the best things to do near Kasauli for adventure seekers.
Best time to visit: the afternoon or early evening
Suggested Read: 15 Homestays In Kasauli & Its Vicinity To Suit Every Budget
9. Christ Church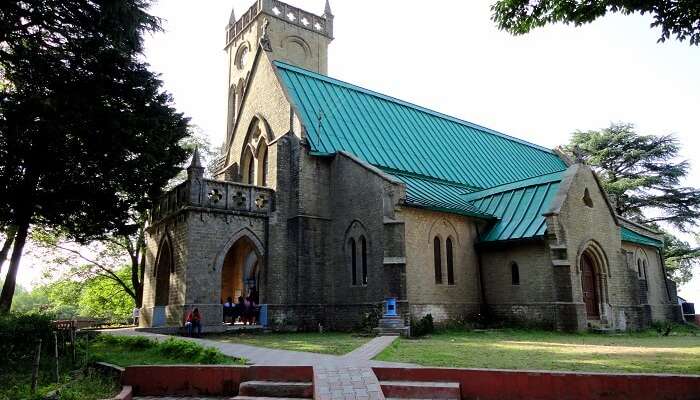 Located on Mall Road, this is one of the most visited tourist places in Kasauli. Constructed by the British in 1853, the church is surrounded by the beautiful pine and deodar trees. The serene ambiance and the scenic environs make it one of the top places to visit in Kasauli. Head here to view the stunning architecture of the church. This famous Kasauli attractions also makes for a great background to click some amazing pictures.
Timings: 7 AM to 7 PM
Ticket: No Entry Ticket
10. Timber Trail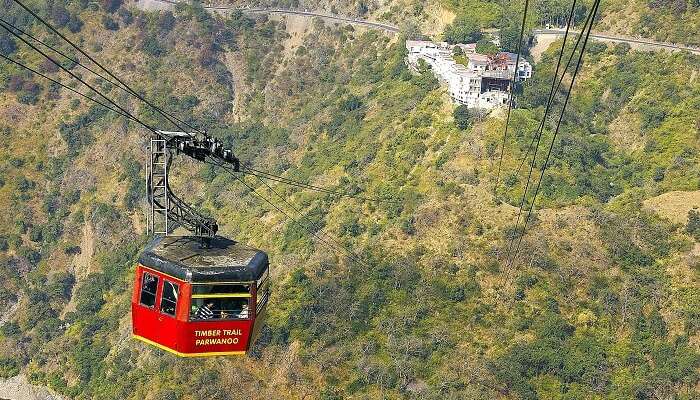 If you are looking for fun things to do in Kasauli, then head to Timber Trail. This is one of the best activities to enjoy in Kasauli with children. The ropeway here is the perfect way to enjoy the views of the majestic mountains and green valleys of Himachal. Enjoy the Timber Trail cable car which is a 1.8 km ropeway. Also, do not forget to carry your camera, as the views here are just stunning.
Timings: 9 AM to 5 PM
Ticket: INR 1200 for Adults and INR 1000 for Children (For Cable Car Ride)
Suggested Read: 10 Cottages In Kasauli For Those Seeking Peace & Beauty
11. Monkey Point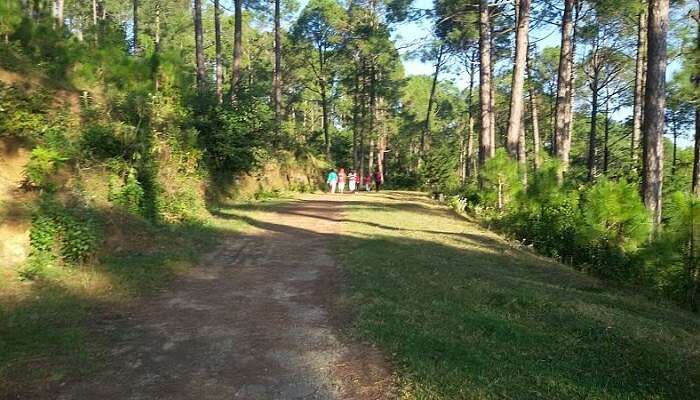 Image Source
Swarmed with naughty but friendly monkeys, this is the most noteworthy point in all of Kasauli that offers some outstanding views of the entire region, even up till the urban domains of Chandigarh, Kalka, and Panchkula! You can also see the powerful Sutlej river meandering fiercely form this point into the lush mountains, one of the major reasons this point is frequented by photographers and artists in huge numbers. It is believed that Lord Hanuman's foot had touched this very spot while he was carrying the Sanjeevani herb over it. And you can even see that impression of his foot on the highest point of the slope.
Location: Kasauli, Himachal Pradesh 173204
12. Gurudwara Sri Guru Nanakji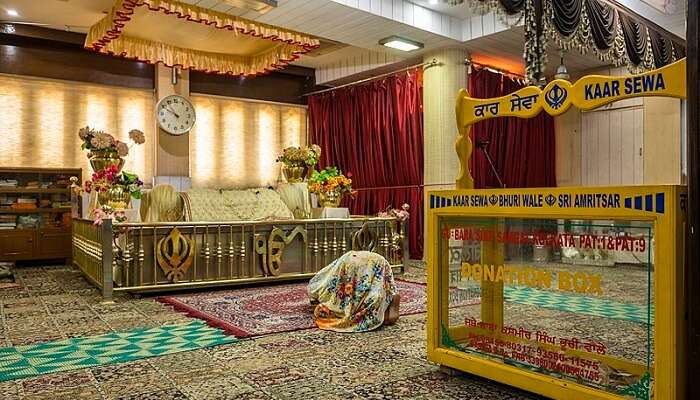 Image Source
One of the most important things to do in Kasauli is to seek blessing of Guru Nanak ji at this pristine and beautiful shrine. Gurudwara Sri Guru Nanakji is essentially an old Sikh hallowed place that is situated on the outskirts of Kasauli. Other than the Lord's blessings, this place offer lodging offices and food to devotees who come from far off places to bask in its peaceful aura and see the holy book of Guru Granth Sahib. Make sure you remove your shoes and cover your head and shoulders before you set foot inside this holy shrine.
Location: Arhat Bazaar, Kasauli, Himachal Pradesh 173204
Suggested Read: 10 Terribly Overrated Destinations In Himachal & Where To Travel Instead In 2020
13. Kasauli Brewery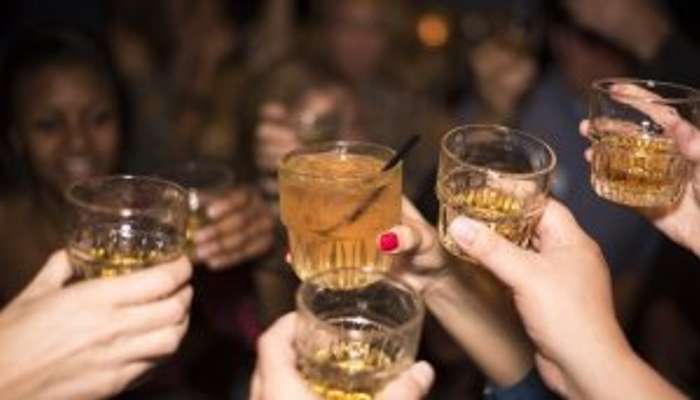 This is probably amongst the most beautiful breweries in the world and is situated on the edges of the town of Kasauli, offering visitors astounding views of the valley. It was built by Edward Dyer in the 1820s and he particularly picked this area because of the fine spring water and the beautiful weather here that are somewhat similar to that of Scotland. It's among the most established working refineries in not just India, but in the entire Asian mainland.
Location: Kasauli, Himachal Pradesh, India
14. Sunset Point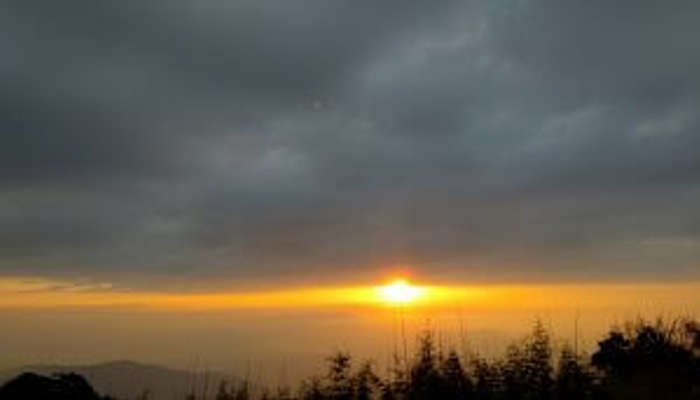 Earlier called the Hawa Ghar, the Sunset Point in Kasauli treats guests with a refreshing hike through the Lower Mall towards Ros Common since this point lies about 350 meters before Ros Common. The name 'Hawa Ghar' given to this place is because of the consistent and cool air streams that you can enjoy here year-round. Other than this, this place offers the most stunning views of the dawn over the misty hills of Kasauli or the lit views of this city at night that should not be missed when you're holidaying in this city.
Location: Kasauli, Himachal Pradesh 173220
Suggested Read: The Only Guide To Kasauli Rhythm And Blues 2020 Festival You Need
How To Reach Kasauli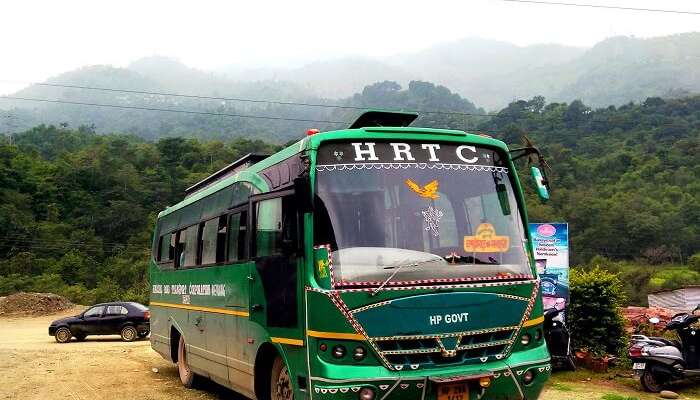 By Bus: Nearest Bus Stop is at Parwanoo, located 7 km from Kasauli
By Train: Nearest Railway Station is Sonwara (SWO), located 4 km from Kasauli
By Air: Nearest Airport is Chandigarh Airport (IXC), located 25 km from Kasauli
Further Read: Explore The Himalayas: 31 Best Places To Visit In Himachal Pradesh
Kasauli offers a peaceful stay with some engrossing activities and few picture perfect options of sightseeing in Kasauli. Book a trip to Kasauli with TravelTriangle. And if you know of any more things to do in Kasauli this year, let us know in the comments section below. Surprise us!
Frequently Asked Questions About Things To Do In Kasauli
Here are some common questions that can help solve your queries:
Q. Is Kasauli safe in monsoon?
A. Monsoon is one of the best time to explore Kasauli owing to the lush green foliage and pleasant climate during this time. One should, however, watch out for natural hindrances like landslides and cloud bursts.
Q. What is there in Kasauli?
A. Kasauli is a very famous hill stations in Himachal Pradesh and has various attractions and activities that attract tourists every year. Some of the key attractions include the Central Research Institute, the Christ Church, Kasauli Brewery, the Nahri Temple, Sunset Point, and the Manki Point among others. One can also indulge in various activities like trekking, shopping, and even paragliding in Kasauli.
Q. What can I buy in Kasauli?
A. Some of the popular things to buy in Kasauli are woolen clothing, wooden articles, handicrafts, wines, jams, and jellies. A trip to Kasauli is incomplete without you strolling through the streets to buy these items.
Q. Is there any river in Kasauli?
A. There is no river around Kasauli. The closest river to this place is Sadhupul which is around 45 km from Kasauli.
Q. When is the best time to visit Kasauli?
A. The best time to visit Kasauli is from April to June and then again from September to November. The popular hill station enjoys a moderate climate throughout the year.
Q. Which are the popular offbeat places in Kasauli?
A. Toy train ride from Dharampur to Barog, Monkey Point and Gurka Fort are some of the awesome offbeat places to visit in Kasauli.
Q. How long is Gilbert Trail?
A. The total length of the Gilbert Trail track is around 1.5km. It is a beautiful lane of nature where you can have a long walk.
Q. Which is better Kasauli or Kasol?
A. Both are equally marvelous and visit-worthy. While Kasol is more peaceful, Kasauli is rather crowded with lots of options for nightlife and shopping. While Kasol is more of an adventurous town famous for the Kheerganga trek, Kasauli is more of a scenic hill station with lots of tourist attractions for couples and families.
Q. What is special in Kasauli?
A. Kasauli is famous for its many attractions like the Central Research Institute, Christ Church, Kasauli Brewery, and Sunset Point as well as various activities like trekking, shopping, and even paragliding.
Q.
How far is Kasauli from Shimla?
A. Kasauli is about 74.2 km away from Shimla and it would take you about 2 hours 40 minutes to get there by road.
Q. How can I go to Kasauli from Chandigarh?

A. The fastest, cheapest, and most convenient way to get from Chandigarh to Kasauli is by road. Since no train or bus is available from Chandigarh to Kasauli, you can take a taxi or hire a car to drive yourself there.
People also read:
National parks in Himachal Pradesh Best hotels in Kasauli Hill stations near Chandigarh
Comments
comments