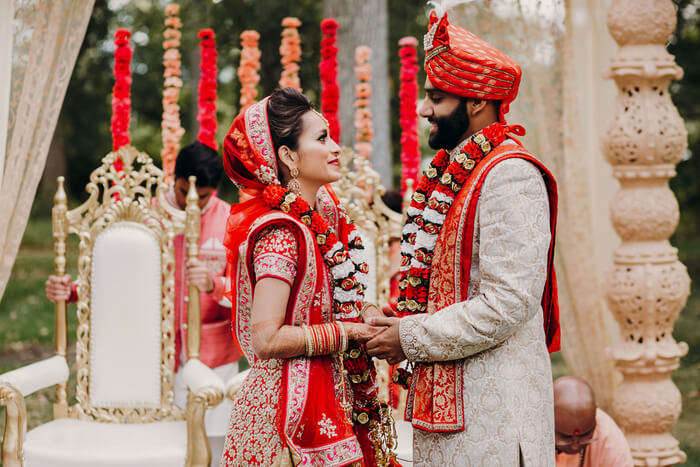 Could there be a better place to take your vows than the most well-planned and greenest city in India? Start your blissful married life by getting married at one of these wedding venues in Chandigarh and have a great time with your family and friends. Some of these venues even provide services of wedding planning to their clients which make your job easier. If you are looking forward to a winter wedding, choose an open venue where Shivalik Ranges bestow upon you.
Wedding Venues In Chandigarh In 2023
Here are some of the best places in 'The City Beautiful' to take your vows. If you are looking for a wedding venues in Chandigarh with price, you can contact their website or call them for quotes and customizations.
1. Park Plaza Zirakpur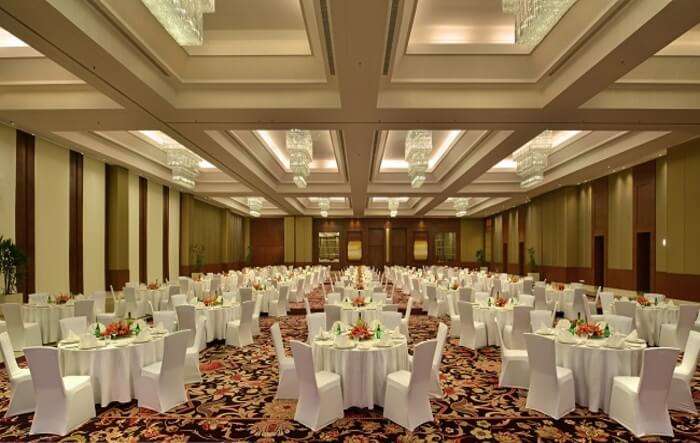 If you are looking for plush wedding venues in Chandigarh, then you can choose to hold your wedding reception at Park Plaza in Zirakpur. It has a lavish ballroom which can host up to 3,000 guests at a time. On top of it, you get services of catering and decoration if you decide to host your event here. Since the hotel also has comfortable rooms and suites, you can make arrangements for your guests here. You can customize things of your choice and even choose a particular theme for your event.
Location: Ambala Chandigarh Expy Distt Mohali Near Cosmo Plaza, Zirakpur, Punjab 140603
Suggested Read:8 Beautiful Resorts Near Chandigarh For A Rejuvenating Retreat
2. Chandigarh Club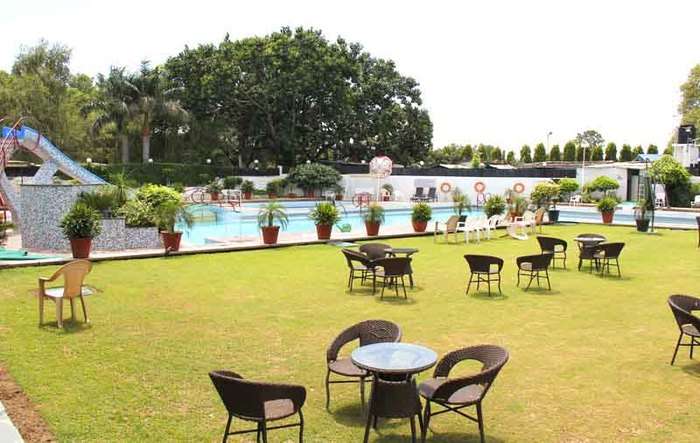 For those who have a membership of Chandigarh Club, all their venue arrangements are sorted. This sprawling gardens of the Chandigarh Club are perfect to host your big fat Indian wedding. Since it is a highly affiliated club, it is perfect for those who want a sophisticated event. Catered or uncatered, the club will organize your event just the way you like. Located amidst Shivalik Ranges, it is absolutely perfect for a winter wedding during the day. It is one of the most preferable wedding venues for government officials and bureaucrats..
Location: Sector 1, Near CM House, Chandigarh, 160001
3. Kalagram Baithak CITCO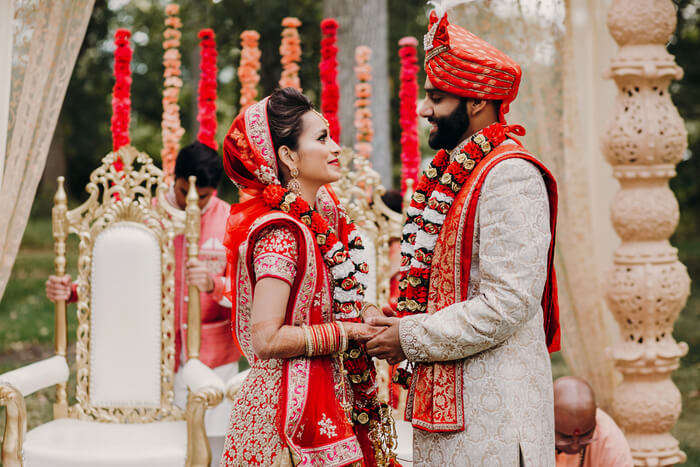 The banquet hall of Kalagram Baithak is a perfect venue to host a small intimate affair with a total gathering of 300 people. The whole place gives you an ambiance of a Rajasthani baithak and is decorated with traditional handicrafts and interiors. Catering service is provided on the menu and serve Indian, Chinese, and continental. However, this is just a wedding venue so you will have to make your own arrangements for a bar, flower decorations, and audiovisuals. It is one of the most famous wedding venues in Chandigarh.
Location: Chandigarh Haveli, Kalagram Manimajra, UT, Chandigarh 160101
Suggested Read:Nightlife In Chandigarh: 25 Best Places To Experience Night Scenes Of The City
4. JW Marriot Hotel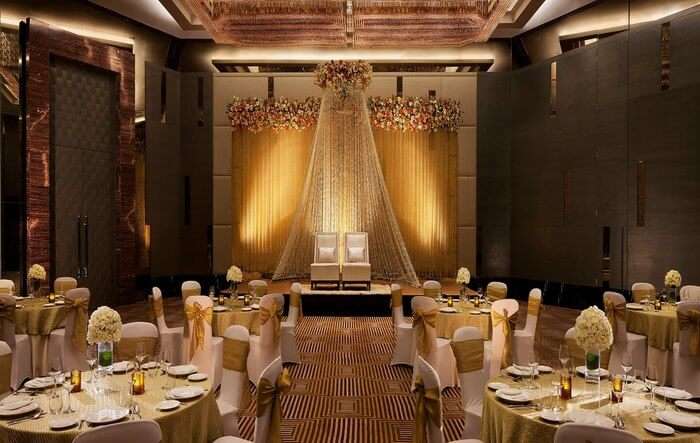 The banquet hall of JW Marriot Hotel is one of the wedding venues in Chandigarh where you can celebrate the nuptials in the most exquisite manner. The grand ballroom of JW Marriot can host up to 900 people at once. You can rely on the professional staff at JW Marriot to plan a spectacular day for you. You can even make arrangements for your guests at Marriot Hotel where they provide mobile check-ins for your guests. Make your bookings at Marriot and forget about all the arrangements because their wedding specialists will take care of everything.
Location: Plot No: 6, Dakshin Marg, 35B, Sector 35, Chandigarh, 160035
---
Planning your honeymoon but confused about where to go? These honeymoon stories help you find your best honeymoon trip ever!
---
5. Hotel Mountview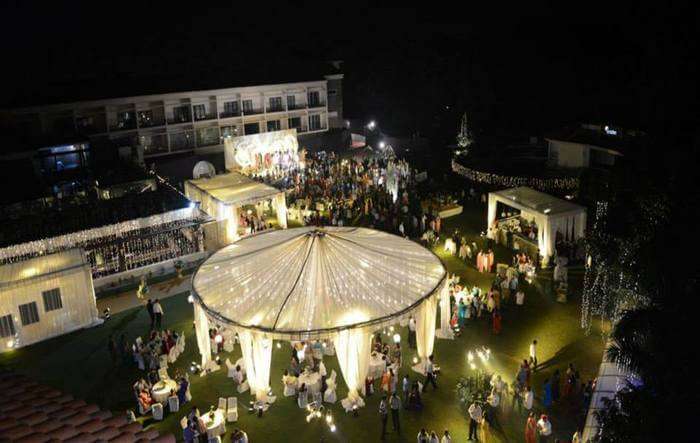 Hotel Mountview s one of the most popular wedding venues in Chandigarh. This place is always booked for one event or another. So, if you want to get married here, decide your wedding date according to the reservations you get here. The poolside lawn has a capacity of 1000 people which is perfect for a lavish gathering. The front lawn hosts up to 800 people at a time. If your guest list is limited, then you can host your event in the banquet hall. This is a perfect location to hold all your wedding and pre-wedding functions.
Location: Sector 10, Chandigarh, 160011
6. The Lalit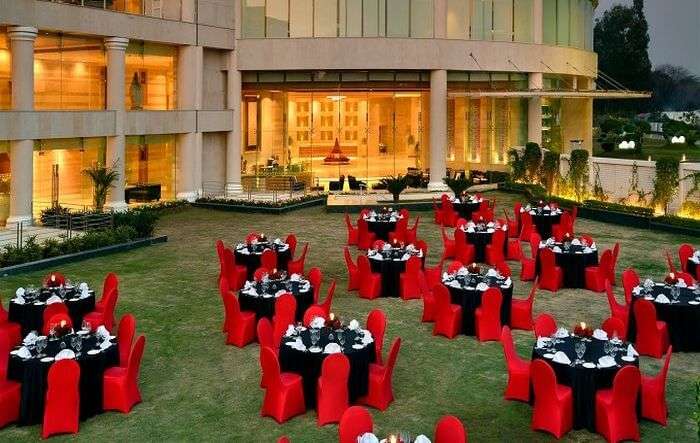 There could not be any doubts about how good a wedding venue in Chandigarh is. The 20,000 square feet of banquet space comes with state of the art facilities where your guests will get to enjoy the exquisite decor, professional service, and gourmet cuisine. Its proximity from the airport, railway station, and bus stand make it a convenient choice as your guests won't have to hassle to reach the venue. After seeing their manicured lawns and lavish banquets, you could not have asked for a better place to get married. The Lalit Chandigarh wedding is one that is sophisticated and classy.
Location: Rajiv Gandhi IT Park, DLF Commercial Complex, Chandigarh, 160101
Suggested Read:Chandigarh Airport Is Undergoing Changes & Will Remain Non- operational From May 12-31
7. The Fort Ramgarh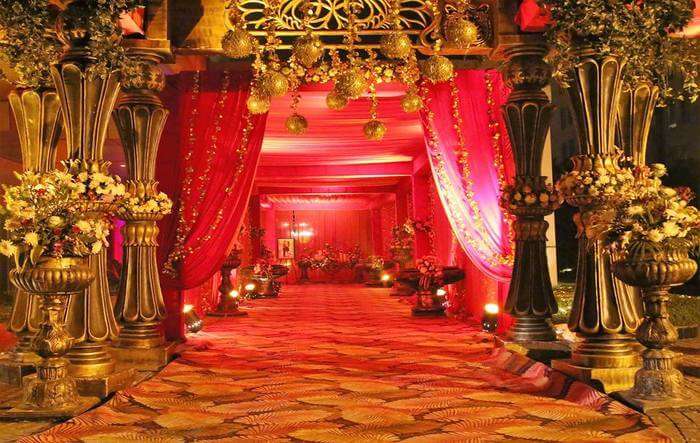 For those who want a destination wedding around Chandigarh away from all the hustle bustle city, The Fort Ramgarh is one of the best wedding venues you can have to get wed. It is a hidden gem located just 17 km from the city where you can have a royal experience. Imagine having your mehendi ceremony in the sprawling gardens of the fort. If you want to have a small intimate wedding with your closed ones around, this is a perfect spot. It also has 29 guests rooms where you can make arrangements for your guests.
Location: National Highway 73, Sector 28, Panchkula, Haryana 134111
8. Taj Chandigarh

The newly built Taj Chandigarh is located in the city's prime business area. This is one of the best venues in Chandigarh and is a comfortable 30minutes drive from the airport and 15 minutes drive from the railway station. The inviting and splendid venue is home to beautiful lawns and banquet halls. Imagine having your wedding in the city's finest hotel. It will be nothing less than a dream to get married at this beautiful hotel.
Location: Block No.9 Sector 17 A, Chandigarh 160017 India
Suggested Read:Visit The Leisure Valley Chandigarh For A Blissful Retreat Amidst Lush Greenery
9. Hotel Rajshree

Hotel Rajshree is one of the ideal wedding venues in Chandigarh India well suited for a cozy celebration of pre wedding or a wedding and reception. The mesmerizing venue will fulfil every aspect of your dream wedding. The highlight of the hotel includes a bar, restaurant couples with a variety of dining options. The decoration is also extremely phenomenal for your special occasion. With everything that this exotic hotel offers from the world-class accommodation to premium facilities, it is surely a thing to experience.
Location: 181/45 Industrial & Business Park Phase 1, Chandigarh India
10. Hotel 6 Chandigarh Zirakpur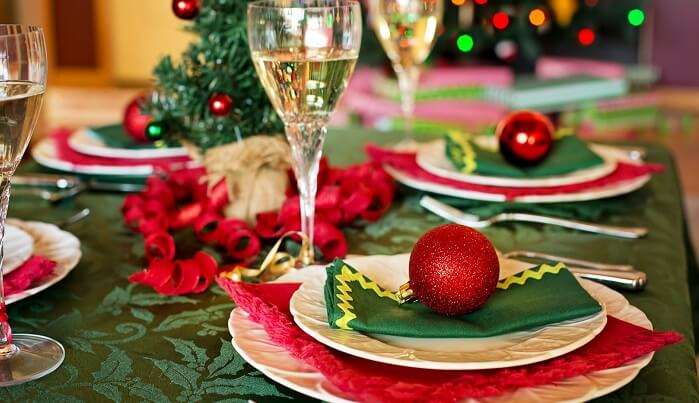 Celebrate your wedding at this new hotel 6 in India's 'city beautiful'. Placed in the heart of Zirakpur, this hotel offers a variety of entertainment options, airy rooms, world class facilities to maximize your whole wedding experience. They are also fully equipped with the sound system. Celebrate your dream wedding at this hotel as you have always wanted. This is amongst the best Chandigarh wedding venues.
Location: Ambala Chandigarh National Highway 22, Zirakpur, Chandigarh 140603 India
Suggested Read:18 Best Things To Do In Chandigarh That Will Make Your Getaway Frolicsome
11. Palki Palace

Palki Palace is a lifestyle destination, perfect for wedding events. The air conditioned banquet hall accommodates around 800 people making it the best wedding venues in Chandigarh for events with a large gathering. They have inhouse catering dining options available and outside vendors are not permitted. The best part about this venue is that it not only a wedding venue alone but also has an event management team that helps in planning and supervising the events from the beginning to the end.
Location: Chd. Kharar Road VP. O Balongi Mohali Chandigarh 160002
Suggested Read:Rose Garden In Chandigarh: Here's All You Should Know About This Mini Paradise
12. Shagun Palace

Wedding is one of the major events in anyone' s life and therefore to make it grand and memorable Shagun Palace leaves no stone unturned. This happening place in Chandigarh for wedding provides wedding party to bring out special moments that will be cherished for life. They have huge marriage lawn for different function of the wedding like Engagement ceremony, Tilak parties, Sangeet sandhya and more. With so many facilities, it is undoubtedly one of the best wedding places in Chandigarh.
Location: Miani Road Dasuya Hoshiarpur Chandigarh 146001
13. Noormahal

Anyone looking for the finest 5 star wedding hotels in Haryana, Noor Mahal is the place. It is one of the finest wedding resorts in Chandigarh. Famous for its fine dining experiences and warm hospitality, they take the responsibility to host successful weddings. The highlight of this world-class resort is the amazing architectural style which is a blend of Mughal and Rajputana art. The banquet halls are spacious enough to accommodate a large number of guests.
Location: Noormahal Crossing, National Highway 1, Sector 32, Karnal, Haryana
Suggested Read:The Rock Garden In Chandigarh: Know Why It's Punjab's Most Popular Tourist Attraction
14. Kashmir Gardens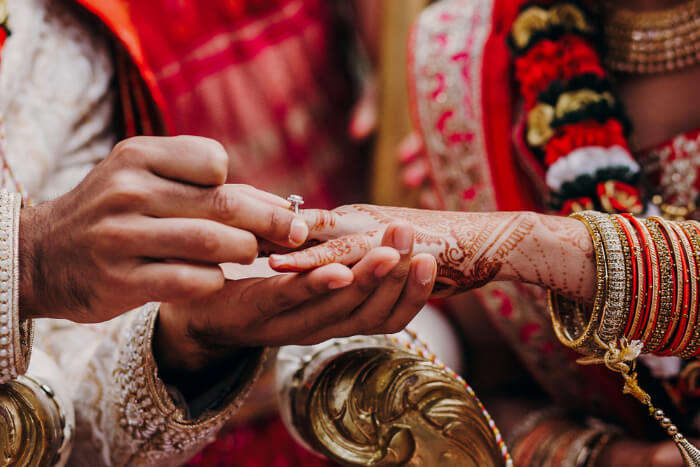 Spread over 7 acres of well-maintained lush green landscapes, Kashmir Gardens is one of the best wedding venues in Chandigarh. The marriage halls here have all the facilities to make your event special and grand. They also have trained staff to see if everything is on track or not. The evening reception facilities include a live band, dance floor and more.
Location: G.T.Road,Doraha, Distt. Ludhiana, Chandigarh
15. Arzoo Resorts

Arzoo resorts is one of the best wedding resorts in Chandigarh committed to make your special day a memorable one. It is a one-source destination where all the required arrangements are made in an efficient manner. With a maximum capacity of 400 guests, they have a live band, DJ facilities as well as outdoor fireworks permitted. Other prominent features include floral decorations, royal procession with dhol players and more.
Location: Ramgarh Mubarakpur road, Near Sec 28, Panchkula, Chandigarh
Suggested Read:20 Best Restaurants In Chandigarh To Relish The Real Taste Of Punjabi Tadka
Any of these wedding venues in Chandigarh is perfect to take vows. It all comes down to your guest list, budget, and preferences that will finally determine the place you want to get married in. Once you are pronounced husband and wife, you can even enjoy a cherishable honeymoon in Chandigarh as this place offers numerous attraction, quietude, and experiences for couples.
For our editorial codes of conduct and copyright disclaimer, please click here.
Frequently Asked Questions About Wedding Venues In Chandigarh
What are the possible ways to reach Chandigarh?
Chandigarh is a well-connected city and can be reached either by bus or train. If you are planning to travel to Chandigarh from Delhi, then you can opt for private bus services that take 5-6 hours to cover a distance of 243 kilometers. You can opt for both non-AC and AC buses, according to your preference. On the other hand, if you are looking for a cheap and fast way to reach Chandigarh then book a seat in one of the trains running in between these destinations. Some of the most popular ones are Chandigarh Express, Kalka Shatabdi, CDG Super Fast, and Dehradun Express.
What is the best time to plan a wedding in Chandigarh?
The best time to visit Chandigarh is during the autumn and winter seasons as the temperature dips down is perfect for a wedding. If you want mild winters then plan your wedding in months like October or March and if you are a true winter person then December and January are the perfect months to execute your functions in Chandigarh.
Will I be able to find a good wedding planner in Chandigarh?
With more than a hundred options to choose from, it is not a difficult task to find a good wedding planner in Chandigarh. Kreative Events, Jai Hind Wedding Planner, and Lavish Wedding Planner provide some of the best services in Chandigarh. They make sure that you have a hassle-free wedding by organizing everything in advance.
What do people wear at a Hindu wedding?
At the Hindu wedding, it is essential to cover one's head so the bride places a dupatta on her head and the groom wears a turban and both of them are dressed in new wedding clothes along with some ornaments. On the other hand, the guests are decked up with new clothes and jeweler. Women wear sarees, suits, dresses, and lehengas, whereas the men wear a coat, pants, shirt, or sherwani.
How much does a <strong>destination wedding in Chandigarh</strong> cost?
The cost of a destination wedding is totally dependent on the number of days you arrange the function and the number of guests attending the occasion. If you want a budget wedding and are planning to book a three or four-star hotel then expect a budget around Rs. 15 Lakhs. If you want to splurge on your wedding in a 5-star hotel then the budget can go up to Rs. 50 Lakhs.
Which are the top Wedding Halls in Chandigarh?
Some of the top wedding halls in Chandigarh are:
1. Hotel Mountview
2. JW Marriott Hotel
3. Ramada Plaza
4. Country Farms
Is outside catering allowed in Wedding Hall in Chandigarh?
Some wedding halls in Chandigarh allow outside caterers while others don't. The prominent banquet halls that allow you to book your own caterers are:
1. Palki Palace-I, Mohali, Chandigarh
2. Holiday Inn, Panchkula Sector-12A, Chandigarh
3. Ramada Plaza, Zirakpur, Chandigarh
---
People Also Read
Wedding Venues in Thailand Wedding Venues in Sri Lanka Wedding Venues in Gurgaon