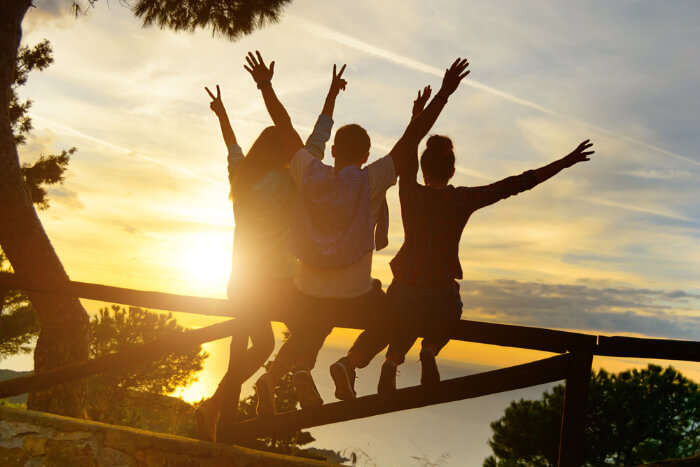 Travel makes us wealthier. We see new places, meet new people, indulge in new activities. The experiences make us a different person. Travelling isn't merely about stepping foot on a landmark, but also inhaling the essence of the very place. The culture and the beauty should grow in you.
So, if you are wondering how to go ahead with that, treat this list of most amazing travel experiences as your bible, and you wouldn't have to maintain a travel bucket list!
Just sit back and scroll through!
1. Hike the Andes to reach Incan ruins of Machu Picchu, Peru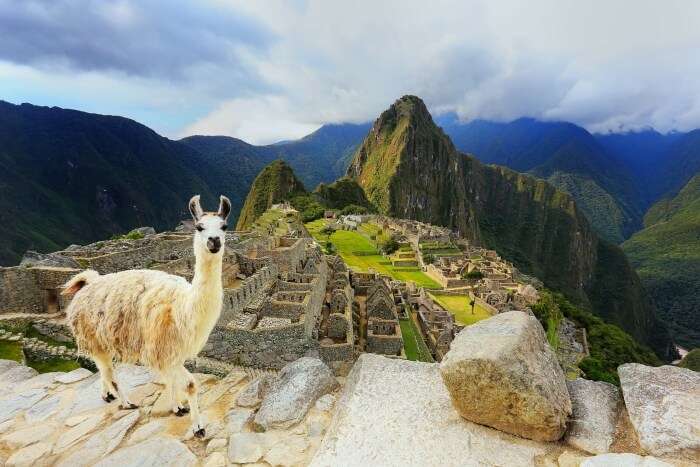 The Inca archaeological ruin of Machu Picchu is one of the Seven Wonders of the world. The trail is 4-day long taking you through some of country's most beautiful landscapes.
---
Looking To Book An International Holiday?
Book memorable holidays on TravelTriangle with 650+ verified travel agents for 65+ domestic and international destinations.
---
2. Ride hot-air balloon in Cappadocia, Turkey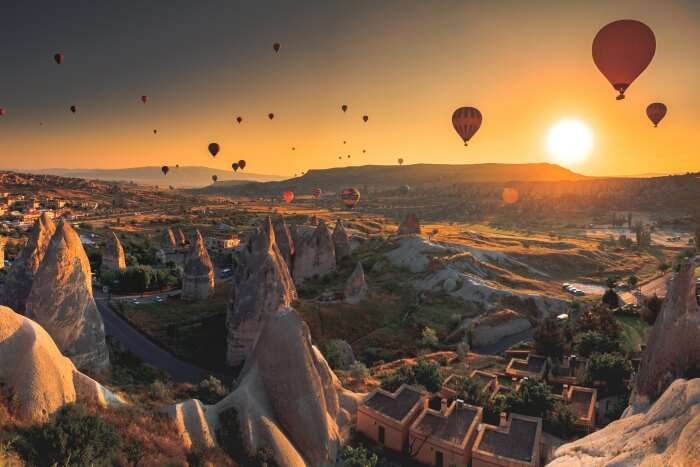 The hot air balloon ride in Cappadocia is among major tourist attractions of Turkey. The ride takes you above a volcanic landscape and pleases you with golden sunset.
3. Release the lanterns in Yi Peng Festival, Thailand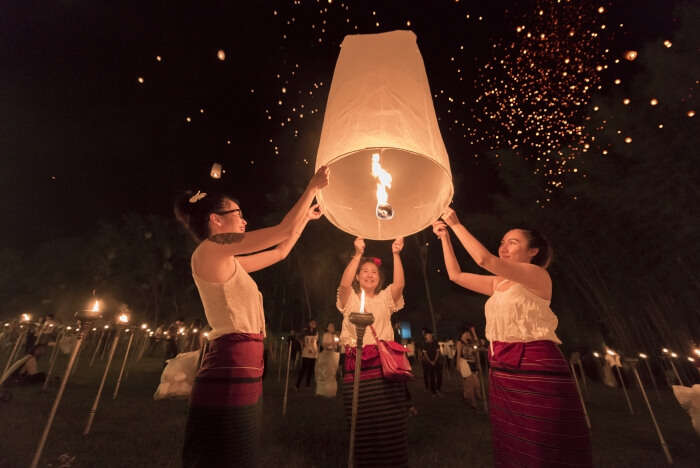 Yi Peng Festival or the Lantern Festival is an important time of the year. Locals return to their home to celebrate this day with their families. They decorate houses and streets, and release sky lanterns, which is symbolic of letting go all the misfortunes.
4. Enjoy a hot spring bath in Blue Lagoon, Iceland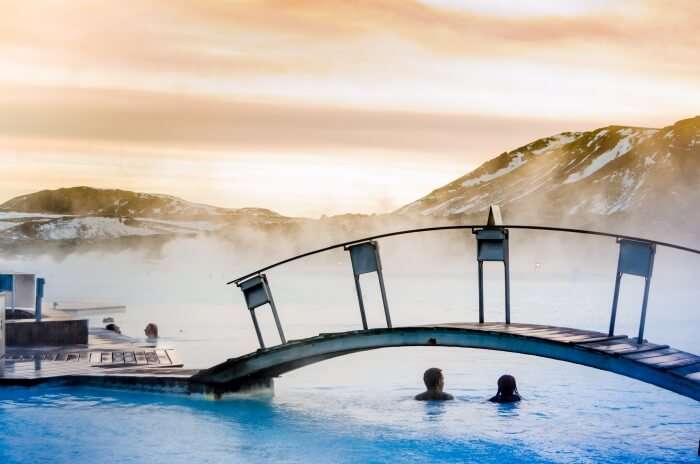 The geothermal spa, Blue Lagoon, is located in a lava field. With steam released from its blue waters, it looks nothing less than a dream paradise.
5. Behold the Northern Lights from Glass Igloo in Finland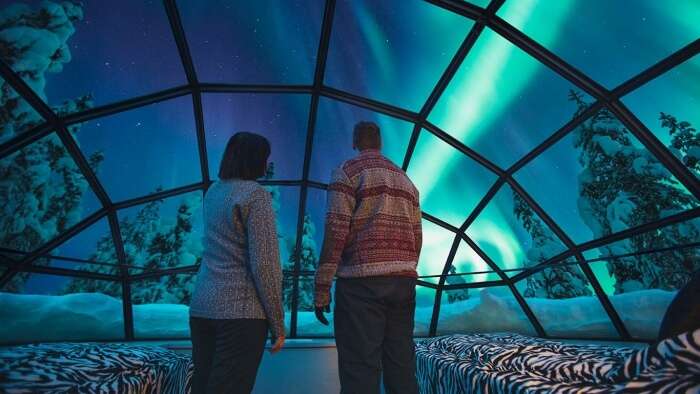 Northern Lights obviously is found in many people's bucket list, but watching Aurora Borealis right from the comfort of your bed, in a luxurious glass igloo is an experience to cherish!
Suggested Read: Glass Igloo In Finland: A Dream Stay That Must Be In Your Bucketlist
6. Spend nights with the penguins in Antarctica's Emperor Camp

Who doesn't want to visit Antarctica?! The cherry of the top is added when you're spending nights in the camps amidst several friendly emperor penguins.
7. Go glamping and wildlife viewing in Masai Mara, Kenya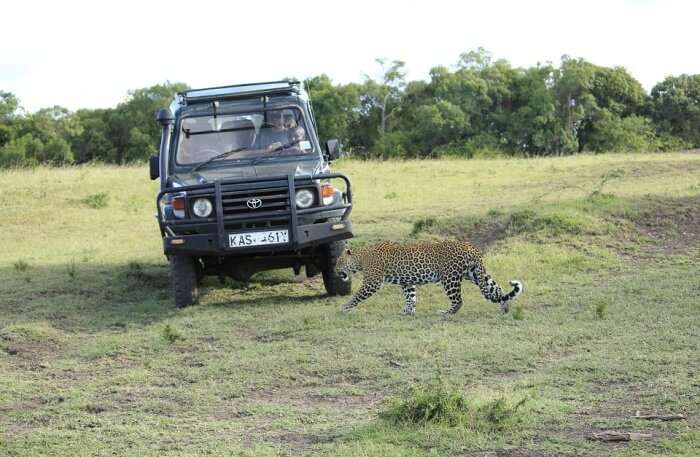 Kenya is considered the pilgrim for wildlife lovers. Right from game viewing to luxurious glamping experiences, you have everything sorted if you are a wild child!
8. Clink scintillating wine glasses amidst the vineyards of Tuscany, Italy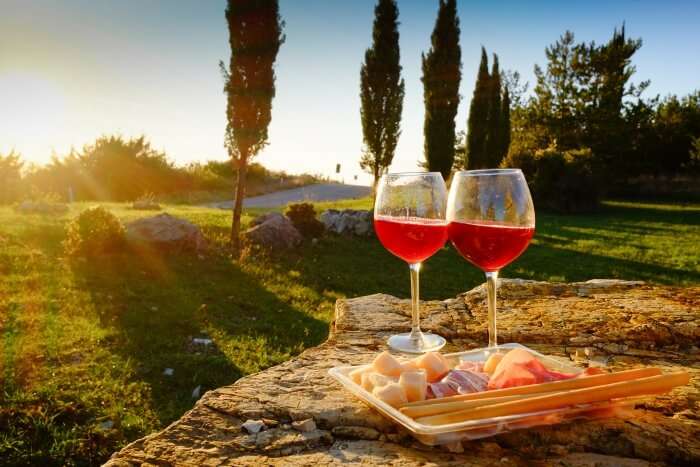 When we say wine, Tuscanian fields flashes right in front of our eyes. Italian wine already has made the world go gaga, but sipping the native wines amidst the vineyards, during a beautiful sunset will spell out Nirvana for you.
9. Scale the highest peak in the world – Mount Everest, Nepal

You must have hiked all your life, but have you thought of reaching the peak of world's tallest peak? Well if you haven't, consider it the milestone! But make sure you have sufficient experience and are guided by an expert on your expedition.
Suggested Read: Everest Base Camp Trek: A Guide To A Journey Of A Lifetime
10. Celebrate La Tomatina in Spain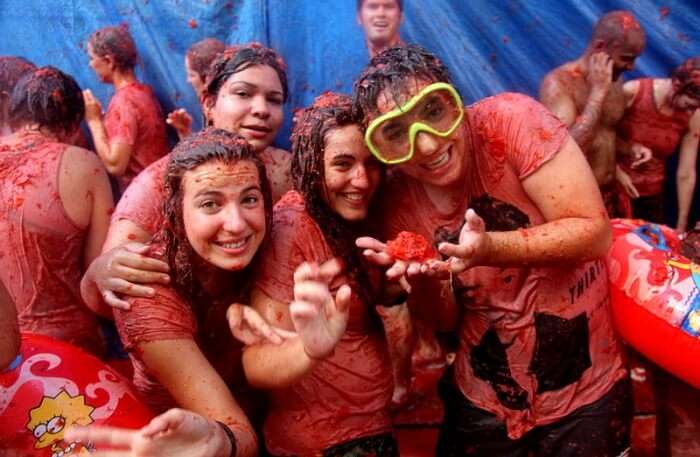 After ZNMD, our travel goals have found a true meaning. People smash tomatoes around like crazy and then head to the bars for an after party. This festival takes place on the last wednesday of August in Valencian town of Buñol.
11. Climb the Sydney Harbour Bridge in Australia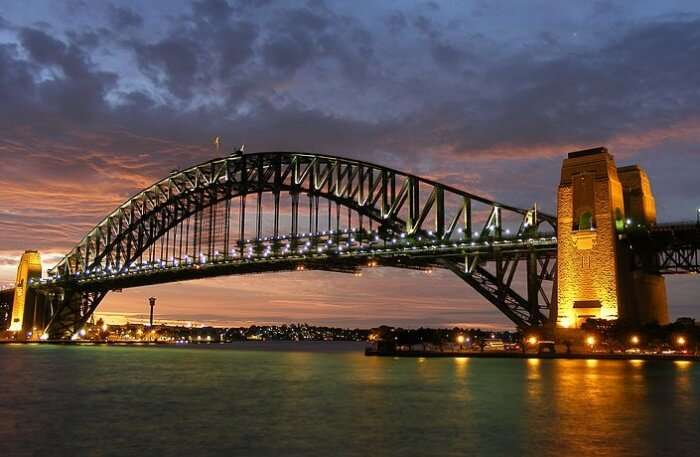 We have seen the Opera House from different angles, but this one is what you will earn. Climbing at the Sydney Harbour bridge is a sport, something that gives you a 360 degree view of the city.
12. Explore the marine wonderland in The Great Barrier Reef, Australia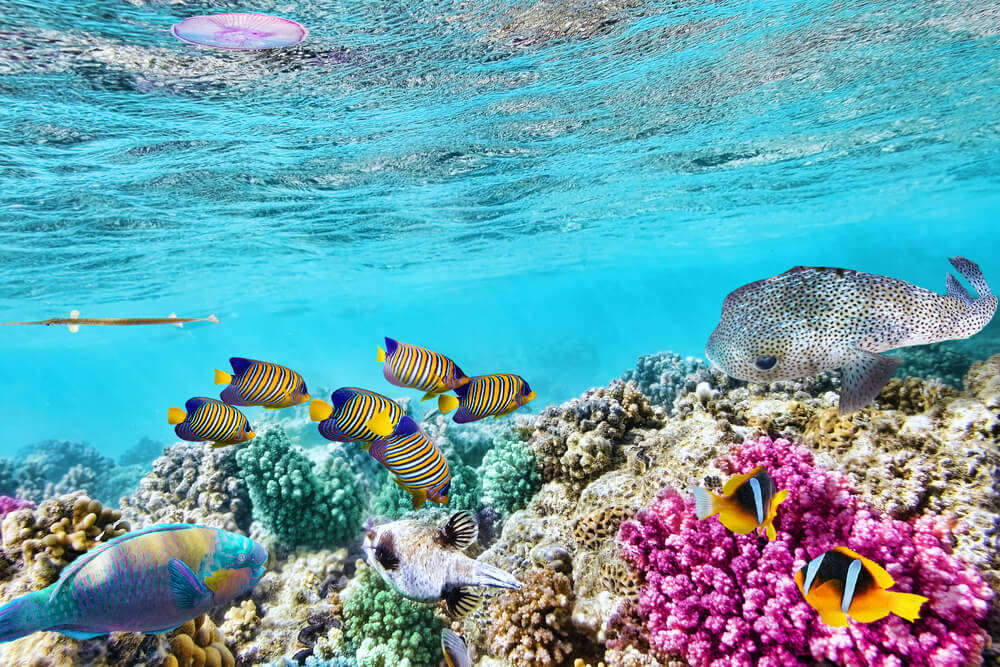 If you ask where the most beautiful seabed is, the answer has to be the Great Barrier Reef. Spread across an area of 2,300 km, this marine wonderland consists of over a thousand reefs and hundred islands.
13. Walk the Great Wall of China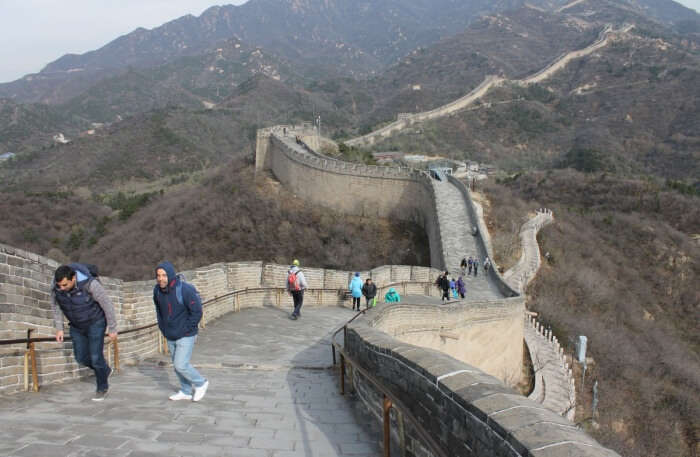 The Great Wall of China is in fact one of world's most talked-about tourist attraction. And to walk through the Wall isn't suggested because of its hype. There are different regions, most of which aren't even known to tourists, which you can explore and where you can indulge in various amazing adventure.
Suggested Read: Crazy Adventures You Need To Try At The Great Wall of China
14. Behold the Taj Mahal on a full-moon night in India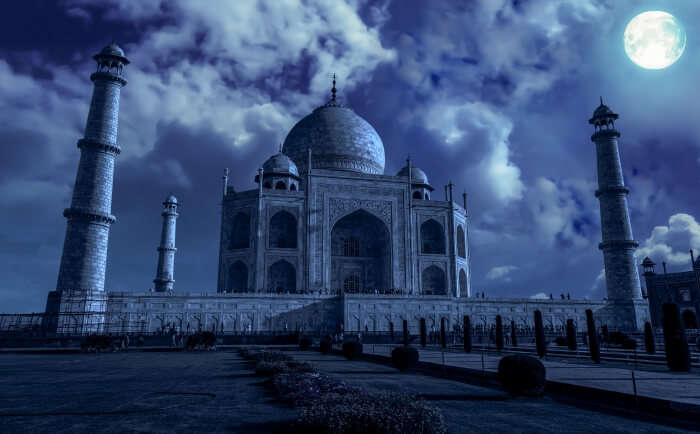 The Taj Mahal needs no introduction, as we have often seen people posting photographs with the Taj in cliche poses. But to go off the beaten track, you have to behold this masterpiece during a full moon, when the Taj Mahal seems to slightly change its hues complementing the moonlight.
15. Cliff dive off the tallest waterfall in the world, Angel Falls in Venezuela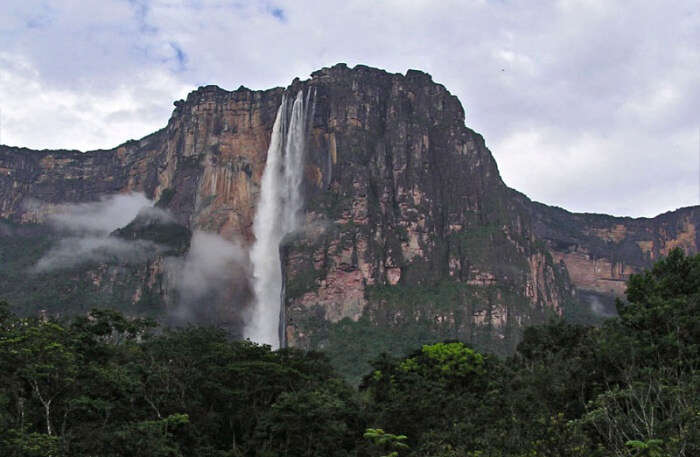 Don't say you're a daredevil if you cannot do this one. Free falling off the tallest waterfall in the world requires more than just inspiration.
16. Dare to dive with the sharks in South Africa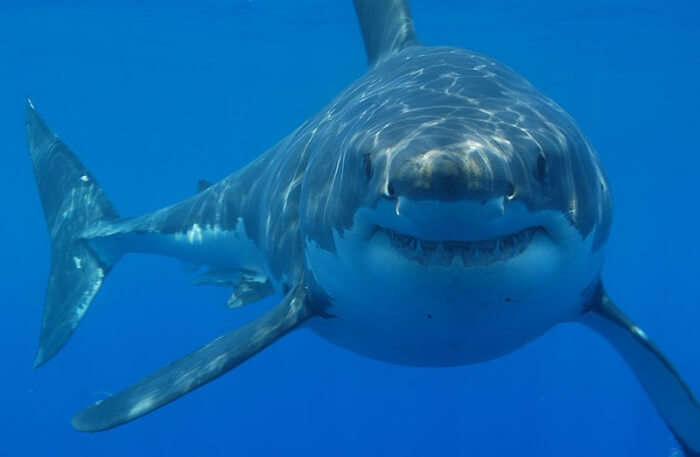 Shark Cage Diving is among the craziest adventure activities. You wear the scuba suit, get inside a cage, and come face to face with the ferocious and furious sharks. These sharks may as well attack you, but you're in the cage, but it still needs sheer courage to be an inch close to the sharp teeth of this creature.
17. Feel at the top of the world from the top floor of Burj Khalifa in Dubai, the tallest building in the world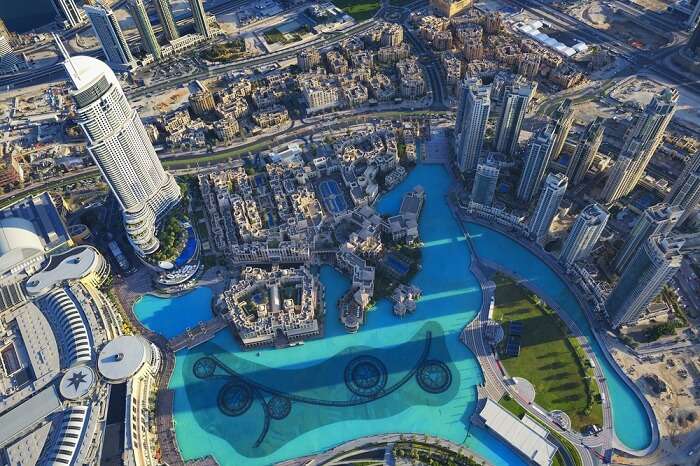 Burj Khalifa in Dubai isn't merely for show sake. The Observation Deck of this building will give you a breathtaking view from a height of 555 meters. This may also be a nightmare for the people with a fear of heights.
Suggested Read: Burj Khalifa: The Tallest Building In The World
18. Surf in the Surfing Capital of Canada, Tofino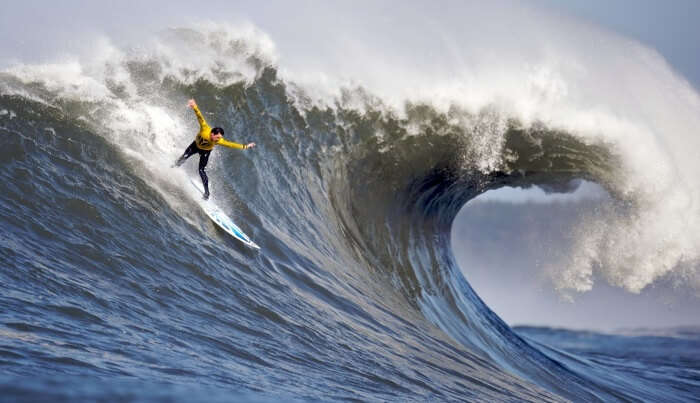 Tofino is one of the best places in the world for surfing regardless of how experienced you are. This destination welcomes surfers all year round.
19. Tour the glowing caves of Waitomo, New Zealand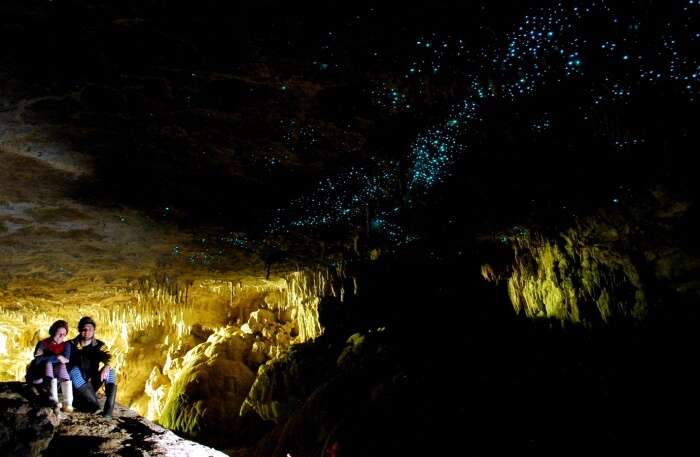 The Waitomo Caves in New Zealand looks like a fairyland with thousands of glow-worms illuminating the dark corners. A boat ride through Waitomo will captivate you.
Suggested Read: Walk Into The Dreamy World Of Waitomo Glowworm Caves, It's Magical!
20. Try your luck in Las Vegas, USA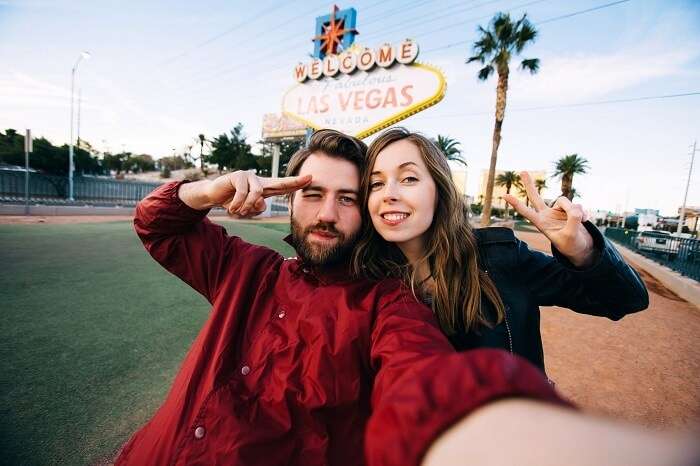 What happens in Vegas stays in Vegas, but if you have your luck by your side what you win in Vegas will go home with you too!
Suggested Read: Honeymoon In Vegas: Must Experiences For Unforgettable Memories!
21. Ride the camels and mules in Petra, Jordan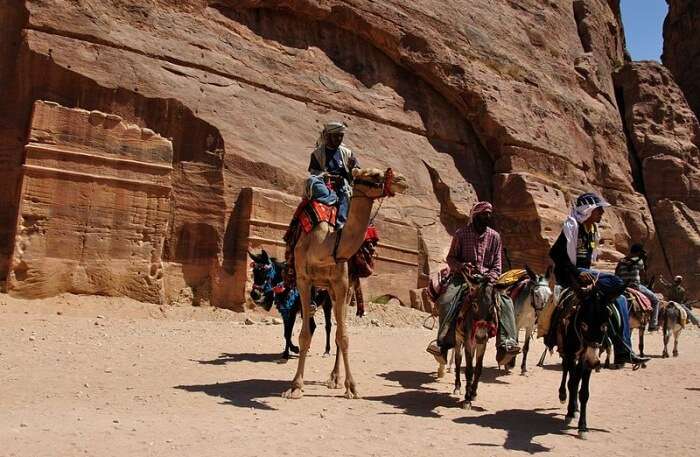 The rugged lands of Petra is explored in many ways, but riding the mules and camels will have you travel back in time as well.
Suggested Read: Petra Caves In Jordan: A Rose-Red City Half As Old As Time
22. Chug finest beers in the world in Oktoberfest, Germany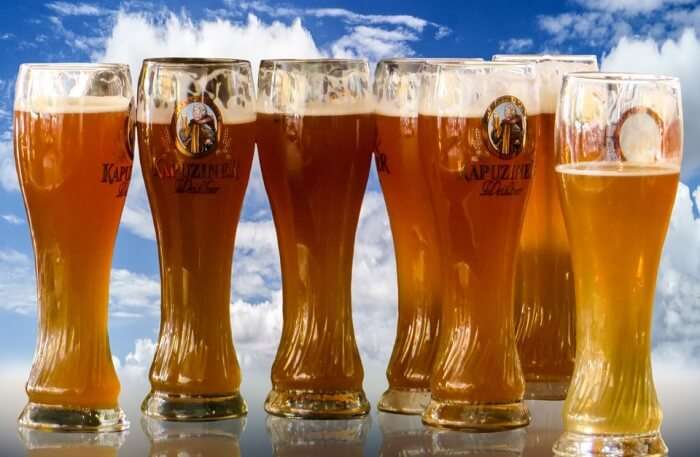 This is unmissable for all the beer-lovers! The Oktoberfest is world's largest Volksfest that's not just about beer, but also parades, music and sumptuous food.
23. Smoke freshly-rolled cigars in Havana, Cuba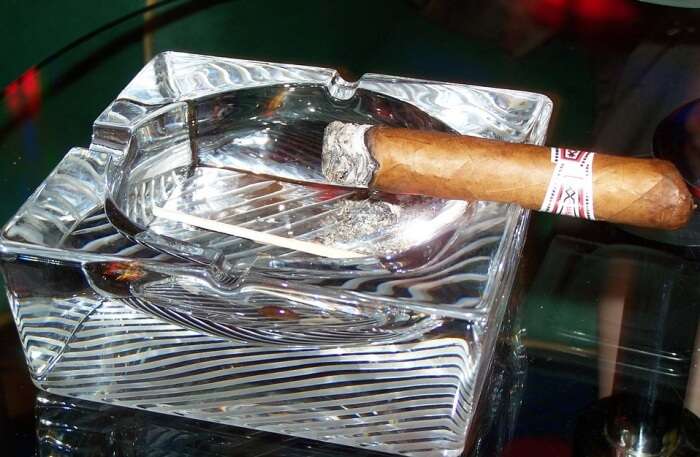 There is no vibe as the Cuban vibe. Let alone half, all of your heart will be in Havana oh nana! The Cuban cigars is of the utmost quality in the world. The hand-rolled cigars of Cuba go through as much as 222 different processes in order to be ready to be smoked.
24. Take a bike trip from Delhi to Leh, India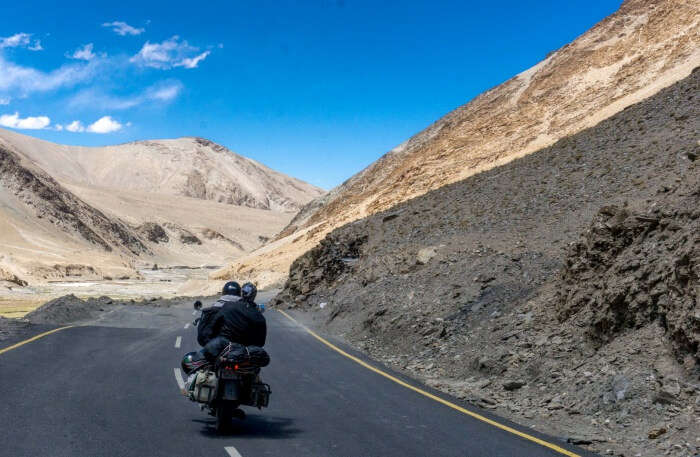 The surreal land of Ladakh can be pleasing and beautiful, but there's also a rugged side to it that challenges even the toughest bikers. A bike ride from Delhi to Leh, Ladakh is picturesque, challenging and allows you to live life and travel in your own terms.
Suggested Read: Leh Ladakh Bike Trip: Everything You Need To Know From The Scratch
25. Walk on the salt flats of Salar de Uyuni, Bolivia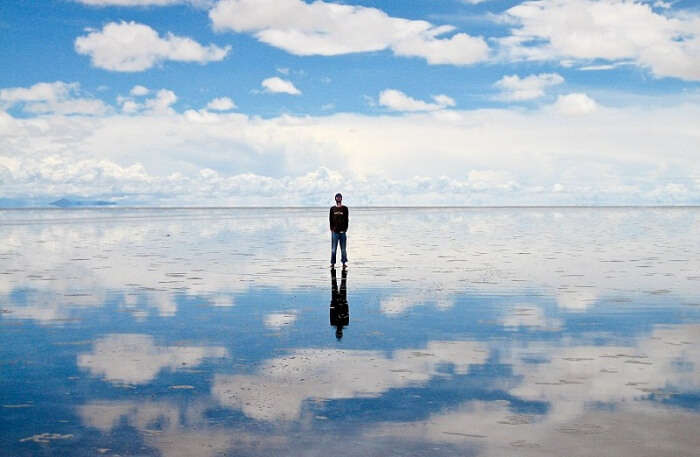 Often mistaken to be an optical illusion, the salt flats of Salar de Uyuni is world's largest salt flat that's spread across an area of 10,582 square kilometers.
26. Glance at the Pyramids of Giza, Egypt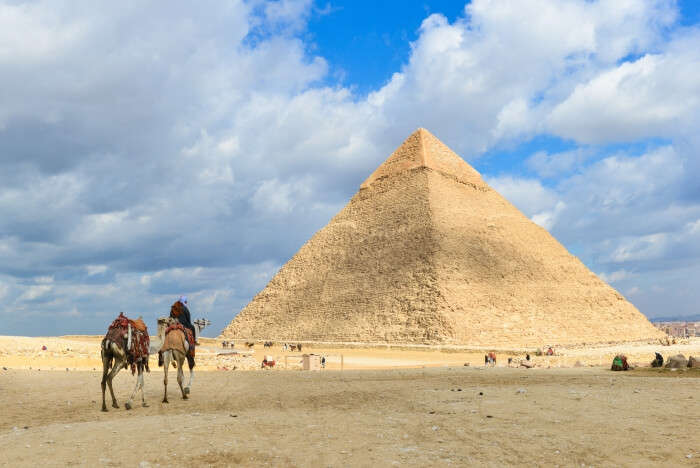 The Egyptian pyramids have the power to move you with its secrets and history. There is so much to learn about the history, each of the aspect is intriguing in every sense.
27. Take a long drive through the Garden Route, South Africa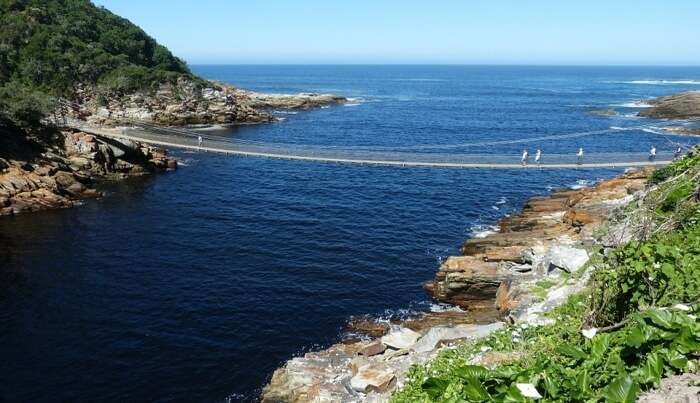 What's a long drive, if you aren't meandering through shoreline, drifting past or stopping by national parks en route, or landmarks, and gardens?!
---
Planning your holiday but confused about where to go? These travel stories help you find your best trip ever!
Real travel stories. Real stays. Handy tips to help you make the right choice.
---
28. Rejuvenate and pamper yourself with authentic Ayurveda spa treatments in Kerala, India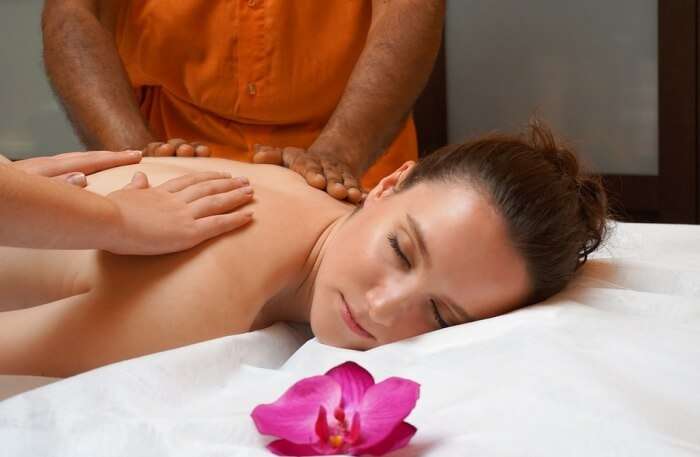 The age old legacy, Ayurveda finds its route in India, and Kerala is considered to be among the best places to an Ayurvedic treatment or therapy.
29. Enjoy the Full Moon Parties in Thailand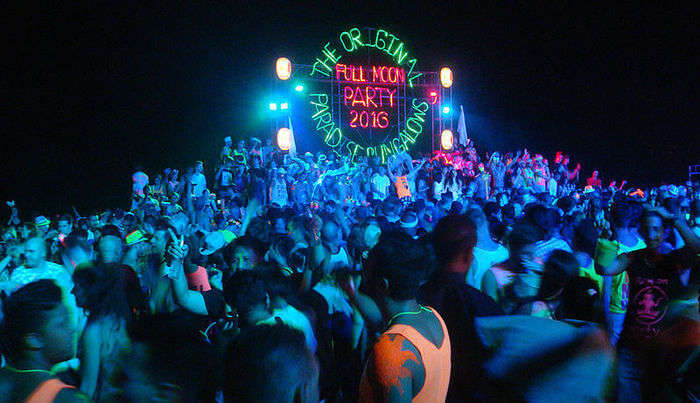 Your definition of nightlife will change drastically when you will attend the hypnotic full and half moon parties of Thailand. Hosted by the beach, these parties are nothing less than extravaganza filled with music, booze and dance.
Suggested Read: Full Moon Party In Thailand Is Going To Be Beach Madness At Its Loudest
30. Bathe, feed and spend good time with the adorable elephants in Chiang Mai, Thailand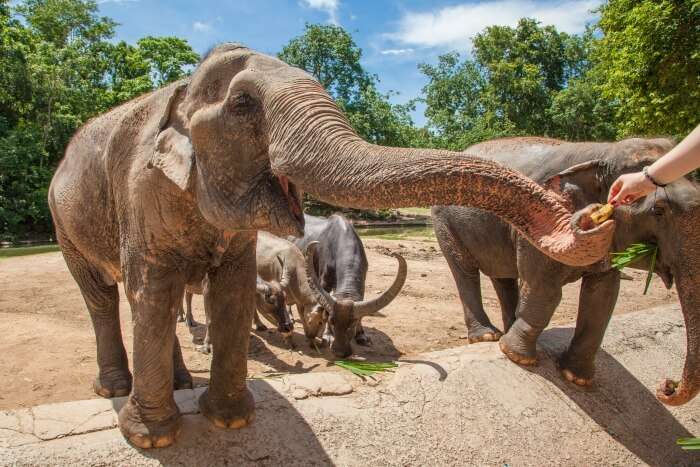 The adorable creatures called elephants are friendly undoubtedly. But if you have been thinking of spending more time with these creatures in a safe environment, then Chiang Mai is the best place. You get to feed, bathe, play around with elephants in the orphanage.
31. Escape to Maldives with the one you love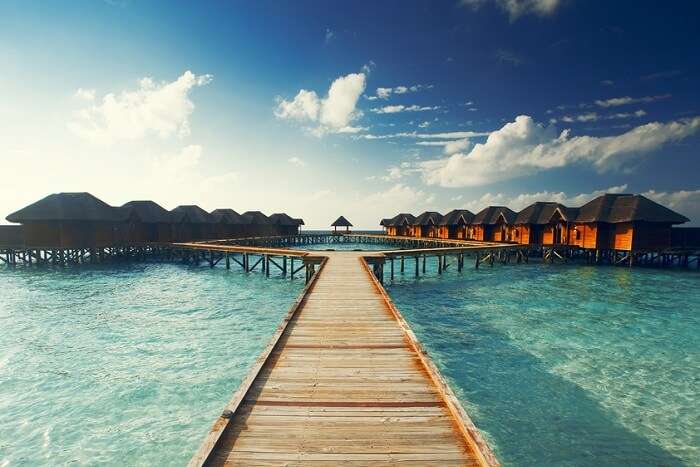 One of the top honeymoon destinations in the world, Maldives will bewitch you with its turquoise and calm ocean waters. The luxury follows you as you spend the best of time in your majestic overwater villas.
Suggested Read: 28 Best Islands In Maldives For Honeymoon For An Instant Cupid-Strike
32. Dine in the Parisian landmark, Eiffel Tower in France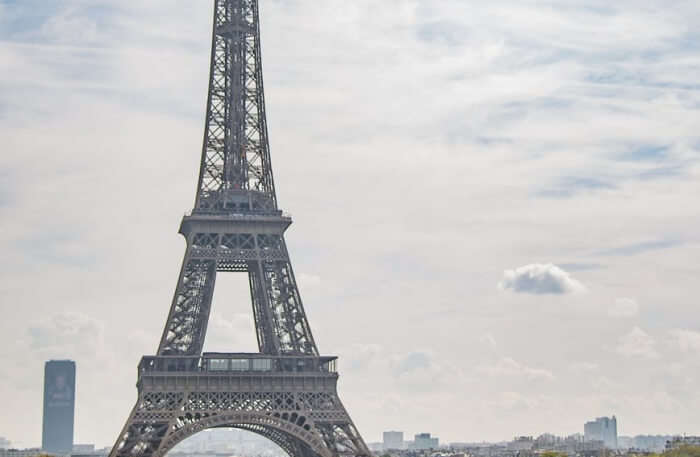 Paris, mainly the Eiffel Tower, is the synonym of love. Having a romantic feast in a lovely restaurant looking over this beautifully lit landmark is your very own fairytale moment.
Suggested Read: 10 Most Romantic Restaurants In Paris You Must Visit At Least Once
33. Strike a pose in front of the Petronas Tower in Kuala Lumpur, Malaysia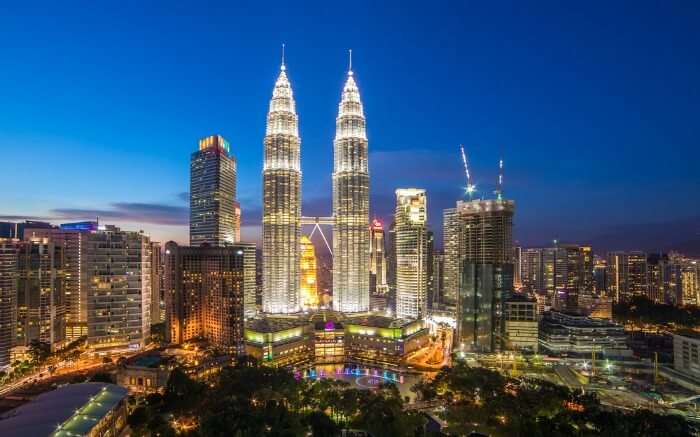 Standing tall and strong, the Petronas is the tallest twin towers in the world. And when in Malaysia you have to click a picture with this landmark. And if you seek something more, head over to its Observation Deck for a soulful view of the Kuala Lumpur City.
34. Dare to walk at a height of 260 meters above ground, on the Zhangjiajie Glass Bridge in China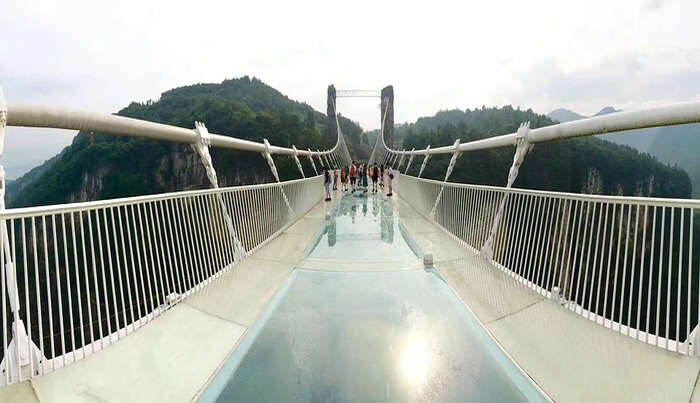 Walk 260 meters above the ground crossing a glass bridge in the Zhangjiajie Grand Canyon of China. Don't look down or you'll be crept with fear all over your body.
35. Feast on breakfast with the view in the white paradise of Santorini, Greece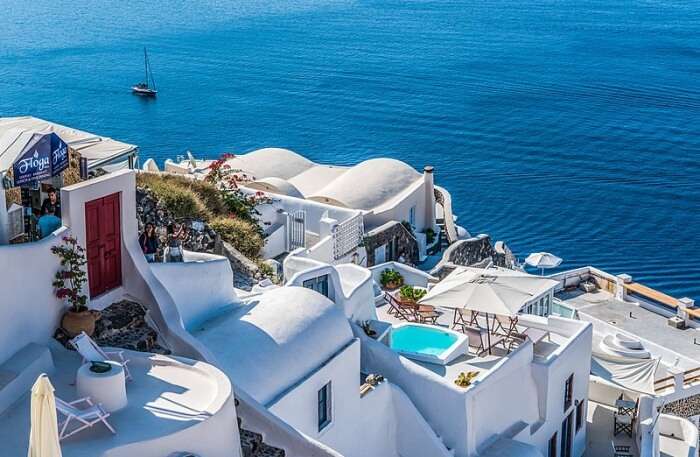 Santorini's stunning white village is an instagram-worthy landscape. But a nice Greek breakfast savored amidst this very vista is sheer travel goals.
36. Cruise the canal city of Venice onboard a gondola in Italy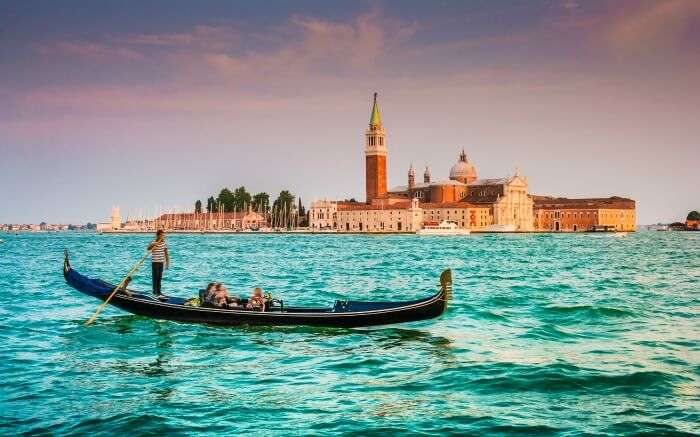 One thing that Italy is most famous for is the Gondola of Venice. Sailing you past legendary landmarks and quite canals, the rower will sing folk songs to you to add that Italian touch.
37. Spend a night on-board a houseboat anchored on Dal Lake in Kashmir, India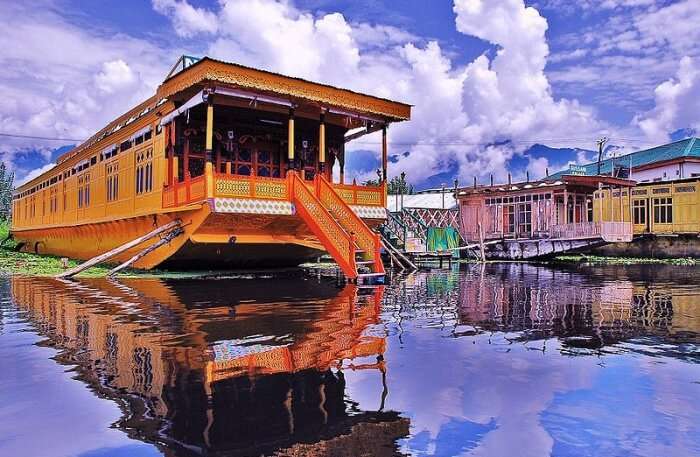 Dal Lake is something that India is proud of. Sky soaring Himalayan peak coupled with tranquility make it a lovely escape. You may want to live for a longer period, so why not spend the night away in the traditionally built luxurious houseboats?!
Suggested Read: Magical Colors Of Srinagar's Dal Lake That Change Every Season: In Pics
38. Enjoy the views of London from London Eye in England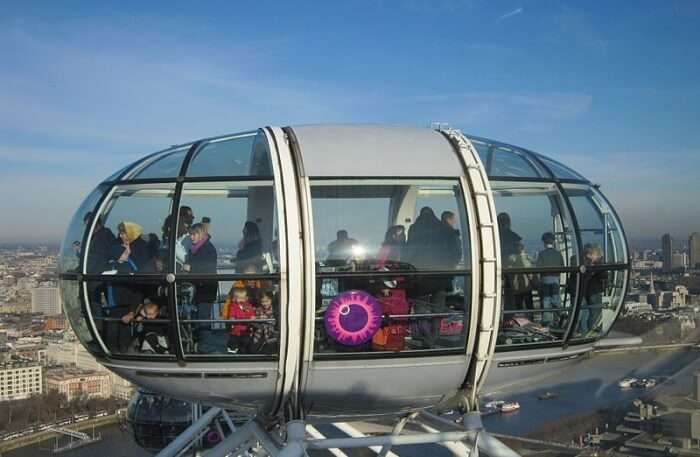 The London Eye on the embankments of Thames consists of luxurious glass capsules that let you behold 360 degree view of the great English city.
39. Challenge yourself by base jumping off the Sky Tower of Auckland, New Zealand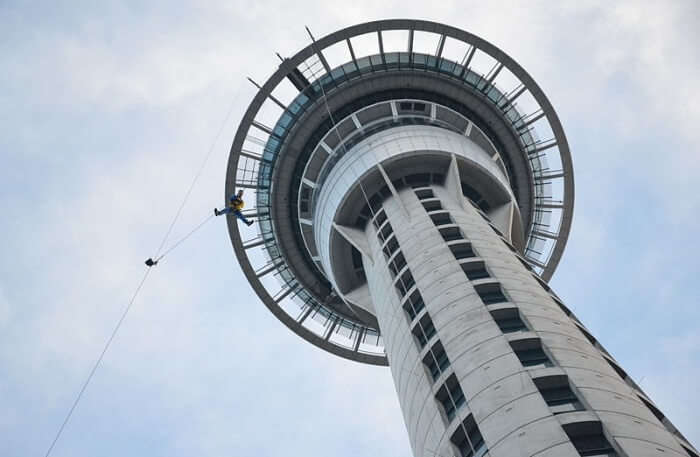 Ever wanted to be a bird flying above a concrete jungle? Well, base jump off the iconic Sky Tower in New Zealand will make your dreams come true!
40. Swim in the iconic infinity pool of Singapore with jaw-dropping views of the city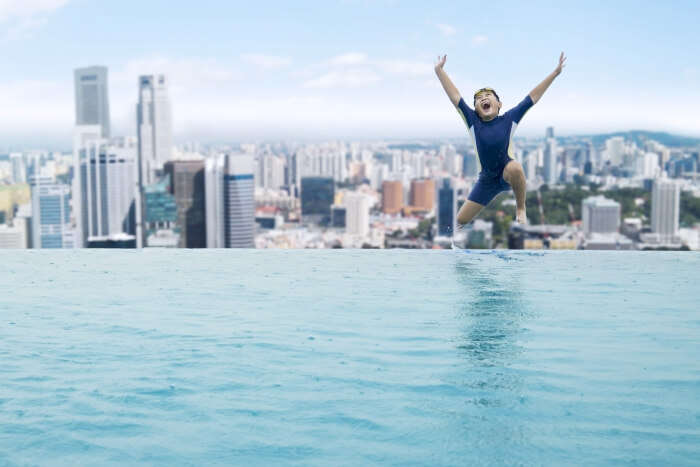 The illusional infinity pool of Singapore will give you the shots that spark envy!
41. Amble through the Vatican Museums in Italy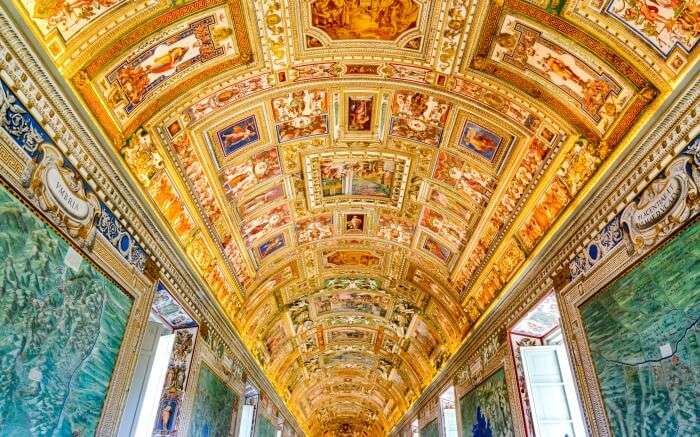 Renaissance art aficionados! This is it! The Vatican City is bejeweled with museums which not only house masterpieces, but are masterpieces themselves.
42. Live up the night for more than 24 hours, with the startling phenomenon called Polar Night in Alaska, USA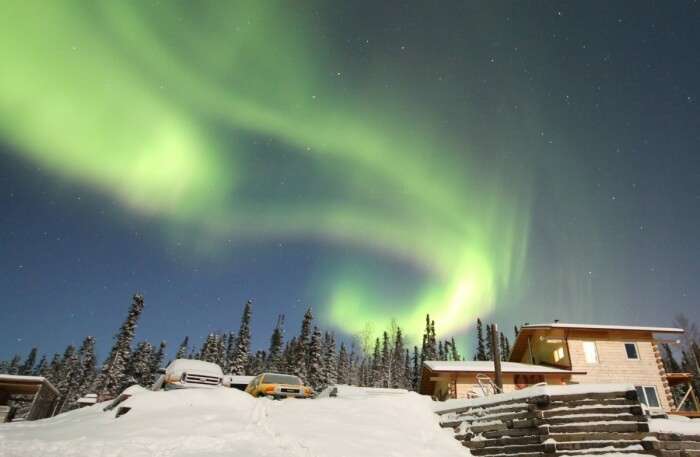 'Wishing this night never fades' – Well, experience your dream coming true in Alaska. Here, in a particular time of the year, the Sun doesn't come above the horizon, resulting in 24 hours of night light.
43. Go dune bashing in the deserts of Dubai, UAE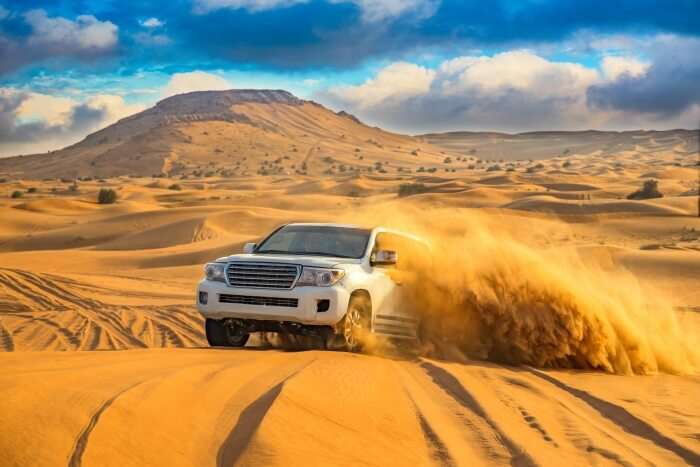 Dubai's dune bashing doesn't merely mean off roading. You have a cultural extravaganza awaiting you. A night desert safari will get you acquainted with local culture through its food, belly dance performaces and more.
44. Watch the dreamy pink lake, Lake Hillier in Australia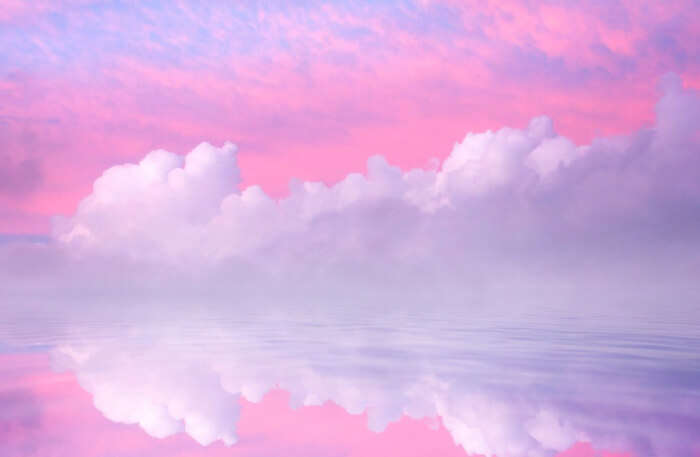 You must have seen lakes around the world, but if you haven't seen the pink lake what are you even doing with your life?!
45. Live the reel life while taking the Game of Thrones Tour in Dubrovnik, Croatia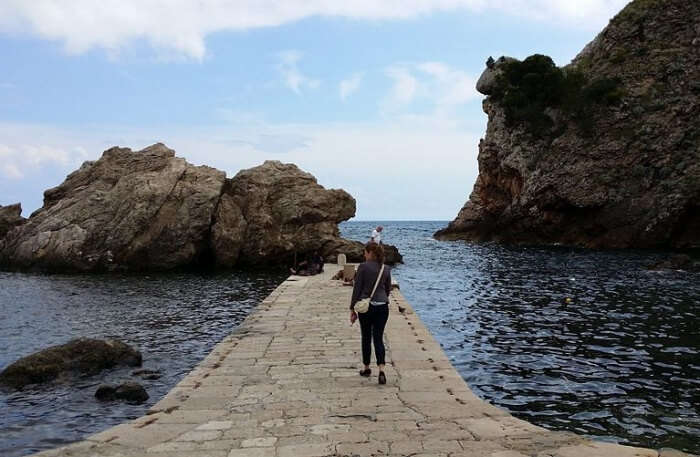 This is for all the GOT fans who always wanted to live the reel life. Most of the scenes are shot in Dubrovnik and you can actually go for a Game of Thrones tour here.
46. Get on cloud nine while skydiving in Wollongong, Australia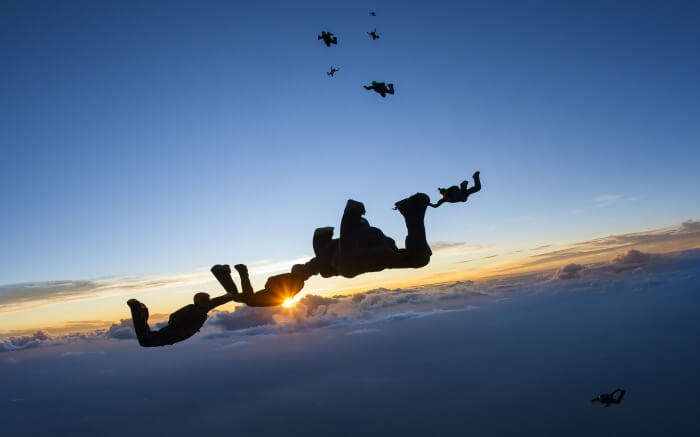 Skydiving is great! But skydiving in Wollongong is the best!
47. Celebrate the festival of colors, Holi in Vrindavan, India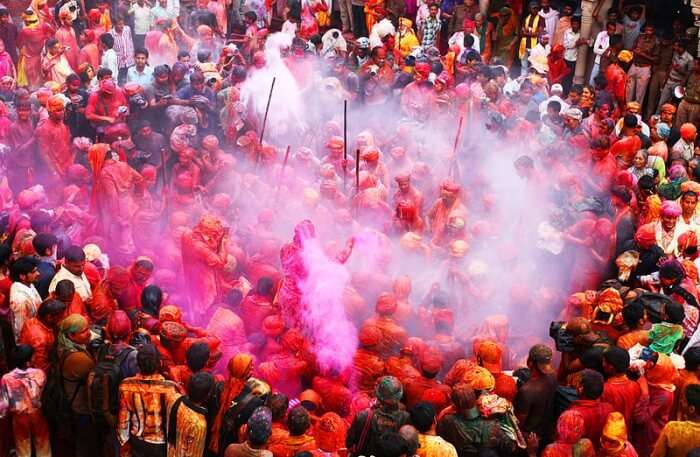 The Festival of Colors, Holi is celebrated in all of India, and even around the world. But Vrindavan's holi is considered the most colorful, craziest and picture-perfect.
48. Let the child in you come alive yet again in Disney World, Hong Kong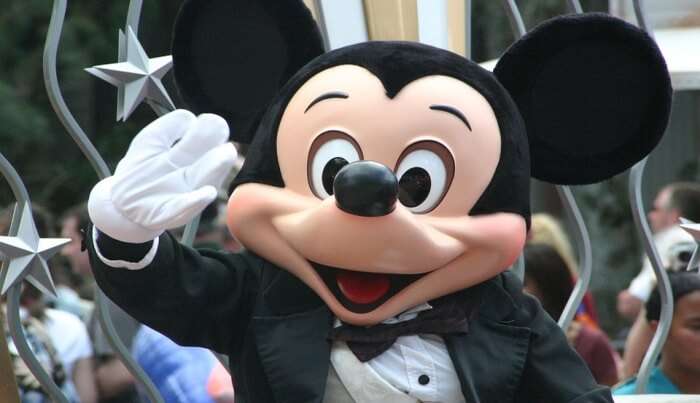 Meet your favorite Disney characters, shop for Disney goodies, and ride the movie-themed rides. If that's not enough, live the night away in Disney resort in Disney World.
Suggested Read: Disneyland In Hong Kong: A Tailor-Made Guide To Endless Fun For Everyone!
49. Forget about the night sky in Iqaluit, Canada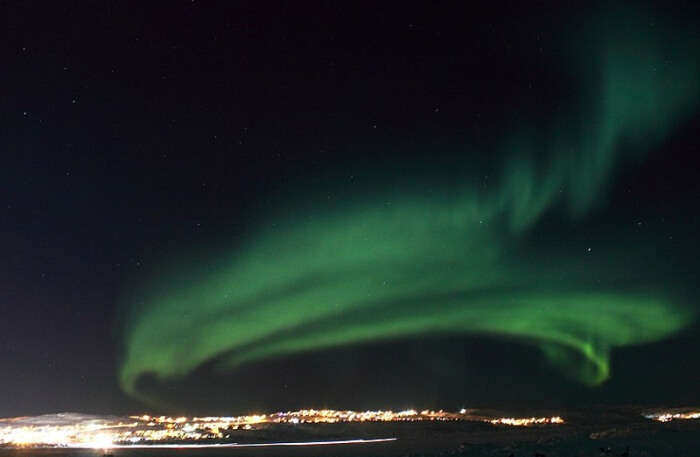 Remember we talked about Polar Nights, well this one is the exact opposite. The sun here just won't set!
50. Live life at the edge by staying for a night in the Skylodge, hanging 1200 feet above ground on a cliff in Peru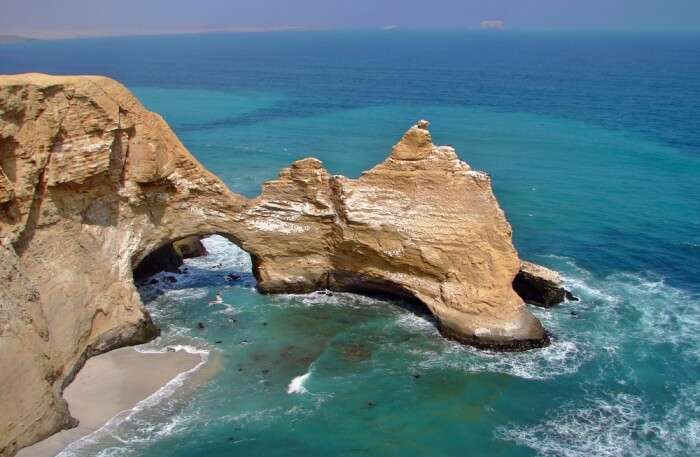 Ditch the traditional stays, and spend a beautiful night in Skylodge in Peru, a capsule hung on a 1,200 feet tall cliff.
Further Read: Skylodging In Peru: Camping While Hanging Off A 1,200 Feet Cliff
Which of these amazing travel experiences struck the chord for you?! plan a Trip with TravelTriangle without wasting a moment and make the best memories of your life.
---
People Also Read
Youngest Globetrotter To Travel Travelling With Your Mom Travel Etiquettes