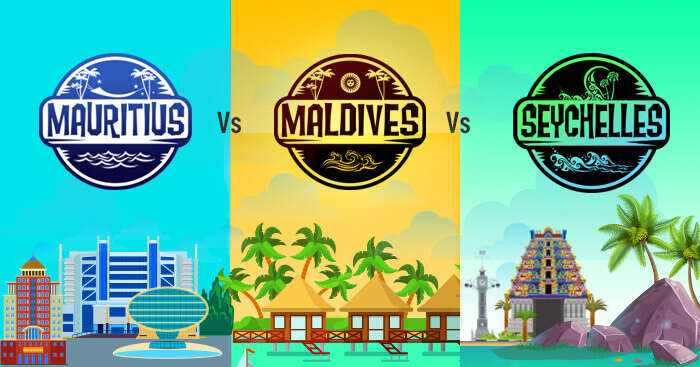 Pearly white beaches. Turquoise blue waters. Lush green jungles. And a scintillating tropical weather. The three gems of the Indian Ocean may have certain similarities, yet they stand out in terms of the experiences they offer. And since travelers, especially honeymooners, have a hard time deciding on either of these for their vacation, we have put together an exclusive Mauritius vs Maldives vs Seychelles infographic to help you pick your ultimate holiday destination based on what all experiences you wish to indulge in!
Mauritius is a landmine of tourist attractions and absolutely unique watersports that bewitch travelers every time. Maldives may not possess as many places of interest, but is endowed with mind blowing natural beauty that draws armies of travelers here every year. And while Seychelles is still an offbeat beach destination, it banks upon the amount of tranquility and the unique flora and fauna it satisfies every traveler with.
Scroll down to see this easy-peasy Mauritius vs Maldives vs Seychelles comparison and let your confusions vanish in thin air!


Further Read: 25 Best Things To Do In Seychelles For A Tropical Fun Holiday!
We hope this solved your dilemma and helped you pick the most suitable island paradise for yourself. So where would you like to fly away? Mauritius? Maldives? Seychelles? Let us know in the comments below!
Embed This Image On Your Site (copy code below):