Every nook of Himachal Pradesh is a playground for tourists and adventure travelers alike. Scenic spots in Whether you want to jump off a cliff and fly above vast stretches of green and white, or wish to play with electrifying silver waters, or crave some solace in the snow-clad mountain – Himachal bundles it all.
But with the increasing number of commercialized tourist spots, it is better still to skip some of the overrated destinations in Himachal and travel to the offbeat ones instead.
10 Overrated Destinations In Himachal
Here's a list of the most overrated and populated places in Himachal Pradesh and where you must travel instead this year. Scroll below and take a look!
Shoghi Instead Of Shimla
Narkanda Instead Of Kufri
Barot Instead Of Chail
Bir Billing Instead Of Manali
Chanshal Pass Instead Of Rohtang Pass
Vashisht Instead Of Manikaran
Chalal Instead Of Kasol
Salogra Instead Of Solan
Spiti Valley Instead Of Dharamsala And McLeod Ganj
Palampur Instead Of Dalhousie And Khajjiar
1. Shoghi Instead Of Shimla

Hill stations have been the traditional answer to a traveler's desire for peace. Offering a backdrop of soaring Himalayas, silver waters of flowing rivers, and the lush green forests, there are some extremely beautiful places to visit in Shimla. But with a large number of tourists flocking in every year, it is hardly a peaceful getaway now. Even the charming Mall Road doesn't offer anything that you would not find in the metros.
Just 13 km off the Shimla – Ambala National Highway, Shoghi welcomes visitors with its green hues on hill slopes, silvery brooks, and rows of pine trees. For adventure seekers, Shoghi offers rappelling, rock climbing, valley crossing, and commando rope walking. Forest hikes, night treks, and bonfires can also be arranged. The pristine hill station, thanks to the very few tourists, makes a perfect peaceful getaway.
Best time to visit: If you're looking forward to exploring the place, plan a visit during March to June or September to November. These are the ideal months to explore the natural beauty up close in this off beat small suburb.
How to reach: The nearest railway station is Kalka which is around 90 km and is served by passenger and express trains. It is well-served by rail but you will need to travel to Shimla or Solan to get a bus for Shoghi.
Must Read: Top 12 Waterfalls In Himachal Pradesh That Treat Your Eyes To The Best Sights Ever!
---
Himachal Holiday Packages On TravelTriangle
---
2. Narkanda Instead Of Kufri

Many of you would argue that anyone and everyone visiting Shimla would also visit Kufri. But the charming little hill station is popular as a stand-alone tourist place, thanks to its winter sport adventures in Kufri. Hiking and trekking trails, skiing and tobogganing, Indira Tourist Park, Chini Bungalow, and Fun World Amusement Park are some of the most popular winter activities here. Their excessive popularity has been a blow to the snow clad tranquility of the hill station, despite its pleasant climate and picturesque scenery.
65 km from Shimla, Narkanda is ideal for those wanting to spend time in solitude among the Shivalik ranges. Hiking up to the snow-clad ranges and apple orchards and the ski courses are must-try activities, apart from visit the best places in Narkanda. Himachal Pradesh Tourism Development Corporation regularly conducts ski courses here, but still Narkanda is not so crowded. It is one of the few gems in Himachal that offer peace and tranquility in midst of breathtaking views and plethora of adventure activities.
Best time to visit: The best time to visit Narkanda is during the summers when the weather is delightful, and the temperature ranges from 10 to 30 degrees Celcius.
How to reach: The nearest railway station is at town of Kalka that is 125 km away from the town of Narkanda. Toy trains are available to reach Narkanda on the Kalka-Shimla route at nominal rates.
Suggested Read: Heart Is Where The Hills Are: Our Snowy Honeymoon Trip To Himachal
3. Barot Instead Of Chail

Chail is a hill station in Himachal, popular for its architecture, sanctuary, military school, and the highest cricket ground in the world. But most of the tourism in Chail is because of the trekking and camping facilities on the banks of the Gaura river.
Barot is a village in the foothills of Himalayas, on the banks of the Uhl river. The surrounding evergreen deodar forests, Dev Pashakot temple, Nargu Wildlife Sanctuary, and the numerous activities, such as angling, trekking, and camping, are what make this offbeat destination in Himachal Pradesh a wonderful picnic spot.
Best time to visit: The best time to visit Barot is between April and June, during the summers and between November and February, during winters as the weather is suitable for sightseeing and exploring the valley.
How to reach: Mandi is at a distance of 420 km from Delhi and busses usually take around 9 hrs to reach Mandi. Barot is at a distance of 80 kms from Mandi. Take a local bus or shared taxi to reach Barot from Mandi.
Suggested Read: Top 12 Resorts In Himachal For A Truly Spoiling Holiday
4. Bir Billing Instead Of Manali

Manali is a popular tourist destination in Himachal and has a lot to offer – from the Buddhist monastery and famous Hindu temples to adventure activities in Rohtang and Solang. Some good tour guides might even take you to Gulaba or Kothi for paragliding, instead of the conventional Solang Valley. But, large number of tourists, high taxi rates, slow moving traffic through the main city, and the commercialization of the entire district has adversely affected the rich experience that tourists seek.
Only a few kilometers from Kangra, an eco-tourism spot – Bir Billing is the center of one of the best paragliding and hang gliding in India. It even played host to the Paragliding World Cup in October 2015. Besides, it has the perfect vibe for those looking for a spiritual and meditative environment. Other attractions include the Deer Park Institute, Bir Tea Factory, and the Chokling Gompa Monastery.
Best time to visit: The summers during the months of April to June are pleasant. This is the best time to visit Bir.
How to reach:  There is no direct rail connectivity to Bir. The nearest broad gauge station is in Pathankot, which is 112.4 km. away from Bir, while the nearest narrow gauge station is in Ahju, barely 3 km. from Bir.
Suggested Read: 5 Types Of Offbeat Stays In Himachal You've Been Missing All This While
5. Chanshal Pass Instead Of Rohtang Pass

Rohtang Pass is located 51 km from Manali in the Kullu Valley. At an elevation of 13,050 feet, the pass was called the pile of corpses due to the death of numerous people trying to cross the pass. Today, this picturesque destination has become the hub of tourists who seek adventure activities, especially winter sports such as snow-sledging, tobogganing, skiing, and even trekking. But enjoying these activities often becomes a difficult job, with several other tourists trying the same. Also, if you have already ticked it off your list, we have another option for you.
Chanshal Pass sits atop the 4,520 meters high Chanshal Peak in the Shimla district of Himachal. The virgin pass is an amazing destination for bike treks and jeep rides. Though it remains open from May to October only, the snow covered hill in the remaining months has high potential as a destination for winter sports and winter treks. The presence of the many ski slopes makes it an ideal destination for skiing.
Best time to visit: Best time to visit Chanshal Pass would be later part of June, early July, September or October. It is best to avoid traveling early in the season or during Monsoon. In May, melting snow would create a lot of water streams and resulting slush which will only make the drive harder.
How to reach: If you want to do the journey in form of a circuit, then you can reach via Shimla to Rohru, make a day long trip to Chanshal top and exit via Chakrata. Or start from Chakrata and exit at Shimla.
Suggested Read: 18 Secret Places In Himachal Tourists Haven't Discovered Yet
6. Vashisht Instead Of Manikaran

A pilgrimage center for Hindus and Sikhs, Manikaran is most popular for its hot springs. With religious tourists pouring-in in large numbers, it has become quite crowded. Another problem with Manikaran is that it is located 90 km from Manali.
Vashisht, on the other hand, is only 6 km from Manali. In addition to the natural hot water springs, Himachal Pradesh Tourism Development Corporation has also built Turkish type baths that draw hot water from the natural springs through pipes.
Best time to visit: The best time to visit the Vashisht Springs and take a dip her are in the summer months between March and October.
How to reach: Enjoy the Scenic Himalayas and the Beas river from the window of your cab. On the way you can have a stop over at Sunder Nagar Lake, Pandoh dam on river Beas and Kullu if time permits. It will take 13 to 15 hours to reach Manali and the distance is 560 Kms.
Suggested Read: 15 Places To Visit In Himachal Pradesh In December
7. Chalal Instead Of Kasol

Look up any Kasol guide and it will tell you that this small village, surrounded by a forested valley, is full of bars, bakeries, and cheap guest houses. But these are not deserted. They are overcrowded. If you are looking for a solo outing or an outing with your wolf gang, Kasol maybe your ideal destination. But it is a definite no for family outings. Also, the much-needed solitude is available only in nearby villages and not the main hub.
A mere 20 minutes' walk from Kasol will take you to the serene and relatively secluded village of Chalal. Native families happily take guests and provide night stay facilities. There are some guest houses as well. Chalal is everything you dreamt of while planning Kasol, sans the hippie crowd. And gladly, it is as close to the base of the famous Kheerganga trek as Kasol.
Best time to visit: October to June
How to reach: To reach Chalal, first cross the gushing waters of Parvati River via the suspension bridge, and then make your way through the gorgeous pine forests.
Suggested Read: 11 Travel Tips For Himachal Pradesh That Will Come In Handy For Your Trip
8. Salogra Instead Of Solan

Besides the district, there is a small city too, that goes by the name Solan. It is popularly known as the Mushroom City of India and the City of Red Gold for its vast mushroom and tomato farming. But in the past decade or so, commercialization has gripped the city majorly. The steady rise in the number of tourists comes with a lot of pros, but some cons come along too. The traffic on the streets is slow and the overcrowded restaurants and cafes are a big let-down.
No, you will not have much to do. But vast stretches of scenic greenery, picturesque villages, and magnificent hills surrounding you are mesmerizing to the hilt. A subtle trek through the snow-clad pine and deodar forests and the Barog Temple is an added attraction of the city, at just 5 km. Little native population and far-less tourists (than Solan) ensure a serene and beautiful holiday for couples, families, and solo travelers.
Best time to visit: August to November
How to reach: Salogra is 35 km from Shimla and from here buses link major cities via the ISBT terminal.
Book Himachal Tour Packages With TravelTriangle!
9. Spiti Valley Instead Of Dharamsala And McLeod Ganj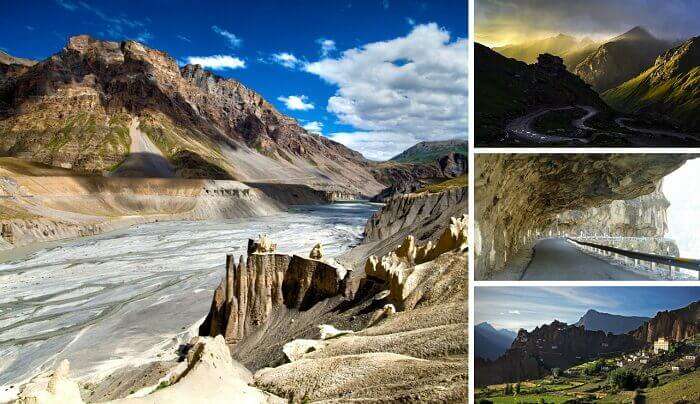 The residence of His Holiness the 14th Dalai Lama, Dharamsala and McLeod Ganj are popular tourist attractions and hippie places in Himachal. A religious dwelling for the Buddhist pilgrims, the city of Dharamsala is enclosed by beautiful stretches of the dense Deodar forests. Flocking Indian tourists and long-staying Israeli tourists, make these spiritual destinations crowded and unfit for families.
The Spiti Little Tibet Valley is a beautiful alternative to Dharamshala and McLeod Ganj. Surrounded by stunning mountains and glaciers, it offers a quaint stay at peaceful monasteries and lovely villages of Spiti. Trekking and jeep safaris through the trails, the Bara-Shigri glacier, the Ki and Tabo Monasteries ensure enough action on the trip. Lahaul and Spiti together are also a great trip to plan.
Best time to visit: Mid – May to mid – July: This is the real peak season in Spiti when the valley welcome hordes of tourists who wish to get respite from city heat.
How to reach: From Chandigarh, you can reach Lahaul via Manali and Spiti via Shimla by road. The journey by road would be an approximate of 5 and 9 hours respectively. Alternatively, one can also reach Shimla by train and then take a cab for the onward journey.
Suggested Read: Experiencing Winter Wonderland On A Family Trip To Himachal
10. Palampur Instead Of Dalhousie And Khajjiar

Dalhousie is a quaint hill station in Himachal Pradesh, established in the mid-19th century by the British Empire as a summer retreat for the bureaucrats and troops. Bakrota Hills, Kalatop Forest, Gandhi Chowk, and the Dainkund Peak have been major attractions that have made Dalhousie an overcrowded destination. Even the hyped Khajjiar Mini Switzerland Valley has been commercialized and exploited as a tourist destination.
Palampur is a green hill station in the Kangra district of Himachal Pradesh, surrounded by tea gardens and pine forests. Its mild climate, proximity to the Dhauladhar Mountains, and the numerous flowing streams provide for a great getaway from the hustle-bustle of the city life. The Devi Latti Jakhni temple, Bundla falls, Old Vindhyavasini temple, Mata Bandla Devi's temple, and the country's first bamboo temple are other attractions that will make your trip to the tea capital of north India an amazing one.
Best time to visit: Palampur has a mild climate and can be visited throughout the year. However, the best time to visit Palampur is between March to June and mid-September to November.
How to reach: Pathankot is the nearest broad gauge railway station situated at a distance of 112 km from Palampur and it's takes 7 hours to reach there. Palampur is well connected by road to all the major cities of the state.
Further Read: 10 Terribly Overrated Destinations In India & Where To Go Instead On Your Trip
These 10 untouched and offbeat places in Himachal will leave you in awe with the mystical views of the silvery peaks and the sparkling streams. Experience serendipity and serenity, far away from the maddening crowd and the overrated commercialized tourist destinations of Himachal by planning your trip to Himachal Pradesh right away.
Disclaimer: TravelTriangle claims no credit for images featured on our blog site unless otherwise noted. All visual content is copyrighted to its respectful owners. We try to link back to original sources whenever possible. If you own the rights to any of the images and do not wish them to appear on TravelTriangle, please contact us and they will be promptly removed. We believe in providing proper attribution to the original author, artist, or photographer.
Please Note: Any information published by TravelTriangle in any form of content is not intended to be a substitute for any kind of medical advice, and one must not take any action before consulting a professional medical expert of their own choice.
Frequently Asked Questions About Overrated Destinations In Himachal
Is it safe to tour the overrated destinations in Himachal given the current situation of Covid-19?
If you are not done with your covid-19 vaccination yet then please get done with it and then only move out. Post getting vaccinated you still need to follow the given precautionary measures such as adhering to social distancing, washing/ sanitizing your hands every time you contact anything, wear a mask all the time. If you follow the said things, it will be much safer for you to tour the overrated destinations in Himachal. Having said that, your safety is always in your hands.
What is Himachal Pradesh famous for?
Himachal Pradesh is known for being home to some of the most beautiful tourist spots in India. There are some overrated destinations in Himachal Pradesh that are beautiful but are now overcrowded. Some of those places are Chail, Kufri, and Kasol. You should instead visit Barot and Salogra.
How do I reach Shoghi?
You can reach Shoghi by road and rail. Shoghi Railway Station is the nearest narrow gauge railhead. However, the broader gauge railhead is Kalka. You can de-board the train at Kalka and take a bus or taxi to Shoghi.
What is Narkanda known for?
Narkanda is known for skiing and other winter sports that you can try here. Situated at an altitude of 2708 meters, Narkanda lies on the Hindustan Tibet road.
Is paragliding in Bir Billing safe?
Bir Billing is actually one of the best destinations for paragliding in the world. Paragliding in itself is an activity that involves risk, however, if you do it under supervision and guidance then paragliding in Bir Billing is safe.
Is Barot better than Kasol?
Barot and Kasol are two very different destinations. Barot is a gem among rough terrains and offering camping, trekking, and fishing opportunities whereas Kasol is a backpacker's paradise.
Where is Palampur situated?
Palampur is situated in the Kangra Valley region of Himachal Pradesh. The place is known for its mesmerizing beauty.
Is Salogra worth visiting?
Yes, Salogra is definitely worth visiting, especially if you are a nature lover and someone who loves cozy little cafes. The place is ideal to plan a refreshing getaway.
---
Looking To Book A Holiday Package?
Book memorable holidays on TravelTriangle with 650+ verified travel agents for 65+ domestic and international destinations.
---