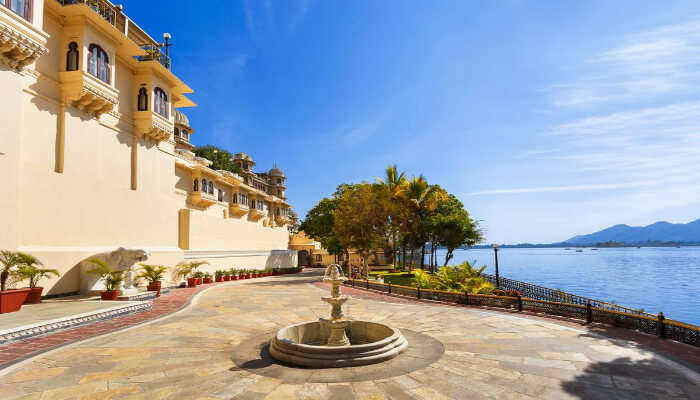 Udaipur is a charming city that drips of exuberance and grace, boats and lakes, and many luxurious hotels; hotels that are comfortable and those that are ornate. But how would it be if we were to find a hotel that exhibited both the luxury of an embellished decor and the comfort of fluffy beds and relaxing restrooms?! Well, we already have a name for such a grandeur place – Taj Fateh Prakash Palace which has opened for the first time in India in the city of magnificent Udaipur!
The Indian Hotels Company ( IHCL) cut the ribbon for the New Year as they did for the Taj Fateh Prakash Palace in January 2020. The Palace stands along the shores of the alluring Lake Pichola in Udaipur and it has been revamped from the older architectural structure made in the 19th Century by Maharana Fateh Singh Mewar as a venue for exclusive royal events and celebrations. It is astounding how the authorities have maintained the sanctity and palace decor of the 19th-century palace up till today! Guests who arrive at this extravagant accommodation, get to enjoy the calm of the lake and the view of the majestic Aravalli Hills along with Jagmandir Island.

Image Source
There are 65 Heritage rooms and suites in the Prakash Palace and each one of them provides you with comfort that of your home! The amenities provided in these rooms include a flat-screen TV, mini-bar, tea-coffee maker, Jacuzzi, and complimentary Wifi. The housekeeping services remain superlative and they make sure you have a pleasant stay. The Palace is an ideal place for fulfilling your culinary wishes as the restaurants serve the traditional and delectable cuisine of Mewar along with other continental options. You can sit at the Sunset Terrace restaurant and enjoy your meal whilst enjoying the splendid views of Pichola, Lake Palace, and Sajjangarh Palace. The Surya Darshan Bar is a good spot for spending an evening away watching the sunset with a glass of champagne. World's only crystal bed and a jewel-embedded carpet can be seen in the Crystal Gallery located on the 3rd floor of the Taj Fateh Prakash Palace.
With the opening of this Palace, IHCL has earned its name as the largest hospitality operator in Udaipur with 4 hotels functioning under its name.
Further Read: 47 Glamorous Places To Visit In Udaipur In The Year 2022 For A Laidback Holiday!
The Taj Fateh Prakash Palace successfully embodies the legacy of the world's longest-running dynasty of Mewar in its rooms, restaurants, open spaces, and in the service. You can experience royalty as you sit comfortably in the luxurious rooms and enjoy the views of the spellbinding surroundings. Plan your trip to Udaipur and stay at this monumental palace as you allow yourself to indulge in the opulent culture of Mewar!
People Also Read: