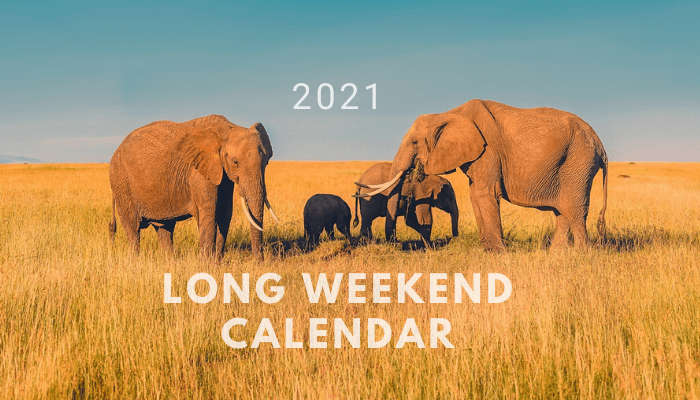 Taking a rejuvenating break is often required when life's not all about fun! So, while you're wondering what this new year has in store for you, planning your leaves and holidays will prove to be just the thing you need to do! Whether it's about January's fresh spirit in the freezing Kashmir or your mid-summer dream in the extravagant paradise of Pondicherry, long weekends in India in 2021 will surely be more than a mere get away from your daily routine.
List Of Long Weekends In India 2022
Confused about where to go and when? Well, we've got you covered for the entire year whether you believe it or not! So, scroll down to know where you can head to on those long, long weekends!
1. Long Weekends In January 2022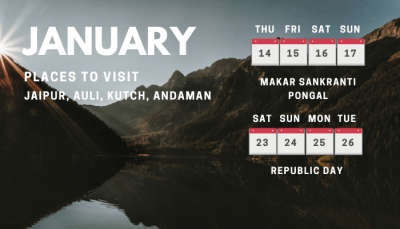 While there are so many places to visit in India for your weekend getaway, some of the best ones include all the experience that you simply cannot resist in January. Be it a hot cup of tea in the snowy land of Auli or savoring the tasty treats of Jaipur, you will simply end up craving for more on your holiday. Sounds enticing already, doesn't it?
Thursday, December 31 – Take a day off
Friday, January 1 – New Year's Day
Saturday, January 2
Sunday, January 3
Thursday, January 14 – Makar Sankranti, Pongal
Friday, January 15 – Take a day off
Saturday, January 16
Sunday, January 17
Saturday, January 23
Sunday, January 24
Monday, January 25 – Take a day off
Tuesday, January 26 – Republic Day
2. Long Weekends In February 2021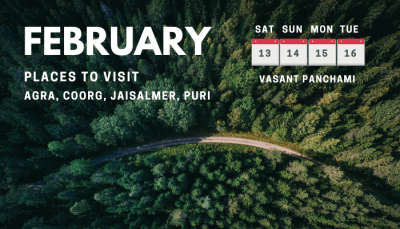 The fact that February is full of Valentine's day feels and is ready to sweep you off your feet with some crazy outings and lunches, don't forget to explore some of the famous places in this month. They will only add to the romance vibes in the air. Got any ideas? Well, Agra and its glorious Taj Mahal may just be the place for you!
Saturday, February 13
Sunday, February 14
Monday, February 15 – Take a day off
Tuesday, February 16 – Vasant Panchami (restricted holiday)
Must Read: 30 Best Honeymoon Places In India In Summer Of 2022 – Apr, May, June
3. Long Weekends In March 2021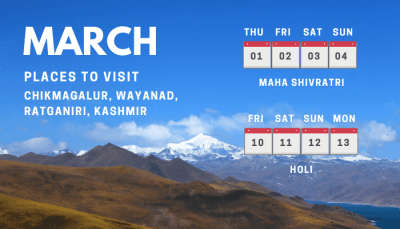 From Wayanad's soothing waterfalls and rivers to a thrilling Shikara ride in Kashmir, long weekends in India like this surely demands more of your attention and personal time. Feeling the autumn charms can be your thing in the scenic Ratnagiri or even Chikmagalur. Just making up your mind is essential and then, booking a trip won't be that much of a hassle!
Thursday, March 11 – Maha Shivratri
Friday, March 12 – Take a day off
Saturday, March 13
Sunday, March 14
Friday, March 26 – Take a day off
Saturday, March 27
Sunday, March 28
Monday, March 29 – Holi
4. Long Weekends In April 2021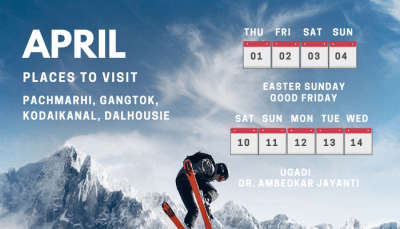 One of the best upcoming long weekend in India can be spent reviving your senses in the month of April with the stunning views of Dalhousie and Gangtok. Well, if you're still confused about the extreme weather at these places, Pachmarhi might be exactly what you need with a somewhat moderate climate. Whichever fits the best in your April vacay plans, this weekend will surely feel like a blessing!
Thursday, April 1 – Take a day off
Friday, April 2 – Good Friday
Saturday, April 3
Sunday, April 4 – Easter Sunday
Saturday, April 10
Sunday, April 11
Monday, April 12 – Take a day off
Tuesday, April 13 – Ugadi (restricted holiday)
Wednesday, April 14 – Dr. Ambedkar Jayanti (restricted holiday)
Suggested Read: 10 Awesome Places To Celebrate Holi In India In 2022
5. Long Weekends In May 2021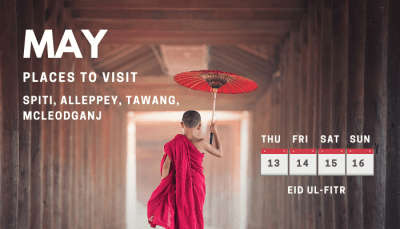 When it's the month of May, you must beat the heat! What else can be a better place to do just that than Spiti? A trip to the extravagantly beautiful town of Tawang is yet another option you can choose for your extraordinary weekend trip! Well, if this isn't the kind of vacation you had in mind, then surely Alleppey's houseboat cruises may help you decide.
Thursday, May 13 – Eid ul-Fitr
Friday, May 14 – Take a day off
Saturday, May 15
Sunday, May 16
6. Long Weekends In June 2021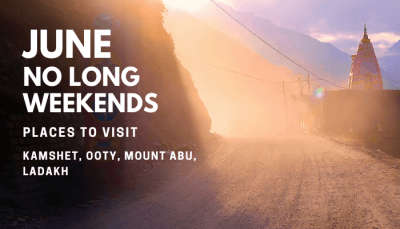 Long weekends in India or no, June demands an outing of its own! Try something new this year with an exciting vacay in Kamshet's Bhaja Caves or Mount Abu's boat rides. Making up your mind may take some time and since you have it all, exploring the Rose garden in Ooty might not be such a bad idea after all. Are you ready to surprise your loved ones this month?
Suggested Read: Kumbh Mela 2022: A Pocket Guide To Know Everything About The Grand Indian Fair!
7. Long Weekends In July 2021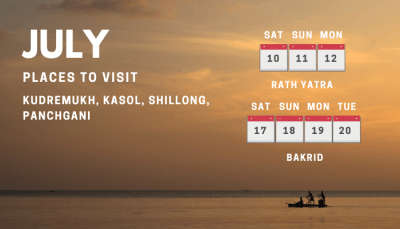 Kudremukh or Kasol, what's it going to be in the wet season in India? If you're in mood for spending some quiet time near the Elephant waterfalls of Shillong, well, we wouldn't be surprised! Taking some time off from your work might be just the right thing to do this month as there are two long weekends.
Saturday, July 10
Sunday, July 11
Monday, July 12 – Rath Yatra (restricted holiday)
Saturday, July 17
Sunday, July 18
Monday, July 19 – Take a day off
Tuesday, July 20 – Bakrid (restricted holiday)
8. Long Weekends In August 2021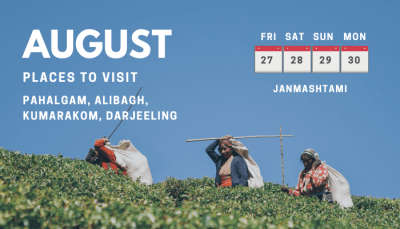 A beach person or not, Alibaug's famous beaches will surely allure you from far off! Pahalgam's wildlife treasure in the surrounding areas might be yet another reason to visit Jammu and Kashmir in August. If multiple canals and houseboats were what you had in mind, then surely a trip to Kumarakom will be a perfect outing for you! So, well, why not?
Friday, August 27 – Take a day off
Saturday, August 28
Sunday, August 29
Monday, August 30 – Janmashtami
Suggested Read: 25 Paradisaical Honeymoon Places In India In March 2022!
9. Long Weekends In September 2021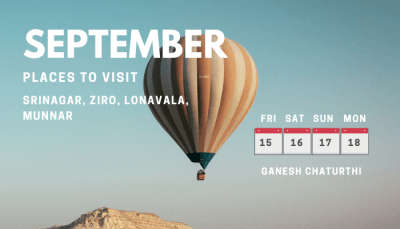 The onset of winters but you wish the season would come sooner! To have a winter vacay this month, it's time to explore the famous gardens of Srinagar and experience absolute bliss in Kashmir valley. If you haven't been to the lush tea plantations in India, we say now is the time to explore the charming town of Munnar. A world heritage site like that of Ziro valley is surely worth visiting this month.
Friday, September 10 – Ganesh Chaturthi
Saturday, September 11
Sunday, September 12
Monday, September 13 – Take a day off
10. Long Weekends In October 2021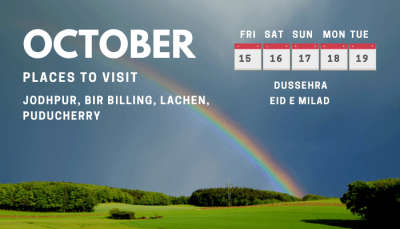 The blue city of Jodhpur is calling you in October and what more could you possibly wish for than your next long weekend in India to plan this visit? Known as the 'big pass' the gorgeous town of Lachen in Sikkim will be your perfect weekend getaway in October. A peaceful time in the monasteries of Bir billing or soothing beaches of Pondicherry, what's it going to be for you?
Friday, October 15 – Dussehra
Saturday, October 16
Sunday, October 17
Monday, October 18 – Take a day off
Tuesday, October 19 – Eid e Milad
Suggested Read: 60 Best Honeymoon Destinations In India In 2022!
11. Long Weekends In November 2021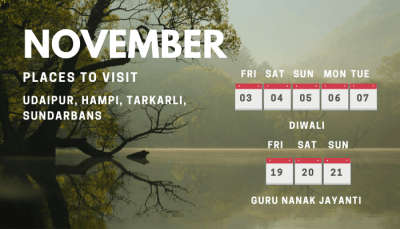 Celebrating the beginning of the winter season with several festivals this month can be really overwhelming. So when it's time to do it the 'travel' way, we say Udaipur surely has more in store for you than you think! You surely cannot go wrong with the renowned hills and temples of Hampi and while this keeps getting better, visiting Tarakarli or Sundarbans can lead to more than just memories!
Wednesday, November 3 – Dhanteras
Thursday, November 4 – Diwali
Friday, November 5 – Take a day off
Saturday, November 6
Sunday, November 7
Friday, November 19 – Guru Nanak Jayanti
Saturday, November 20
Sunday, November 21
12. Long Weekends In December 2021

An electrifying festival in Goa or the stunning Mysore Palace, which one will be your favourite spot this December? Christmas vibes can be felt all throughout the country but the best ones can surely be in the snowy Manali hills with your loved ones. Not in the mood for the beaches or mountains? Jodhpur's glorious palaces might be just the thing for you this month!
Friday, December 24 – Take a day off
Saturday, December 25 – Christmas
Sunday, December 26
Friday, December 31 – Take the day off
Saturday, January 1 – New Year's
Sunday, January 2
Further Read: 40 Most Amazing Places To Visit In India With Friends In 2022
When a holiday is on the way, we bet you can't resist choosing from the top places to explore this year! What are you waiting for? Get ready to make the best of this year with your loved ones or simply plan a solo trip for some soothing quiet time alone. Traveling to these places might just be exactly the thing you need in 2021! Happy Journey!
Frequently Asked Questions About Long Weekends In India 2021
What is the best time to visit India?
The best time to visit India is from October to March. India experiences hot weather majorly. During these months, the weather is pleasant and it is the winter season. So, you can explore the country easily.
Which is the best city in India to visit?
Some of the best cities in India to visit are New Delhi, Mumbai, Panaji and more. You can visit these cities during long weekends in India.
Is India a free country?
Yes, India is a secular country.
How large is the country of India?
India is the seventh-largest country in the world.
Which is the most beautiful place to visit in India?
Some of the most beautiful places to visit in India are Kashmir, Ladakh, Jaipur, Kerala, Coorg, Sikkim and many more.
Which city is most visited by foreigners in India?
Agra, Delhi, Mumbai and Chennai are mostly visited by foreigners in India.
What is India famous for?
India is best known for its vibrant culture, festivals and delicious food.
What should I avoid in India?
A. While visiting India, people should avoid drinking tap water, eating from the streetside, breaking the rules and more.
People Also Read:
>Road Trip During Covid-19 Covid-19 State-wise Advisory Essentials For Traveling During COVID Times