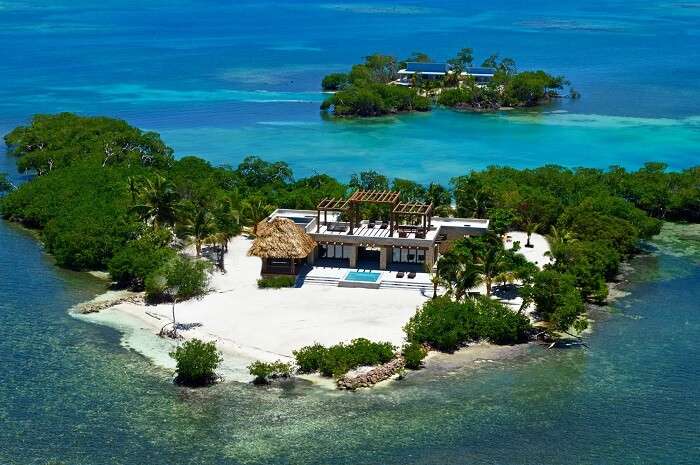 You read that right! This Valentine's Day skip the flowers and chocolates routine, or (GASP!) The forbidden gift certificate or the horror of horrors – Cash! To woo your date, not to mention impress them to no end, you can now rent an entire island resort just for the two of you.

According to travelandleisure, Gladden Island, located just off the coast of Belize and a mere four hours away from Miami, is a luxury private island that is still available for rent this V-Day.
Teetering right on the edge of the Belize Barrier Reef, this is the epitome of seclusion. You know what that means, no one far and wide to interrupt those all-important cuddles. Imagine being surrounded by turquoise waters till as far as the eyes can see, with cozy lagoons visible on the horizon and whale sharks going about their yearly migration!
But wait, being alone on this island doesn't mean you have to do all the cooking and cleaning on your own. The fantastic wait staff and the cleaning crew that comes with your island reside on another smaller island, right behind Gladden Island. And the best part is that they can slide in and out of the place, cleaning and cooking as they go, without being at all intrusive; all this at a moment's notice.

For $3,073 a night it is actually pretty reasonable, considering that this is a world-class, one-of-a-kind, elegant, utterly luxurious, fully furnished accommodation for two. Did we mention, you can also dine on local dishes prepared by guest chefs who come highly recommended from global kitchens?
For that extra-special bonding session, make sure to book a couple's spa therapy at the island itself or charter a boat to take your honey on an island hopping trip. Your personal concierge at Gladden Island can take care of the booking for you!
You know what they say, Go Big or Go Home! Better make it fast; we are sure there are many lined up to Rent Gladden Island to woo their partner with this grand Valentine's Day gesture.