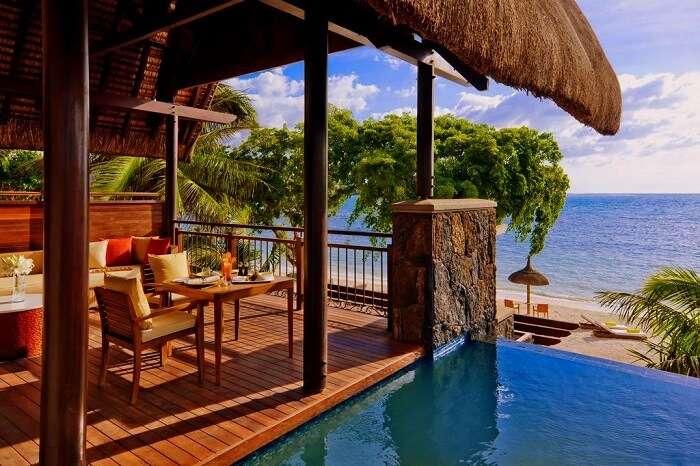 Overview
Set on the picturesque North West coast of the Island of Mauritius, Angsana Balaclava Mauritius is one of the best 5-star boutique resorts in Mauritius. Mauritius is one of the most romantic destinations in the world and thus easily grabs the attention of honeymooners. This artistic property is ideal for honeymooners who visit Mauritius to spend some quality time. Along with honeymooners, Angsana Balaclava Mauritius is a perfect place for a family who wishes to enjoy a luxurious and memorable time in this delightful country. Angsana Balaclava Mauritius is famed for its aesthetic location and splendid architecture whose beauty cannot be described in words. Its royal and stylish villas and suites, private infinity swimming pools and hammams and picturesque ocean views easily lure the visitors and keep them spellbound for a pretty long time.
This elegant resort is perfectly located in a secluded cove of the Turtle Bay, just next door to a beautiful seaside village. With its stylish and iconic suites, world-class facilities, state of the art infrastructure and exemplary location, this resort is a perfect escape to a jewel in the Indian Ocean. Feel the aroma of "local Frangipanis waft" along with the pathways and determine the impeccable culinary experience here.
Amenities
Along with plush settings and opulent accommodations, this resort is decorated with a plethora of facilities. It boasts of a well-equipped fitness center, ballroom, conference room, delectable in-house dining, and award-winning spa facilities. Apart from normal dining, visitors here can enjoy destination dining on the beach and let their romance blossom in Mauritius.
Dining
The dining experience for guests at the Angsana Balaclava Mauritius is an exquisite one. The resort has two restaurants namely, Oryza and Passion Chill. Both restaurants serve some lip-smacking international cuisines that one is sure to enjoy. The hotel also houses a bar where one may enjoy a variety of cocktails and mocktails.
As per Angsana Balaclava Mauritius Reviews, it is a high-class and graceful property to collect some beautiful and everlasting memories in Mauritius. So, take a plunge into the aura of this resort and create memories that linger.
Resort Accommodation
Oceanfront Pool Suite
Deluxe Pool Suite
Garden Lagoona Suite
Beachfront Pool Suite
This delightful resort is decked with eight types of suites and villas which are capable of rendering the best ever experience of your life. These villas and suites provide both ocean and garden views and thus allow visitors to explore the alluring beauty right from their comfort zone. Suites and villas at Angsana Balaclava Mauritius also allow the patrons to view the Mauritian sunset in the blaze of their fiery flame from their cozy suite nook. If one is looking for a comfortable night's sleep then Angsana Balaclava Mauritius is the resort to be at.
Resort Highlights
Splendid food and exceptional dining experience
Scenic Turtle Bay views from the Angsana Balaclava Spa
The resort houses one-of-a-kind sea water Lagoona pool
Exhilarating water sports such as scuba diving, snorkeling, glass bottom boat trips available
Beautiful library where guests can spend some peaceful time
Angsana Balaclava resort Mauritius houses a huge well-equipped indoor gym
Indian Restaurants Near the Resort
House of India
Veda
Cumin Restaurant
FAQs
Q1. Are couple massages available at Angsana Balaclava Mauritius?
A. Yes, couples can enjoy a romantic massage at Angsana Balaclava with a relaxing session in the sauna, hammam and vitality Jet Pool.
Q2. In which types of suites and villas at Angsana Balaclava can guests enjoy a garden view?
A. Travelers can enjoy scenic garden views in Spa Sanctuary Suite, Spa Sanctuary Suite with Steam Shower, Garden Lagoona Suite and Deluxe Pool Suite.
Q3. Are guests given a free Wi-Fi facility at Angsana Balaclava Resort?
A. Yes, complimentary Wi-Fi can be enjoyed at Angsana Balaclava. The network connection is strong and uninterrupted.
Q4. How many persons can accommodate in Imperial Pool Villa at Angsana Balaclava Mauritius?
A. 8 people can accommodate in Imperial Pool Villa at Angsana Balaclava.
Q5. Will one be able to enjoy Asian cuisines at Angsana Balaclava?
A. Yes, visitors can savor delectable Asian cuisines in Oryza at Angsana Balaclava Mauritius. These cuisines can be enjoyed either during breakfast or dinner.
Mauritius is known as a romantic gateway and so does Angsana Balaclava. Needless to mention, its beautiful aura and plush setting as words are not enough to describe its luscious beauty, scenic charm, and awe-inspiring grandeur. With Angsana Balaclava Mauritius all Inclusive, this resort houses magnitude of features which will surely make the stay memorable. Its infinity lap pools, well-equipped kids' club, a plethora of dining options, rejuvenating spa center, a variety of entertainment activities, royal suites and villas contribute a lot in making patron's experience unforgettable and catchy. The beauty of Mauritius is like the cherry on the cake; whatever your style and taste are, there is something to enchant for every traveler. Best said by someone that heaven is a copy of Mauritius. Choose to accommodate in this refined resort and soak into a state of sheer bliss in its sophisticated and enchanting ambiance.