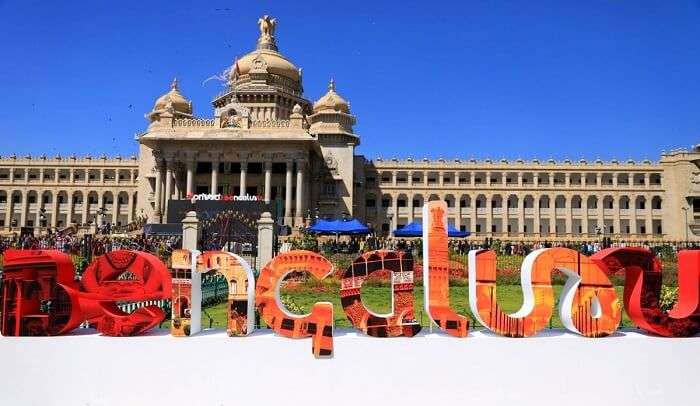 If you've had love for Bengaluru for being the pretty city with pleasant weather that it is, here's a good news for you. It has also become the first Indian city to have its own logo, and has joined the league of the popular cities like New York and Singapore across the world.  And believe us, the logo reflects every bit of beauty that will make you go wow.
The cute rolling font of the Bengaluru logo was devised by the bankers-turned-designers Rushi Patel and M Venkateswara Rao, who are also the founders of Nammur, a creative design start-up. Reflecting part English, and part Kannada, the new logo was finally chosen by a panel of experts from a crowdsourcing contest organized by the city's Department of Tourism.

The contest received 1,350 entries and was unveiled by Priyank Kharge, who is the Minister for Information Technology and Biotechnology, and Karnataka State Tourism Minister at the Namma Bengaluru Habba, an open street festival held at the Vidhana Soudha.
The story behind the 'Be' 'U' in the Bengaluru logo
Facing criticism for its potholes on roads, rising pollution issue, and frothing lakes, the Karnataka government decided to launch a logo for the city with an aim to rectify its image, and promote it as a major tourist destination across the world. So, the final logo that was chosen is red and white in colour, in sans serif, and with a typography that conveys a sense of fluidity, boldness, and vitality.
Apart from the two languages, the logo also has 'Be' and 'U' highlighted in the red colour, which reflects the cosmopolitan nature of the city, and how the Silicon Valley of India is both globally and locally rich when it comes to its culture and lifestyle. And since the creators of the logo believe Bengaluru to be a city that allows you to be you, they chose to highlight the welcoming spirit of the city through the red letters. While the logo is already out, Nammur has also launched new merchandise that will represent the city.
Other cities in the world with their own logos

While Bengaluru is the first Indian city to have its own logo, there are already a few others around the world that have had their own logos for quite some time now. Though the most popular ones are Berlin, London, Venice, Prague, Montreal, Singapore, Amsterdam, and New York City.
And while, it is a moment of pride for everyone, here's also to hoping that the city retains its charm till eternity!