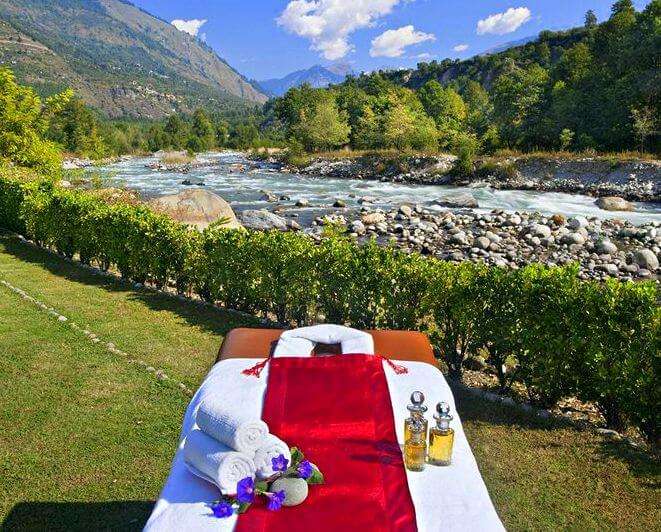 Heading to Manali for an intoxicating, refreshing vacation? Looking for the perfect retreat to stay in during your trip? Your hunt ends here!
Hiding away in the most picturesque corner of this lush hill town is a dreamy abode not many know about – the Span Resorts & Spa. An upmarket property with impeccable services and spacious rooms, this resort is among the best places to stay in Manali for those who want their trip to be all about relaxation and fun.
In fact, you can just forget about planning an itinerary. One step inside this heaven, and you wouldn't want to leave!


But what makes it different from the other resorts in Manali, apart from providing utmost luxury at relatively economical rates? The answer to this will blow your mind!
Here's What Makes Span Resort & Spa Special:
The warm and comfortable cottages, amazing views of the hills and the river from each room, a well-equipped yoga center, river rafting facilities, and a fancy bar by the pool. These are just some of the amenities that draw travelers here. What really bowls them over is the Open Air Spa that this resort offers under the clear blue skies and near the river flowing in full force.


Must Read: 15 Best Restaurants In Manali: Extraordinary Treats For Your Eyes And Taste Buds
Imagine enjoying a rejuvenating massage out in the open, breathing fresh mountain air and looking at a sparkling river gushing by while tiny birds hum melodious tunes and chase each other over your head. Marvelous, isn't it?
Now add to it the sweet kiss of winters and we bet the snowy landscapes will be even harder to resist! That's right. Turning into a winter wonderland, Span Resort is among the best Spa resorts in Manali that exudes even more charm and bliss during winters. Guests can cuddle up before a warm fireplace and sip on the delicious hot chocolate whipped up by Span's culinary artists to enjoy a stay at this snowy paradise in winter.



Excited already? Let's look at some basic details of the resort to get you going:
Location: Manali Highway, Nh-21, Baragran, Manali Tehsil 175131
Span Resorts Prices Starting At: INR 12,000/-
Other Amenities: Pool, Restaurant, Fitness Centre with Gym, Bar, Lounge, Children Activities, Concierge, Business Centre, Banquet Room, Minibar, Hot Tub, Tennis Court, Free Parking, Airport Transfers
Google Rating: 3.8 | TripAdvisor Rating: 4.5
Span Resorts Website | Span Resorts TripAdvisor Reviews
Let us now take you on a visual ride into this beautiful retreat in Manali:
The Rooms
The Restaurant And Bar
The Facilities
You're just one step away from enjoying the most comfortable and most luxurious facilities at one of the best resorts in Manali. And to top it all, you can indulge in the most breathtaking white vistas from this resort that is presently covered in layers and layers of snow.
Further Read: 8 Intoxicating Things To Do During Snowfall In Manali
So, what are you still waiting for? Book your trip to Manali with TravelTriangle and just GO!