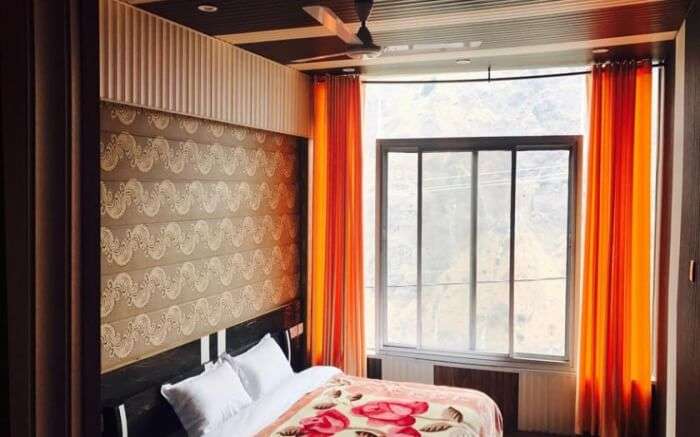 Auli, the Skiing Capital of India, is among the top hill stations in India. Hence, there are quite many options to pick from when it comes to Auli hotels and resorts, but if you settle for nothing less than the best, you've landed on the right post.
Many hotels in this area do not have online existence. Hence the properties listed below are not limited to Auli, but also its nearby areas like Joshimath. The list features important tourist information such as tariff, location and reviews.
10 Hotels In Auli And Around It
There are various hotels in Auli that will make your stay in this beautiful hill station memorable and all the more exciting. Given below is a list of Auli hotels that you must consider when planning your holiday.
1. The Himalayan Abode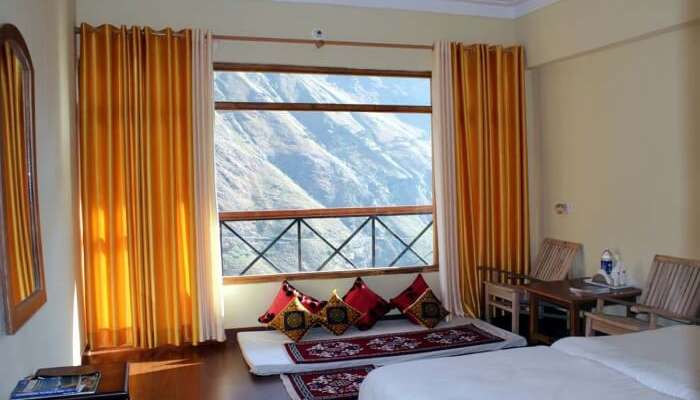 When it comes to hotels in Auli hill station, this one serves both to budget and leisure travelers. With three room categories, the Himalayan Abode is perfect for everyone. The Himalayan Backpacker room is ideal for those on budget, while Nanda Devi / Nandan Kannan Room, and The Himalayan Abode Room are more on luxury side. Consider staying at this one when searching for budget hotels in Auli.
Location: Badrinath Highway, Near JP Company, Marwari, Joshimath Dist. Chamoli
What's special: The huge glass windows of the rooms lets you enjoy the hilly vista right from the comfort of your bed.
Tariff: INR 1,500 per night onwards
2. Hotel Manik Resort Auli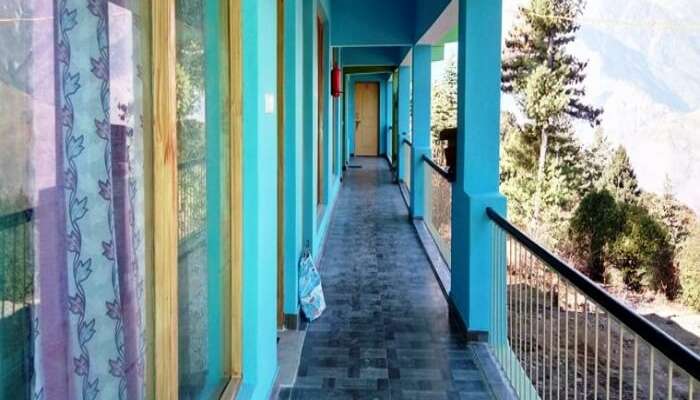 To witness the simplicity in the beauty of local lifestyle, Hotel Manik Resort is the perfect place to be. The property suits travelers with different pockets, as you have both dormitory and deluxe rooms. The staff is friendly and don't mind going extra mile for the comfort of the guests.
Location: Auli – Joshimath Road, Auli, Joshimath
What's special: The homely ambiance of the hotel is a good catch for the travelers who want to experience local lifestyle from up close
Tariff: INR 2,700 per night onwards
Must Read: 6 Auli Resorts For A Luxurious Stay In The Snow Meadow
3. Hotel Mount View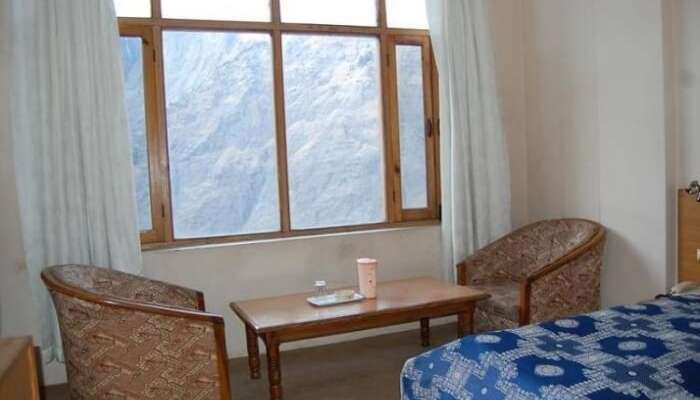 A home away from home, Hotel Mount View is one of the best hotels in Auli and around. The hotel offers 5 room categories – Economy room, Family room, Deluxe, Super Deluxe, and Suite. Each of the rooms come with big windows looking upon the hills. The rooftop restaurant is a delight to be in, you get to savor the delicious flavors with the gentle breeze and view of the hills.
Location: Badrinath main road, near Kotwali Joshimath, Upper Bazar, Joshimath, Chamoli
What's special: The hotel provides helicopter services for touring the Char Dham. The cab services provided too are 24×7.
Tariff: INR 3,000 per night onwards
Suggested Read: Auli In Summer: Make The Most Of The Sun, Snow, And Slopes At This Ski Resort In 2019!
4. Hotel Auli D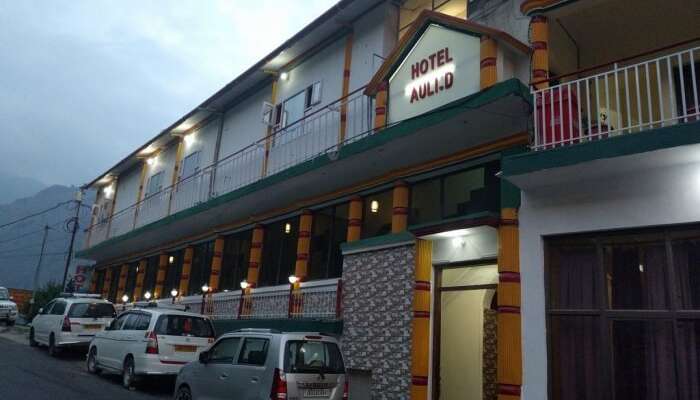 One of best budget Auli hotels, this is nice place for spending a night or two, or even more if you please. The rooms are well-furnished and the hotel is located in a central location, which makes it a good choice for solo female travelers. Plan your stay here if you want to spend your vacay in one of the cheap hotels in Auli.
Location: Badrinath Road, Near Petrol Pump, Joshimath
What's special: The in-house restaurant serves mouth-watering chana masala, and veg biryani.
Tariff: INR 3,000 per night onwards
Suggested Read: 10 Reasons Why You Must Be In Auli Right Now
5. The Sleeping Beauty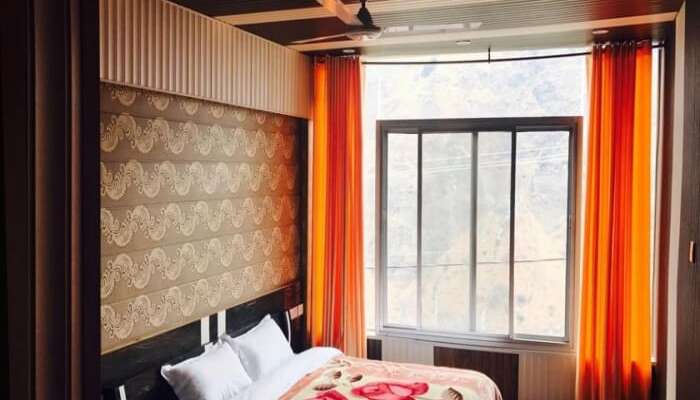 Image Source
For someone searching for a lovely hotel in Auli hill station and around, Sleeping Beauty would be a perfect pick. Having cozy carpeted rooms overlooking the expansive mountainscape, the hotel has six spotlessly clean rooms.
Location: Manohar Bagh, Auli Road, Joshimath
What's special: The hotel staff is known to do the best they can, in order to provide a comfortable stay.
Tariff: INR 4,200 per night onwards
6. Cliff Top Club Auli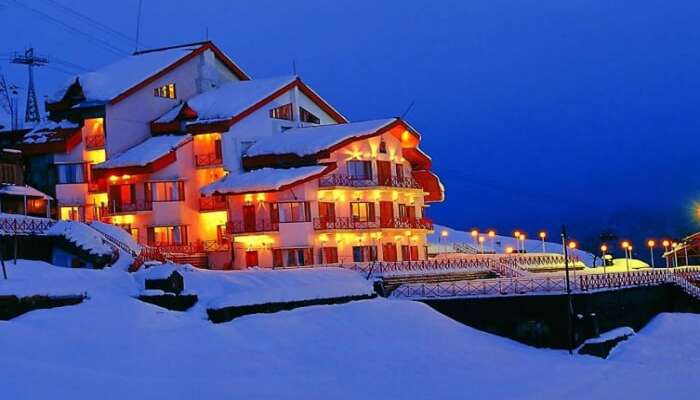 When we talk about the best hotels in Auli, Cliff Top Club is a property that is never missed. This is a resort, enjoying clear views of Nanda Devi Peak, third tallest peak of India. It is located in the green belt region just outside Nanda Devi Biosphere Reserve (World Heritage Site). Right from cozy rooms to guided Valley of Flowers Trek, this undoubtedly is among the best places you can pick for staying in Auli.
Location: Auli Skiing Village, Joshimath
What's special: This is not just any resort. The property specializes in activities like skiing and guided treks.
Tariff: INR 8,000 per night onwards
7. Himalayan Eco Lodge And Camps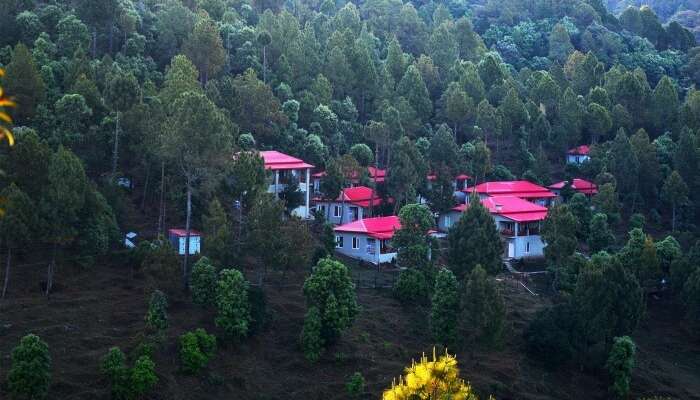 With 15 deluxe rooms established in apple orchard, this place is ideal for those looking for a stay in tranquility. Offering a breathtaking view of the Himalayas from the windows, the rooms here are equipped with essential appliances. From this hotel, various restaurants and tourist attractions can be easily reached. You can visit Gorson Bugyal, Joshimath, Nanda Devi National Park, and Chenab Lake.
Location: Auli Road, Joshimath, Auli 246443 India
What's special: Facilities like free parking, in-house restaurant, and room service are available here
Tariff: INR 4,000 per night
Suggested Read: 18 Magnificent Places To Visit Near Delhi In Winters 2019
8. Blue Poppy Resorts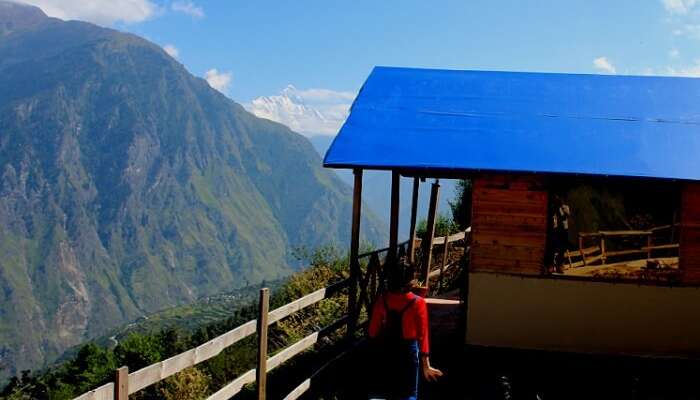 If you're seeking dainty huts for a unique stay experience in Auli, then look no further! Blue Poppy Resorts is a blend of simplicity and modernity. The wooden huts here are sufficiently advanced, as they are fully equipped. The view of landscapes from these huts will make your visit all the more exciting and fulfilling.
Location: Near Hanuman Mandir, Auli 246443, India
What's special: Each hut provides the guests with a 180 degree view of most famous peaks
Tariff: INR 8,500 per night
9. The Royal Village – Auli Resort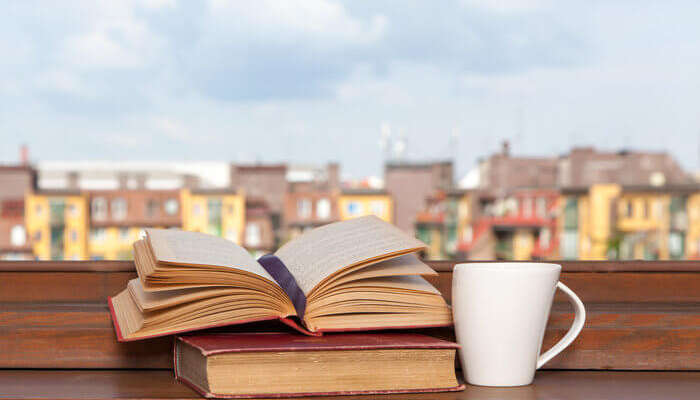 This property too is known for its well-equipped rooms that provide the guests with a breathtaking view of the surroundings. This resort is located at a distance of 149 kilometers from Dehradun Airport and have a number of tourist sites around it like Nanda Devi National Park, Gorson Bugyal, and Chenab Lake. When looking for Auli hotels at low price, don't forget to consider this one!
Location: Govt. Tourist Complex, Auli 246443, India
What's special: The rooms are inexpensive yet you get to experience a luxurious stay here
Tariff: INR 3,500 per night
10. The Tattva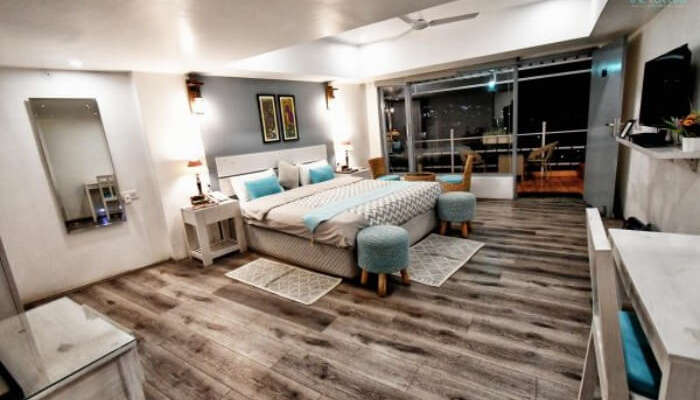 Located amidst the serenity and picturesqueness of Joshimath, The Tattva is considered to be an ideal place of stay for nature lovers. In-house restaurant, quality room service, free parking, laundry service, etc. – all your needs are thoughtfully taken care of at this place. A scrumptious breakfast is also included here.
Location: Badrinath Road, Joshimath, Auli 246443, India
What's special: The rooms have an attached kitchenette to add up to your convenience
Tariff: INR 5,414 per night
Further Read: Auli In October: 10 Top Experiences In The Blissful Himalayas
So, which of these would you love to spend your Uttarakhand holiday in?! Keeping the list of Auli hotels handy will definitely help you decide on the best place to stay without any hassle.
Frequently Asked Questions About Auli Hotels
Q. How can I go to Auli from Delhi?

A. The most ideal way through which you can reach Auli is by taking a bus from Delhi that will take you to Rishikesh. From there, you can plan a trip to Auli via cab or shared taxi that will take you to Joshimath.
Q. How can I go to Auli from Rishikesh by train?

A. The closest railhead from Auli is Raiwala which is nearby Rishikesh. You can take a bus or tour car from here.
Comments
comments