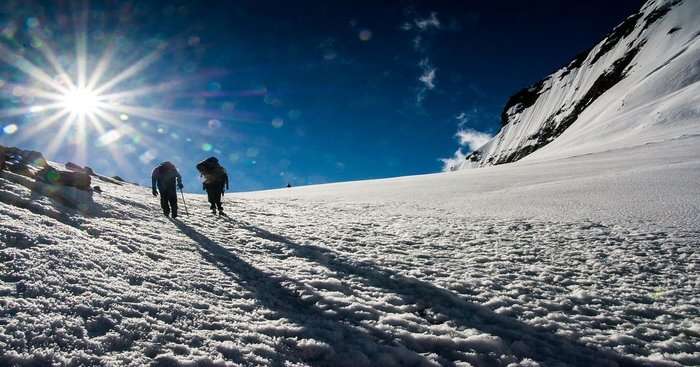 With the advent of autumn in India, it is finally time to welcome the 'holiday season'. And with long weekends and festival holidays lurking round the corner, most of us have been looking for a short, peaceful, and thrilling getaway. Among the less explored destinations in India, Auli in Uttrakhand is one such option. Head to Auli in October, for a distinctive and unforgettable vacation in the Himalayas.
Table Of Content
Weather In Auli In October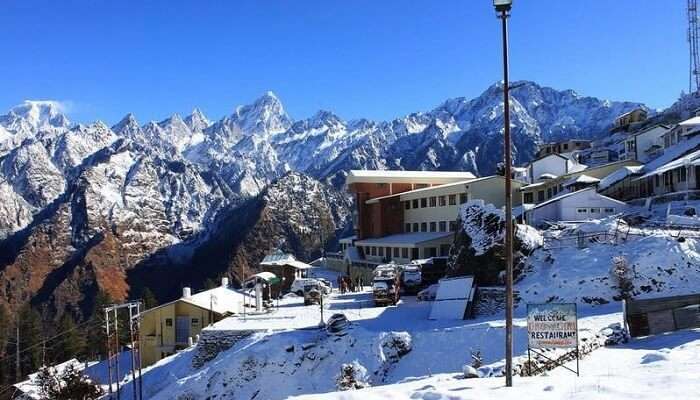 The weather in Auli in October is chilly and overcast. The maximum temperature is usually 17 degrees celsius while the minimum can drop to as low as 4 degrees celsius. One can experience the commencing of snowfall in Auli in October when trekking to the tip of the mountains and witness the divine lush greens of this destination turn snowy white.
Best Time To Visit Auli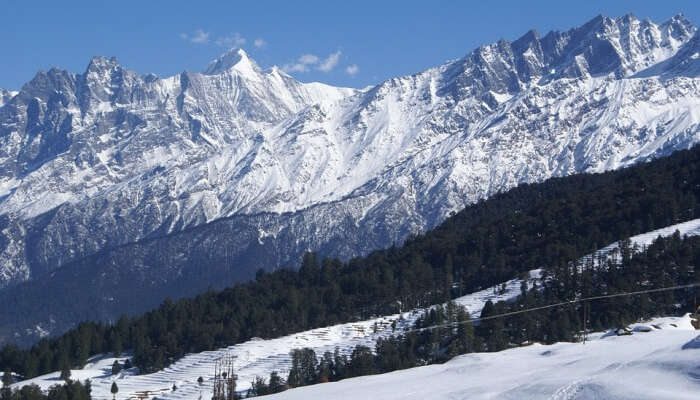 There are umpteen reasons to visit Auli in October. From the unexploited snow slopes to the sojourns in the divine lands; Auli in winter offers the perfect weather for local sightseeing. One can also indulge in adventure sports, sample the lip-smacking local cuisine, and amble through forest trails. However, the best time to visit auli for snow is in February-March.
Adventurous Experiences In Auli In October 2021
Auli is paradisiacal for all the travelers who are seeking adventurous escapades and ways to challenge their inner daredevils. Skiing on the fluffly white snow, trekking through the stunning jungles or green grounds of the hills, and walking along a trail with mesmerizing views of the mighty mountains, allows the thrill seekers to collect a few of the most amazing memories. We have compiled a list of exciting escapades that one can take off to on their vacation to Auli in October.
1. Skiing – For An Indelible Holiday Experience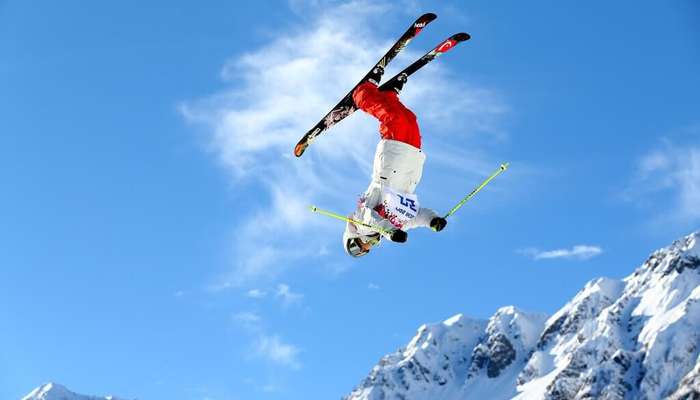 A quintessential Auli experience, ski slopes in India cannot get better than this. Offering a thick carpet of snow, with the slopes rising from 2,500 to 3,050 meters above sea level; Auli in October is best experienced on its skiing grounds. The region provides umpteen opportunities to both novice enthusiasts and skilled adventurers to enjoy a thrilling vacation. Skiing in Auli in October is not possible since there is no snow on slopes. If you opt to visit the hill station in winters, you ought to try Auli Snow Skiing Trek.
Must Read: Auli In Summer: Make The Most Of Sun, Snow, And Slopes At This Ski Resort!
2. Gurson Bugyal Trek – For A Rendezvous With Nature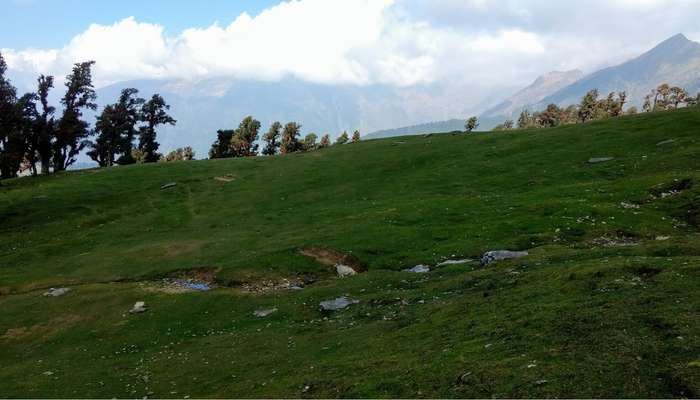 Located at an altitude of 3,056 meters, the meadows of Gurson Bugyal appeal to all nature enthusiasts. Surrounded by coniferous forests and oak trees, the trek which is approximately 3 km from Auli is among the most sought after things to do in Auli in October. The beautiful rugged mountains starting to get covered with the cloudy white snow, the vegetation looking at its best, pleasant weather, and difficulty level being easy attracts numerous travelers to this destination in winters. One can also trek up to the Chattarkund Lake which is located in the heart of a dense forest and is famous for its sweet water.
3. Kuari Pass Trek – For The Picture Perfect Mountain Views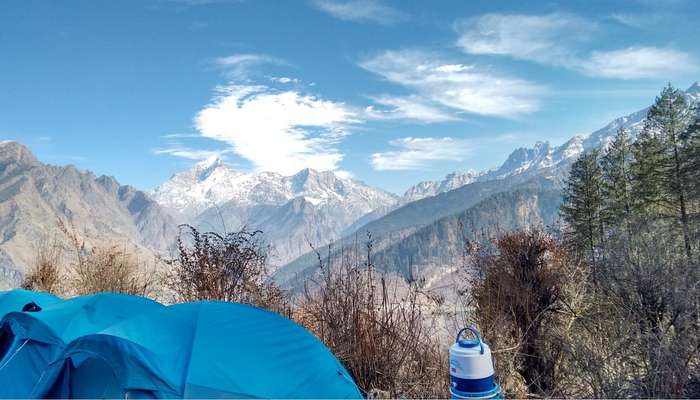 Among the most fascinating offbeat trekking spots in Himalayas, Kuari Pass is a perfect moderate level trek, the Kuari Pass Trek takes you through ancient forest trails to panoramic views of the Garhwal Himalayas. Being one of those few hilly destinations that is available for trekking in winters, this trek gives the explorers a chance to witness a surreal and impressive skyline of mighty mountains under a starry sky. Make the most of the weather in Auli in October as you ascend 4,000 meters to seek peace and tranquility.
4. Chenab Lake Trek – For A Picnic Beside The Crystalline Lake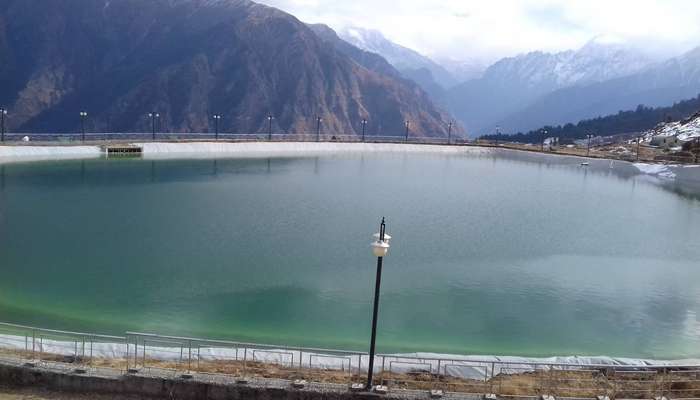 A relatively unexplored destination near Auli, the Chenab Valley trek is ideal for those seeking hedonism. For those who are looking for road less taken, this trek allows the travelers to walk along an unbuilt path to the lake which is surrounded by magnificent lush green forest of Oak and Deodar. The trek is accessible from Joshimath and stretches from an elevation of 2,050 meters to 4,000 meters. Explore untouched nature trails as you saunter through Auli in November.
Suggested Read: 10 Most Dangerous Hiking Trails In India Only Bravehearts Dare Attempt
5. Trishul Peak Trek – For A Divine Experience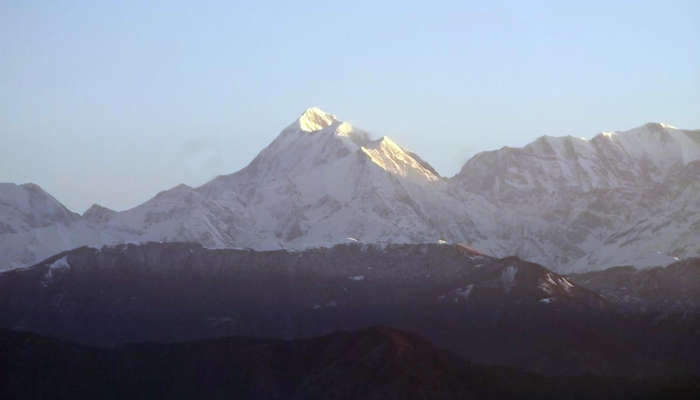 Suggested Read: 6 Best Auli Hotels & Resorts For A Delightful Stay Amidst Hills
One of the most popular peaks in Uttarakhand, the Trishul Peak is considered to be sacred by the Hindu community. Undertake a divine experience to please Lord Shiva as you trudge through glaciers and high angled snow slopes. Although the trek promises plenty of snow in Auli in October, the difficulty level of this trek is extremely high.
6. Nanda Devi Peak Trek – For Adventure And Piousness Both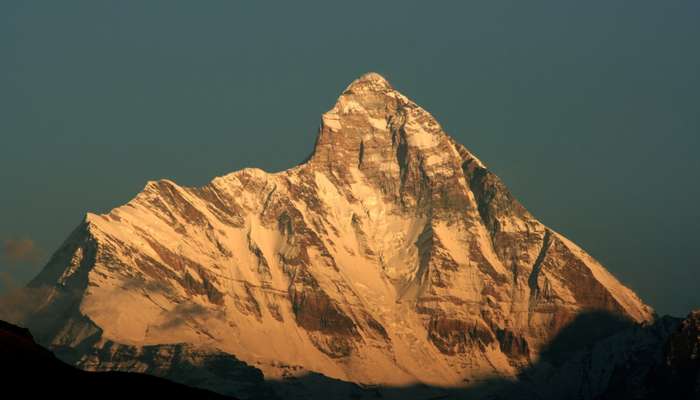 A popular centerpiece in the Garhwal region, Nanda Devi is thronged by devotees all throughout the year. The Nanda Devi Peak trek is one of the best Himalayan treks, demanding rigour, discipline, and a healthy body. However, this once in a lifetime experience, will not only give you a spiritual high, but the fond memories too shall stay with you forever.
Peaceful And Tranquil Experiences in Auli in October 2021
Auli is not only a heaven on earth for adventure seekers but also those travelers who are looking to get away from the noisy and overcrowded world for a while. Auli gives the visitors an opportunity to spend some alone time with the mother nature and take in all the peacefulness to rejuvenate oneself. Camp in between the enigmatic forests or get released of your stress by attending yoga sessions on the mountains when visiting Auli in October.
7. Camping – For Your Own Sweet Wilderness Escape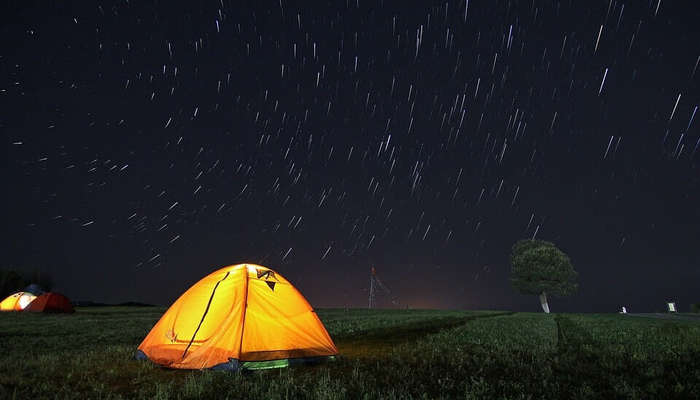 Revel in the verdant greenery and lush slopes as you cozy up in the wilderness of the mighty Himalayas. Make the most of this best time to visit Auli by staying in camps and unwind with bonfire and barbeque nights. Camping in this pleasant weather in Auli is nothing less than soul-soothing. Various government licensed adventure camps can be availed on a budget. Indulge in the activities like hiking, sightseeing, singing, and dancing and collect a pocketful of memories when visiting Auli.
Suggested Read: Top 15 Places To Visit In Uttarakhand
8. Himalayan Eco Lodge – For The Perfect Himalayan Retreat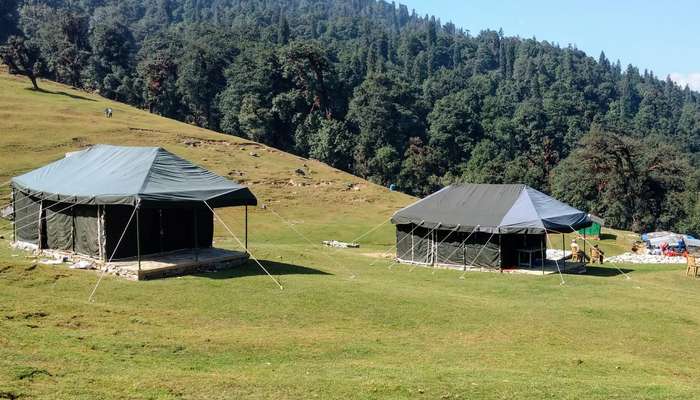 The Himalayan High Auli provides a luxurious snowy escapade at affordable prices. Offering a serene view of the Himalayas, a stay in the Eco Lodge provides a holistic holiday experience that calms both the mind and soul. Activities at the lodge include trekking, hiking, cycling, skiing, yoga, and village tours.
Accommodation cost: INR 1,000/- to 4,500/- (GST extra)
Suggested Read: 10 Best Auli Hotels And Resorts For A Delightful Stay Amidst Hills In 2021

9. Auli Ropeway – For A Sweeping Aerial View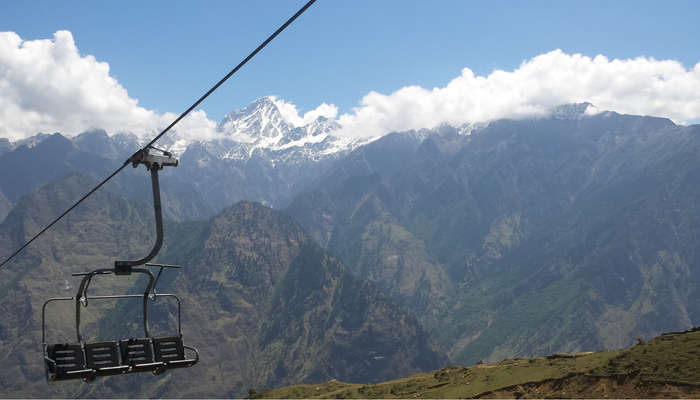 The second highest ropeway in Asia, the Auli ropeway connects Auli and Joshimath. It covers a distance of 4 km, and is among the primary things to do in Auli Uttrakhand in October. Giving you an opportunity to spectate Himalayan hills at a glance, this activity is a must try when visitng Auli. The aerial views simply soothes the mind and souls of the travelers.Transcend heights and sit back to enjoy a sweeping view of the Himalayas.
10. Joshimath – For The Best Of Times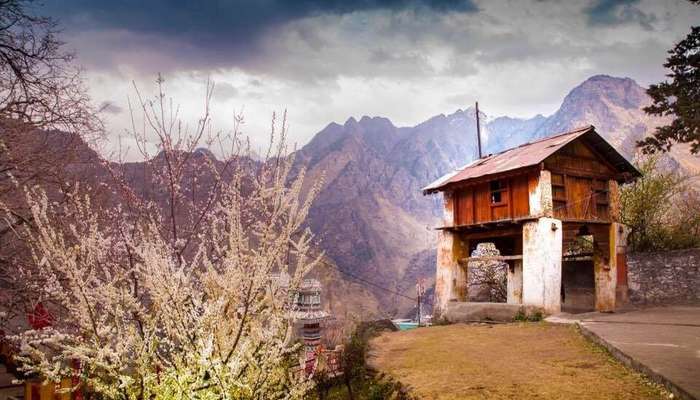 In October, when it is the best time to visit Auli; Joshimath – which serves as a gateway to the Himalayas, is in full bloom too. Surround yourself with the perfectly amlgamated vibes of peacefulness, tranquility and spirituality. Joshimath serves as one of the important pilgrimage towns on Uttarakhand. One can visit the various temples in Joshimath such as Shankaracharya Math, Narsinh Temple, Bhavishya Kedar Temple, and Gari Bhawani Temple.
What To Carry In Auli In October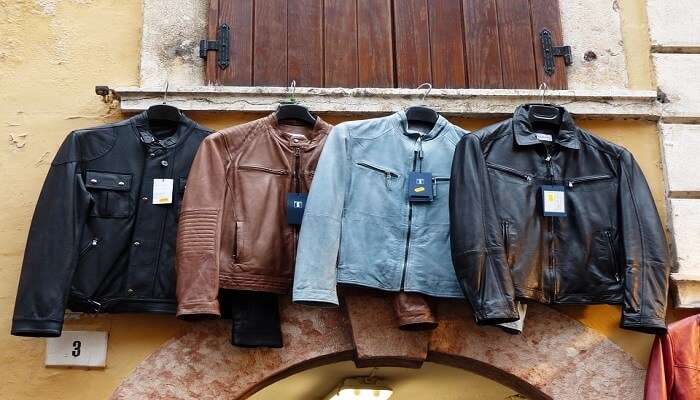 Following are the things you should carry with yourself when visiting Auli in October:
1. Pack thermal inners and down jacket.
2. Make sure to carry gloves, mufflers and socks.
3. Keep all the necessary toiletries like paper soaps, lip balm, sunscreen, toothpaste and sanitizer.
4. Day pack bags and UV sunglasses are other additional things you should carry.
Further Read: 15 Hill Stations Near Delhi for a Peaceful Getaway
Auli in October is nothing but a paradise on earth. With rains just getting over, and winters onsetting, the weather in this destination is extremely pleasant and favorable for all the travelers out there. Auli forms a perfect juxtaposition of peaceful and fierce Himalayan hills which attracts the nature and adventure lovers alike. Plan your escapade to Auli in October and experience one of the most amazing holidays of the lifetime!

Frequently Asked Questions About Auli In October
Q. Is there snowfall in Auli, Uttarakhand in October?
A. Yes, one can experience the commencing of snowfall in Auli in October when trekking to the tip of the mountains.
Q. Is it safe to visit Auli in December?
A. Yes, December is indeed a good time to visit Auli if you want to experience some snow fun. It is suggested to visit during the end of the month to enjoy various snow activities. Visiting Auli in winter is truly a heaven.
Q. Which places in India have snow in October?
A. Some of the places which experience snow in October are Rohtang, Pahalgam, Narkanda and Lachung.
Q. Which is better Auli or Nainital?
A. Auli is a skiing destination whereas Nainital is a popular hill station attracting crowds in large numbers. Both the hill stations are equally good and the choice totally depends on factors like interest, budget and distance.
Q. Is there snowfall in Shimla in October?
A. Winter begins in Shimla in October and there is zero possibility of snow during this time.
Q. Which is the best month to visit Auli?
A. The best time to visit Auli is during the time between November to March. During this time people can enjoy activities like snow skiing. Apart from that, the weather is cold and pleasant climate which is the best time to enjoy a relaxing time.
Q. When does it snow in Auli?
A. December to February is the time when there is snowfall in Auli and the temperature remains between -1 degree celsius and 5-degree celsius.
Q. What is Auli famous for?
A. Auli is the best winter destination and famous for its snowy slopes. People who want to try their hands on skiing in India can visit this place. Apart from that, there are wooden huts too which gives a feeling of visiting a European village in Asia.
Q. Is it safe to visit Auli?
A. The local people in Auli are very polite and ensures that their visitors are safe and secure. The road conditions in Auli get affected due to the monsoons, thus it is suggested to avoid this time.
Q. What is there to see in Auli?
A. The Auli ropeway, artificial lake, Gorson Bugyal, Chattrakund, Kwani Bugyal, Joshimath, Chenab lake are some of the places to see in Auli.
Q. How far is Auli from Nainital?
A. Auli is located at a distance of 281 kms and it takes around 5 hours if someone is taking the road. Auli has no railway station and the nearest railway station from there is Haridwar which is located at a distance 148 Kms from Auli.
People Also Read:
Leh In October South India In October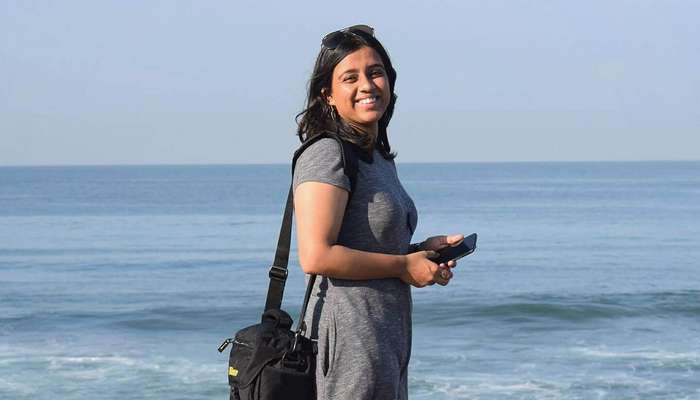 Comments
comments