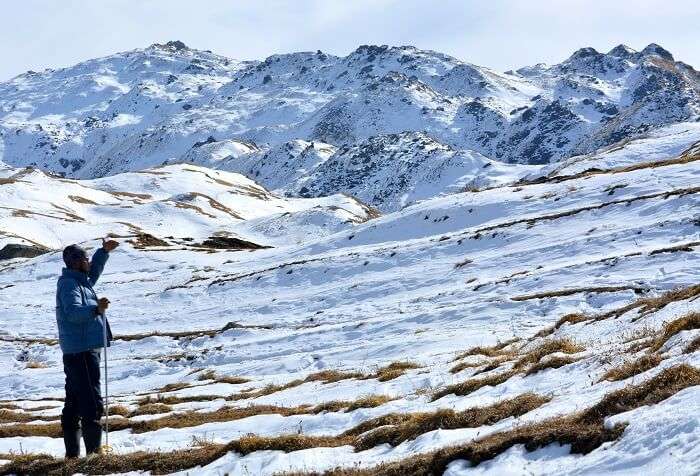 It's January, it has snowed, and you are sitting home, almost wasting your weekends. But we know how to evoke irresistible wanderlust! So this time, we take you on a virtual tour of a snow meadow, Auli. The ski destination Auli is one of the most magnificent places to visit because of its clean environment and beautiful apple orchards. Auli in winter 2022 is an exhilarating experience if extreme cold and lots of snow don't bog down your spirits. And to boast of it, you need to move out of your bed and get going.
Auli is one of the most beautiful places in India. Even during the time of Coronavirus, if visitors take themselves and ensure the effective safety measures, then it will be quite easy for visiting the below destinations. Auli in winter will still attract visitors for visiting this place.
Best Time To Visit Auli

Auli is an year-round destination but winter turns it into a fairytale destination that no one wants to miss. The weather in Auli remains cool throughout the year and the temperature does not cross 20 degrees Celsius. During the winter season, expect the temperature to dip down to -8 degrees Celsius. The season starts from the month of November which starts receiving rainfall and ends in the month of February. This is season the best time to indulge in skiing as the magic unfolds in these months of the year.  You can also witness the scenic views of snowfall in Auli in December. 
10 Reasons To Visit Auli In Winter 2023
You are missing heaven and that's why we are compelled to give you 10 compelling reasons to resent staying home over the long weekend, last month.
The Journey: Find Yourself Through The Bus Windows
Sunsets & Sunrises: Spot Moon & Sun
Views: 360 Degree View Of The Himalayas, Nanda Devi
Snowfall: In Auli's Most Quaint Lands
Trekking: Trek To The Gurson Bugyal
Skiing: Glide On The Snow Carpet
Snow Games & Photos: To Make Memories Forever
Chair Car Ride: Asia's Longest Gondola Ride
Trips: Sojourns Through The Legends Of Devbhoomi
Food: Best Of The Garhwali Cuisine
1. The Journey: Find Yourself Through The Bus Windows
Enough of the glorious roads. Let's drive through the mountains, over the rivers, by the rivers and keep aside the excitement of reaching somewhere. The entire journey in itself is a true revelation of the self. Numerous hills, several streams and uncountable seconds – the views on the way to Joshimath(base to Auli) will compel you to break from the monotones of your daily life.
Must Read: Auli In October
---
Uttarakhand Holiday Packages On TravelTriangle
---
2. Sunsets & Sunrises: Spot Moon & Sun
So, how many times has that sun, out of your window, caught your eye? Get rid of meaningless stares at the dark blank skies of your city. Get some life, reach some heights. Thanks to the highs of Joshimath, Pandukeshwar, and Gopeshwar — the hills, here, embrace and nurture the sun – only to radiate the saffrons, yellows, oranges and even reds at times. Also, the beloved Moon gets to share some space and time with the Sun. If you'd love to witness the unusual meeting, spot them both on the either sides, early morning.
3. Views: 360 Degree View Of The Himalayas, Nanda Devi
Once you enter a hill station, there are mountains on one or the other or both sides. Now, Auli or the area near Auli are not hills – they are the mountains themselves. And shouldn't they say – "when in the mountains, see what the mountains show". Nanda Devi – the sleeping beauty, Hathi Parvat – the elephant, Trishul, Beethartoli, Dunagiri, Ghori Parbat, Kamet, Mana Parvat, Nar Parbat and Nikanth – these peaks narrate their own stories amidst the serenity of the tree lines dotting their height and counted among the best places to visit in Auli in winter. 
Suggested Read: 15 Things To Do In Auli
4. Snowfall: In Auli's Most Quaint Lands
Is there any other reason? Yes! You can experience snowfall in Shimla, Kullu and Manali and at several other hotshot hill stations. But, what makes Auli in winter different is the serenity that it's unexplored and unexploited snow slopes offer. Acres of snow fields, up to 5 feet of snow — fresh enough to leave behind distinct footmarks and clean enough to taste the snow. Surely, this is one of the best places to visit in India in December, or other winter months.
5. Trekking: Trek To The Gurson Bugyal
Trekking is one of the exciting things to do in Auli in winter. The snow slopes of any hill station are generally known for their winter sports. Now that's for a tourist to know and boast about. If you happen to be a traveller, you will find the hidden, keep it with you and live with it for life. Gurson Bugyal is a meadow mistress – one that can not be encompassed with your naked eyes. Carry a lens or two and let the shutter talk till you hear the hills talk back. It's so quiet up at Auli winter trek, even the camera shutter echoes back.
Suggested Read: Chadar Trek: A Complete Guide
6. Skiing: Glide On The Snow Carpet
Now, this does not need any elaboration. Auli is one of the best destinations for skiing in India, and everybody knows it. So we directly move to essentials. Auli has ski stretches of 400 m to 4 km. There are two types of skiing that one can do, here – Tandem and Professional. For starters, it's best to go for tandem skiing with local ski operators in Auli. The charges of Auli skiing in December would vary from INR 300 to INR 500 (till you get tired or the snow gets hard enough to ski). Various tour operators along with Govt. run week long and 15 days ski training programs that include accommodation and food. Snow skiing in Auli is one of the best things to do during your visit here. 
Plan accordingly and do not ski after the snow gets harder (after 2 pm).
7. Snow Games & Photos: To Make Memories Forever
Remember those childhood days– sand castles and water splashes? Only if you do not want to ski, splash some snow at each other, make some ice sculptures or throw snowballs at your travel buds. Relive your childhood days and give new hope to the long-lost child in you when you head to Auli in January 2023. This surely is one of the best places to visit in Winter in India!
Suggested Read: 6 National Parks In Uttarakhand
8. Chair Car Ride: Asia's Longest Gondola Ride
10,000 feet of literal sailing in the air for around 5 km over the white serenity,  and some green patches here and there – this is a glimpse into the longest Asian ropeway ride.
Auli has two different ropeway rides — the Joshimath-Auli Gondola (the longest) and the chair car ride from GMNV to Auli (800 m). The gondola rides are closed boxes with glass windows while the chair car is an airborne stack of chairs at your office reception. Can you fancy the thrill? Try these chairs and the 270 degree view of the valley will kill all the fears of height and landlessness.
There is also a third ropeway — the ski lifts. They are operational only for professional skiing and are used to pick up the skiers from the bottom of the hills. The panoramic views will convince you this is one of the best things to do in Auli in December.
9. Trips: Sojourns Through The Legends Of Devbhoomi
Badrinath, Pandukeshwar, Gopeshwar, Nanda devi, Neelkanth, Trishul, Sanjeevani Mountain, Lord Badri Vishal's temporary residence and many more – the route to Auli, and also the surrounding area, is full of mythological and religious attractions. Auli falls on the way to Badrinath and during the winter months, Lord Badri Vishal is brought to Joshimath. Pandukeshwar has some connections to Mahabharata while Sanjeevani Mountain is the famous mountain, a part of which was carried by Hanuman to cure Lakshman. If temple visits interest you, there is a lot to see and visit in Auli.
Suggested Read: 10 Auli Resorts
10. Food: Best Of The Garhwali Cuisine
Image Source
Alright. So the place does not have a lot of eateries. Joshimath does have a handful of good restaurants and they have tried to maintain a cosmopolitan menu. However, if you want to taste the fingerlicking authentic Garhwali cuisine, try Kachmauli (stuffed goat with oil and spice), Singhori (sweet wrapped in malu leaf), Bal Mithai and the local version of pulses(daal), and leafy vegetables. It is counted among the best Auli winter destinations worth visiting.
Jaw dropping, isn't it? Okay! You can get back to your normal face. Allow us to help with some basics so that you can do Auli like a pro.
Where To Stay In Auli: GMVN, Auli
The Garhwal Mandal Vikas Nigam has its own ski resort in Auli, near the ITBP camps. The resort offers both luxury and affordable stays and is a smart pick when visiting Auli in winter. There are dormitories available on a sharing basis. The resort also organises adventure trips and provides ski training. It, also, has an artificial snow-beating factory to make ice in case the snowfall is low.
Suggested Read: 27 Hill Stations Near Dehradun
Tips To Visit Auli In Winter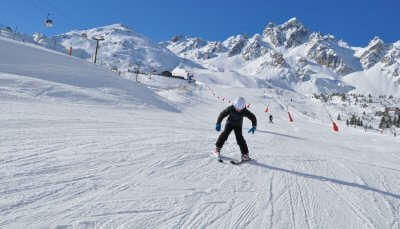 Image Credit: Nadine for Pixabay
Some of the important tips to keep in mind while visiting Auli in winter are – 
Make sure to carry sufficient warm clothes, warm shoes or boots that you can wear post-snowfall
Always carry water to keep yourself hydrated
Keep your umbrella handy to protect yourself from snow
Make sure your safety gears are in place before indulging in any snow sports
How To Reach Auli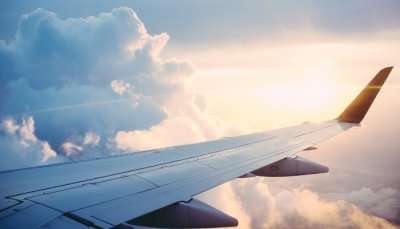 Reaching Auli is quite an adventure in itself. The area does not have motor connectivity owing to the snow and the mountains. The nearest airport is Jolly Grant at Dehradun while the nearest railheads are Haridwar and Dehradun. Haridwar is 275 km from Joshimath. Joshimath is the base for reaching Auli. You can either take a bus (INR 300 per person) or a shared cab (INR 500) from Haridwar railway station. These services are available from 4 am to 7 am and there is no bus after that. A privately hired taxi from Haridwar costs INR 5,600 for 4 people.
Further Read: 32 Heart Stirring Treks Near Delhi
Aren't these places just amazing in winter? Don't they make you feel like you should be their right now? So, what are you waiting for? Pack up! Take the warmest of clothes, some packaged food, a camera, and plan your Auli trip with TravelTriangle. Will see you when you come back!
For our editorial codes of conduct and copyright disclaimer, please click here.
Frequently Asked Questions About Auli In Winter
Is December a good time to visit Auli?
December is indeed a good time to visit Auli. Being the Skiing capital of India, you must visit this place for some snow fun. However, it is suggested you visit at the end of the month as the chances of snowfall during this time are higher.
Which is a better place to visit – Nainital, Mussoorie Ranikhet or Auli?
The best of all the listed places depends from person to person. Nainital is known for its lake, while Mussoorie is popular with its Mall Road, Ranikhet makes for a great offbeat escape, Auli is known for skiing.
What are the tips for visiting Auli in winter?
Here are some important tips that can help you to make the best visit to Auli in winter:
1. Carry sufficient warm clothes as the day temperature may drop till 6 degree Celsius and even touch zero
2. Carry comfortable yet warm shoes or boots, that you can wear post snowfall
3. Keep umbrella handy, to protect yourself from snowfall
4. Keep yourself hydrated throughout the journey and always carry water
5. Dry shampoos and wet wipes can be a great help for personal hygiene
6. Always double check your safety gears before engaging in any snow sports
Will there be snow in Auli in December?
Auli has bagged the title of the Skiing capital in India as many travelers resort to this place in the winter season to indulge in skiing. December is one of the best times to experience snowfall as well as skiing in Auli.
How many days are enough to visit Auli?
One can explore Auli for as many days as one wants but one should stay in Auli for at least 3 days and opt for skiing.
People Also Read: