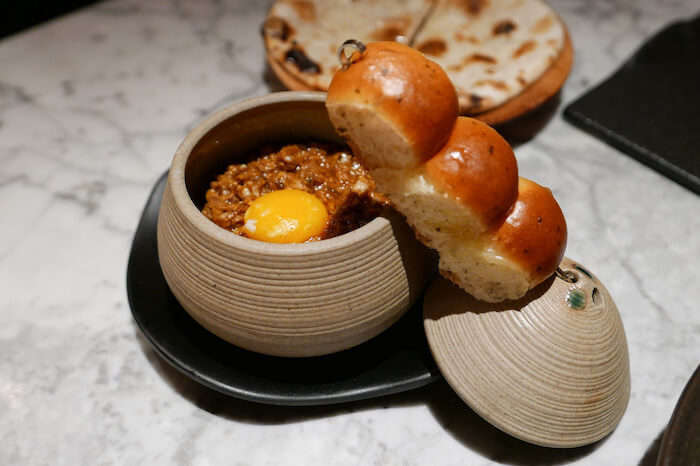 When it comes to food, nothing can beat Indian cuisine. The perfect blend of exotic spices and herbs, the aroma, and a diligent assortment of vegetables makes up the perfect Indian cuisine. The cuisine is not just limited to India. If you want to satisfy your appetite with an exotic Indian meal in Prague, then have a look at these amazing Indian restaurants in Prague that offer a wide range of Indian cuisine.
Best 9 Indian Restaurants In Prague
The following is a list of the best Indian restaurants you can find in Prague to have a great meal. It doesn't matter if you are a resident or a tourist in Prague, these Indian restaurants in Prague never fail to amaze its visitors:
1. K – The Two Brothers

Experience royalty while dining at one of the most authentic Indian restaurants in Prague. The moment you step into this marvelous restaurant, it is likely to give you a glimpse of British India. The restaurant was named after Kapurthala, a famous princely kingdom in Punjab. Known for its cuisine, service, lavishness and so much more, Kapurthala sets a fine example of hospitality and charisma.
Address: Petrska 1136/12, Prague
Google rating: 4.5
Must Read: 3 Days In Prague: For An Enthralling Holiday In This Scenic City Of Czech Republic!
2. Himalaya Indian Restaurant

If you are in the city and want to have an exotic Indian meal, then you've come to the right place. The restaurant offers a variety of delights at very affordable prices. The specialties include Tandoori dishes, Baltistani dishes, halal meat, vegetarian cuisines and so much more. The lunch is served from 11 AM – 3:30 PM offering about 8-10 different dishes, both vegetarian and non-vegetarian. The food is prepared separately so strict vegetarians to have nothing to worry about.
Address: Soukenická 2, Prague
Google rating: 3.8
3. Masala Indian Restaurant

Do you fancy versatile flavors and scents in traditional Indian food? If yes, then this Masala Indian Restaurant located in Mánesova and Pod Karlovem streets in Vinohrady and on the south-eastern frame of the city in Průhonice is something you definitely need to check out when you're in Prague. The unique blend of taste and aroma of the traditional Indian cuisine served here has the whole town talking. Keeping in mind the popularity of this restaurant, it is better to book a table in advance.
Address: Mánesova 13, Prague and Pod Karlovem 12/1574, Prague
Google rating: 4.4
Suggested Read: Prague Castle In Czech Republic: An All-Inclusive Guide To A Fairytale Palace
4. Indian Jewel

Indian Jewel is the best Indian restaurant in Prague as it lets you savor Indian delicacies in a different way. This authentic Indian restaurant is extremely popular for its lunch specials. The perfect blend of spice, herbs, aroma and culinary skills makes it one of the finest dining places. Its specialty is tandoor cuisine. You can find Indian Jewel at the Tyn courtyard in the historic Old Town of Prague.
As the name suggests, this famous restaurant has served as the jewel of India for time immemorial and the credit goes to the food they serve and the head chef who has amassed an experience of 20 years in cooking.
Address: Týn 6, Prague
Google rating: 3.9
5. Traveler's Club

If you ever want to experience what's outside of Prague's gorgeous city, it would be a great decision to spend an evening at the Traveler's Club. This restaurant is located alongside a beautiful river and is close to National Theater. Extremely popular for serving lip-smacking and scrumptious food that includes Lebanese cuisine along with Indian delicacies, the Traveler's Club serves to be a fair choice for tourists. The cuisine includes Lebanese, Indian and Arabic.
Address: Masarykovo Nábřeží 22, Prague
Suggested Read: 5 Gorgeous Annual Festivals In Prague That'll Make It Your Favorite City In The World In 2022
6. Shalamar

This beautiful restaurant is located in the residential area of Prague 6. This bona fide restaurant is widely known for serving some of the best Indian dishes ever. The name of this restaurant explains the royal feast served inside the restaurant. What sets Shalimar apart from other restaurants in Prague is that this restaurant is the first one to bring traditional and ancient cooking techniques of Dum Pukht to Prague, which is said to be a very slow cooking process. The restaurant is open from Monday to Friday.
Address: Puskinovo namesti 16, Prague
7. Ganga Indian Restaurant

Ganga Indian Restaurant serves the most delicious food and it is owned by an Indian and Czech couple. The restaurant is named after the holy river Ganges, known for its divine powers and purity. The food is pure and tasty. There would never be a day where you won't find the servings here to be fresh, sweet-smelling and appetizing. The owners Saravanan and Andrea met while they were working for a company. What made them come together was their common interest in the culinary world and delicious vegetarian food.
Their food is healthy. They have culinary specialties from Kerala, Tamil Nadu, and a few other tropical states in India. You'll find the best and the tastiest South Indian delicacies in this restaurant. When you are here, don't forget to try their Lassi, Thandai, Almond milk and Jalzeera.
Address: Pechlatova 25/104, Prague
Suggested Read: 10 Cafes In Prague: Enjoy Croissants, Sausages And More In A Perfect European Fare
8. Govinda

Located in the New Town area of Prague in Europe , the Club Govinda restaurant serves luscious Indian meals. Govinda is regarded as a part of the Center for Vedic Studies belonging to The International Society for Krishna Consciousness (the Hare Krishna movement). There is a peaceful group of followers here that makes the tastiest vegetarian dishes on a daily basis.
The best part is their prices. The food here is low-priced, tasty, vegetarian, fresh and exotic. You are most welcome to order anything you like, but we recommend you to try their main course, a vegetable meal with steamed rice, a dessert, a salad, and a soup.
Address: Soukenická 2060/27, 110 00 Nové Město, Czechia, Prague
Google rating: 4.4
Suggested Read: 6 Unique Museums In Prague That Will Draw You Towards The Enticing City!
9. Indian by Nature

As the name suggests, this majorly popular Indian restaurant in Prague is widely renowned for its ethnic food presentations. The best culinary experts are here to prepare your delicious traditional meal using the finest natural ingredients. The whole credit goes to the wonderful culinary expert, Chef Sarkar, who is the restaurant's Indian chef, has years of experience and special skills.
His culinary skills never fail to impress. Indian by Nature also presents a special weekday lunch buffet where you can taste the scrumptious food.
Address: Pernerova 478/1, Prague
Google rating: 4.4
Further Read: Prague In January 2022: Take A Historical Trip To The Snowy Wonderland
Whether you are in India or overseas, there is something that always lets you connect with people and that is food. Even in a gorgeous city like Prague, you can find Indian food whenever you want it. If you don't wish to dine out, order your favorite Indian food item as most of these restaurants offer home delivery as well. Meanwhile, there are a plethora of Indian restaurants in Prague where you can spend your lovely evenings hassle free. Take a trip to Europe and stop by at Prague to be blown away by its culinary delights.
---
Looking To Book An International Holiday?
Book memorable holidays on TravelTriangle with 650+ verified travel agents for 65+ domestic and international destinations.
---