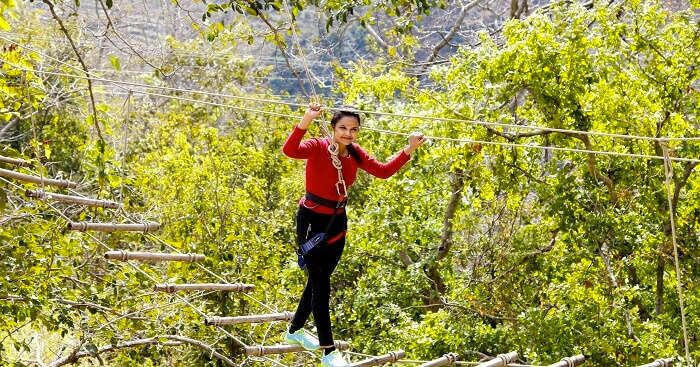 In their quest for adventure and a fun-filled holi weekend, Ishpreet and her friends travel to the foothills of Himalayas. Their 1 night/2 day weekend trip to Rishikesh had them meeting new travelers, celebrating the vibrant festival of Holi, and rafting through the Ganges river.

Trip Cost: INR 3,999 per person on triple sharing basis
Trip Duration: 1 night/2 days
Month of Travel: March 2017
Inclusions: transfers, accommodation, meals, river rafting, and pool party
Exclusions: any misc expenses and entrance fees
My friends and I wanted to celebrate Holi on a vacation. Along came the extended weekend and with it, the perfect opportunity for a short trip to the mountains. Another reason was, that I wanted to test my comfort zone for a long time and do some adventure sports. No more procrastination anymore, it was time for me to take the plunge and get used to adventure.
While browsing on Facebook, I came across a TravelTriangle weekend getaway advertisement. My friends and I chose the trip to Rishikesh, as it would've been our first time there. We submitted a query on the TravelTriangle website and soon enough I got a call back from their representatives. We booked three seats for the trip to Rishikesh on triple-sharing basis, and with that, we were set for a thrilling Holi weekend.
Day 0:
Route
We were requested to assemble at the Akshardham metro station where the TravelTriangle bus was to begin its journey at 11 pm. As soon as the 25-odd travelers arrived, we began our ascent to the foothills of Himalayas.
As our journey began, the TravelTriangle representative Suresh, introduced himself and other travelers to the group. After getting to know each other's names, the bus ride carried on with friendly chit-chat, light banter, and short bouts of sleep in between.
Day 1: Holi Party in Rishikesh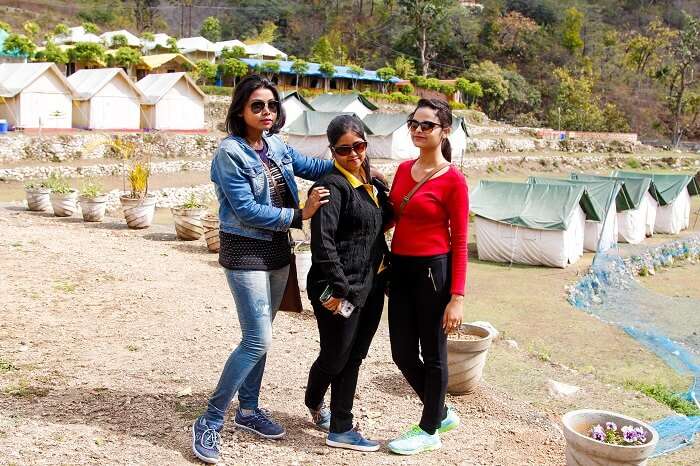 38 Ultra Exciting Things To Do In Rishikesh In 2022 With Your Travel Pals
A chilly morning greeted us to the hills. We arrived in Rishikesh at 7 am and proceeded towards our campsite. We checked in at the scenic Vatika Luxury Camp– a retreat which was a fair way into the jungle with hills in the backdrop. We were given a few hours to have breakfast, relax in our tents, and get ready for our adventure activities.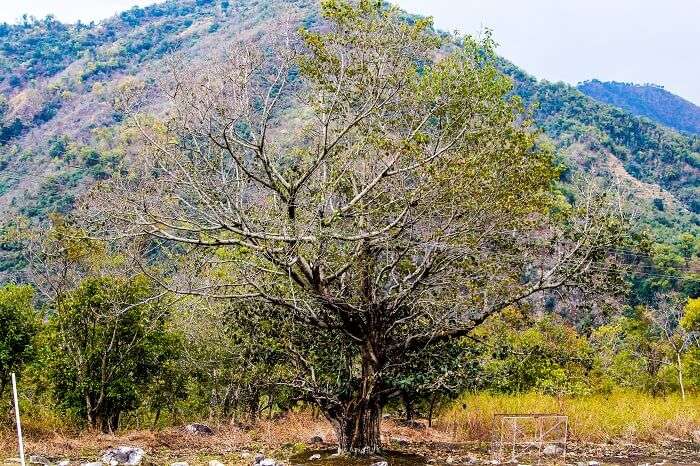 Around noon, all of us gathered to depart for adventure activities. After a short walk through the jungle, we arrived at the river crossing venue. Tied on a harness, we crossed between two hills upside down over a proverbial river. Immediately after that we proceeded to cross the tricky burma bridge.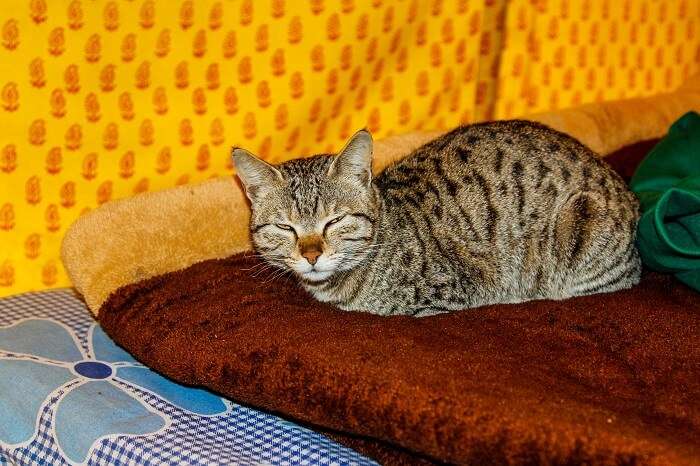 I enjoyed both the activities, which set a thrilling undertone for our weekend trip to Rishikesh. After the activities, we quickly headed back to the campsite for lunch. It was delicious, and on par with what we ate back at home. It was a pleasant surprise, as the expectation of the quality of food is quite low in the hills.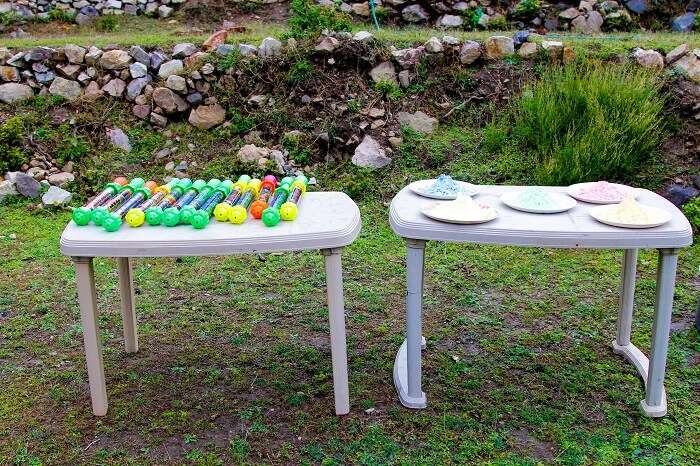 Post lunch, we got ready for the Holi celebration party. Around 4.30, everyone gathered around the pool for the festivities to begin. The campsite had readied colors, guns, and all the ammo we would need for a fun-filled Holi. We spent a good few hours playing Holi in and around the pool celebrating the festival of colors. The infusion of colors in nature's presence with friends by my side felt like just the right way to celebrate Holi.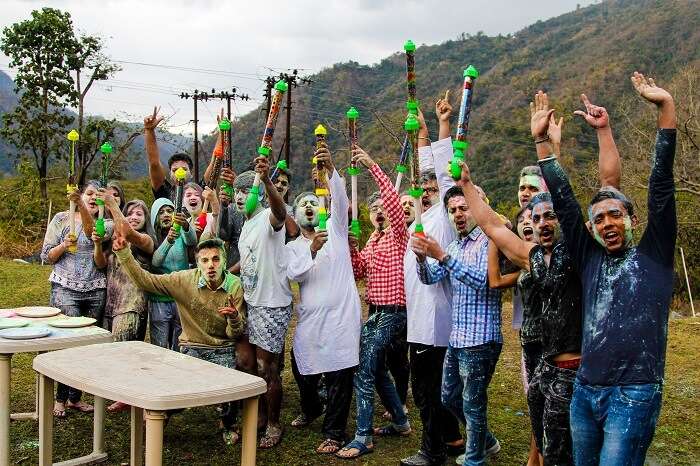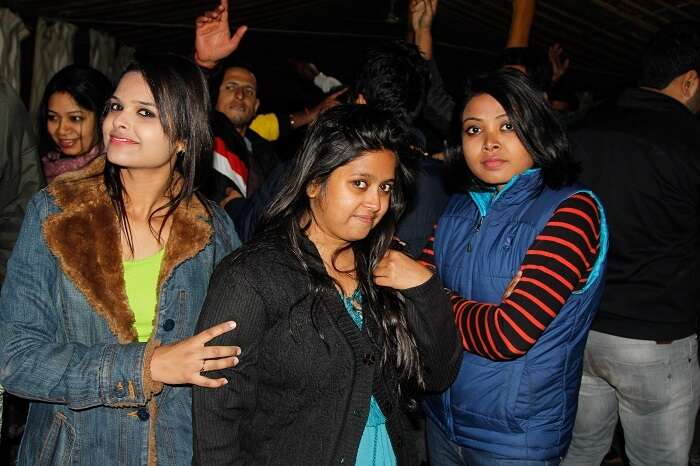 42 Places To Visit In Rishikesh On Your 2022 Religious Getaway
It was time to wipe off the colors and put some party clothes on as the camp had lined up a bonfire dinner for all of us. It didn't take long before all of us travelers, after finding some common grounds to talk about, eventually became friends. The arrangement was spot on, as we enjoyed yet another delicious meal followed by deep conversations sitting around the bonfire that went late into the night.
Day 2: River Rafting in Rishikesh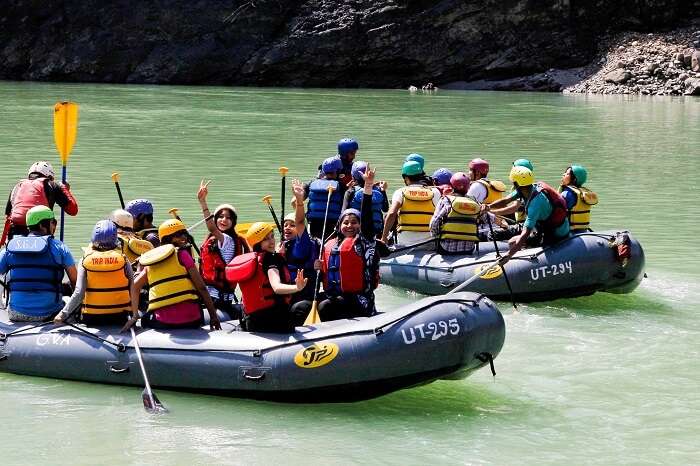 The next morning, we woke up early checked out from the campsite. At 9 am, we said farewell to the campsite and moved on to the grand finale- River rafting.
We arrived at the starting point of our rafting adventure by bus to the sounds of gushing water going downstream. The river Ganga was intimidating, beautiful, and inspiring all at the same time.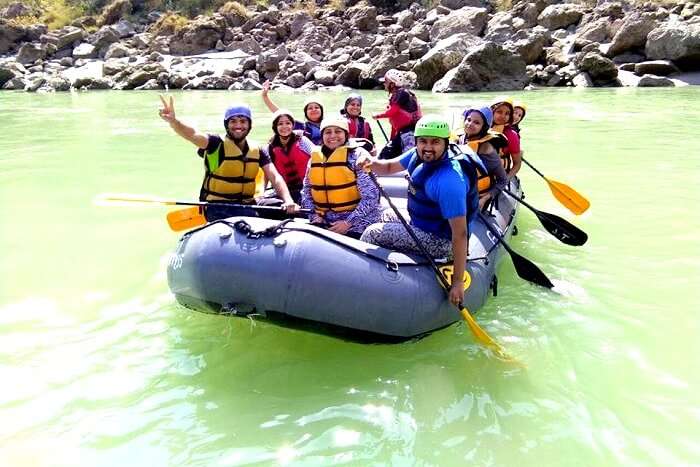 As we paddled out from calm waters to begin our 27-km long river rafting course, the anxiety and nervousness took over me for the first few minutes. However, with constant earful of instructions yelled out by our boat guide, I managed to pull my own weight on our rafting journey.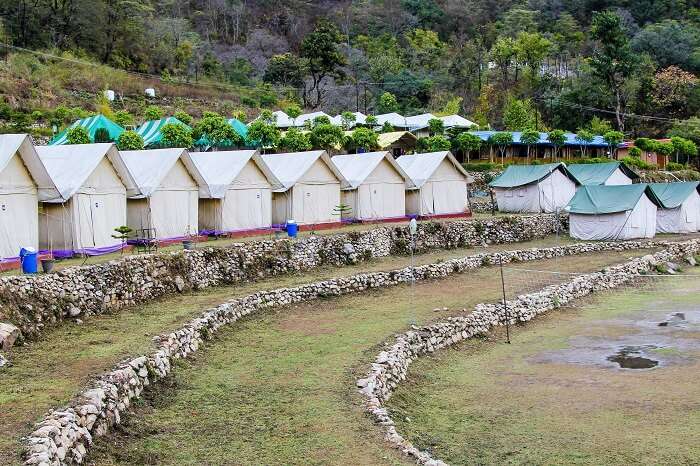 Off we went, bumping, sliding, and splashing through the sharp waters and challenging rapids in the Ganga. We arrived at the finished point a few hours later with a sense of relief mixed with achievement. It was by far the most tiring and intense experience I've had, of any adventure sport in my life. As we got rid of our rafting gear and threw away the paddles, we posed for a pictures and eventually moved back to our bus for the return journey to New Delhi.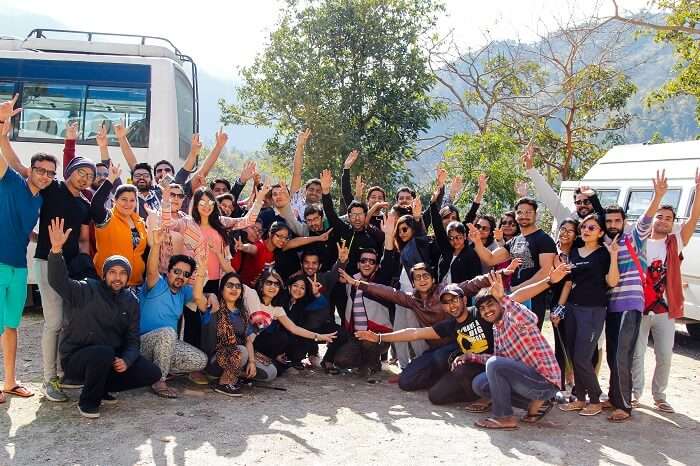 Top 44 Amazing Places To Visit In Uttarakhand In 2022
If I look back at this weekend trip to Rishikesh, I got more than what I expected. A thirst for adventure quenched, longing to connect with nature satisfied, and a festival like celebrated in the most awesome way possible. My friends and I definitely came back from this trip, with lots of experiences to share and stories to tell.
High Points:
All the adventure activities offered by TravelTriangle on this weekend trip
Low Points:
The trip was a bit too short. Would have liked to spend another day in Rishikesh.
Even you can book a Rishikesh weekend tour package and have an amazing time. Hurry, book a package now!
---
Long Weekend Trips Starting @ Rs 3499/-
Take a trip to spend the upcoming long weekend with your buddies.
✓ Stay at 4 star rating hotels with local sightseeing, meals and transfers.
✓ Travel in AC coach round trip (from Delhi).
✓ All Inclusive Deal– Camping, Jeep Safari & Trekking as per itinerary
✓ Sign up NOW to celebrate the long weekend out of town!
---
Comments
comments