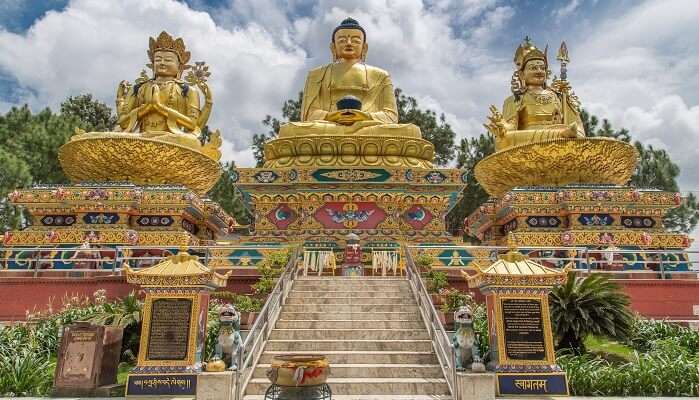 Encircled by the Himalayan mountains, Nepal's capital, Kathmandu lures vacationers with its religious monuments, stupas, monasteries, and numerous natural sites. Marinated in a vibrant culture and rich heritage, this destination offers one sheer peace of mind. And, especially some serene places like Pashupatinath Temple, Boudha Stupa, Swayambhunath Stupa, Monkey Temple etc. truly soothe your senses. Leaving vacationers with some unforgettable memories are the hotels in Kathmandu that exude opulence, hospitality, comfort, and entertainment. From the best lavish options to the ones complementing your pocket, here are some hotels that can uplift your vacation.
8 Hotels in Kathmandu for a Hassle-Free Vacation
Whether you are looking for a luxurious hotel or budget-friendly accommodation, these hand-picked options will help you pick your abode in Kathmandu.
1. Aloft Kathmandu Thamel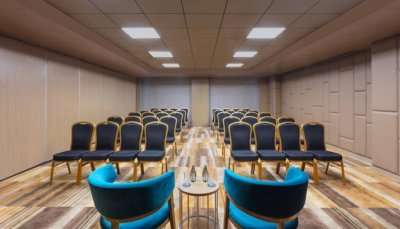 Image Courtsey: Marriott Taking pride in its central location and luxurious amenities, Aloft Kathmandu Thamel is a 5-star property that welcomes its guests with a spa centre, gymnasium, gift shop, indoor pool, and many luxurious amenities. The hotel features an ideal fusion of the traditional and modern styles of art and architecture. All the rooms are spacious and are well-equipped with the latest amenities such as free wifi, minibar, coffee machine, flat-screen TV, and more. Since the boutique hotel is just a 20-minute ride away from Tribhuvan International Airport, it makes a perfect pick for the ones seeking hotels in Kathmandu near the airport. Location: Chhaya Devi Complex, Amrit Marg, Thamel, Thamel, 44600 Kathmandu, Nepal Price per night: ₹7,800 onwards TripAdvisor rating: 5/5 Website
Zoos In Kathmandu: Visit The Central Zoo To Explore Wildlife In Nepal
2. Radisson Hotel Kathmandu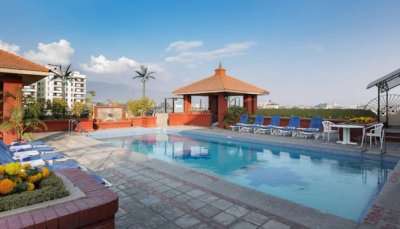 Image Courtsey: Radisson Hotels One of the best 5-star hotels in the city, Radisson Hotel Kathmandu is a synonym for elegance and opulence. One of the best hotels in Kathmandu near Pashupatinath Temple, this luxurious accommodation offers easy access to several other tourist attractions such as Narayanhiti Palace Museum, Garden of Dreams, Thamel Chowk, and more. The hotel pampers its guests with its Tranquility Spa, rooftop pool, and lounge area. For fitness-conscious travellers, the hotel features a health club and a sauna as well. Besides this, you can also try your luck at the 24-hour Casino Rad that is adjacent to the hotel. Location: Ward Number 2, Kathmandu 44601, Nepal Price per night: ₹7,669 onwards TripAdvisor rating: 4/5 Website
3. Baber Mahal Vilas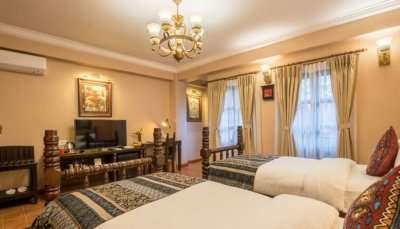 Image Courtsey: Baber Mahal Vilas Rendering vacationers a larger-than-life experience, Baber Mahal Vilas is among the most alluring 5-star hotels in Kathmandu. This magnificent property is designed by the descendants of Maharaja Chandra Shumsher Rana who was a former Prime Minister of Nepal. Each element of the hotel exudes the charm of the Rana era along with the architectural heritage of Newar, Mustang and Terai cultures. Traditional Rooms, Traditional Suites, Heritage Suites, and Royal Suites are the 4 types of categories you can pick from. Besides this, a swimming pool, library, spa, wellness centre, and on-site shops are some additional elements that can enhance your stay at Baber Mahal Vilas. Location: Tanka Prasad Sadak 1947, Kathmandu 44600, Nepal Price per night: ₹15,173 onwards TripAdvisor rating: 5/5 Website
All You Need To Know About The Airports In Kathmandu
4. Hotel Yak and Yeti Kathmandu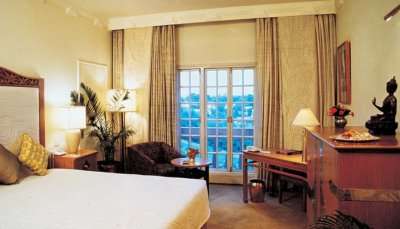 Image Courtsey: Yak and Yeti Lying just 5.2 km from Tribhuvan Airport, Hotel Yak and Yeti Kathmandu is a heritage hotel that features several architectural elements from Rana Period. The hotel impresses its visitors with 270 well-decked suites and rooms that are under 6 categories. The Chimney and Spice Room are two on-site eateries that serve their guests Nepalese as well as international delicacies. To ward off your fatigue, you can take a plunge into the on-site pool or head for a soothing spa session at the on-site spa centre. Location: Durbar Marg, Kathmandu 44600, Nepal Price per night: ₹9,805 onwards TripAdvisor rating: 4/5 Website
5. Kumari Boutique Hotel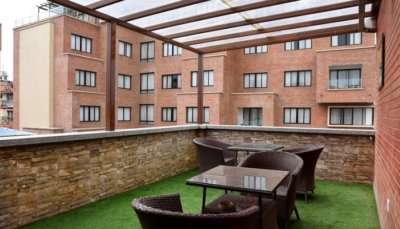 Image Courtsey: Kumari Boutique Hotel Do you wish to enjoy the feel of staying in a typical Nepalese home? If yes, then Kumari Boutique Hotel precisely offers what you are looking for. This property features striking wooden carving decorations allowing one to peek into the traditional side of the place. The hotel offers 18 Super Deluxe Rooms and 2 Suite Rooms with basic facilities like a safe deposit box, tea maker, mini-fridge, air-conditioner, and more. Other services that complement your stay include an on-site market, shuttle service, free wifi, private parking, car hire facilities, airport pick-up and drop-off, etc. Location: Jyatha, Kathmandu, Bagmati, Nepal Price per night: ₹3,044 onwards TripAdvisor rating: 5/5 Website
7 Best Hostels In Nepal For A Relaxing And Budget-Friendly Vacay!
6. Hotel Shanker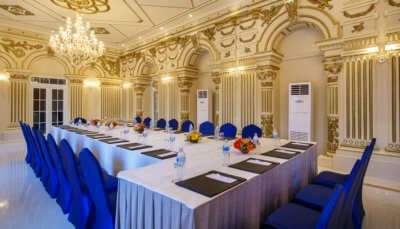 Image Courtsey: Shanker Hotel Experience the charm of Nepal's rich history while receding at Hotel Shanker which is a heritage property housed in a 19th-century palace. During your stay here, you can enjoy easy access to some of the prime spots of Kathmandu such as the Garden of Dreams, Ranipokhari Thamel Chowk, Swayambhunath Temple, and more. Besides this, the property maintains 94 regal rooms offering serene vistas of either the swimming pool or the city. Moreover, if you are seeking one of the best quarantine hotels in Kathmandu, stop by Hotel Shankar. Location: Lazimpat, Kathmandu 44600 Nepal Price per night: ₹3,044 per onwards TripAdvisor rating: 4/5 Website
7. Hotel Shangri-La Kathmandu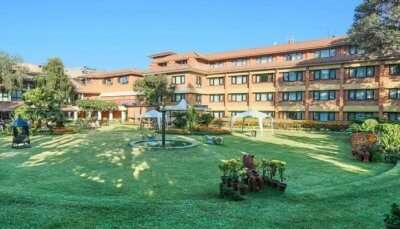 Image Courtsey: Hotel Shangri-La Welcoming vacationers with unmatched luxury, Hotel Shangri-La is among the top 10 hotels in Kathmandu. While being surrounded by the award-winning Shambala Garden, this lavish hotel takes your experience a notch higher with amenities like an outdoor swimming pool, sauna, spa, & wellness centre, fitness centre, etc. The chefs at the in-house Lost Horizon Cafetreats guests with Nepalese, Indian, Asian, International, and European cuisines. Moreover, a conference facility is available at hotel Shangri-La. Making your stay easier, there is 24×7 assistance, free while offering conference facilities, the hotel makes a perfect fit for business travellers as well. Location: Lazimpat Rd Lazimpat, Kathmandu 44600, Nepal Price per night: ₹9,970 onwards TripAdvisor rating: 4.5/5 Website
10 Best Museums In Kathmandu That Will Walk You Through The Historical Past Of Nepal
8. Hotel Mulberry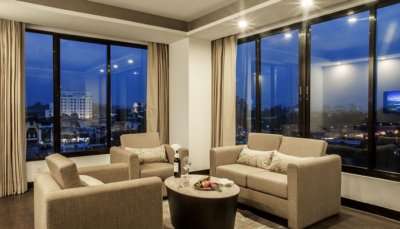 Image Courtsey: Mulberry Retreat One of the best hotels in Kathmandu for couples, Hotel Mulberry lies in the heart of the capital allowing one to reach prime sightseeing spots in no time. The hotel offers elegantly-designed rooms with the latest facilities such as free wifi, flat-screen TV, minibar, safety deposit box, and more. Furthermore, the USP of the hotel lies in its spa and wellness centre, rooftop infinity pool, and two dining options. While spending some cosy time at Koya Bar & Lounge, you can enjoy the alluring views of Kathmandu. Location: Jyatha, Thamel, Kathmandu 44600 Price per night: ₹8,574 onwards TripAdvisor rating: 4.5/5 Website Boasting a natural charm of Nepalese culture, these hotels in Kathmandu offer you optimum facilities and personalised services. From the perfect central location to the high-tech amenities, all you can find under one roof. So, plan a trip to Nepal with TravelTriangle and choose to stay at any of these marvellous hotels. For our editorial codes of conduct and copyright disclaimer, please click here.
Frequently Asked Questions About Hotels in Kathmandu
Which are the best hotels in Kathmandu?
Here is a list of some of the top-ranked hotels in Kathmandu:
1. Hotel Shangri-La Kathmandu
2. Kumari Boutique Hotel
3. Hotel Shankar
4. Hotel Yak and Yeti Kathmandu
5. Raddison Hotel Kathmandu
6. Aloft Kathmandu Thamel
7. Baber Mahal Vilas
8. Hotel Mulberry
Which are some low-budget hotels in Kathmandu?
Vastu Boutique Hotel, Everland Kathmandu Hotel, Holiday Hostel, Arushi Boutique Hotel, Flying Yak Kathmandu, Birds Nest Hostel, Hotel Bihani, etc. are some of the best options if you are seeking budget-friendly hotels in Kathmandu.
Can I visit Kathmandu during the current Covid times?
Yes, Kathmandu is now open for travellers. However, you must follow all the Covid protocols for a safe trip. Make sure to wear a mask when surrounded by people, sanitize your hands at certain intervals, and maintain a required social distance.
What is the best time to visit Kathmandu?
The best time to visit Kathmandu is during the autumn season which is from September to November when the temperature ranges from 9°C to 20°C. During this time, the weather in Kathmandu is perfect for sightseeing experiences and outdoor activities.
Which are some luxurious hotels in Kathmandu featuring a spa centre?
Here are some of the best accommodations in Kathmandu that have an in-house spa:
1. Aloft Kathmandu Thamel
2. Wood apple Hotel and Spa
3. Hotel Shanker Kathmandu
4. Royal Empire Boutique Hotel
5. Pashupati Boutique Hotel & Spa

People Also Read: