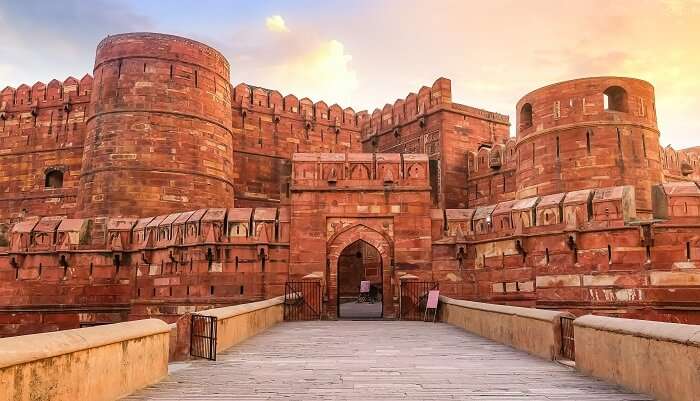 Agra is a majestic city in the state of Uttar Pradesh in India that lies on the banks of the beautiful river Yamuna. This city is laced with tremendous historical importance and holds the treasures of architectural and infrastructural beauty created by various communities like the Mughals, the Afghans and the British. There are multiple sites like the magnificent Taj Mahal, Agra Fort, Fatehpur Sikri, Jama Masjid and the Tomb of Akbar which are famous as tourist attractions.
There is grandeur and greatness in every corner of Agra and the places around it which is why they are a beautiful tourist destination for Indian and international tourists. There are, in fact, many amazing picnic spots near Agra that are ideal for day trips with those close to your hearts and here is a little sneak-peak into the same.
6 Best Picnic Spots Near Agra
There are many famous picnic spots near Agra known for their magnificent yet tranquil surroundings. Here are some of the six best of such spots.
1. Jodha Bai's Palace – 36.6 Km From Agra
2. Soor Sarovar Bird Sanctuary – 30 Km From Agra
3. Keetham Lake – 28 Km From Agra
4. Lohagarh Fort – 57.5 Km From Agra
5. Keoladeo National Park – 55 Km From Agra
6. Kans Qila – 58.2 Km From Agra
1. Jodha Bai's Palace
As we all know, Jodha Bai was the Empress (Begum) of the Mughal Empire and wife of Emperor Akbar who ruled India for a long time. The palace of Jodha Bai is built in red stone and is one of the most visited and most beautiful structures in Agra. Though the castle is made using traditional Islamic style, there are hints of architectural elements from Gujarat, Mandu, and Gwalior.
Its blue-tiled roof is the only and the most refreshing splash of color in Fatehpur Sikri and the high-walled compound with an elaborate gateway depicts the privacy and security provided to the Mughal queens. When on a picnic to this place, you can visit the place where Jodha used to worship Lord Krishna and you can also stroll around the place to get a panoramic view of the buildings nearby. This place has private parking for the vehicles you might take along. Overall, this place is a great picnic spot to enjoy with family.
Location: Dadupura, Fatehpur Sikri, Uttar Pradesh 283110
Distance from Agra: 36.6 km
Suggested Read: 20 Places To Visit In Agra: Explore the City Beyond Taj Mahal
2. Soor Sarovar Bird Sanctuary
The Soor Sarovar Bird Sanctuary is one of the most beautiful tourist destinations near Agra. The belief goes that this place ignited the passions of Radha and Krishna and it is also believed that the famous poet Soordas wrote his legendary composition 'Bhakti Kavya' at this place. This bird sanctuary which was established in 1991, spread over 7.97KM and the region encompassed by it is serene and beautiful.
You can enjoy a picnic loaded with peace and greenery at this place and there is a lake in this sanctuary where you can take a boating ride. The boatmen help you spot some birds and animals during the trip. The bird species one can see here include little grebe, darters, purple heron, grey heron, Indian pond herons and many more.The Soor Sarovar Bird Sanctuary is the best picnic spot for nature-lovers and wildlife-lovers.
Location: Mathura Delhi Highway, Near Runakata, Near Walter World-Dolfine, Arsena Uttar Pradesh 282007
Distance from Agra: 30 km
Suggested Read: The Taj Mahal – Visit India's Favourite Heritage Monument
3. Keetham Lake
One of the top picnic spots near Agra, Keetham Lake is a beautiful lake situated on the outskirts of Agra located inside the Soor Sarovar Bird Sanctuary. One can enjoy a boating ride in this lake which provides an elaborate view of the green boons of nature. It is maintained well by the authorities of the Bird Sanctuary and is an ideal picnic spot for wildlife lovers since you can view more than 105 species of birds in this region.
There are several local as well as migratory species like the pintail, purple heron and comb duck present here. One may also spot an alligator or a crocodile. There are not many of these provisions inside the premises of the sanctuary. Hence, one is advised to carry their food items and water while going on a picnic to Keetham Lake. Keetham Lake is undoubtedly a paradise for nature-lovers and is a great picnic spot.
Location: Near Anand Engineering, College, Kuntha, Agra, Uttar Pradesh 282007
Distance from Agra: 28 km
Suggested Read: After Red Fort & Qutub Minar, Taj Mahal Is Up For Adoption Too!
4. Lohagarh Fort
The Lohgarh Fort, also called Maharaja Suraj Mal is one of the strongest forts ever built in India and has stood the test of time. It has sustained several attacks made by the Mughal and British armies. The gateway to this fort is adorned with magnificent paintings of elephants and there are several monuments located inside the fort like the Mahal Khas, Kothi Khas, Kishori Mahal, and the Moti Mahal.
In addition to these magnificent structures, there are two towers called the Fateh Burj, and Jawahar Burj constructed to commemorate the victory over the Mughal and British armies. To provide all the historical details, there is a museum inside this fort. It interests history-lovers and kids and is a great place for picnic with your family.
Location: Lohagarh Fort, Gopalgarh, Bharatpur, Rajasthan 321001
Distance from Agra: 57.5 km
Suggested Read: Taj Mahal vs Golden Temple: Which One Would You Choose?
5. Keoladeo National Park
The Keoladeo National Park is a former royal game reserve and a bird sanctuary located in the northern region of Rajasthan and it is one of the best places for a picnic with family or friends. One can take a tour of the area on foot, with a cycle or with a rickshaw. The rickshaw pullers have full knowledge of the region and flora and fauna seen here, hence, they can also serve as excellent guides of the place.
The wildlife in this sanctuary includes more than 380 species of local and migratory birds and you can spot birds like demoiselle and Siberian cranes. Also, there are several mammals like the striped hyena, jungle cat, black bug and golden jackal. To observe all the wildlife minutely, you should carry binoculars with you and you can also photograph these rare and exquisite birds. Along with the Keoladeo National Park, there are some nearby tourist attractions like the Lohgrah Fort, Government Museum and the Deeg Palace. A visit to these places on your picnic is like a cherry on top of a cake.
Location: Agra-Jaipur Highway, Bharatpur, Rajasthan 302001
Distance from Agra: 55 km
Suggested Read: Agra Fort: A Complete Guide To Explore The Marvellous And Historic Monument
6. Kans Qila
The Kans Qila is an ancient fort located in the city of Mathura in Uttar Pradesh and is a popular picnic spot due to its extravagant architecture. The architectural styles seem to a blend of Indian and Mughal patterns. The history of this place can be dated back to the times of Mahabharata. According to the Hindu mythology, this fort belonged to Kans, the maternal uncle of Lord Krishna.
Today, the fort exhibits magnificence and majestic infrastructural work. The main hall of the fort is divided into three aisles. The approach road to the fort is also beautified with tree plantations. The area of the fort is vast, and one can simply spend hours strolling here taking in the view of the fort. That makes it a great one-day picnic spot for families or groups of friends. The intriguing history and heritage of this fort are sure to blow you away.
Location: Ratankund, Chowk Bazar, Mathura, Uttar Pradesh 281001
Distance from Agra: 58.2 km
Further Read: Top 20 Things To Do In Agra To Explore The True Beauty Of Home Of Taj
Agra is a city of grandeur and wonders. There are several places of historical heritage that one can visit as one-day picnics. These picnic spots near Agra offer natural beauty and scenic views and are great for those seeking both enrichment and relaxation. Picnics are good ways to bond with your close ones and you must experience it when you plan your trip to Uttar Pradesh!
For our editorial codes of conduct and copyright disclaimer, please click here.
Frequently Asked Questions About Picnic Spots Near Agra
What are the best places around Agra for a picnic?

The best places to visit near Agra for a picnic are:
1. Fatehpur Sikri
2. Mathura
3.Vrindavan
4.Gwalior
5.Deeg

When is the most ideal to visit Agra and picnic spots nearby?

The best time to visit Agra and the picnic spots near it is between October and March as the weather is really pleasant and comforting during this time.

Are there any hill stations near Agra?

Yes, some of the hill stations near Agra are: – Sattal – Nainital – Haridwar – Ranikhet – Dehradun – Mussoorie

Does Soor Sarovar Bird Sanctuary remain open on weekends?

Yes, this bird sanctuary remains open every weekend between 8 am and 6 pm.
People Also Read:
Picnic Spots Near Mumbai Picnic Spots Near Nagpur Picnic Spots Near Kolkata