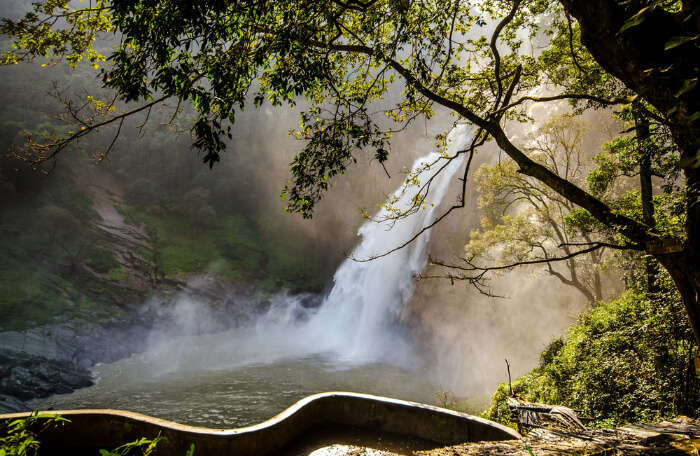 Being a major city of the island nation Sri Lanka's Uva Province, Badulla has its administrative importance. Its location in country's lower central hills equally makes it a popular tourist destination. Sri Lankan visitors keep a visit here in the itineraries for multiple reasons. The location of Badulla on the southeast side of Kandy and also due to being surrounded by the Badulu Oya River turns it into one of the worth exploring places. Furthermore, nature lovers feel the serenity of this place where tea plantation surroundings bring its mesmerizing appearance. There is no dearth of places to visit in Badulla like assessing the Namunukula Ranges to the ruins and monuments which remind of former King of Kandy and many other beautiful buildings which British built during colonial rule. The oldest operational railway line built by the British and tea gardens are worth visiting.
Top 10 Places to Visit in Badulla
Badulla has fast emerged into a major tourist destination to explore Sri Lanka for many decades. The scenic beauty of this region enchants all visitors and so are splendid its parks, tea gardens, and historic locations that make it best suitable eco-tourist spot. The listicle below has 09 notable places to visit in Badulla which you mustn't forget adding in your itinerary.
Muthiyangana Temple
Kataragama Devalaya
Old Welekade Market
Dunhinda Falls
Bogoda Ancient Wooden Bridge
Halpewatte Tea Factory
St. Mark's Church
Fox Hill Event
Demodara Railway Station
Dhowa Rock Temple
1. Worshipping in Muthiyangana Temple

Ancient Buddhist temple, Muthiyangana Temple is a most visited site in the midst of Badulla in Sri Lanka. Being a popular Buddhist shrine due to its unique identity of one out of the 16 sacred Buddhist Solosmasthanas, this temple welcomes visitors willing to learn Buddhism religion in the Sri Lankan context. According to Buddhists belief, it was here that Gautama Buddha had visited. Travelers make it mandatory to visit this temple to re-impose their faith in the Buddhism religion. This temple has become a national landmark today. Existing since the 4th century, its 65 feet high Muthiyangana Stupa is visited by the believers of the Buddhism religion.
Must Read: 15 Things To Do In Ella In 2022 To Take Your Sri Lanka Trip To The Next Level
2. Spend Good Times in Badulla's Kataragama Devalaya

Dedicating the Sinhalese deity Kataragama Deviyo, popular Sri Lankan ancient temple of Kataragama Devalaya remains a must visit the site in Badulla nowadays. It is historically important location that also reminds the golden past of this area. The temple site is enlisted into the Archeologically Protected Monuments list. History lovers find much to explore here and know more about this region's past. Although the exact construction date is still unknown, some historians claim that it exists since the 17th century while the regional King Vimaladharmasuriya I (1592–1604) ruled the Kingdom of Kandy to build this Devalaya. The Pilimageya or worshippers' spot as shrine room is a most visited place inside this monument. Rich architecture of this monument through the carved timber columns the presence of Kandyan era paintings make it worth exploring place during a Sri Lankan tour.
Places To Stay: River Side Hotel, Capitalcity hotel, Budget comfort holiday, Good inn Kandy, Thilina Guest
3. Shopping in the Old Welekade Market

Shoppers looking for some souvenirs during their Sri Lanka visit won't ignore the famous Old Welekade Market in Badulla. More than buying local stuff like some of the finest handcraft items, this market appeals to the travelers as they feel as if they are back to the past era. The British had built a historic colonial building here in 1889 which looks amazing.
Old Welekade Market in this building's pavements enchants the visitors. This protected building is a replica of the great British architecture. It is now listed as an Archaeologically Protected Monument where locals spend quality times. The location of Old Welekade Market on the escarpment close to the paddy fields denotes to the local name Welekade which is translated as "the shop of the paddy fields."
Suggested Read: Viharamahadevi Park: A Handy Guide To Explore This Nature's Paradise In Sri Lanka!
4. Visit the Dunhinda Falls

Nature lovers and all those tourists wanting to explore some adventure won't miss the 64-meters high Dunhinda Falls waterfall in Badulla, Sri Lanka. As this popular fall is located at a distance of fewer than 5 kilometers from the city area, tourists plan their visits at ease. Famous amongst all Sri Lankan waterfalls, this waterfall has gained immense popularity. In fact, it is also mentioned in some of the literary works. Local and international travelers ensure that Dunhinda Falls are added in their itineraries. It won't be wrong to say that a Sri Lankan tour will remain incomplete without visiting this beautiful waterfall.
Places To Stay: Dunhinda Falls Inn, River Side Hotel Inn, Capitalcity hotel, Eighty seven guest
Suggested Read: Delve Into These 10 Best Things To Do In Badulla For Exploring Sri Lanka
5. Spending Some Time Near the Bogoda Ancient Wooden Bridge

Tourists exploring Sri Lanka should rather customize their itineraries for fun-filled and adventure vacationing plans. Visiting country's oldest surviving wooden bridge namely, Bogoda Ancient Wooden Bridge would give you a feeling that you travel back to the ancient era. This wooden bridge maintains the distinction of its existence since 4 centuries by now. It is accessible from the Badulla city at a distance of just 13 kilometers.
It was during the Dambadeniya era that Bogoda Wooden Bridge was built in the 16th century. It used to connect the ancient cities of Gallanda Oya and Badulla until Kandy then. Today, it boasts as one of the most sought after heritage sites in Sri Lanka. Ancient Bogoda Buddhist Temple has located nearby this bridge.
Suggested Read: Sri Lanka In January: Best Places To Visit & Stay In 2022
6. Exploring the Famous Halpewatte Tea Factory

As Sri Lanka is one of the select few tea producing countries in the world, its famous Halpewatte Tea Factory seeks the attention of each and every visitor. As the factory remains open from morning to evening every day except on Sundays, tourists can make an ideal 3 hours exploration plan here. It appeals to nature lovers who look at the fascinating tea processing stages and thus feeling the aroma of a variety of teas processed there. It is one of the best places to go in Badulla.
Suggested Read: 12 Badulla Restaurants That Have Revolutionised The Sri Lankan Culinary Scene
7. Visit St. Mark's Church

Old St Mark's Church of Badulla in Sri Lanka is visited by the tourists irrespective of their religious beliefs. Built in the memory of Major Thomas William Rogers, this church distinguishes itself as the first one getting sanctified by the 1st Bishop of Colombo Rev. James Chapman on April 25, 1857. This Anglican Church has been welcoming visitors every day. Ever since it was declared Archaeologically Protected Site alongside its bell tower in 2008, it gained popularity as country's notable heritage monument. The number of visitors too increased in volumes thereafter. It is a famous tourist destination nowadays.
Suggested Read: The Ultimate Guide To Sri Lanka's Dambulla Cave Temple
8. Looking at the Memorable Fox Hill Event

The Fox Hill in Sri Lankan central highland area of Badulla seeks the attention of all visitors with its incredible 1,499 m altitude. Visitors feel fascinated seeing this great destination of nature and adventure. An annual Fox Hill Motor Cross at the Fox Hill appeals to all. Organized annually under the patronage of the Sri Lanka Military Academy, the prestigious motor racing event in Sri Lanka welcomes the visitors from worldwide locations. Fox Hill is popularly called Nariya Kanda in the local Sinhalese language. Its major attractions include rock art on the hills which appeal to all visitors throughout the year.
Suggested Read: 7 Most Haunted Places In Sri Lanka To Make You Face Your Darkest Fears
9. Explore the Beauty of Demodara Railway Station

Out of many wonderful locations in Sri Lanka which can't be missed out by the tourists, Demodara Railway Station remains a popular tourist attraction. Its beauty lies in the fabulous design of this station in between the Udoowara and Ella railway stations which captivate everybody's attention. While railways turn from platforms to enter into a tunnel towards the railway station, it gives an amazing view. Being country's 3rd last Main Line station, Demodara Railway Station connects with the capital city Colombo at a distance of just 277.71 kilometers.
Suggested Read: 5 Enchanting Places To Visit In Badulla In Autumn For A Perfect Vacation In Sri Lanka!
10. Dhowa Rock Temple

One of the beautiful places to visit in Badulla Sri Lanka, Dhowa Rock Temple is a protected heritage site. It is a small, ancient village located in the lofty mountains of Uwa province. Famous for its beautiful sculptures and paintings that adorn the walls of the temple, this place is a popular attraction in the area. The ornamental gateway and the huge stupa are some of the highlights of the temple. There are even a cave and a tunnel. However, no one is permitted to go inside the tunnel. There are a number of folklores associated with the cave and tunnel.
Further Read: The Definitive Guide To National Museum Of Colombo In Sri Lanka
Above mentioned 10 destinations in Badulla, Sri Lanka will give you unique feel while you tour to the island nation. Each site has its own unique perceptive identity which collectively makes this small city a popular destination to tour and explore during a Sri Lankan visit. What are you waiting for? Plan your Sri Lanka tour and ensure that Badulla is added in the itinerary.
---
People Also Read:
Places To Visit In Nuwara Eliya Places to Visit in Matara Places To Visit In Batticaloa