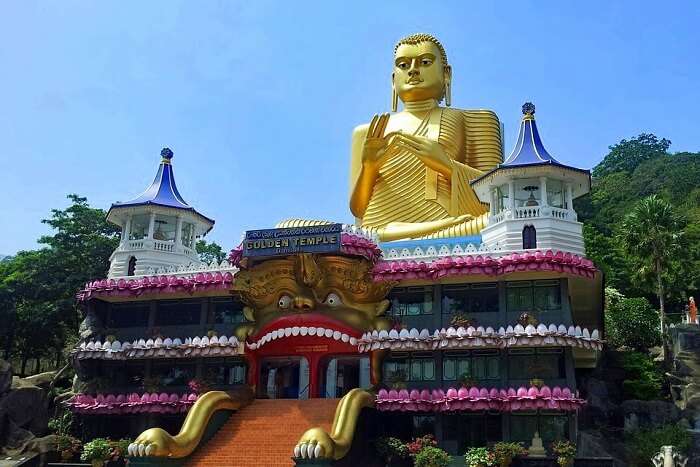 Sri Lanka is an island country in south Asia which is very popular and is located in the Indian Ocean. This island country is separated by the huge Indian subcontinent and the Gulf of Mannar. This island is filled with tourists bustling around throughout the year. In the central part of the country you can locate this majestic temple called Dambulla Cave Temple.
About Dambulla Cave Temple
This cave temple is a popular attraction of Sri Lanka and is quiet known amongst the locals. There are about 80 documented caves surrounding this place and you can are very unique and different in their own way. There are five major caves that you must take a look at. These caves are filled with statues and paintings. These paintings are mostly of the great Gautama Buddha, Vishnu and Ganesh.
Dambulla Cave Temple Entrance Fee: LKR 1500 / INR 589
Dambulla Cave Temple Opening Hours: 7 am – 7 Pm
Suggested Read: 9 Best Things To Do In Dambulla To Have Unlimited Fun On Your Vacation
Best Time To Visit Dambulla Cave Temple
Visit at morning or afternoon: the best time you can visit this temple is during the morning or afternoon. Most of the tourists choose morning as it is a peaceful start and the atmosphere is quiet calming. If you choose to visit this temple in afternoon then you can take a look at the magnificent sunsets by the hill which is so beautiful that it will be the highlight of your day.
Things To Keep In Mind Before Visiting The Temple
Here are a few things you should keep in mind before you visit Dambulla cave temple to ensure that you make the most out of your visit and have a pleasant experience at the site:
1. If you visit the temple during sunset then carry some snacks but beware of the monkeys. These monkeys are used to people offering lotus flowers but when they see food then they can get aggressive.
2. If you plan on visiting the temple then you should dress modestly. You cannot wear shots and you need to cover your shoulders. You can get a wrap from the entrance itself.
3. You need to climb a hill which is about 300 steps and will take about 10 minutes before you reach your destination. This climb may seem simple but you can be sweating head to toe if you go on a tropical day.
Places To Stay Near Dambulla Cave Temple
These are some of the places that you can book rooms at which are near the cave temple and have great services and staff:
1. Richwin Villa
This villa was built in the year 2008 and is just about 400 km away from the Dambulla cave temple. All the rooms include a city area and have a private bathroom that has an amazing hot tub where you can relax after a long day of travelling. Some of the rooms have perfect mountain views and they also serve Asian breakfast every morning.
Location: 243/4 Matale Road, Dambulla
Must Read: Top 6 Honeymoon Places In Colombo For A Romantic Rendezvous
2. Sevonrich Holiday Resort
Another accommodation which is near to the Dambulla caves. This place is about 300 km away and they have a private swimming pool and many popular restaurants. All the rooms have great balcony which gives you the view of the majestic mountains. Private bathrooms are provided and guest rooms include seating area and flat TV screens.
Location: Jaya Mawatha, Homagama, Dambulla
Suggested Read: Top 7 Water Sports In Colombo That Will Give You An Adrenaline Rush
3. Hotel Sigiriya
This place is one of the most booked hotels near Dambulla. This place is within the cultural triangle which is a world heritage. All the rooms have a minibar attached to them and they are air conditioned. Tea and coffee makers are also available. There are some really good massage centers that you can visit and have a relaxing day.
Location: Sigiriya, 21120 Sigiriya
Suggested Read: Take The Safari In Colombo To Spend Some Time In The Wilderness & Cherish The Rare Fauna
Places To Visit Near Dambulla Cave Temple
Here's a comprehensive list of the places you can visit near Dambulla Cave Temple in Sri Lanka to make the most of your time in the country of Gods. Read on.
1. Dambulla Rock Temple
This rock temple is about three hundred and fifty feet above the plain and is one of the most beautiful creations here in Sri Lanka. This rock temple is near the cave temple and you can easily spot it. This temple is magnificent and is filled with intricate details that you can notice if only you look closely.
Suggested Read: 7 Adventure Places In Colombo For A Thrilling Vacay
2. Deva Raja Viharaya
This is one of the five popular caves around the cave temple. It is believed that the king of gods which is god Sakka gave the final touches of this cave and because of that, it is this popular. The statues and carvings in this cave are so delicate and fine that you will be mind-blown and the whole cave is filled with such marvelous paintings and statues. This is one of the most popular caves in Dambulla and you should make a point to visit this place if you love art and history.
Suggested Read: 7 Best Restaurants In Colombo To Relish The Real Culinary Delights Of Sri Lanka
3. Maharaja Viharaya
Another popular cave by the Dambulla Cave Temple which is known for its magnificent art. This is the largest and the most impressive cave amongst the 80 that surrounds this place. It is believed that the great king Vattagamani Abhaya helped the people built this marvelous cave. The whole paint is filled with bright colors and the atmosphere is calming and soothing.
Further Read: Top 5 Colombo Beaches That Are A Must On Every Traveler's Bucket List
If you are all eager to know about Dambulla Cave Temple history, then you ought to visit this stunning temple! These are some of the places you can take a look at as you pass by the amazing Dambulla cave temple on a trip to Sri Lanka.
Frequently Asked Questions
Q. How many steps are in the Dambulla cave?
A. There are 364 steps in the Dambulla cave.
Q. How old is the Dambulla Cave Temple?
A. The Dambulla Cave Temple is around 2000 years old,
Q. How many steps up Sigiriya rock?
A. There are around 1200 steps.
---
Looking To Book An International Holiday?
Book memorable holidays on TravelTriangle with 650+ verified travel agents for 65+ domestic and international destinations.
---