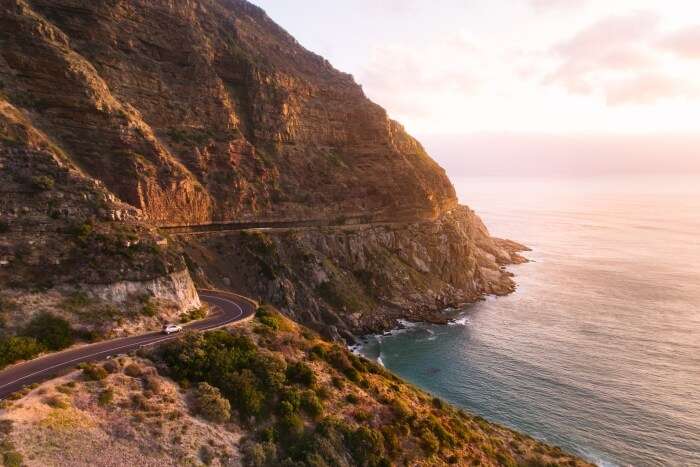 At some point in life, we have always dreamt of leaving the worldly worries behind, getting together the gang, and embark on an enormous road trip. If you have dreamt of going on such road trips with your gang, then add road trips in Cape Town. You'll see places up close, stopping whenever you like. And a road trip brings you closer to the cultures, unlike any other medium. We say one must go on at least one road trip in their life; as brief as it may be. While there are a number of scenic road trips in Cape Town, we are bringing to you six off the top of the line. These trips will definitely give you the time of your life. You will have a lot to learn, see, and gain as you go ahead with any of these trips.
6 Best Road Trips In Cape Town
Here we have included places; villages and towns that could be the destination of your road trip, or a major halt on your extended trip, because of their historic importance and heritage. We have also included the minimal food and lodge availability details along with our locations.
1. Matjiesfontein

Towards its North, Cape Town is connected to Johannesburg through the N1 Highway. This road holds extreme importance due to the places it connects. Anyway, just off this highway is the hamlet called Matjiesfontein. The hamlet boasts of a single hotel, and a railway station, but a host of museums. This tiny hamlet tells the story of the expansion of the railway lines. It tells the tales of a time when visionaries saw dreams of a road from Cape to Cairo.
The museums here talk about the amazing birth story of Matjiesfontein; of how a young Scottish immigrant, who did go by the name of James Logan, bought a piece of land away from now mainland Cape Town in 1884. They tell the stories of how this piece of land came to be called 'Matjiesfontein', and how it swiftly shifted from a rural scenario to a top of the line tourist spot. Things have changed pretty fast around here. But a few things have still remained as they were in the era bygone. Today, the 'Lord Milner Hotel' is still the only hotel is still the only hotel in this hamlet, and is still fondly called 'The Grand Duchess' of the Karoo; and it still welcomes the guests in style.
Must Read: 10 Hidden Cape Town Beaches Every Adventure Junkie Must Visit To Dive, Surf, And Relax!
2. Paternoster

Moving along towards the West Coast, we have Paternoster. It is among the oldest fishing villages in the country and is about 150kms from Cape Town. Another excellent destination for your road trip, this fishing village comes with an interesting set of its own history. While experiencing the fisherman life up close, you will learn the origin of the village, or more accurately its name. Some say that 'Paternoster' in Latin means our Father.
While some say that the name was derived from the prayers of some shipwrecked Portuguese Catholic seamen's prayers. Yet again, some claim the name to have come from a kind of bead that the Khoi tribesmen wore, which were again called the paternosters. However, if you are a lover of crayfish, make sure to have them straight of the beach. At 'Die Winkel op Paternoster', try your luck with treasure hunting. Also, visit the Cape Columbine lighthouse, built-in 1936. Visit the West Coast National Park and Fossil Park.
Suggested Read: Everything You Ought To Know About Cape Town's Victoria And Alfred Waterfront
3. Swellendam

Another excellent destination for your road trip, this is Swellendam. Just off the highway N2, Swellendam is the third oldest town in the whole of South Africa . It was then appointed with a Magistrate, after being declared a district in 1743. Since its recognition, Swellendam has been a hub for the artisans and traders. Many made it a stop during their long journeys, while many of them got settled in this ancient district. Hence, an excellent halt or even a destination for your trip, you will definitely like-minded people at every turn.
Frequented by travelers, Swellendam has an excellent array of accommodation and food arrangements. On top of that, it also has a number of leisurely activities to offer. You can also visit the Drostdy Museum, Bontebok National Park, Swellengrebel Street, and Sulina Faerie Sanctuary.
Suggested Read: Nightlife In Cape Town: 9 Scintillating Places To Drink, Dance And Go Gaga About!
4. McGregor

Off Route 62, McGregor is a lovely country village, surrounded by the Langeberg Mountains. Towns nearest to this village are Robertson, Ashton, and Montagu. McGregor being called the best preserved 9th Century South African village makes it another excellent destination, or even a halt in your road trip. You will love looking at the whitewashed cottages, which have red roofs on, or even at the Victorian and Georgian era homes.
Plan to spend your weekend here, as on Saturdays, right next to the village church, in the square, a morning market is set up and filled by the local people. In McGregor, you will find very few motorized vehicles. And you will find people going around mostly on foot. The speed of life here is generally idyllic, and that is an excellent retreat! Also visit Temenos Gardens, the Old Post Office, now a pub, Tanagra Distillery, The Lord's Winery for a sip of Method Cap Classique, and Eseljiesrus Donkey Sanctuary.
Suggested Read: Shopping In Cape Town: 13 Best Places That Are A Shopaholic's Retreat
5. Greyton

A town close to nature, Grayton will take you to the historic setup along leafy lanes, and historic cottages. While Greyton has aptly adapted to welcome visitors in the modern period, parts of the town have still held on to the historical setup and have very well preserved it. This town is more of a stop-over on your road trip.
On your trip, be sure to visit the Saturday morning market which is popular for the farm-fresh products, Greyton Nature Reserve, and Wine farms. The Von Geusau chocolates are as historic as the town itself and deserve a special mention. If you wish, you can even stay at the oldest building in the town, Post House, which was constructed in 1860.
Suggested Read: 10 Vibrant Restaurants In Cape Town For The Real Foodie In You
6. The Elgin Valley

Once again off the highway N2, Elgin Valley is a destination for the nature lovers. It falls short of being a village, but doesn't fall short of history, and definitely a touch of magic. Lesser known to tourists, visited by lesser people, this is a perfect escape for the nature lovers. The Elgin Valley is more of a destination for the ones that love staying close and spending their time with nature.
It would, therefore, be an excellent opportunity for you to mingle with the local communities. Here, you will get chances to visit nature, and indulge in a number of activities. On your visit, you should see MCC Estate, Apple orchards and vineyard-covered hills of the Elgin Valley, try product tasting at Everson Cider, tour Charles Fox MCC and Zip line at Cape Canopy Tours. You can also visit Hottentots Holland Nature Reserve if you fancy so.
Further Read: 10 Romantic Cafes In Cape Town That Every Couple Must Visit
We have presented with you a few road trip places in Cape Town, as well as stopovers for road trips in Cape Town. You must, of course, carry a detailed map along with you; look at it, tally with our given options, and plan the trip accordingly. If you are in Pretoria and coming to Cape Town then we recommend you take a road trip to Cape Town from Pretoria instead of a train or flight. Get your map, plan the trip to South Africa, and lose yourself to the rhythm!
---
Looking To Book A Holiday Package?
Book memorable holidays on TravelTriangle with 650+ verified travel agents for 65+ domestic and international destinations.
---