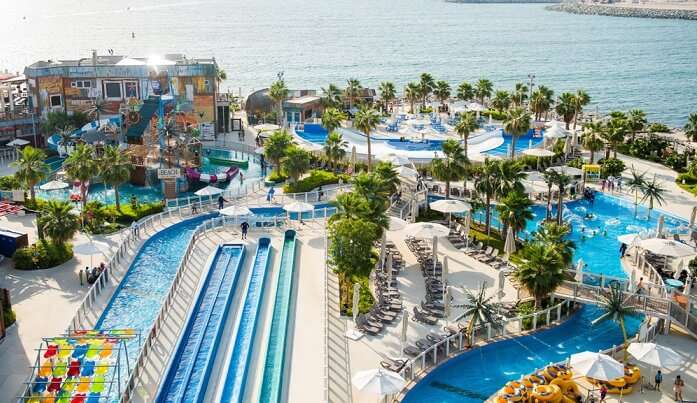 When the sun is blazing, temperatures are soaring high, and air-conditioned areas become heaven, the summer season happens to be at its apex. While everybody wants to escape the sweltering heat, the water parks are in full zest to offer travelers a refreshing experience that they cannot find anywhere else. The world is replete with wonders and waterparks also fall in the same category in their own justified way. The best waterparks in the world not only offer one to beat the heat, but also make a perfect base for families, couples, and groups of friends to indulge in some fun time amid alluring settings. With adrenaline-pumping water slides and rides, fun activities, and some groovy music, waterparks never fail to make their guests pampers. So, if you are seeking such an exciting experience, check out the 7 top water parks in the world and find yourself far away from the scorching heat.
7 Best Water Parks in the World for a Lively Experience
Heading to a waterpark is the best way to combat brutal summers. Isn't it? Here's a compiled list of 7 best water parks in the world that will let you enjoy a replenishing day.
1. World Waterpark – Alberta, Canada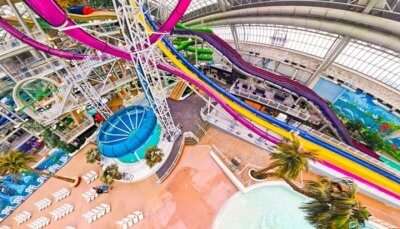 Image Courtsey: WEM Ideally positioned in Alberta's West Edmonton Mall, World Waterpark is touted as the world's second-biggest indoor water park after Tropical Islands in Germany. Boasting the world's largest indoor wave pool comprising 2.7 million gallons of water, this water park attracts numerous vacationers every year. While visiting here, you can enjoy over 20 slides and other attractions that are smartly curated for kids as well as adults. The slides are bifurcated into 4 different categories including beginner, intermediate, advanced, and extreme. Caribbean Cruiser, Dolphin Kiddie Pool, Splash Pad, etc. that are beginner's slides that are perfect for children to enjoy, whereas slides like Cyclone Nessie's Revenge, Sky Screamer, Tropical Typhoon are meant for those who are seeking a sheer thrill. The reason why World Waterpark tops the list of top water parks in the world is that it caters to travelers of all age groups. Location: 8882 170 St NW West Edmonton Mall, Edmonton, Alberta T5T 4J2 Canada Timings: 12:00 p.m. to 5:00 p.m. (Timings may vary) Entry fee: ₹2,366 approximately
18 Best Water Parks In India: Head Out For A Day Full Of Fun In 2022!
2. Aquatica – Orlando, Florida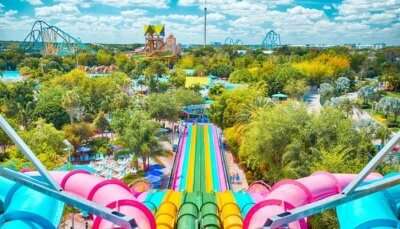 Image Courtsey: Aquatica Orlando for Facebook Curated by SeaWorld Orlando, Aquatica is Orlando's biggest water park that takes pride in its wave pools, creative waterslides, and rides of unique kinds. The site possesses two wave pools that are adjacent to each other. While taking rides like Walhalla Wave, Taumata Racer, Ray Rush, Reef Plunge, and the most famous, Dolphin Plunge, vacationers are sure to witness all the thrill, fun, and adventure that this place has to offer. What makes the waterpark more impressive are sandy beaches, shopping venues, and South Seas-themed gardens. While the gardens exhibit more than 60,000 species of plants, the sandy beach is covered with 1,360 tons of white sand that make a perfect place for kids to play and enjoy. So, if you happen to be in Orlando and wish to avoid the harsh summers, this famous water park in the world has got you covered. Location: 5800 Water Play Way, Orlando, FL 32821, United States Timings: 10:30 a.m. to 5:00 p.m. Entry fee: ₹6,374 (adults), ₹4,424 (children)
3. Siam Park – Tenerife, Spain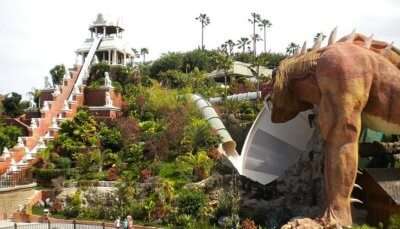 Image Courtsey: Stephen Jones for Wikimedia Commons Marvelously designed with a Thai theme, Siam Park is nestled on the island of Tenerife. This water kingdom features a myriad of elements that mark it among the best water parks in the world. The most popular ride, Tower of Power, has a whopping height of 91 feet (27 meters). With this thrilling, yet exciting ride, you will take a plunge down a vertical drop and later reach an aquarium that is packed with sharks and stingrays. To relax and repose, you can sit by Siam beach that features the whitest and brightest natural sand of the Canary Islands. Some other elements that find travelers' attention include Jungle Snake, Swadsee, The Giant, Coco Beach, Vulcano, Dragon, and more. Besides these, The Floating Market will take you to a traditional Thai Village where you can grab some souvenirs, beverages, and snacks. Location: Av. Siam, s/n, 38660 Costa Adeje, Santa Cruz de Tenerife, Spain Timings: 10:00 a.m. to 6:00 p.m. Entry fee: ₹2,785 (adults), ₹1,915 (children)
10 Amazing Water Parks In Turkey That Will Make Your Trip More Fun
4. Wild Wadi Waterpark – Dubai, United Arab Emirates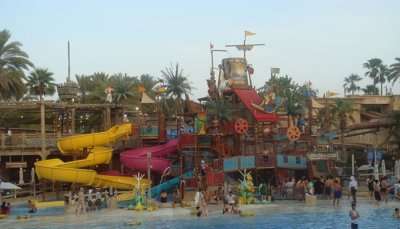 Image Courtsey: Shahroozporia for Wikimedia Commons Wild Wadi Waterpark is considered as Dubai's most iconic waterparks that offer amazing entertainment options for kids as well as adults. Situated in front of Burj Al Arab, this waterpark features around 30 water rides that are meant for visitors of all age groups. Nothing compares to the fun and adventure that this fascinating water park promises. The speed slide, Jumeirah Sceirah is meant for the ones who are seeking an intensive thrill, whereas Burj Surj, a family slide is for families who wish to enjoy a screaming splash in the pool. Besides this, you may indulge in an enthralling surfing experience with Wipeout and Riptide that is again for an intensive thrill. Location: Opp. Burj Al Arab, Jumeirah St, Umm Suqeim 3, Dubai Timings: 10:00 a.m. to 6:00 p.m. Entry fee: ₹5,492 approximately
5. Waterbom Bali – Kuta, Indonesia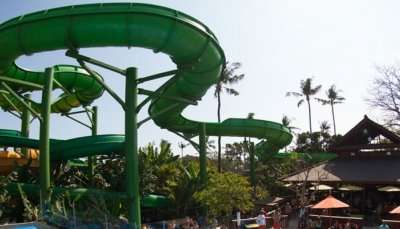 Image Courtsey: Waterbom-Bali Spread across 3.8 hectares, Waterbom Bali is a tropical paradise that offers adults and kids immense fun with its exciting rides, state-of-the-art attractions, and numerous activities that will conclude your day with abundant memories. The ones which one must try include Double Twist, Twin Racers, Fast and Fierce, Superbowl, and Python. Once you are done enjoying all the rides and slides, you may take advantage of the multifaceted health and wellness facility inside the waterpark itself. Calm your senses and get groomed with services like fish spa therapy, nail treatment, hair braiding, and reflexology. Additionally, the park houses several food outlets where you can satiate your hunger pangs with international delicacies. Location: Jl. Kartika Plaza, Tuban, Kuta, Kabupaten Badung, Bali 80361, Indonesia Timings: 10:00 a.m. to 5:00 p.m. Entry fee: ₹2,350 (adults), ₹1,685 (children)
6 Best Water Parks In Bali For A Fun Day Out With Your Loved Ones
6. Disney's Typhoon Lagoon Water Park – Orlando, Florida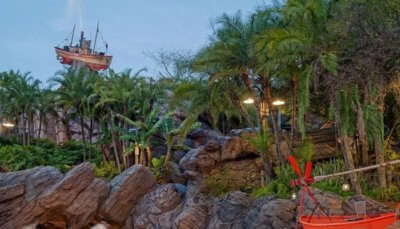 Image Courtsey: Disney World.Disney Located at the Walt Disney World Resort in Lake Buena Vista, Disney's Typhoon Lagoon Water Park welcomes you to the land of invigorating activities that will let you enjoy a perfect day out. The park impresses its visitors with a massive wave pool and a wide range of rides meant for kids as well as adults. Begin the action while taking the park's raft rides that include solo runs at Keelhaul Falls and the thrilling Mayday Falls. Crush n Gusher Water Thrill Ride is a 400-foot "water coaster wearing you will experience sudden drop and hairpin turns. In order to give an extra edge to your overall experience, the Typhoon Lagoon also offers you to take surfing lessons in their wave pool. When hungry, grab a snack at any on-site eating joints. Location: 1145 E Buena Vista Dr, Orlando, FL 32830, United States Timings: 9:00 a.m. to 5:00 p.m. Entry fee: ₹5467 (adults), ₹5,018 (children)
7. Yas Waterworld – Abu Dhabi, UAE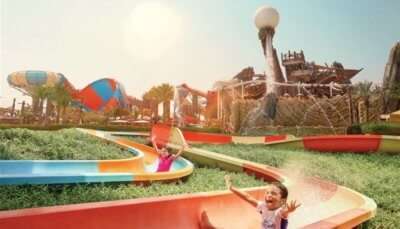 Image Courtsey: Yas Waterworld Yas Waterworld is undoubtedly one of the most famous water parks in the world whose area is touted to be equivalent to approximately 15 football pitches. While boasting the only looping water slide in the Middle East to the extreme, this wonderful water world has got all to treat its visitors. While enjoying 45 exciting rides, you can enjoy an adventure at various levels. To lend you a cherishable experience, the waterpark also organizes several events and activities. The best slides and rides that one should not miss are Dawwama, Liwa Loop, Yadi Yas, Water Wars, Rush Rider, etc. Not to forget, the dining and shopping experiences are equally alluring as there are numerous shopping outlets and eating joints to pamper your senses. So, if you wish to enjoy visiting the best attractions in Dubai, this is the place to be. Location: Yas Island – Yas West – Abu Dhabi – United Arab Emirates Timings: 10:00 a.m. to 7:00 p.m. Entry fee: ₹5,102 approximately
6 Cool Water Parks In Toronto You Must Visit For Topsy-Turvy Rides!
Already getting into fun mode after checking out these best water parks in the world? Well, there are more such spots that will fascinate you and lend you magical experiences. The adrenaline-pumping slides, rides, and some exciting activities will surely make your day. So, plan an international trip TravelTriangle and head to any of these marvelous spots to enjoy a perfect vacation. For our editorial codes of conduct and copyright disclaimer, please click here.
Frequently Asked Questions about Best Water Parks in the World
Which are the best water parks in the world?
Some of the top-rated water parks across the world include: 1. Siam Park (Tenerife, Spain) 2. Caribbean Bay (Gyeonggi-do, South Korea) 3. Area 47 (Innsbruck, Austria) 4. Aquatica (Orlando, Florida) 5. Watercube Waterpark (Beijing) 6. Tropical Islands (Krausnick, Germany) 7. Aquaventure Waterpark (Dubai, UAE) 8. Beach Park (Fortaleza, Brazil)
Is traveling internationally safe now?
An international trip can turn out to be quite safe if you follow all the government protocols. Make sure to get fully vaccinated before planning a trip. Ensure to maintain social distancing wherever possible and keep sanitizing your hands at certain intervals. Don't forget to take maximum precautions as that's the only way to enjoy an international vacation.
Where is the world's longest waterslide located?
The world's longest water slide is located in the rainforest at ESCAPE Penang in Malaysia. The slide measures around 1,111 meters (3,645 feet).
Which are the top indoor water parks in the world?
The top indoor water parks where you can make the most of your day include: 1. Tropical Island Resort 2. World Water Park 3. Kalahari Resorts Sandusky 4. Beijing National Aquatics Center 5. Kalahari Resorts Wisconsin Dells 6. Fallsview Indoor Waterpark 7. Boyne Mountain Resort 8. Epic Waters Indoor Water Park 9. Coco Key Water Resort 10. Massanutten Resort
Which Indian water parks are best for a family day out?
The best water parks in India are Aquatica in Kolkata, Water Kingdom in Mumbai, Adlabs Aquamagica On Mumbai-Pune Expressway, Oysters in Gurgaon, Fun N Food Village in Delhi, Wonderla in Bangalore, and Wonderla in Kochi.

People Also Read:
Water Parks In Colombo Water Parks In Toronto Water Parks In Montreal
Comments
comments