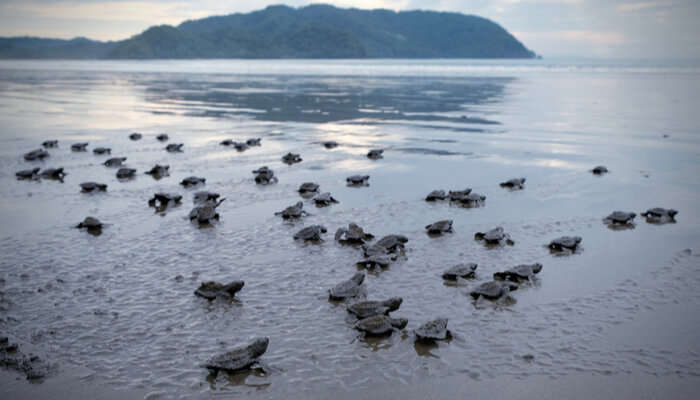 Olive Ridley Turtles were pronounced endangered a long time back and an NGO, Sahyadri Nisarga Mitra, joined hands with Marine Conservation Society in 1992 and dedicated themselves to work towards their conservation. During February and March, many Olive Ridley turtles come to the western coasts of Maharashtra and lay their eggs. Around 40% of them proceed to the beach of Velas. These eggs are then guarded by a group of volunteers against predators and poachers. Previously they were either sold in the markets or were destroyed by dogs, but now these conversation efforts helped the rise of the Ridley family. And in this regard, the Velas Turtle festival is celebrated with great vigour!
Location Of Velas Turtle Festival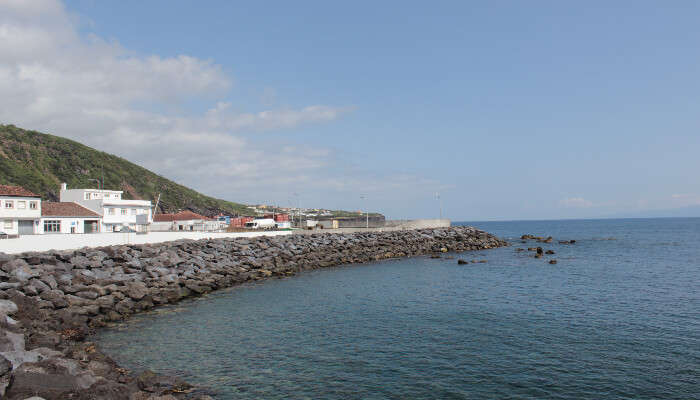 Image Source
Velas is in Mandangad Taluka in Ratnagiri which is around 230 km away from Mumbai and 200 km drive from Pune. Velas is a coastal town that is famous for beaches, Harihareshwar temple, Bankot fort, and the most promising Turtle Festival. It's about witnessing the birth of young turtles that hatch from their eggs and slowly crawl into the ocean to start the journey of their life. This festival is also called Olive Ridley Turtle Festival is organized by local villagers. They do so in coordination with an NGO called Sahyadri Nisarg Mitra.
Must Read: 20 Best Resorts In Lonavala: Embark On A Getaway From Mumbai And Pune In 2022!
Dates Of Vela Turtle Festival 2020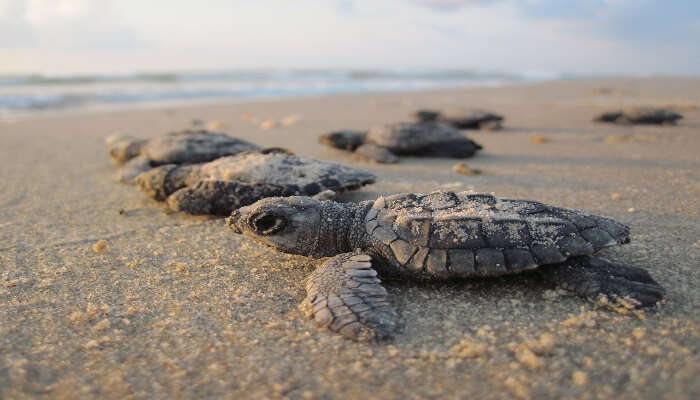 Image Source
The laying of eggs by turtles starts in February and it continues till April. The turtles come to the beach and prepare for the hatching of their eggs. This festival is mostly a conservation event of sea turtles and a celebration of their natural breeding process. There are no set dates or times when you can witness it. It's a process, you must come here and then wait for the process to begin. Most of the hatching happens during March and April. Here are the probable dates of various tourist batches that come to the beach of Velas to watch the hatching.
February – March 2020
29th Feb – 01st March 2020
07th – 08th March 2020
09th – 10th March 2020 (Holi Festival Special)
14th – 15th March 2020​
21st – 22nd March 2020​
28th – 29th March 2020
April 2020
04th – 05th April 2020
10th – 11th April 2020
11th – 12th April 2020
Suggested Read: 20 Best Villas In Lonavala To Spend A Luxe Vacation In The Hills
Reasons Of Celebration

Image Source
The festival of turtles is to embark on the natural breeding process of sea turtles that takes place on a beach in the little village of Velas in Konkan Belt. These quiet places start getting decorated and filled with the bustle of activities due to this event called "the Velas turtle festival'. It is an annual event which is dedicated to the conservation of Olive Ridley turtles which takes place in Velas beach of Ratnagiri. Around 200 km from Pune every year, the sea turtles arrive on the beach of Velas to lay their eggs which is a process of two to three months during their breeding period. The eggs get laid and then slowly start to hatch. It's pure out of this world's experience to watch little two-legged creatures grow out of their eggs and crawl into the ocean to embark on their life's journey. This festival is quite celebrated and due to the huge number of visitors arriving in the town, the villagers also tend to offer visitors many other exhilarating activities and culinary experiences. All this turns this into a multi-day specialty and a cherished festival.
People come to Velas Festival primarily to celebrate the hatching process of sea turtles. Some capture the moments of these little creatures crawling their way to the sea and others come for the wholesome eco-tourism experience by the beach. It's quite an experience which people don't tend to forget about their lives. This festival also helps people with an opportunity to give back to society and mother nature.
Suggested Read: 20 Finest Places To Visit In Lonavala In Rainy Season In 2022
Highlights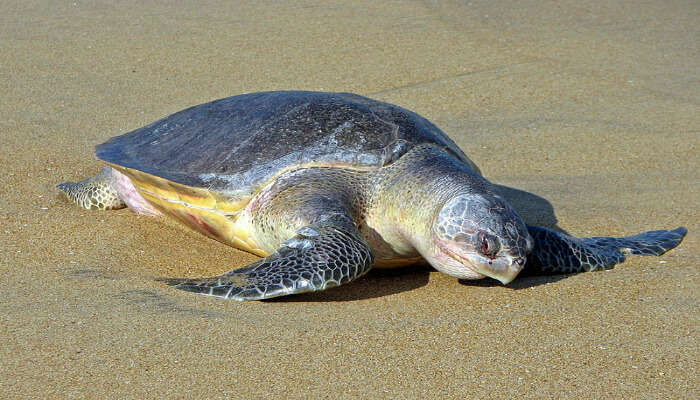 Image Source
This is a two to three days travel if you want to experience the entire process of breeding and hatching and releasing turtles into the sea.
These days you also tend to enjoy and experience the eco-tourism activities that are held by the locals in this place. While you visit the beach in morning hours or evening hours to witness the glorious sight of baby turtles crawling and taking their very first steps towards the ocean. The most appropriate time to watch them is either from 7 am to 7:30 am or 6 pm to 6:30 pm in the evening. And if you wish to witness the hatching of the eggs in the evening then walk on the beach at around midnight and you will witness that as well.
Other than watching the turtle's breeding process, you also get to enjoy authentic Konkani meals which villagers prepare with a lot of dedication during this time. Especially their coastal preparations. Other than this you also get to enjoy their local organic fruits and interact with the locals and enjoy your time in the serene ambiance of the place. The best way to stay here in the homestays where you tend to experience the peaceful rural lifestyle of these villagers and be a part of their lives.
Other than this village you can also visit the nearby highlights like Banot Fort or a trek through the hillock of a nearby village. Bankot Fort is a well-known historical fort which is more than its historical importance is known for the breathtaking views it provides to its visitors of the beach and the locale. People often like to trek their way to this fort and an early morning climb is most fruitful. There are also two temples in this area. One is dedicated to Shri Rameshwar and another one is dedicated to Kalbairav. These temples are also in close vicinity to the fort. Other than these two pristine beaches are – Harihareshwar Beach and Shrivardhan Beach which one could visit while they are here.
Suggested Read: 6 Best Places For Water Sports In Maharashtra You Must Experience In 2022!
Things To Do

Image Source
Velas Turtle Festival is one of the most celebrated eco-festival in India. During this festival, you can see a wide variety of tourists and volunteers who throng upon the place from across the globe. Some of them care for the little turtles and others just come here to get some cute and candid pictures of these crawling creatures. It is one of the most memorable experience for most of the travelers and a way for them to give back to society and mother nature. This festival also tends to provide a way to develop and uplift for the villagers and sustained celebration around years have grown the number of sea turtles invariably. This experience is also worth it for children to witness. Quite an experience during this digital world where people have got their heads buried into their tablets or phones all the time.
Witness the hatching of Turtle eggs and take candid pictures
Discover the local cuisines and the Konkani culture embedded in this village
Live in homestays and live like a local
Trek to Bankot Fort
Visit Beaches like – Harihareshwar Beach and Shrivardhan Beach
Further Read: 22 Absolutely Breathtaking Places To Visit In Monsoon In Maharashtra In 2022
Due to this conservation effort by the locals and the NGO, there is a beautiful phenomenon that has started which attracts millions of tourists to this place every year. The release of these hundreds of turtles into the ocean is one of the most delightful sights and attracts several nature lovers and first-time visitors. The release of turtles take place twice every day during the season, once in the morning and again during the sunset. So, plan a Maharashtra trip and witness a unique sight!
Disclaimer: TravelTriangle claims no credit for images featured on our blog site unless otherwise noted. All visual content is copyrighted to its respectful owners. We try to link back to original sources whenever possible. If you own rights to any of the images, and do not wish them to appear on TravelTriangle, please contact us and they will be promptly removed. We believe in providing proper attribution to the original author, artist or photographer.
Frequently Asked Questions About Velas Turtle Festival
When do these phenomena happen?
The turtles come to the beach to lay the eggs from midnight in February until April. The entire breeding process can be witnessed during this period on the Velas Beach. The release of turtle happens twice every day, during the sunset and the sunrise.
What are other places to visit in Ratnagiri?
Other than Velas Beach you can also visit other places like Jaigarh Fort, Swayambhu Ganapati Temple, Jaigad Lighthouse, Ganapatipule Beach, Thibaw Point, and Pawas.
Where should one stay during this festival in Velas?
The best way to experience the highlights of this festival is to stay in a homestay. That way you stay closer to the locals and can experience their livelihood.
How much budget does one need to keep visiting this place?
The most charges are about travelling to this location depending on your location. Otherwise, a budget of 10k would be enough for a 2-day trip to this place.
What are the things one must not miss while at Velas Festival?
Other than the breeding process of turtles, one should not miss the local Konkani cuisine that is available here during this festival. People also love to relish the organic local fruits and interaction with the locals.
What things one should pack for traveling to Velas Festival?
Here is a list of things to carry's for your Velas Festival Travel – Extra clothes/towel, At least 2 liters of drinking water, Photo ID card, Some ready to eat food (plum cakes, biscuits), Electoral/Tang powder/Glucose-D/salt, Cap, camera, mobiles phones, socks (if required), Any personal medicine.
How to reach Velas Festival?
The nearest airport is Pune and Mumbai Airports. Other than that, you can also board a train to Chiplun from where various buses run to reach you to Velas. It takes around 2 hours to reach this place.
How to book a homestay in Velas?
Families in Velas often register themselves for homestays during this Festival. You tend to get comfortable lodging and boarding facilities at Kasav Mitra Mandal at affordable charges. You get a bed in dormitory-style rooms.
---
Looking To Book An International Holiday?
---