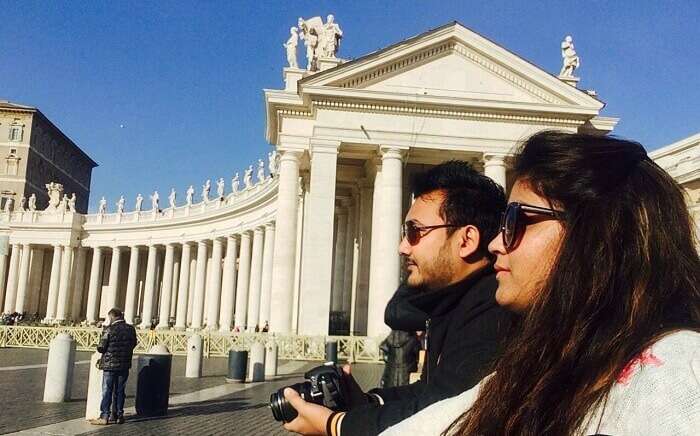 Manvi Gupta talks about her honeymoon trip to Europe. She describes how it turned out to be the perfect destination for the couple. Having booked her package from TravelTriangle, it included her flights, hotels, and rail transfers all for a cost of INR 178000. She shares her experience…
What began as friendship soon turned into love and 6 years later, there we were deciding on our honeymoon destination. Having common interests since the very beginning, Jatin and I somehow knew we were made for each other. Traveling always united us and our trips to places like Malaysia, Mcleodganj (Himachal), Rishikesh (Uttarakhand), and Jaipur (Rajasthan), were a testimony to this spirit.
Europe was a mutual decision but I feel I was more inclined towards it because of its romantic vibe, beauty, and the rich culture and architecture that was associated with it. And for this reason, we included destinations like Paris, Florence, Venice, and Rome in our itinerary. These places were a mix of both romance, history, and lifestyle.
We wanted to travel back in time but also did not want to give up on our comforts!

I came across TravelTriangle via the internet and after finding that the portal can customize packages as per our needs, we decided to give it a try. After filling in the relevant information, I soon received multiple quotes and itineraries from various travel agents. We chose the package from 'Marketels' -travel agency and were guided by their representative 'Ritu' in all the stages regarding the trip.
Day 1: Paris – Eiffel Tower

Suggested Read: DO NOT Leave For Europe Without Packing These 8 Things
We landed in Paris by Emirates and our airline experience was simply superb. After being transferred to the hotel, we took rest, freshened up, and then set off for the Eiffel Tower. We learned about the city and metro routes from the hotel staff and equipped with a map in hand, it wasn't long before we were standing in front of the majestic Eiffel Tower – the monument of love.

Eiffel Tower was an amazing experience. It was both beautiful and mesmerizing and even though the air was chilly, we were loving the weather and its ambience. We also checked out the area near the Eiffel and indulged in some street food festivities. Later we took the metro back to the hotel and purchased wine on our way back from a nearby supermarket. The rest of the evening was spent in the hotel.
Day 2 – Exploring Paris

Suggested Read: 22 Best Honeymoon Destinations In Europe In Summer For A Perfect Escape!
We woke up around 8 AM and to our surprise, it was still dark outside. After doing our breakfast and planning for the day, we set off for the Palace of Versailles (nearest metro station – Versailles-Rive Gauche, look for the exit towards Chateau Versailles). This was a 4-5 hour affair after which we hopped on to the nearest market and into a McDonalds just opposite the metro station.

This was a different McDonalds as opposed to the ones we have in India for we could order and make payments via the LED Touch Pad Pillars installed in it. Roaming in the streets of Paris also gave us the opportunity to sit and spend some quality time with each other (without both the air and noise pollution).
Wanting to visit the Eiffel Tower one more time, we boarded the metro and got down at Champs De Mars. The Eiffel looked even more beautiful this time. There was a surprise twinkling effect on the tower that remains for a few minutes and luckily enough, we were able to witness that. After clicking some nice photos, we got back to the hotel and again purchased some food and wine for ourselves.
Day 3: An evening in Paris

This was a city tour kind of a day and the first place we visited was the Notre Dame Cathedral. We also spent some quality time on the streets and even covered the Champs-Elysees Street. Later, we also visited the Arc de Triomphe – a famous monument of Paris. It looked majestic and we totally enjoyed our experience.
Day 4: When in Rome

This day we took a flight to Rome from Paris. After checking in at the hotel and relaxing for a bit, we went out to see the Colosseum in the evening. The monument was on a walking distance from our hotel and looked quite grand and beautiful. In addition to all the sightseeing, we also enjoying the weather of Rome. The winter sun was amazing and soothing to the senses. Later, after having dinner at a restaurant, we called it a night.
Day 5: Vatican city

We visited the Vatican city this day and reached there via metro rail. The entire route and walking areas in the city are very beautiful and we loved the whole architecture that the place had. Our lunch happened in an open cafe which was luckily owned by a Bangladeshi. Knowing that we were Indians, he served us amazing dishes that matched our taste buds. Apart from this, we also visited the Spanish Steps and Fontana di Trevi wish fountain. Both of these places were nice.
Day 6 & 7: Florence and the city

Suggested Read: 12 Things You Don't Need On Your European Packing List
On our 6th day, we took a train to another beautiful city of Italy – Florence. After checking in at the hotel, we relaxed and later strolled about in the nearby market.
The next day, we did a city tour and covered museums, lake view paths, and many churches in it. Everything in the city was extravagant and rich when it came to architecture. The local markets were nice and we loved the amazing vibe that the city had.
Day 8: Venice

We boarded the train for Venice and got down at the Mestre Station. After checking in at the hotel, we took a bus for Venice which was some 20 mins away from the Mestre.
Venice was a mesmerizing affair. The evening walk and coffee there will surely be missed by us. We also did the Gondola ride on the boat and could see the buildings inside the water. It was beautiful!
Day 9: The Venice ambience

This day also, we roamed around in Mestre till the evening and also visited the local shopping area. We got great deals in shopping since it was Christmas time and there were a lot of discounts available.
Day 10: Back home

We checked out of our hotel in Venice and took our flight back to India.
Europe for us turned out to be the perfect honeymoon destination as it offered us the freedom to know the world both inside and outside us. I loved how we swung back and forth in time as we witnessed the old monuments and enjoyed the modern luxuries. This destination was magical but so was our relationship!
High Points – Eiffel Tower, Paris, Sightseeing in Rome and Florence, the boat ride and walks in Venice.
Low Points – Baggage charges were not mentioned in Air France. (Should be mentioned so that people know it's an additional expense)
Tips for future travelers – Enjoy the cities and their ambience. Don't spend much time in the hotel when you have so much to explore outside.
Experience Europe like never before! Book your honeymoon package now!