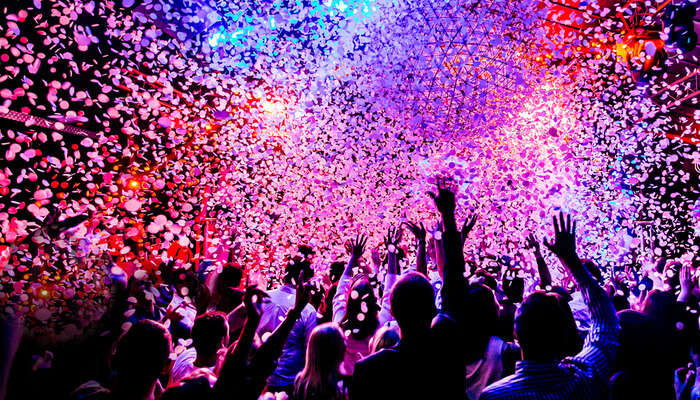 Wait. Pause. Look around yourself. Sitting on a desk, hunched over a laptop, working hard to fill the pockets and enjoy life to the fullest. Now pause again. Imagine yourself nestled amongst the forest-clad hills, shaking your leg to the powerful beats, music echoing through the fierce mountains, and all the late nights at the office seem worth it. Making this dream come true, Meghalaya is all set to host the 10th anniversary of India's biggest music festival- Bacardi NH7 Weekender Shillong 2022.

Multi-music entertainment, sharing camps on the grounds of Meghalaya with either like-minded people, music aficionados, or extremely diverse crowds, and witnessing your favorite artists live leaves no stone unturned to make one's experience truly worthwhile. Food stalls serving some of the most scrumptious delicacies, proper waste management measures, and many more elements offered by the Bacardi NH7 Weekender ensure that one gets to enjoy this one of its kind festivals to the fullest! Scan through to know more details about NH7 Weekender Shillong 2022 from tickets to what should one not forget when attending this ultra music festival! Don't hold back, for the mountains are calling!
About Bacardi NH7 Weekender Shillong 2022

Image Credits: Jishnu Chakraborty
Conceptualized and organized by OML Entertainment, NH7 is one of the largest music festivals of India that has witnessed an extensive escalation in the number of attendees in the past ten years. Started in 2010, this festival has now become one of the hottest music festivals that has earned its place in the Indian calendars. Hosting some of both locally and internationally renowned artists such as Vishal Dadlani, Vishal Bhardwaj, MUTEMATH, Dry the River, The Vaccines, Nightmares On Wax, Imogen Heap, and many others, NH7 Weekender is all about the feet-stomping music that leaves the visitors overwhelmed.
Must Read: 19 Places To Visit Near Shillong In 2022 For Experiencing Meghalaya's True Beauty

Details: About NH7 Weekender Shillong 2022

Find below the answers to a few important questions related to NH7 Weekender Shillong 2022 dates, location, and much more that might have popped up in your head when thinking about NH7 Weekender 2022!
Event Name: NH7 Weekender Shillong 2022
Hosted By: Only Much Louder (OML Entertainment)
Venue Of The Event: Wenfield, The Festive Hills – Thadlaskein, Lad Mukhla, Jaintia Hills, Meghalaya
Start Date Of The Event: 1st November 2022
End Date Of The Event: 2nd November 2022
Timings Of The Event: 3pm to 10pm
Prices: Pre-Sale Tickets Are Finally Here!

Early-bird sales of the tickets have finally commenced! Grab your packages before the rates shoot up and start packing for the greatest music festival in the country!
Tickets
Phase 1 (Under 21 Season Ticket): INR 1,500 per person
Phase 2 (Regular Season Ticket): INR 2,500 per person
F&B Coupons
INR 500 for early-birds (Redeem at the event for coupons originally worth INR 600)
Suggested Read: 16 Scenic Waterfalls in Meghalaya That'll Leave Your Mesmerized In 2022

Accommodation: Make A Smart Choice Between Camps And Hotels

Image Courtesy: hilltribeadventures
To enjoy the festive vibes to the fullest along with other music fanatics, camps in Meghalaya provide the best stay in order to get the experience of a lifetime. Sit around a bonfire, sing your hearts out to the tunes from a guitar, gaze at the shimmering stars, soak in the charm of mountains, live in the moment, and forget about the world that exists outside those woods. Feel the energy and happiness spread by the attendees traveling to the country from all around the world in order to be a part of the biggest music festivals in India. Apart from the campsites, Meghalaya offers an extensive number of hotels and hostels that cater to every kind of travelers, irrespective of their budgets.
Suggested Read: The Ever Growing Living Root Bridges, Meghalaya – A Nature's Marvel In The Northeast

Food: Grab A Bite At The Weekender

Bacardi NH7 Weekender Shillong 2022, the happiest music festival of India is certainly not the happiest without serving the fuel for pre-energetic stomping and post-dance revival. With a massive number of stalls covering the floors of the festival grounds, Bacardi NH7 Weekender Meghalaya offers some of the most scrumptious and finger-licking good delicacies. From sandwiches and pizzas to local cuisine and Chinese food, there is no dearth of dishes served at the festival. Apart from the delicious food, one can also find a huge variety of beverages to quench the thirst that will definitely arise after all the jumping and dancing around to the lively beats.
Suggested Read: 10 Best Hotels And Resorts In Shillong That Will Entice You To Explore Meghalaya!

Essentials: What To Pack For The Event?

There are certain things that one should definitely pack along in order to avoid any kind of hindrances and enjoy the festival in a hassle-free manner.
Outfit: Make sure you wear comfortable clothes and footwear to dance the night away. Since November calls for autumn in Meghalaya, it is advised to pack a jacket along as the temperature drops down immensely during the night.
Cosmetics: It is suggested that one carries a sunscreen, hand sanitizer, wet wipes, and mosquito repellents when traveling to Meghalaya for Bacardi NH7 Weekender 2022.
Money: One should carry enough cash as many food stalls present at the festival do not accept plastic money.
Gadgets: Fully charged phone, good quality camera, earplugs, portable charger, and rechargeable camera batteries are certainly good-to-have.
Suggested Read: 10 Trails That'll Allow You To Experience Trekking In Shillong At Its Best

How To Reach: Way To The Nh7 Weekender Shillong 2022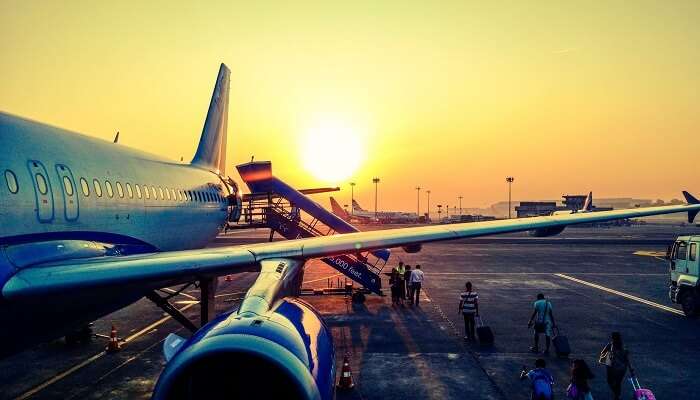 Bacardi NH7 Weekender Shillong 2022 location is nothing less than paradise on earth. The festival will take place on the terrain of the surreal Festive Hills in Meghalaya. Shillong is well-connected to the major parts of the country that are linked with the rest of the world. Reaching Shillong for this mega festival is surely not a task. Shillong houses an airport that allows flights to fly to and from the major cities of India including Delhi, Mumbai, Kolkata, Chennai, and many others. The grounds of Bacardi NH7 Weekender Shillong 2022 can be easily reached by local trains, cabs, buses, and private vehicles once you're in India. The festival also offers shuttle services that take the attendees from Shillong to The Festive Hills and back.
Further Read: 31 Popular Places To Visit In Shillong In 2022 That Will Treat Your Eyes, And Calm Your Soul!

Get ready to feel the most alive, for the mountains have answered your prayers. Head over to Bacardi NH7 Weekender Shillong 2022 to dance the night away on the energetic beats, indulge in the luscious food, meet an extensively diverse crowd, and make thousands of cherishable memories. Plan your musical escapade to Meghalaya now, and get a hands-on experience that will make you feel overwhelmed and forget about all the stress back home!
People Also Read:
Fuji Rock Festival Manchester International Festival Quebec Summer Festival
div.nav-links {
display: block;
float: left;
width: 100%;
padding: 0 20px 10px;
}
div.nav-links a {
display: inline -block;
float: left;
margin-right: 4px;
font-size: 13px;
webkit-box-sizing: content-box;
-moz-box-sizing: content-box;
box-sizing: content-box;
-o-text-overflow: clip;
text-overflow: clip;
text-decoration: none !important;
margin-top: 5px;
border: 1px solid #c8c8c8;
font-style: normal;
border-radius: .25em;
padding: .2em .6em .3em;
line-height: 23px;
}
div.nav-links a:hover {
background-color: #009688;
color: white;
}