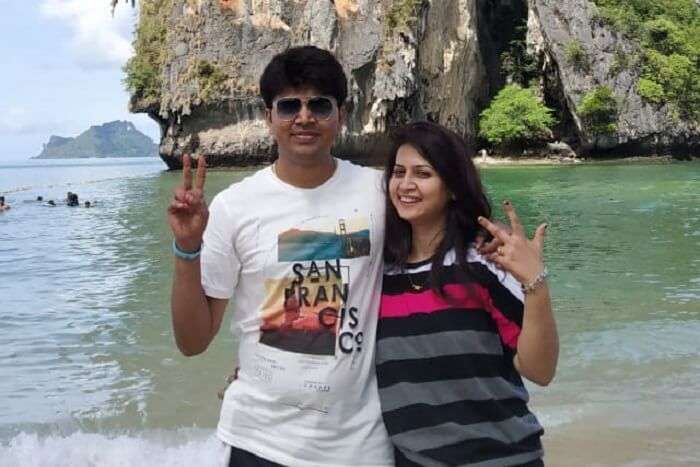 Thailand has just the right combination of beaches and islands that people fall in love with. Planning a honeymoon is a special time for all the newlyweds. Like many other couples, we also wanted Thailand to be our honeymoon destination due to the obvious reasons. Romantic cruises with excellent shopping experience do counts for a perfect holiday. The warm hospitable environment by the locals was just awesome for our crazy adventures in Thailand. We visited Krabi and Phuket as per our Phuket Krabi itinerary for 6 days. The best of all was the peaceful beaches of Krabi. If you're a fan of sparkling blue waters along with a calm atmosphere, you'll love it too.
Table Of Content
Details Of Our Trip To Thailand
Trip Cost: INR 29,500/-
No. Of People: 2
Trip Duration: 6 Days & 5 Nights
Inclusions: Breakfast, Cabs, Airport Transfers, Tour and Sightseeing, Government Taxes/VAT/ Service Charges
Exclusions: Lunch, Dinner, Airfare, Visa, Honeymoon Suppliments
Our Phuket Krabi Itinerary For 6 Days
Day 1: Welcome to Krabi
Day 2: 4 Islands Tour
Day 3: Transfer To Phuket and Leisure Day
Day 4: City Tour in Phuket City
Day 5: Phi Phi Island Tour
Day 6: Time to say goodbye
5 Best Experiences On Our Trip To Phuket Krabi
Here are 5 stunning experiences from our Phuket Krabi Itinerary for 6 days that will help you explore the country just like a local:
1. Visiting The Beautiful Phi Phi Island
Visiting the Phi Phi island was one of our best experience in Krabi. This day after having a hearty breakfast, we proceeded to the Phi Phi island by ferry as a part of our Phuket Krabi Itinerary For 6 Days. This island tour was really beautiful and it took us approximately 2 hours to reach Phi Phi from Phuket. We strolled along the sandy shores of the white beaches at Maya Bay and also indulged in snorkelling. The view from here was simply mesmerizing. العاب كازينو للكبار We explored the coral reefs, went rock climbing and tried shark tour. The highlight of the entire tour was delicious seafood and Thai buffet at Phi Phi Don restaurant where we had our lunch. We returned to our hotel in the evening and rested after an adventurous day.
Top Experiences In Thailand That You Absolutely Cannot Miss On Your Exotic Vacation
2. Amazing Phuket City Tour
The half-day Phuket city tour was quite an enjoyable experience. We drove along the most beautiful beaches in Phuket such as Patong, Karon and Kata. This tour gave us a chance to cover almost all the popular points in Phuket city. We went to some of the famous temples in Krabi including Wat Chalong. Tuktuk ride was a different experience altogether which we thoroughly enjoyed along with our visit to cashew and pearl factory. A walk in the old part of the Phuket city which is one of the must-do while in Phuket was also a thing to cherish. The Sino Portuguese Mansion was a delight to see in the old Phuket city. جدول ونتائج الألعاب الأولمبية لعام 2023 After a fun-filled day, we went back to the hotel.
New Year Party In Thailand (2022): 17 Top Venues & Events
3. The Incredible Four Island Tour
Visiting the four island tour by longtail boat as a part of our Phuket Krabi Itinerary For 6 Days was the best experience we had in Krabi. All the four islands that we saw – Koh Poda, Koh Gai (Chicken Island), Koh Tub and Koh tops were mesmerizing. We also visited the beautiful Phra Nang Cave Beach on the Railay peninsula. The lunch served was also delicious and very well organized. The rock climbing experience was also one of a kind. Later, after we were done with the tour, we went to our hotel. Needless to say, this tour truly felt like we were in paradise and it was one of the most rejuvenating days of our trip.
Ao Nang Thailand: Things To Do And Where To Stay
4. Exploring Krabi
On the very first day of our trip, we visited some of the most extraordinary natural wonders of the world in Krabi. Krabi is a beautiful province with 160 kilometres of coastline along the Andaman Sea in southern Thailand. We visited the wonderful islands and coves, stunning coral reefs, powder-white beaches and limestone karst formations. Other attractions which mesmerized us were hot springs, flourishing coral reefs and national parks. It was indeed a great experience and one of the best things to do in Phuket Krabi in 6 days.
5. Shop Till You Drop At Patong Beach
Patong Beach night clubs is not the only attraction that draws travellers to the beach. It is also a fun place for shopaholics. It was a wonderful experience to visit one of the biggest shopping mall on the island – Jungceylon on our leisure day. The range of products on sale in Patong came as a surprise for us. You can find everything from jewellery and gold to brand-name sports clothes, cheap copies of the latest movies and music to beachwear and the list is endless.
Thailand Waives Visa-On-Arrival Fee For Indians. Dear Travelers, Get Packing!
Our Hotels In Phuket Krabi
On our first and second day in Krabi, we stayed at Inn ao nang. The room here was spacious along with the breakfast facility. In Phuket, we stayed at the Ashlee plaza Patong hotel and spa for the third, fourth and fifth night as per our Phuket Krabi itinerary for 6 days. The overall experience was quite comforting along with an excellent hotel location.
Food in Krabi
We went to Indian restaurants in Krabi like Bombay Palace Indian Restaurant and Tandoori Night's Restaurant. These restaurants offer a great desi taste and is one of the best options for anyone missing home food. We incurred an average cost of nearly INR 930 for 2 people.
What To Pack For A Phuket Krabi Tour
1. A mini medical kit
2. Mosquito repellant
3. Bathing suit or swim suit
4. A high-spectrum sunscreen lotion or sunblock
5. Portable charger
Phuket Travel Tips For Future Travelers
These are some tips which you should keep in mind to spend your honeymoon like a pro on your Phuket Krabi itinerary for 6 days.
1. Make sure to check the baggage provision during flights. You need to pre-book baggage or else you will face issue at the airport.
2. Spend some quality time with your partner at the poolside.
3. Don't forget to carry goggles, swimsuits, chappals.
Thailand Travel – Land of White Elephants Invites You For A Ravishing Thai Vacay
Our Experience With Traveltriangle
We had an excellent experience with Traveltriangle. Everything was perfectly managed and arranged for us. Agents were cooperative and gave us exact information that we needed right from the time we booked our trip. They offered us the best itinerary for Phuket and Krabi and we could visit all the famous attractions without any haste. Not only this, the 6 days and 5 nights package which was offered to us was within our budget. We look forward to booking more trips with Traveltriangle.
An Insider's Guide To Unlock The Divine Secrets Of Wat Arun Temple In Thailand
Excited hearing their experience? We did it too. You can also plan your Phuket Krabi itinerary for 6 days and explore like a local. نادي روما Book your trip to Thailand with Traveltriangle and experience the same with your loved ones. We promise you will have an amazing time seeing the magic of this wonderful place.
Frequently Asked Questions About Phuket Krabi Itinerary For 6 Days
Is Krabi worth visiting for a honeymoon?
Krabi is a perfect place for honeymooners looking for a relaxing, calming and quiet beach escape. Moreover, it is scenic and beautiful and a Phuket Krabi itinerary for 6 days lets you experience plenty of things to do in this area.
Why is Krabi famous?
Krabi is popular for its outstanding natural beauty. The place is famed for its breathtaking karst landscape, stunning Maya Bay, small but pretty islands all surrounded by shimmering waters.
What is there to do in Krabi at night?
Krabi has its distinctive nightlife. One can spend the night at Ao Nang Centre Point, go for a romantic sunset dinner cruise or take a sunset kayaking trip through the mangroves. For the shopaholics, visit the walking street market.
What are the best things to buy in Phuket?
What currency can one use in Phuket?
The currency used in Phuket is the Thai Baht. You can find ATMs in Phuket all over the island.
{
"@context": "https://schema.org",
"@type": "FAQPage",
"mainEntity": [
{
"@type": "Question",
"name": "Is Krabi worth visiting for a honeymoon?",
"acceptedAnswer": {
"@type": "Answer",
"text": "Krabi is a perfect place for honeymooners looking for a relaxing, calming and quiet beach escape. Moreover, it is scenic and beautiful and a Phuket Krabi itinerary for 6 days lets you experience plenty of things to do in this area. "
}
}
, {
"@type": "Question",
"name": "Why is Krabi famous?",
"acceptedAnswer": {
"@type": "Answer",
"text": "Krabi is popular for its outstanding natural beauty. The place is famed for its breathtaking karst landscape, stunning Maya Bay, small but pretty islands all surrounded by shimmering waters. "
}
}
, {
"@type": "Question",
"name": "What is there to do in Krabi at night?",
"acceptedAnswer": {
"@type": "Answer",
"text": "Krabi has its distinctive nightlife. One can spend the night at Ao Nang Centre Point, go for a romantic sunset dinner cruise or take a sunset kayaking trip through the mangroves. For the shopaholics, visit the walking street market. "
}
}
, {
"@type": "Question",
"name": "What are the best things to buy in Phuket?",
"acceptedAnswer": {
"@type": "Answer",
"text": ""
}
}
, {
"@type": "Question",
"name": "What currency can one use in Phuket?",
"acceptedAnswer": {
"@type": "Answer",
"text": "The currency used in Phuket is the Thai Baht. You can find ATMs in Phuket all over the island. "
}
}
]
}
People Also Read:
Honeymoon In Maldives Honeymoon In Mauritius Honeymoon In Sri Lanka