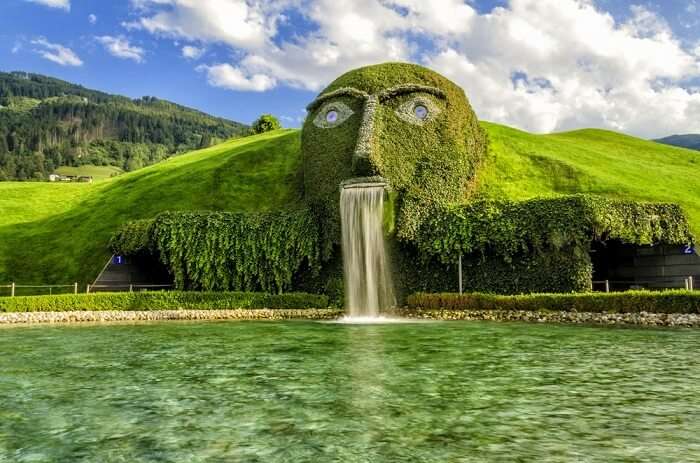 Innsbruck is a mix of modern and historical. Magnificent structures like Hofkirche and Ambras Castle give you a glimpse of the past while modern marvels like Bergisel Ski Jump lure you to explore the city's splendid outdoors.
There are many places to visit in Innsbruck and our list attempts to point you to some of the best. Check out what to see in Innsbruck the next time you holiday here. From the iconic Old Town to Bergisel Ski Jump and natural sites like Natterer See, Innsbruck has attractions for every kind of traveler.
15 Places To Visit In Innsbruck
Whether you're a history buff, a geek, or an adventure junkie, Innsbruck will make sure you come back rejuvenated.
The Hofkirche
Swarovski Crystal Worlds
Old Town Innsbruck
Ambras Castle
Hofgarten
Tyrol Panorama Museum
Glockengiesserei Grassmayr
Natterer See
Audioversum
Bergisel Ski Jump
The Hofberg
Nordkettenbahnen
Tyrolean State Museums
Maria-Theresien State
Seefeld
1. The Hofkirche or Court Church

Start your Innsbruck sightseeing with a visit to The Hofkirche or Court Church, a 16th century church built by Emperor Ferdinand as a tribute to his grandfather, Emperor Maximilian I. Bronze statues surround the black marble tomb, which incidentally, is empty. 24 reliefs depict events from Maximilian's life including his marriage to Mary of Burgundy and his defeat of the Venetians.
Ideal for: History, leisure
Suggested Read: Austrian Food: 20 Irresistible Dishes You'd Want To Relish In 2022
2. Swarovski Crystal Worlds

Austria is home to the globally famous brand, Swarovski, which has its headquarters in Wattens. It's one of the most popular Innsbruck points of interest and you can't leave without visiting it. Swarovski Crystal Worlds will dazzle you with its display of crystal art and installations created by artists around the world. The outdoor giant head waterfall and Crystal Cloud steal the show, for their wow factor.
Ideal for: Leisure
3. Old Town Innsbruck

Few places are as charming as old towns that are full of history and character. Old Town Innsbruck is one such and if you love taking a walk down the pages of the past, this is one of the best places to visit in Innsbruck. Gothic and Baroque architecture are everywhere you look while attractions like the Imperial Palace and the Folks Art Museum give you a look at Innsbruck's history. Don't miss the iconic landmark the Golden Roof. It's decorated with over 2,600 fire-gilded copper tiles and was built to mark the marriage of Emperor Maximilian I to Bianca Maria Sforza.
Ideal for: History
Book Europe Travel Packages with TravelTriangle
4. Ambras Castle

Up on the hills above the city is a Renaissance castle that was once the home of Archduke Ferdinand II. The popular Innsbruck tourist attraction has a Lower Castle that exhibits the erstwhile ruler's collection of armor and weaponry. Meanwhile, the Upper Castle has a vast gallery of portraits of Tyrolean rulers painted by famous artists like Titian and Diego Velázquez.
Ideal for: History
Suggested Read: 34 Best Places To Visit In Austria In 2022 That Look Straight Out Of A Picture Book
5. Hofgarten

When you want to take a break from the historical stuff, make your way to Hofgarten, a beautiful park that's one of the top 10 places to visit in Innsbruck. Spanning 10 acres of trees, ponds and a children's play area, the park is a terrific place to slow down and disconnect from the buzz of the city. There's a café in the premises if you want to grab a bite to eat.
Ideal for: Leisure
6. Tyrol Panorama Museum

Next on our list of places to visit in Innsbruck is the Tyrol Panorama Museum. It's home to an artistic wonder, a gigantic 360-degree painting covering over 1,000 meters that depicts the victory of Tyrol over Bavarian and Saxon troops in 1809. You don't have to be a fan of art or history to appreciate this Innsbruck Austria point of interest; seeing it up close will leave you with a sense of wonder and you'll be glad you made it part of your itinerary.
Ideal for: History
7. Glockengiesserei Grassmayr

No Innsbruck sightseeing tour, especially one packed with historical sites, is complete without a visit to Glockengiesserei Grassmayr. It's a bell foundry and a museum that showcases the craftsmanship of the Grassmayr company that's been operating for over 400 years. It's one of the most interesting places to visit in Innsbruck especially if you love seeing how things work and tracing their history. The combination of bell foundry, museum and sound studio makes for an incredibly interactive experience.
Ideal for: History, leisure
Suggested Read: Austria Nightlife: 8 Cities That Put On A Show For Party Animals
8. Natterer See

The scenic lake Natterer See is a lovely place to visit in Innsbruck and has activities like swimming and water sports to keep you entertained. The fun extends to land as well where you can play table tennis, beach volleyball and badminton. There's also a shooting range for air rifles and crossbows if you want to test your aim. You can enrich your Innsbruck sightseeing tour by visiting the picturesque village of Natters. It has a lovely family-friendly vibe and offers opportunities for hiking (in summer) and skiing (in winter).
Ideal for: Leisure
9. Audioversum – ScienceCenter

This is something kids and grown-ups will enjoy because it's science with an interactive twist. It's one of the most fun Innsbruck places to visit because there's just so much to see. Find out the different kinds of fragrances and learn how the human brain works. Navigate through a 3D ear and discover how the hearing impaired experience the world. The eye-opening experiences will give you a whole new appreciation for hearing!
Ideal for: Leisure
10. Bergisel Ski Jump

You don't need to know how to ski to visit Bergisel Ski Jump, our final pick of places to see in Innsbruck. Designed by Zaha Hadid, the tower stands 47 meters and provides some of the most spectacular views of Tirol's mountain scenery. It also houses a café and a restaurant that provide vistas of the peaks of Hohe Munde and Nordkette to name a few.
Ideal for: Leisure
11. The Hofberg

Originally built in the 15th and 16th centuries, Hofberg is Innsbruck's old castle. The Rococo and baroque style architecture will win you over with its winsome appearance. It used to be an imperial residence until it was restructured in the 18th century by Empress Maria Theressa. The best way to explore the castle is to take a guided tour. Its luxurious apartment with giant painted ceilings, the giant hall, and the grand hall with frames of the noble family and frescos will make you green-eyed jealous of the high-end luxurious life kings used t have in that time. It is one of the best places to go in Innsbruck.
Ideal for: History
12. Nordkettenbahnen

Be prepared to get your socks knocked off as the views seen from Nordkettenbahnen are truly bewitching. Hop into the cable car and ride all the way up to this point where you get mesmerizing 360-degree views of Innsbruck. You will even find viewing platforms and restaurants on the top where you can enjoy having a dining experience with a view. If you are feeling adventurous much, you can even explore the hiking trails that take off across the mountains. It is indeed one of the best places to go in Innsbruck Austria.
Ideal for: Nature views
13. Tyrolean State Museums

If you are a history buff and love visiting museums, then you should definitely pay a visit to Tyrolean State Museums. There is a number of museums under its umbrella. Know about the folk art and culture at Tyrolean Folk Art Museum and see the extensive art collection at Hofkirche. Tyrolean State museum is where you will get to know the history of Tyrol housing numerous works from the Gothic period.
Ideal for: History
14. Maria-Theresien State

Located right in the middle of Innsbruck, this spot is one of the most Instagram-able sites in the Austrian city. You will find the area lined up with old houses from 16 and 17th centuries backed with a beautiful vista of mountains. There is a St. Anne's Column located right in the middle of the street in front of Town Hall. the church and Triumphal Gateway are also some of the noteworthy attractions. You will also find one or two museums that you may visit.
Ideal for: Sightseeing
15. Seefeld

If you are visiting Innsbruck during the winter season, then you must definitely plan a day-trip to Seefeld, a small town known for the best ski-slopes in Innsbruck. It is Austria's leading destination for skiing which offers terrific views of nature in all season. There a number of resorts in the area. You can just take a short bus ride, check into one of the places, and enjoy the experience of skiing. While you are at it, visit Wildsee and St. Oswald in the town.
Ideal for: Skiing, Nature
Further Read: World's First Beer Pool In Austria – Because There's Nothing Like Too Much Beer
Austria is one of the finest places to visit in Europe and Innsbruck is its crown jewel and given the amazing number of places you can see there, we are sure you would agree with us. So if you're planning a trip to Austria, make sure you include these attractions in your Austria itinerary.
---
Looking To Book An International Holiday?
Book memorable holidays on TravelTriangle with 650+ verified travel agents for 65+ domestic and international destinations.
---