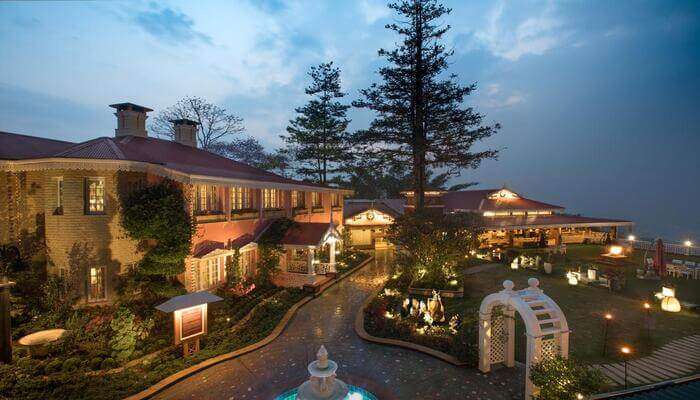 Cover Image Credit: Booking.com
People always prefer to go for a place that is all embraced with natural beauty and aura for the serene environment of the place ultimately provides tranquillity to us. Among such sites which are all devoted to giving us beautiful snaps and serenity, Darjeeling is the place where people prefer to travel for its jaw-dropping sceneries and Himalayan beauty. Darjeeling is known as the queen of Himalayas as it includes the Himalayan foothills with the sky-kissing mountains. The old charm of the history of the place and the amiable people make a visit to Darjeeling worthwhile. When you are visiting, you will, of course, need awesome places to stay at, right?
There are many amazing resorts near Darjeeling that provide solace and calm along with comfort to its guests.
6 Best Resorts Near Darjeeling
To witness the local beauties of the city, there are many resorts around Darjeeling that serve the purpose. These resorts work to cater to the gorgeous panoramic view of the Himalayas well blended with its Tibetan culture and cuisines to make your stay memorable!
1. Rose Allita Hotels And Resorts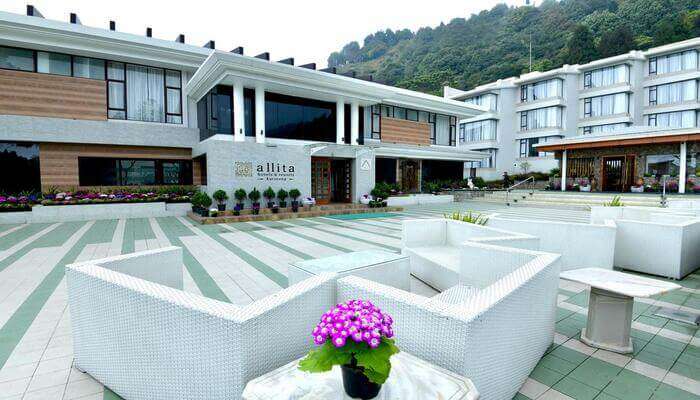 Image Source
The Rose Allita Hotels and Resorts surely are counted as one of the best resorts near Darjeeling. The place is located on the foothills of the Himalayan Range Mountains in the land of orchid flowers and is well designed to suit the mood of its customers. The resort has a spa, free parking lot, fitness center and basic amenities. Each room of the resort is well decorated and has a flat TV screen and a private bathroom. The premise is Wi-Fi enabled and has a 24-hour front desk service and the resort also hosts the fine-dine facility to give pleasant meals to the guests.
Location: Kurseong, Ashram Basti, Gidda Pahar, West Bengal 734203
Price per night: INR 6300 onwards
Distance from Darjeeling: 31.4 KM
Must Read: 26 Scenic Tourist Places In Darjeeling In 2022
2. Aranya Jungle Resorts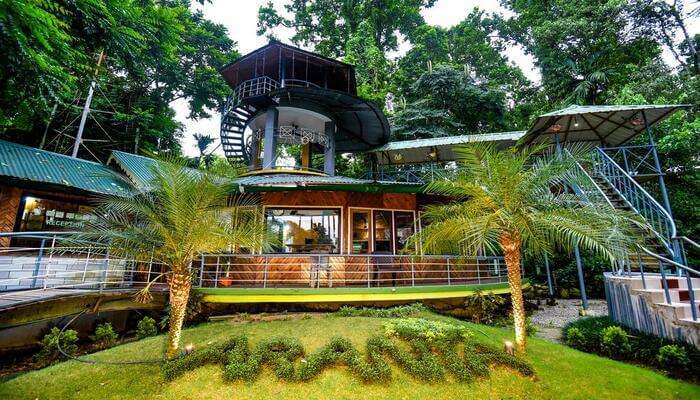 Image Source
The Aranya Jungle Resort provides its guests with a restaurant, free private parking, and a shared lounge. The resort amenities include the 24-hour front desk with the room service facility and free Wifi. The Aranya resort is one of the resorts around Darjeeling to keep you in contact with the splendid beauty of the Darjeeling and also the lush green view of Lataguri. The resort is equipped with spacious rooms with private bathrooms and TV sets. The resort has a tour desk, luggage storage, playground, and elegant dining rooms.
Location: Dooars, Lataguri, 735219 Lataguri, India
Price per night: INR 2300 onwards
Distance from Darjeeling: 110.3 km
Suggested Read: 11 Impeccable Darjeeling Hotels That Are All Surrounded By The Majestic Hills!
3. Mayfair Himalayan Spa Resort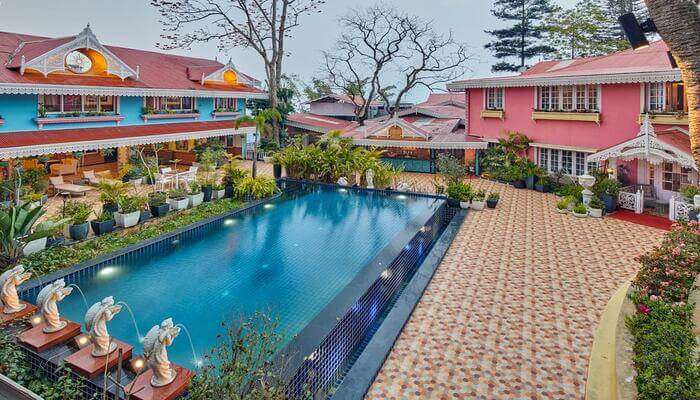 The Mayfair resort of Kalimpong which is among the best resorts near Darjeeling has many features which include a restaurant, fitness center, bar, and a garden to give you a better view of the place. The resort is well stacked with the 24-hour front desk and room service along with an outdoor pool and free wifi. The guest rooms include luxurious beds with flat TV screens, DVD players and private bathrooms with hair dryers. An exclusive continental breakfast is also available in the restaurant of this resort where you can taste delectable food.
Location: Upper Cart Rd, Kalimpong Khasmahal, Kalimpong, West Bengal 734031
Price per night: INR 4400 onwards
Distance from Darjeeling: 49.4 KM
Suggested Read: 10 Best Adventure Sports In Darjeeling For The Thrill Seekers In 2022
4. Martam Village Resort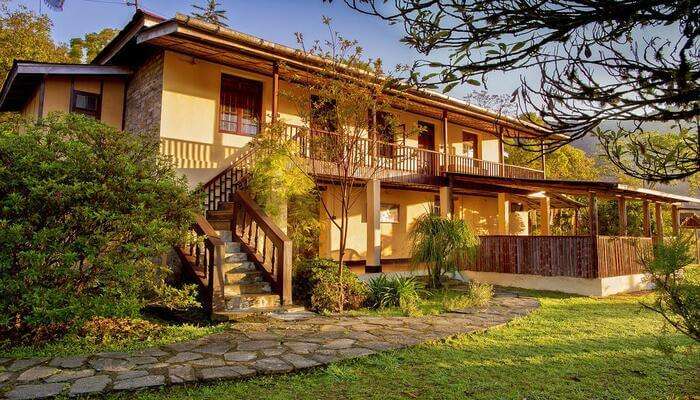 Image Source
The Martam Village Resort is located in Gangtok and is one of the most beautiful resorts near Darjeeling. There are many facilities and amenities provided at the resort and some of them include free parking, breakfast, internet, room service, and airport shuttle service. The rooms at this resort are luxurious and are equipped with a kettle, private washrooms, and a wardrobe. There is also a playground where you can chill or even cycle!
Location: Gangkha, martam Sikkim, Martam, 737134
Price per night: INR 3200 onwards
Distance from Darjeeling: 77 KM
Further Read: 13 Honeymoon Places In Gangtok And Darjeeling For Your Romantic Trip In 2022
5. Resort Green Heaven

Image Source
The Resort Green Heaven is among the luxury resorts near Darjeeling, which is located lataguri West Bengal. The resort also has family rooms making this hotel in the category of resorts near Darjeeling for family.  The hotel room includes a closet, a flat TV screen, and a private bathroom. The resort has efficient room service and also has a restaurant for the guests. 
Location: NH 31, Lataguri, West Bengal 735219
Price per night: INR 3,700 onwards
Distance from Darjeeling: 110.2 KM 
6. The Elgin Norkhill Resort And Spa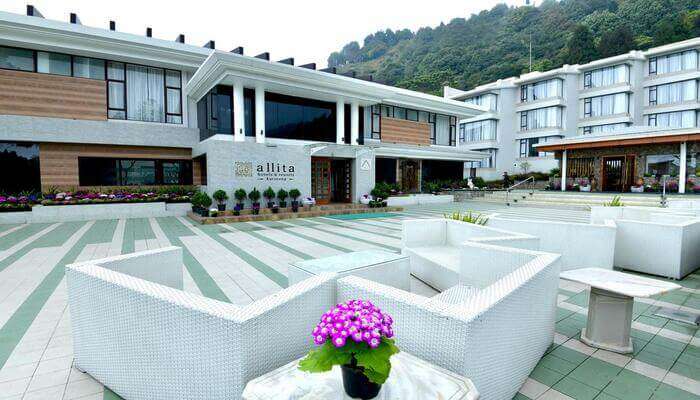 Image Source
The resort has a 24-hour front desk service with room service. The facilities of the resort include: restaurant, bar, luxurious rooms, with TV sets etc. The rooms are full-fledged with DVD and CD sets. The Shangri-la dining rooms are exclusive of this resort which serves the Indian, Chinese and continental dishes to delight your taste buds. The bicycle rental and library services are also available at this resort. 
Location: Paljor Stadium Road, Gangtok Sikkim
Price per night: INR 7,500 onwards
Distance from Darjeeling: 100 KM
These awesome resorts near Darjeeling provide everything a guest needs on a trip – comfort, luxurious amenities, basic facilities and top-notch service! They serve for the happiness and well-being of all those visiting Darjeeling and the places around it. So, plan your trip to Darjeeling now and experience tranquility and serenity!
Frequently Asked Questions About Resorts Near Darjeeling
What is the check-in and check-out timing for Mayfair Himalayan Spa Resort?
The check-in time is 2 pm and check-out time is 12 pm.
Are there any places to explore near Darjeeling?
Yes, some of the places near Darjeeling that one can explore are:
1. Kurseong
2. Kalimpong
3. Gangtok
4. Mirik
5. Lataguri
6. Dooars
7. Aritar
Is there a swimming pool in Martam Village Resort?
No, there isn't a swimming pool in the Martam Village Resort.
Are unmarried couples allowed in Aranya Jungle Resort?
No, unmarried couples are not allowed as per hotel policy.
People Also Read:
Resorts Near Munnar Resorts Near Kutch Resorts Near Haldwani