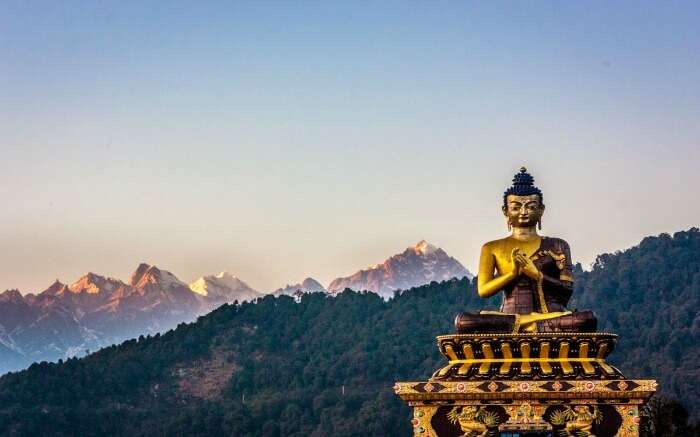 Gangtok and Darjeeling are two destinations in the Northeast India, where everything here from locals to the cloud-kissed hills is pleasing! They have tea gardens, toy trains, gondola rides, and a lot more waiting for you on your honeymoon in Gangtok and Darjeeling. To help you plan well in advance, here's a list of best honeymoon places in Gangtok and Darjeeling. And while you commute between the two places, there's yet another romantic hideout in Kalimpong that's listed too.
8 Honeymoon Places In Gangtok And Darjeeling
We have shortlisted 8 incredibly romantic places in Gangtok and Darjeeling where you romance with your better half. You will have the time of your life:
Tea Gardens – Greenery you can't resist
Tiger Hill – Sunset point
Mirik – A picturesque town
Batasia Loop – A unique railway track
Ghoom Monastery – A Buddhist heritage
Khangchendzonga National Park – For nature lovers
Lake Tsomgo And Nathu La – Beautiful attractions
Saramsa Garden – Take a refreshing stroll
1. Tea Gardens – Greenery You Can't Resist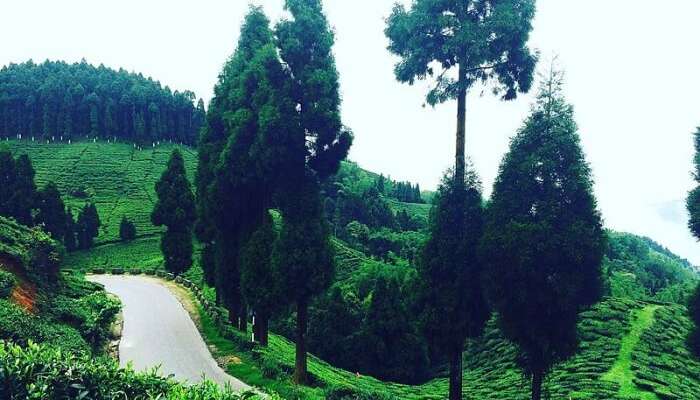 No Darjeeling honeymoon trip is complete without romantic strolls in the verdant tea gardens; tea-lover or not! The gentle breeze, deep blue sky, and the well-arrayed tea gardens will bewitch you anyway. Watch the local ladies pluck leaves softly and flip them to the baskets on their back. Or dig deeper, and learn about the history and processing of Darjeeling tea, something thats made the world fall for its flavor. The list of Darjeeling honeymoon places feels empty without exploring the tea gardens of one of the best hill stations in India!
Must-visit: Happy Valley Tea Estate, and Glenburn Tea Estate
Must Read:Darjeeling In December 2019: Here's Why Wanderers Love Hills More In The Winters
Sikkim Gangtok Darjeeling Honeymoon Packages on TravelTriangle
Visit Sikkim and explore Yumthang valley, Tsomgo Lake, Gangtok, Nathula Pass, and Pelling. Spend exclusive time with your other half in peace and tranquility while exploring Buddhist monasteries, snow-capped mountains, and wildlife sanctuaries.
Suggested Read: Things To Do On A Honeymoon In Gangtok And Darjeeling
3. Mirik – A Picturesque Town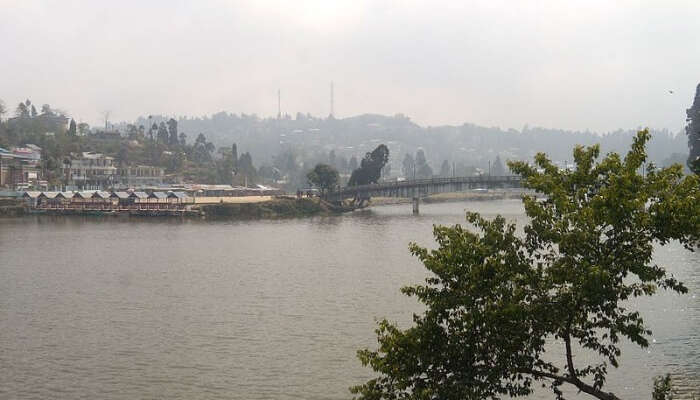 A beautiful town in Darjeeling, Mirik is bestowed with natures bounty. The Sumendu Lake is a major attraction here, owing to its scenic splendor. With pine trees embracing it on one side, and Savitri Pushpaudyan Garden on one, the lake makes for an enchanting escape for couples on their Darjeeling honeymoon trip. Merge yourselves with natures essence on an evening boat cruise on this lake.
Suggested Read:17 Things To Do In Darjeeling In 2019 That You Won't Find In Any Travel Guide
4. Batasia Loop – A Unique Railway Track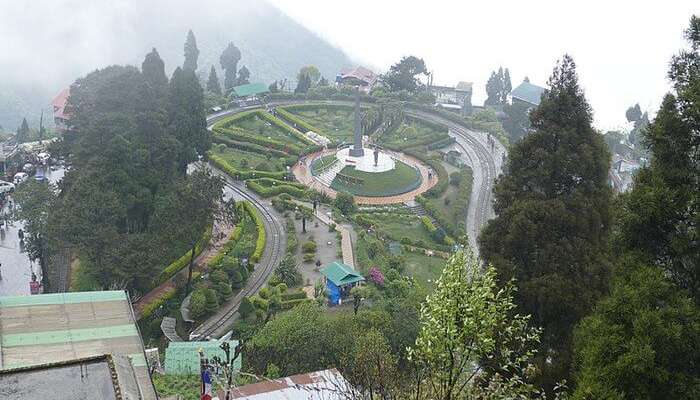 Batasia Loop is among the top listed tourist attractions of Darjeeling. The toy train coos through the spiral railway track, circling the manicured garden. Many times the clouds form a misty panorama. The gardens is adorned with perennial and seasonal flowers. You can stroll around, or sit on the benches to admire the views.
Suggested Read:12 Most Spellbinding Places To Visit Near Gangtok In 2019
5. Ghoom Monastery – A Buddhist Heritage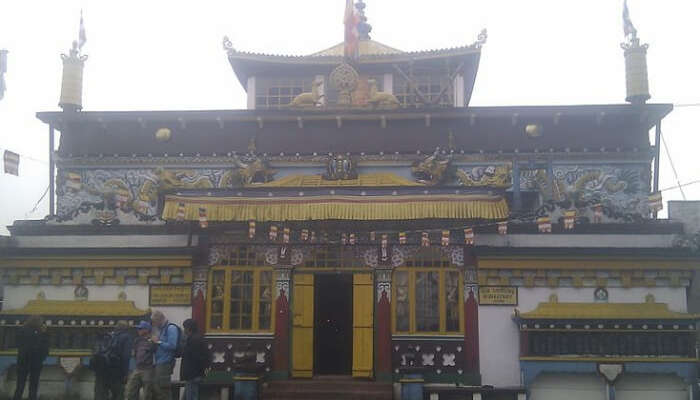 One of the most famous monasteries in India, Ghoom Monastery steals the show with its 15-feet tall idol of Maitreya Buddha. Built back in 1875, the monastery is embellished with colorful motifs, sculptures, and carvings. This is a great place to spend with your love on your Darjeeling honeymoon trip as the Tibetan art is a total heart-stealer. Adding the cherry on the top is the view of snow-capped peaks. It is one of the best honeymoon places in Darjeeling.
Suggested Read:Pankaj's Family Trip To Sikkim & Darjeeling Was Definitely A Memorable Experience
6. Khangchendzonga National Park – For Nature Lovers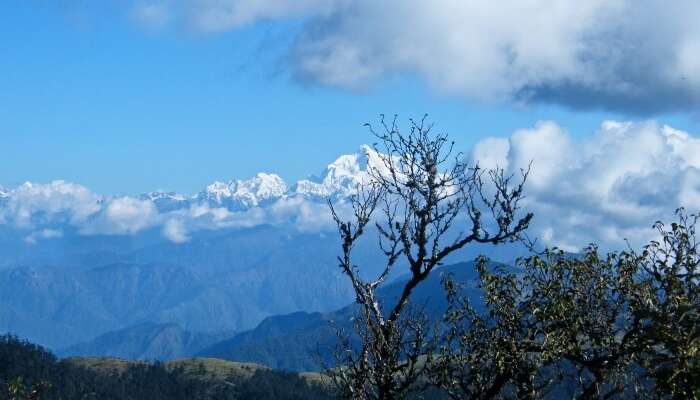 A UNESCO World Heritage Site, and one of the best national parks in India, Khangchendzonga National Park has caves, lakes, and rivers that captivates. Spread across a massive area of 849 km square, this national park is home to numerous animals like Himalayan tahr, snow leopard, and red panda.
If youre visiting Gangtok for honeymoon, going back without a visit to Khangchendzonga National Park would be an utter sin!
Entry timings: The park is open all through the day
Entry fee: INR 200 per person (Indians) | INR 400 per person (Foeigners)
Suggested Read:Best Hotels In Gangtok For Honeymoon: Top 10 Picks For A Classy Stay
7. Lake Tsomgo And Nathu La – Beautiful Attractions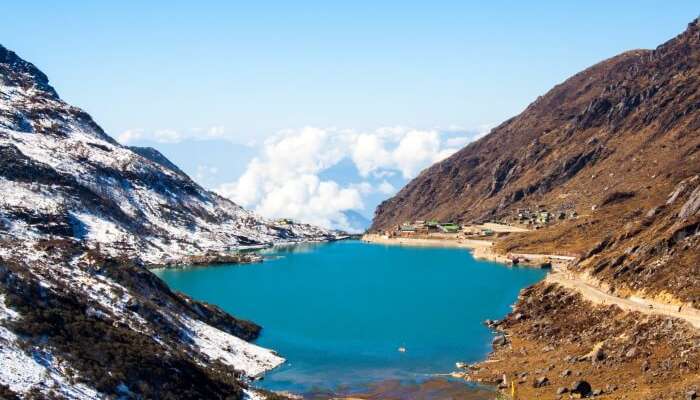 Among Sikkims top attractions, Lake Tsomgo and Nathu La are highly recommended for the love birds coming over to Gangtok for honeymoon. Nathu La is a mountain pass that connects Sikkim to Tibet, and Lake Tsomgo is an emerald glacial lake at an elevation of 3,753 meters.
While exploring, youll stumble upon jaw-dropping views, and many times youre able to touch the clouds as well.
8. Saramsa Garden – Take A Refreshing Stroll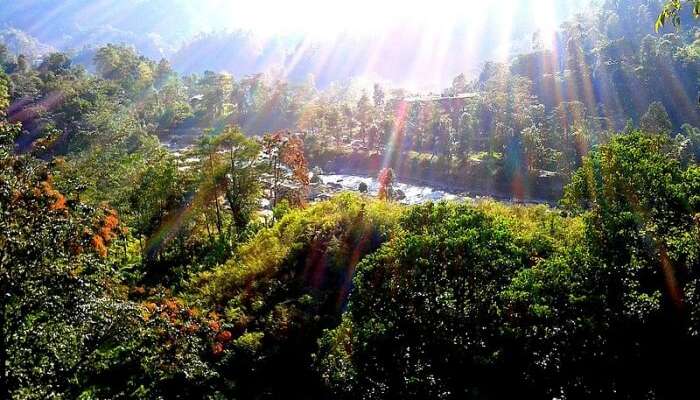 A lush green manicured garden in Kalimpong, Saramsa Garden is that spot where an evening stroll gets more romantic. Orchard and orchids of different tinges, and fountains add charm to its brimming brilliance. For the foodie couples, theres a small cafeteria in the garden so they can enjoy snacks amidst expanse of fresh plantation.
This makes for an ideal pit-stop for couples heading to Gangtok for honeymoon from Darjeeling.
Entry timings: INR 10 per person
Further Read: 31 Reasons Why You Should Never Visit Northeast India
Hope this list of honeymoon places in Gangtok and Darjeeling comes in handy for you on your trip to Gangtok and Darjeeling. Don't forget to share this post with your better half. We assure you that you will have the time of your life in the North East and you will not be disappointed by the bevy of attractions that place has.
Frequently Asked Questions About Honeymoon Places In Gangtok and Darjeeling
Q. Where does it snow in October in India?
A. There are no places in India where you will find snow or snowfall in the month of October. You will have to wait till the end of November to experience the first snowfall of the season that too when you achieve a great height of 14,000 ft. the higher you are, the more are your chances to experience snowfall. Due to climate change and rise in temperature, it has become impossible to find snow in October.
Q. Is there snowfall in Shimla in October?
A. No, there is no snowfall in Shimla in October. The sky is clear and there is a nip in the air opening arms to welcome winters. So, experiencing snowfall in Shimla in October is highly unlikely. If you are lucky and there is a miracle, you may see snowfall in Narkanda near Shimla in October. Wait till after the new year to experience snowfall in Shimla.
Q. What clothes to wear in Nainital in October?
A. There is no snowfall in Nainital but it gets cold in Nainital in October, especially during the nights. So, you should be prepared to face all kinds of weather situations. Pack a woolen sweater, socks, cap, and a shawl when planning a trip to Nainital in October. These things will keep you warm during the chilly nights in Nainital. Even during the day, you might need a fleece jacket. Wear full sleeves clothes.
People Also Read
Honeymoon In Nepal Honeymoon In India Honeymoon In Bhutan
Comments
comments