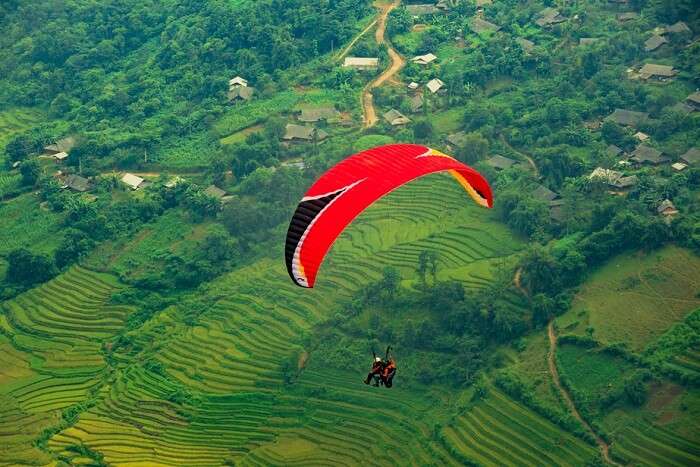 Darjeeling. The word itself speaks for the beauty it holds. It is one of the most famous and charming hill stations in North East India! It is situated in the northernmost part of West Bengal and it is also known as the Queen of Hills. During the sunrise, this city offers a magnificent view of the mighty snow-covered Kanchenjunga which will leave you spellbound. People come here to visit the beautiful places and the scenery but if you want to have some fun, then you can try adventure sports in Darjeeling. They are fun, awesome and great and they will add on to the overall experience you will have there. Since, the options are in a good number, here we will be discussing about the best activities you can indulge in!
Best Adventure Sports In Darjeeling
It is always recommended for you to try the white water river rafting in Darjeeling. This is because it is quite adventurous and it gives you thrills every time you try it. You can also do paragliding in Darjeeling and there are quite a few famous spots here. Let us see the different adventure sports you can try out in Darjeeling so that next time you plan a trip there; it would be easy for you to figure out which one to go for. You can even trek, go kayaking etc.
1. Paragliding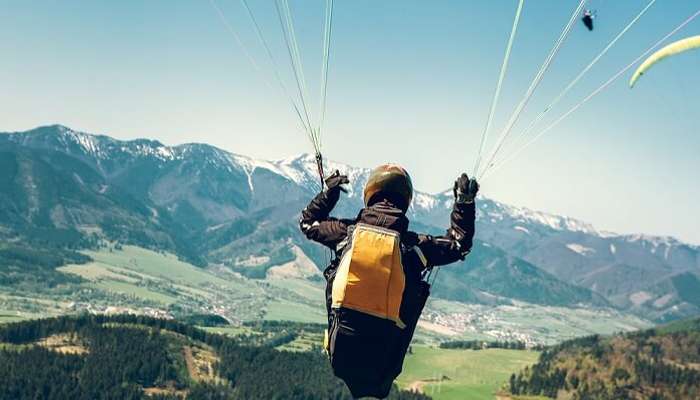 How does it feel to see the city from the top? Well, when a guide joins you while paragliding, it is known as the tandem paragliding. You and the guide will be completely secured in the separate safety harness. The guide will be in complete control of the flight, so you have to just enjoy the ride. All you have to do is to run a few steps when the guide launches and says "Go" and then you jump into the sky from the edge of the area of the cliff you climbed up to do paragliding. The best time to do this adventurous activity is from October to April.
If you want to experience the fullest thrill without having any kind of hindrance is in the months of April, June or October. It starts early in the morning at 9 AM and goes on till 4 PM in the evening. You cannot do paragliding in winter because the weather conditions are not favorable. Then, you are in paradise! St Paul's to Lebong Route is one route to do the Paragliding. One of those is the Jalpaha. This is beside the famous St. Paul's Darjeeling School. You can witness the aerial view of the architectural buildings built in Darjeeling. You will be blown away when you see the naturescapes just before hitting the ground.
Tukvar Tea Garden to Jaumney route is another one. This one is gripping and begins from the hilltop of Tukvar Tea Garden. You can see the dense, mesmerizing tea gardens with another white river flowing along. You will also be able to view the Himalayan wildlife and the forests surrounding the town. You will love this gliding route throughout till the Journey grounds.
Cost of Paragliding: INR 3000 – 4000
Must Read: 13 Honeymoon Places In Gangtok And Darjeeling For Your Romantic Trip In 2020
2. Whitewater River Rafting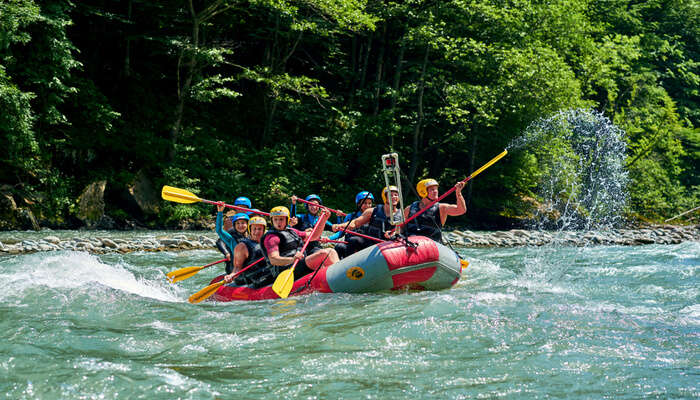 White water river rafting in Darjeeling is extremely popular and the best adventure activity. The river Teesta and the Rangeet are two rivers that flow down the Himalayan mountains and they create that magical white water which has different rapids and stretches. They are excellent for rafting when you think about both the beginner and the seasoned rafting.
The most popular place for rafting to take place is Melli. The rafting does take place in Triveni too and the confluence is famous as a campsite for the rafting team. There are a lot of tourists who combine both camping and rafting when in Darjeeling. This becomes a proper adventure trip in the lap of nature.
The valley and the landscape which are there around the rivers do create a great scene for us to view. You can see that the Teesta flows down south and then it meets the plains at Sevoke just where the Coronation Bridge connects to the North Bengal Dooars. Teesta river operates around 50 rafts during the season. This river rafting has two starting places. One is Melli and the other one is Triveni.
Rivers like Teesta and Rangeet are famous for white water river rafting. They have this astonishing foaming white water and you can see it is the perfect choice for river rafting. The best time to do white water river rafting in Darjeeling is from December to June. You need to highly avoid monsoon and the rainy days for river rafting because this is the time when the rapids are fast and swift. Rafting in these months is not considered safe.
Cost of river rafting: Check with the tourism office
Suggested Read: Darjeeling In Winter: Here Are 10 Reasons To Visit It The Snowy Season
3. Sandakphu Phalut Trekking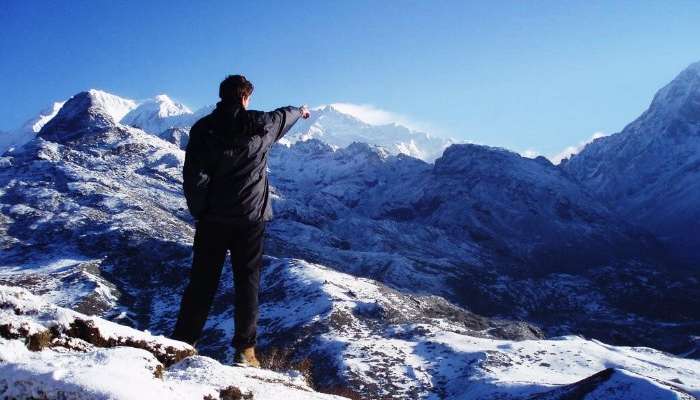 Trekking is the simplest, but the most adventurous activity among all the adventure sports. Sandakphu Phalut Trekking starts at a place called Maneybhanjang or Chitrey. Sandakphu and Phalut are the peaks of trekking spot. You have to go for this trek during spring because this is the time the majority of the trees have colorful flowers. You will find the forest covered with Rhododendrons and Magnolias. The best time to do this trek is during April to May when the temperature is around 6 degrees to 12 degrees. The duration of this trek completely depends on the trekkers capability. Do make sure that while trekking you have essential things like water, glucose and other important stuff which is needed while trekking. If you are trekking in winter, you can actually expect some great snow here. But if you go there during the springtime, then you will find great flowers like Magnolias and Rhododendrons.
Cost of Sandakphu Phalut Trekking: INR 1200
Suggested Read: Darjeeling In October: An Ultimate Guide For A Rejuvenating Vacation In 2019
4. Kayaking
The best time to do white water river rafting and kayaking is during the same time frame. You have to just avoid doing it during monsoon period. Kayaking is basically a small boat or you can take your canoeing which is just paddled by yourself downstream and just one person does it. If you are someone who doesn't like doing white water river rafting, you can do Kayaking. It is completely peaceful and energizing. There are only a few places in India where you will really like Kayaking but you will really enjoy it here.
But it is going to take time to set up your own kayak and then the kayak need to work properly. The most off beat adventurous activity you can have is Kayaking and you will love it when you are doing it on your own. This activity is only enjoyed when you do it slowly and you admire the beauty of the nature.
The river in which you do kayaking provides a great downstream flow from Singla. This stretched over 1800 m of the white water. You will get to see natural vegetation and some unique kind of fauna near the river. Always take proper measures for your safety.
Cost of Kayaking: You can contact Darjeeling Tourism for Kayaking
Suggested Read: 7 Glorifying Churches In Darjeeling That Will Undoubtedly Impress You
5. Mountain Biking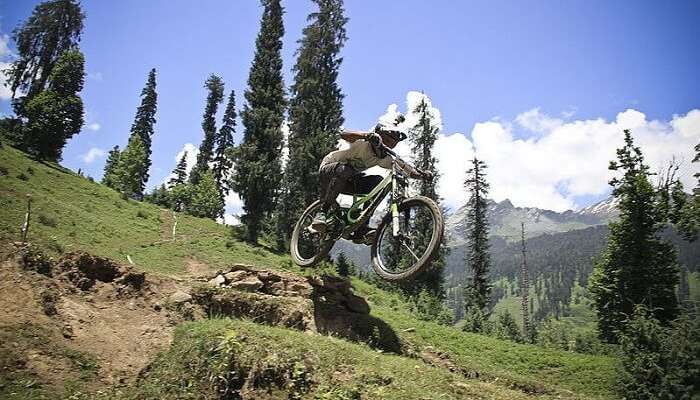 Another offbeat adventure sport in Darjeeling is mountain biking from Ghum to Siliguri. If you are looking for some great biking terrain and some great adventure, then this is for you. So, you are taken to Ghoom by getting picked up from the Bagdogra airport by car. You then have breakfast the next morning to start the ride to the Pashupati market. You can then continue to look around the market and then cycle for 58 km straight and take the night's rest at Mirik. Then, the next morning, you ride through the Mirik to reach Dudhia for another 52 km. Then, you reach Siliguri and your activity ends there.
Cost of Mountain Biking: INR 4500
Suggested Read: Wildlife In Darjeeling: Visit These 7 Nature Parks For A Whimsical Experience
6. Trek To Purbhikola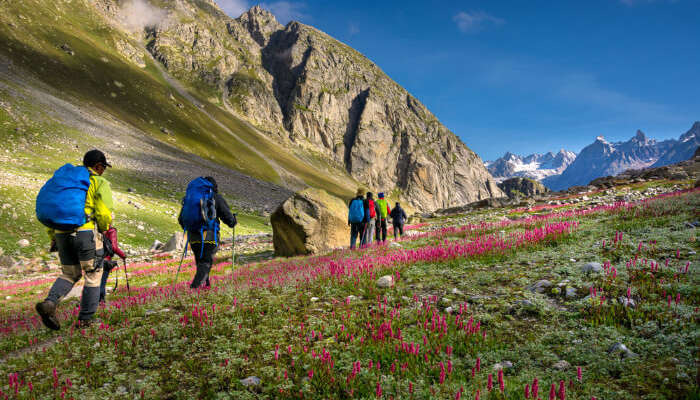 You need to get, set and be ready to go on treks like this is in North East India. Trek to Purbhikola is where you will be able to witness any desirable change in yourself. You will feel happy to be doing this trek because when you are on this trekking expedition, you get to witness the beauty you have never seen before. Apart from that, you get so involved in this expedition that it is difficult for you to part this place with nothing but beautiful memories. So what you do is that you trek from Samthar to Purbhikola in Darjeeling itself through all the greenery and stuff. You make it to the top with the amazing view of tea gardens. This way, be enthralled by the upper Teesta Valley beauty and tranquility it offers.
Cost of trekking: INR 4000
Suggested Read: Darjeeling Temples: A Personal Guide To Soak In More Bliss On Your Holiday
7. Adventure Mania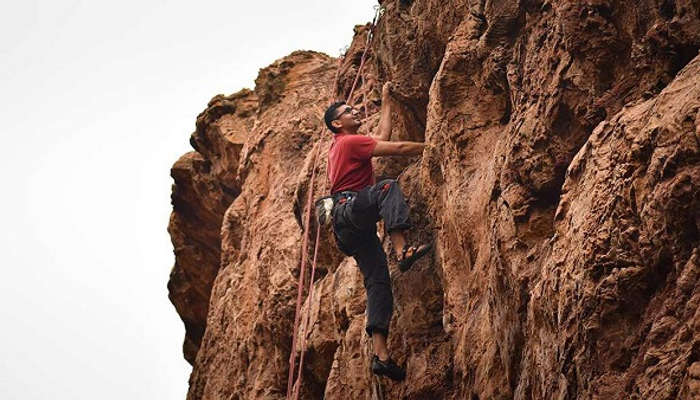 Starting from Rocky Island, Darjeeling, this tour is nothing short of Adventure Mania in Darjeeling. You start from a height of 6,700 ft where Samsing Khasmahal is located in Darjeeling. Then, you indulge in different adventure activities like rock climbing, tyrolean traverse, rappelling and another bunch of activities. The best part is you are going to do all of this while you are under the guidance of a trained instructor. You make yourself participate in all the activities that bring you very close to nature.
Cost of the Activities: INR 1500
Further Read: Trekking In Darjeeling: Top 9 Trekking Routes For An Thrilling Holiday In The Tea Hills
Thus, it is quite a well-known fact that Darjeeling is very famous for the stunning beauty it showcases. This is called as Queen of Hills not just because it has views to die for but for the overall package of the pretty flowers. There is a stunning tea garden and the tiger hill view is also great to see. Most importantly, you will enjoy Darjeeling for its natural scenic beauty and adventure sports. Thus, when you are planning a trip to Darjeeling, you need to plan one where you include adventure sports in Darjeeling.
Frequently Asked Questions About Adventure Sports In Darjeeling
Q. How many days is enough for Darjeeling?
A. 5-7 days are great if you want to have leisure time and 2 days if you want to see complete sightseeing and then proceed to other places like Gangtok, Nathula and Changu Lake.
Q. Which month is the best for Darjeeling?
A. The best time to visit Darjeeling is the summer months. April to June is the best and ideal time to come to visit this beautiful place. Then, you have the winter months which is from October to December.
Q. What is special in Darjeeling?
A. The special thing in Darjeeling is the Darjeeling Tea of course. You have hand-knitted items at New Mahakal Market, carpets from Tibetan Self Help Center, cheap electronics at Chowk Bazaar, Tea at the small and cute cafes.
Q. Is Darjeeling Safe to Travel?
A. Darjeeling is very safe to travel in all the seasons. But just like any other place, do not wander around late at night or go around in secluded places.
Q. Is Darjeeling worth visiting?
A. If you like to visit beautiful, scenic places then you will find Darjeeling definitely worth visiting.
Q. Which is the most beautiful place in Darjeeling?
A. You have the Darjeeling Himalayan Railway, Singalila National Park, Tiger Hill, and observatory Hill. These are just some of the places which can give you the epic views of Darjeeling.
Comments
comments