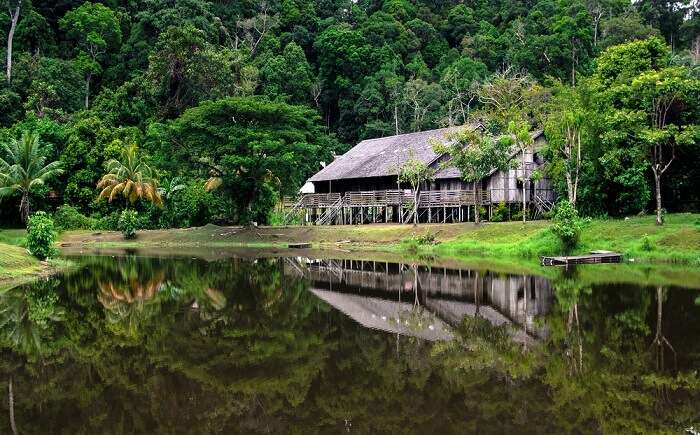 A state in Malaysia, Sarawak is the largest among the 13 islands and is almost as same as west Malaysia in size. Any holiday in Malaysia is incomplete without a trip to Sarawak as this place is all about good vibes. Alluring green and blue water beaches are the main assets of Sarawak wherein one can find some of the world's cleanest and greenest beaches. This island is counted among the non-polluted places in Malaysia and even the local people living here are friendly and welcoming hosts.
10 Places To Visit In Sarawak Cultural Village
Situated about 32 km away from Kuching, take a look at some of the best places to visit in Sarawak Cultural Village which is popularly known as 'living museum' and is located at the foot of Mount Santubong.
1. Bako National Park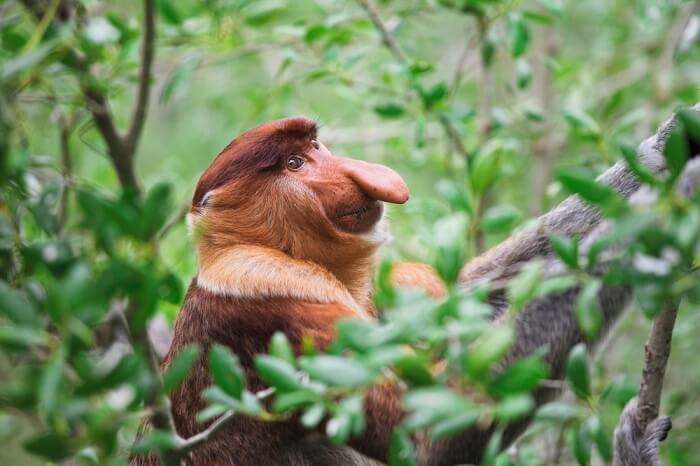 This place is an introduction of the rainforest of Borneo and is like a cocoon of nature around us. This place is covered with natural vegetation that has dense forests, innumerable animals and birds, trekking trails, amazing beaches and great wildlife. The long nosed proboscis monkey is one of the unique species that is treasured by Borneo. One of the most famous parks in Borneo and is just 37 km away from Kuching. Situated at the tip of the Muara Tebas peninsula, this park is the oldest and the smallest park in Sarawak. Even though this place just acquires 2,742 hectares, it has the most unique vegetation of all places in Sarawak.
Suggested Read: Turtle Island National Park: A Guide To Explore The Best Of Wildlife In Malaysia
2. The Brooke Gallery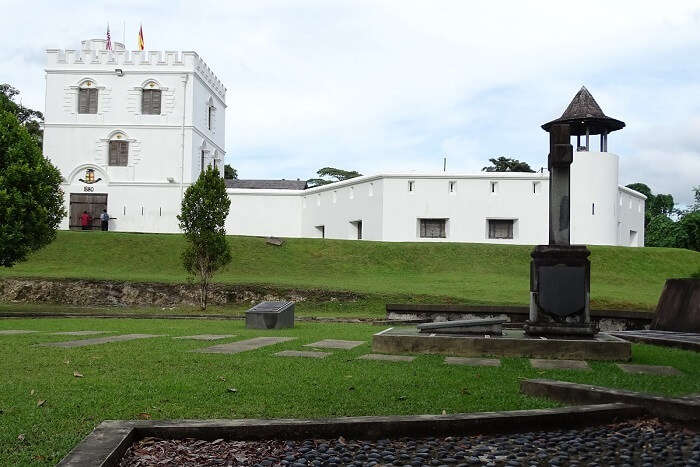 Image Courtesy: Borneo Expat Writer
Depicting the history of the island, the gallery has a great importance lingering around its presence. Here in this gallery they showcase the story of the great kingdom i.e. the Sarawak and the 'white rajahs'. They tell the story of how a bold English writer helped them to build Sarawak in the 1830's. The trust worked closely with the gallery to add more monuments and architecture to this place. This is place has great heritage value and is an important monument of Sarawak cultural village.
3. Mount Santubong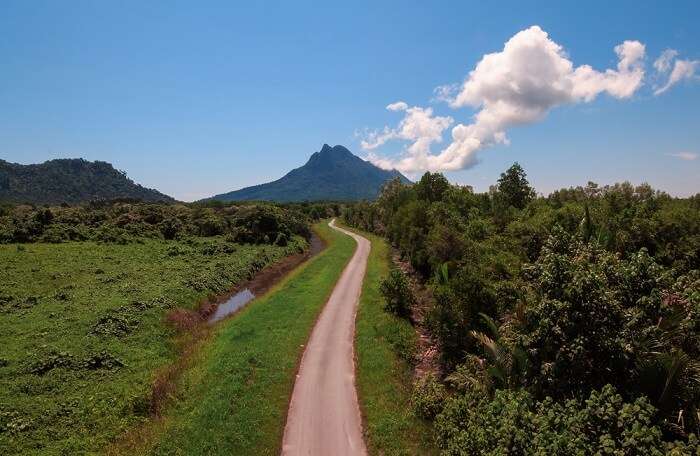 Santubong is a great escape from the hustle-bustle of city and is comforting and magnificent. The main attraction of mount santubong is Sarawak cultural village. There are many activities on this mountain as well like trekking and river cruise. River cruise is a popular one and is quite fun to do as you get a close view of mangroves and wildlife. As you are cruising through the Salak River you can also take a look at fireflies and Proboscis monkeys along the way.
Suggested Read: 8 Places To Visit In Georgetown That Make Penang A Jewel In Malaysia's Crown
4. Kuching Esplanade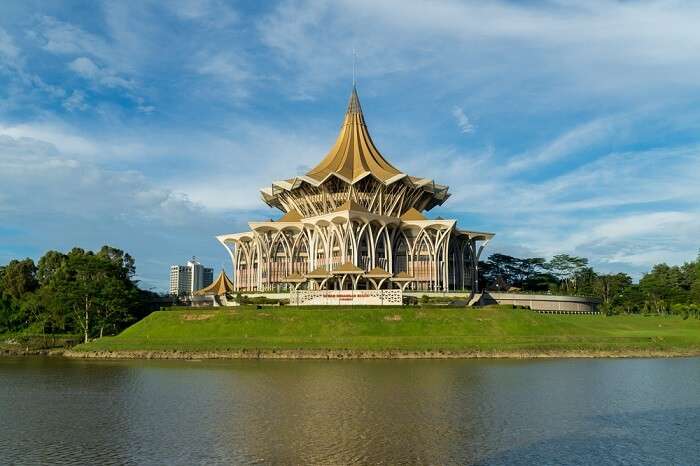 This place is near the southern bank of Sarawak River. It is about 900 meter long esplanade that starts from Riverbank suites and continues towards the Gambier Market. The Esplanade is bewitching and people love to stroll around this place and just absorb its beauty. This landscape has been a popular place for people since 1993. Many markets are held here during weekends as a lot to families come here for a small picnic or just hang around in this wonderful place.
5. Tanjung Datu National Park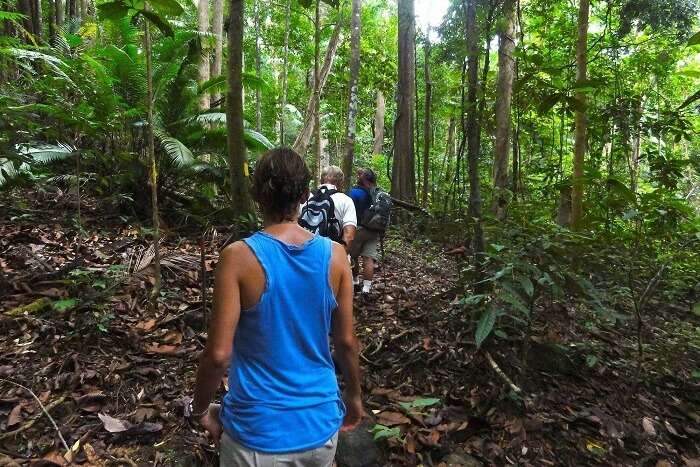 This park is one of the most pleasing parks you will ever visit. This park may be small as it just covers 14 km of area but this place has gorgeous white sand beaches, crystal clear water and coral reefs which are amazing. This park is considered as great reserve of bop-diversity because of the close proximity of rainforest and coral reef here. Reptile animals or great variety are present here and that includes turtle, lizard, vipers and many more. Green turtle which are endangered species are also protected in this national park.
Suggested Read: Malaysian Cuisine: 10 Delicacies Which Will Let You Taste The Authentic Flavors Of Malaysia!
6. Damai Beach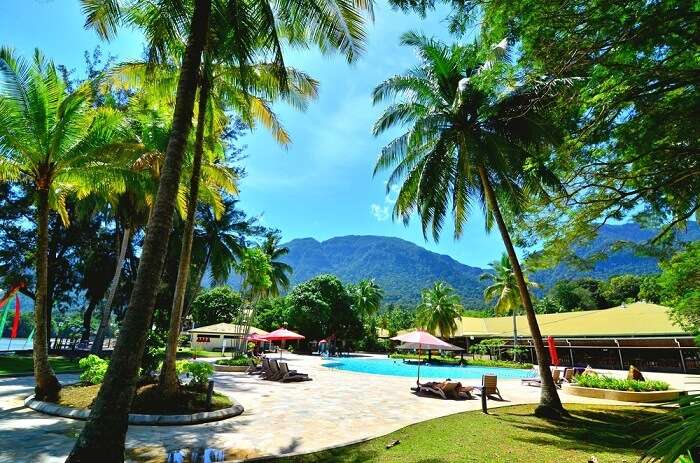 This beach is famous due to the Damai Beach Resort. The beach is not that popular but the activities around this beach are well known. Mount Santubong is located near this beach and is the main attraction in this area. Small fishing communities and trade centers are settled here since a long time.
7. Luak Bay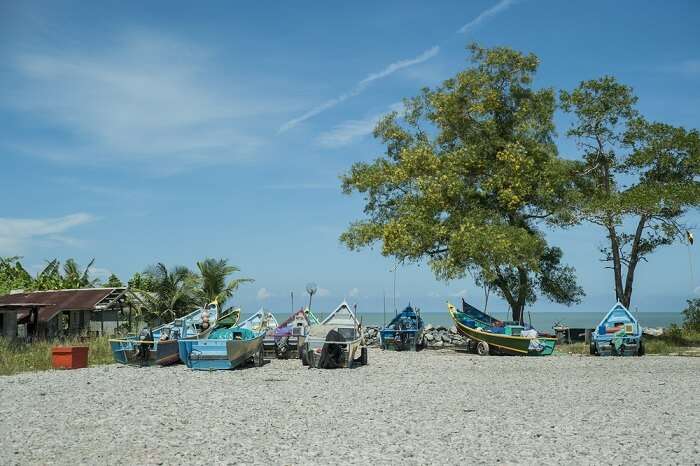 This long stretch of beach in Miri is known as The Luak Bay Esplanade. It is approximately 11 km south of the town and that pearl white beaches that make this place a popular destination on weekends for picnics and getaways. Tropical sunsets look heavenly on this beach. There are a number of attractive beaches that one can visit like Bungai Beach, Peliau Beach and Sibuti Beach that are wonderful for small getaways.
Suggested Read: 8 Places Every Backpacker Must See On Their Trip To Malaysia
8. Similajau National Park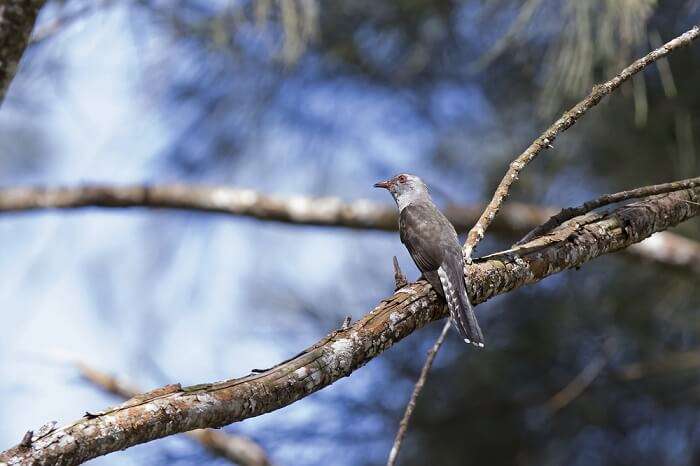 This park is just 30 kilometers away from Bintulu and has many beaches that are the main attraction of this national park. 25 miles of golden sand are found in this wonderful national park and many rainforest treks and jungle trails are also seen here. Many types of beaches like golden beach and turtle beach are seen here and are the main attraction of this national park.
9. The Rucksack Rainforest Kayaking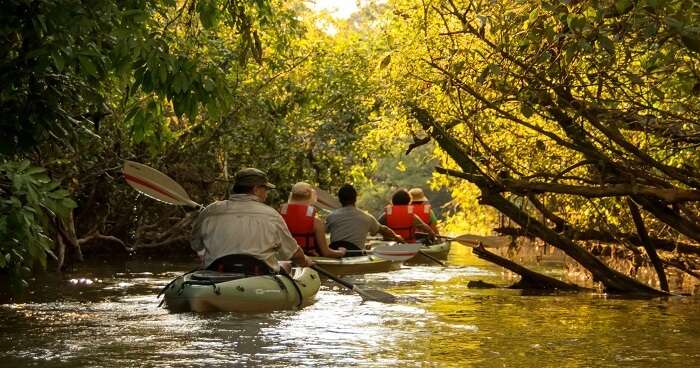 This nature-loving adventure is loved by tourists and you may fall in love with this place even more when you kayak through Sarawak Kiri. You get to know more about the hidden culture and history of Sarawak as you kayak through the rivers and bond with the people. A great adventure to view the limestone formations and huge trees that stand tall at the edges and a vast aquatic life that makes this experience even more wonderful.
Suggested Read: 6 Water Sports In Malaysia That'll Quench Your Thirst For Adventure Like None Other!
10. Chinese Museum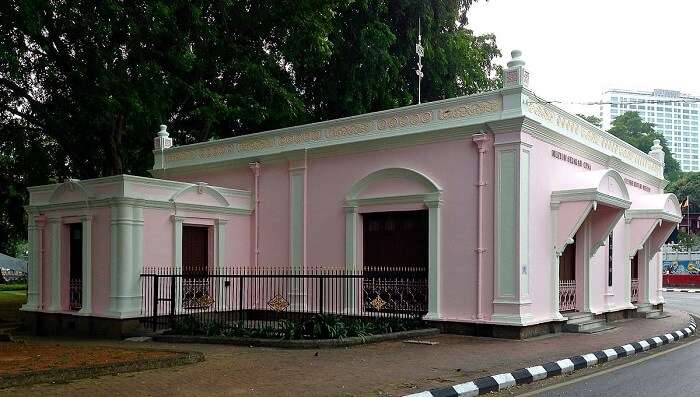 This museum showcases the history of Chinese community in Sarawak. This place has a lot of history related to Chinese community and is a monument that is modern and depicts the involvement of Chinese people and shows how multiracial Sarawak is.
Further Read: Top 7 Museums In Malaysia That Are Sure To Leave You Enchanted!
These are some places that you must visit while going through the astounding Sarawak cultural village. Book your customised Malaysia vacation package with TravelTriangle and witness the beauty of this place like never before!
---
Looking To Book An International Holiday?
Book memorable holidays on TravelTriangle with 650+ verified travel agents for 65+ domestic and international destinations.
---