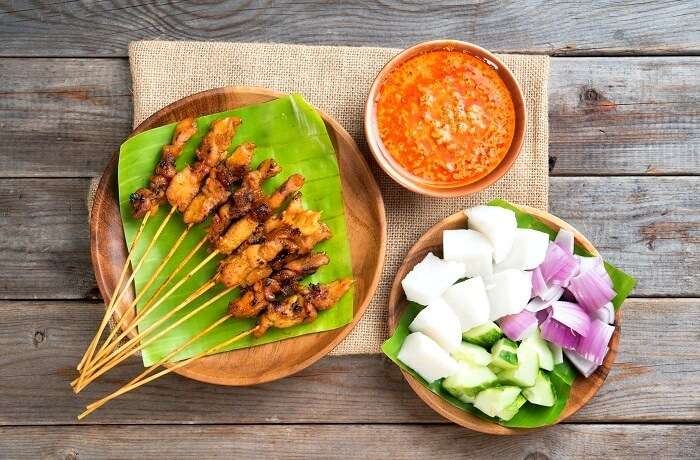 Malaysia is a land of idyllic beaches, picturesque islands, bustling cities and culinary delights. The city has a unique amalgamation of chinese cuisines and authentic malaysian flavors which makes the place a paradise for the food lovers.
While the streets of Malaysia gives a wide-range of delicious and authentic food, Kuala Lumpur also gives too many reasons for the foodies to visit. The capital city is known for its wide-range of street hawkers who serve the authentic Malaysian cuisine and chinese flavors without making a hole in your pocket.
10 Best Street Food In Kuala Lumpur
While in the city, don't miss out these 10 street foods in Kuala Lumpur and get on a voyage to explore the incredible taste the city has to offer its travelers.
1. Bak Kut Teh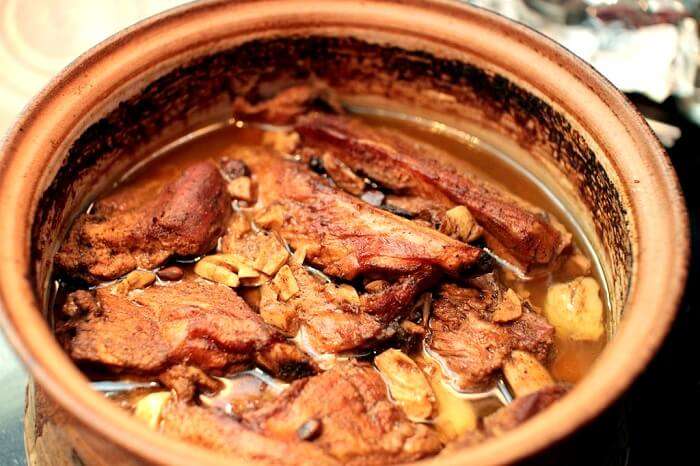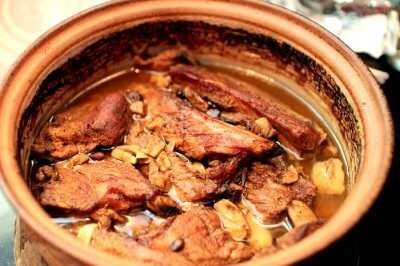 Suggested Read: Top 10 Romantic Restaurants In Kuala Lumpur To Surprise Your Better Half!
If you're looking for a bowl of delicious then Bak Kut Teh makes the best street food in Kuala Lumpur. An Malay traditional dish, this chinese soup is served in Malaysia, Singapore and Southern Thailand. Every city has its own way of making the soup, just like the soup is herby with only lean meat in Kuala Lumpur. The literal meaning of Bak Kut Teh is meat bone tea which is made of meaty pork ribs, herbs and spices and stirred for hours.
Best Places To Try: Sun Fong Bak Kut Teh, Ah Wang Bak Kut Teh, Restoran Xin Wah
2. Chee Cheong Fun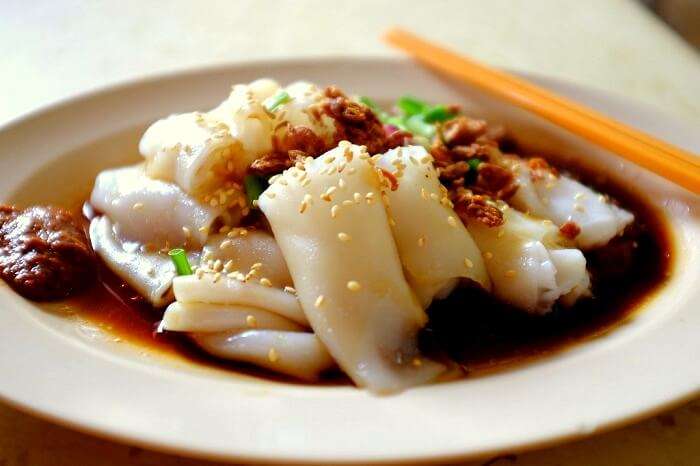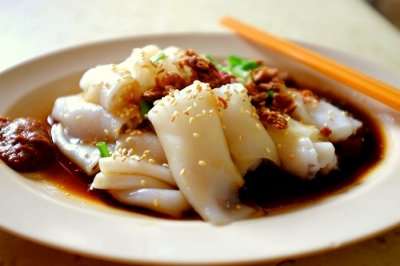 The locals favourite delight, Chee Cheong Fun is one of the famous street food in Kuala Lumpur and one of the must try Malaysian dishes. The literal meaning of Chee Cheong Fun is pig intestine and fun-noodles. The noodles shows a resemblence with pig's intestine and can also be stuffed with shrimp, pork, beef or just vegetables. Doused with dark brown sweet sauce and a bright red sweet sauce, this Malaysian can be easily found at the streets of Kuala Lumpur.
Best Places To Try: Madras Lane Chee Cheong Fun, Kedai Mekanan O&S, Restoran Yap Hup Kee
Suggested Read: 14 Top Festivals In Malaysia In 2022 To Witness Its Vibrant Culture & Rich Traditions
3. Hokkien Char Mee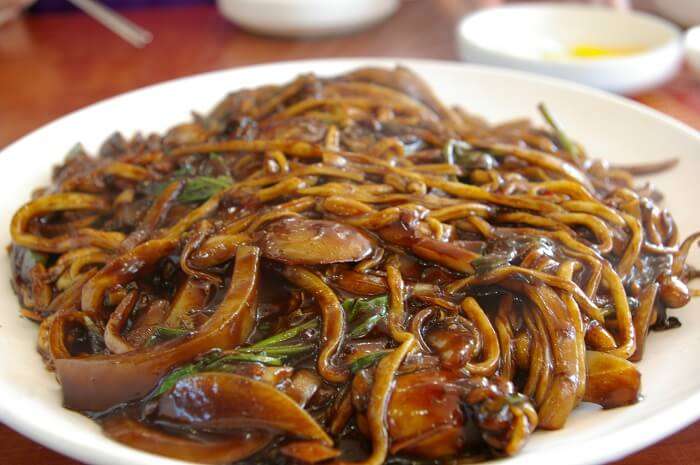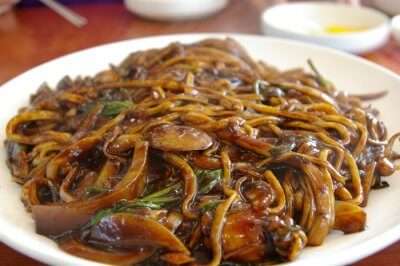 Suggested Read: 19 Cardinal Places To Visit In Kuala Lumpur: The City Of Lights
Originated from the chinese province of Hokkien, this is actually a stir-fried dish made of thick yellow noodles, sliced chicken or pork and served with dark soya sauce on its top. This is one of the must try street food at Kuala Lumpur. As the dish requires very few ingredients and takes less cooking time, this is an quick and tasty delicacy.
Best Places To Try: Restoran Aik Yeun, Lian Bee Hokkien Mee, Mun Wah Hokkien Mee
4. Wantan Mee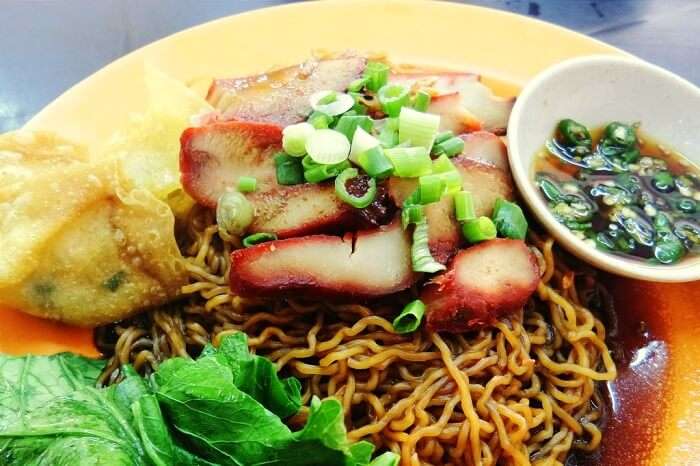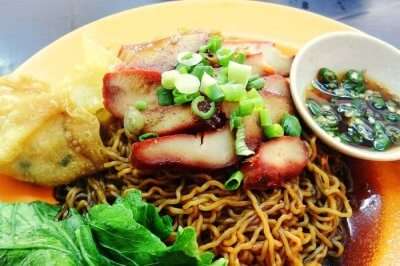 Relish the taste of this incredible mixture of fine-texture noodles, mega-crispy fried wantons, well-barbecued chasiu which is subtly dressed with dark soy-sauce and sesame oil. The locals of Kuala Lumpur and many other tourists also prefer pork lard in their platter. The taste of this local delicacy is worth a try as the ingredients and their flavours served together in harmony.
Best Places To Try: Koon Kee Wanton Mee, Restoran Yulek Wantan Mee, Lam Kee Wanton Noodles
5. Cantonese Porridge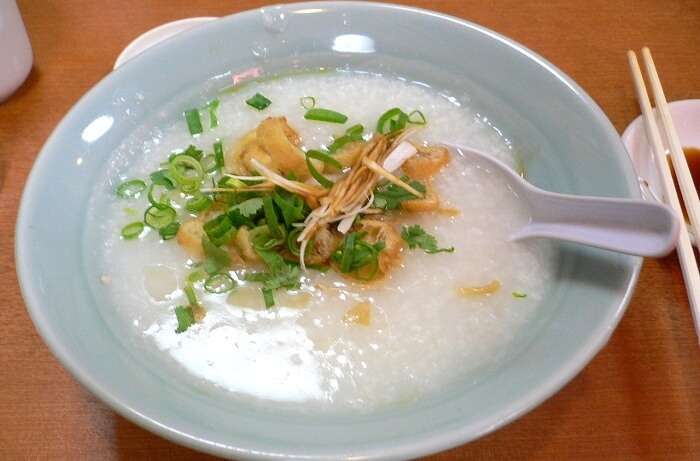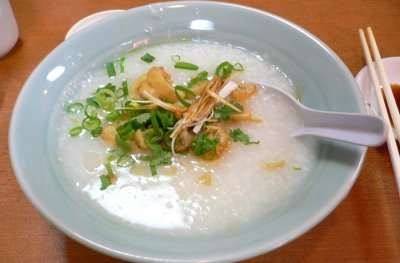 Suggested Read: 6 Water Sports In Malaysia That'll Quench Your Thirst For Adventure Like None Other!
The perfect way to start the morning while in Kuala Lumper is to relish the taste of Cantonese Porridge. An abundant source of energy, this Malaysian delicacy is a mixture of warm and thick porridge of rice which is added with delicious pieces of pork, beef or chicken. This is a healthy snack meal which is suitable for every age group.
Best Places To Try: Hon Kee Porridge, Mother Porridge, Onn Kee Claypot Seafood Porridge
6. Claypot Loh Shu Fun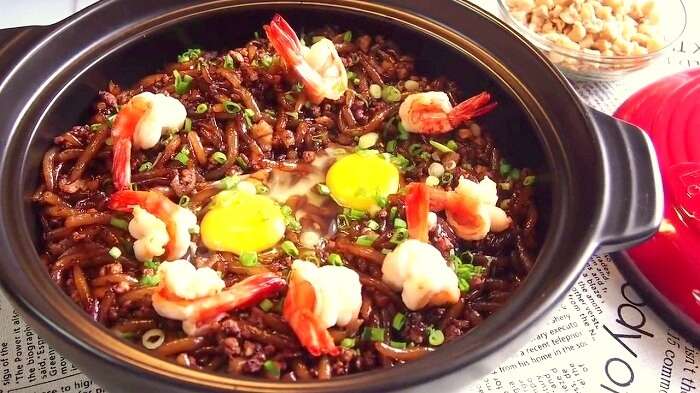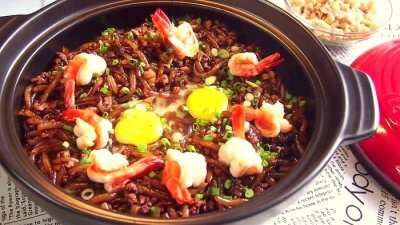 Creating a first gourmet dish appearance, this street food in Kuala Lumper is served in a claypot which gives a unique flavor to the dish and appears appetizing. This local dish is a mixture of noodles, ground chicken/pork/beef, carrot, garlic, shallots and chicken stock. To give a finishing touch, this delicious delicacy is layered with dark soy sauce and oyster sauce along with a cracked raw egg.
Best Places To Try: China Town Seng Kee, Mama Kitchen Restaurant, Restaurant Goon Wah
7. Yong Tau Foo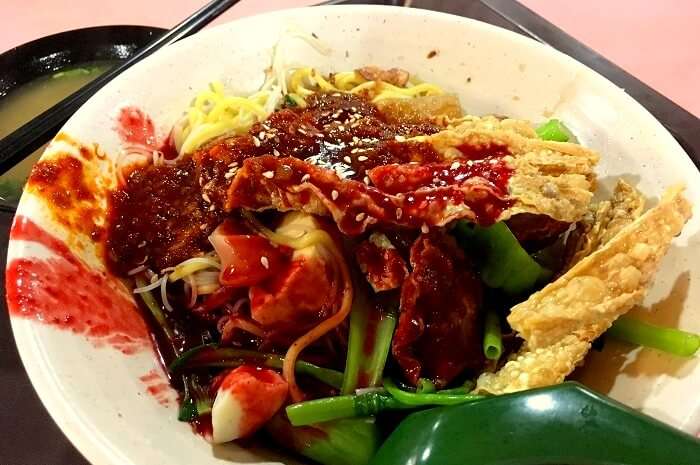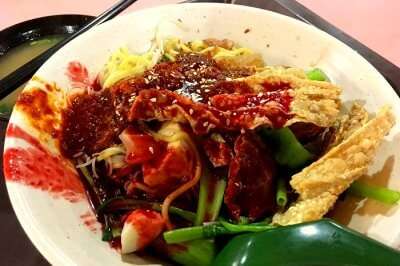 Suggested Read: 10 Majestic Waterfalls In Malaysia That Are Mighty Beyond Words!
A very recent addition among the street food at Kuala Lumpur, the Yong Tau Foo is a delicious and easy to go wrap. Made of wrapped bean curd sheets with meat, pork or fish paste which are later fried in a wok. This dish can also be served with Tofu as a stuffing for the people who are looking out for options in vegetarian dishes.
Best Places To Try: Foong Foong Yong Tau Foo, Madras Lane Yong Tau Foo, Restoran Yap Hup Kee
8. Chicken Rice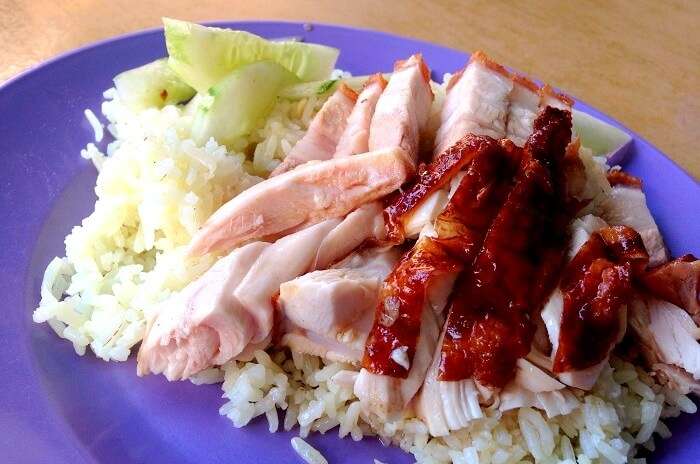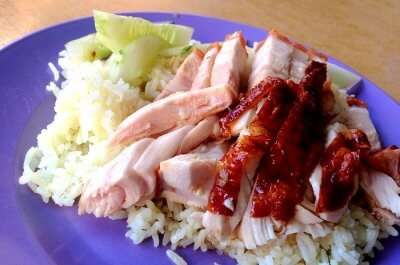 While walking down the streets of Kuala Lumpur, one can easily spot hawkers selling chicken rice. One of the famous street food in Kuala Lumpur, this dish has two main ingredients; chicken and rice. There is a common way to make this dish is when the chicken is being poached and drizzled with soy sauce. Lastly, it is garnished with bits of fried shallot and coriander chicken. Usually served in two plates so that one can enjoy the taste the juicy chicken and well-prepared rice seperately.
Best Places To Try: Nam Heong Chicken Rice, Kedai Makanan Wong Kee, Kee Kee Bentong Chicken Rice
9. Nasi Lemak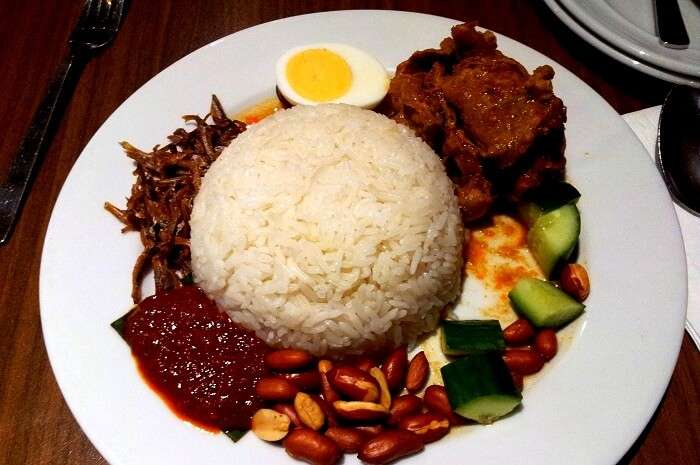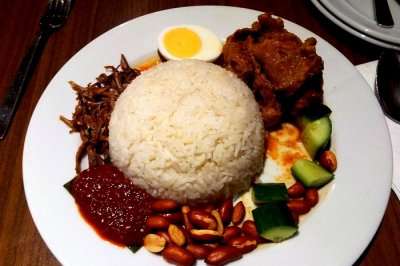 Suggested Read: Top 14 Thailand Airports For Easy-Breezy Commute To The Tropical Paradise
A quite popular rice dish in the Asian countries, this simple delicacy is considered the national dish of Malaysia which can also be tasted sitting at Kuala Lumpur. This dish is made of coconut milk rice, sambal, anchovies, peanuts and boiled egg. Due to its high demand by the locals, the Nasi Lemak is also served with chicken and beef rendang and it's also friendly to the budget.
Best Places To Try: Nasi Lemak Tanglin, Ann Nasi Antarabangsa, Ann Nasi Lemak
10. Roasted Duck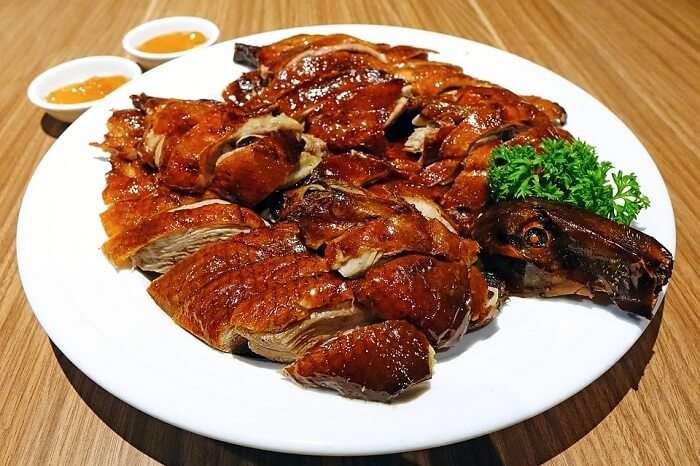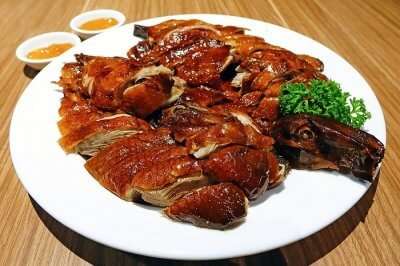 If you're tired of the main course meals while roaming around in Kuala Lumpur, then the roasted duck is the best evening snack to try. A favorite among the locals, this dish is one of the best among the Malaysian cuisine can be eaten as a snack or in lunch or dinner. Served with either rice or a bed of vegetables, and the well-marinated duck adds glam to the delicacy which is fried till the skin becomes crispy.
Best Places To Try: Restoran Sunrise, Restoran Sun Ming, Sze Ngan Chye Roasted Duck
Further Read: Sumatra Island: The Land Of World's Largest Volcanic Lake & Most Expensive Coffee
Already drooling over these delicious delicacies? Plan and book your customized Malaysian holiday package with TravelTriangle and taste the delicious flavors straight out from the streets of Kuala Lumpur.
---
Looking To Book An International Holiday?
Book memorable holidays on TravelTriangle with 650+ verified travel agents for 65+ domestic and international destinations.
---
Comments
comments