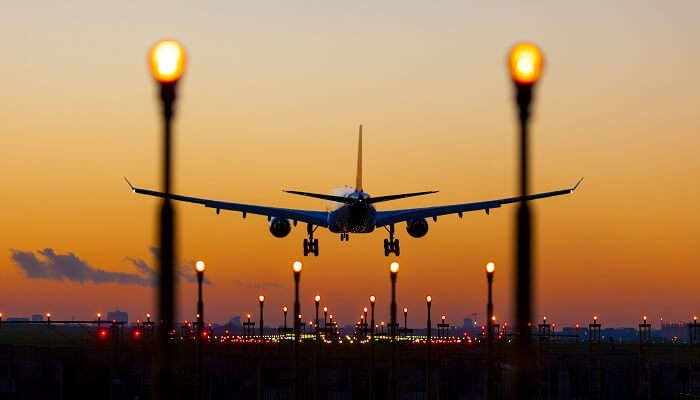 With lockdown restrictions slowly easing across states and now for international borders, planning a much-awaited holiday abroad is no longer a pipe dream. While we are still being cautious, and keeping a watchful eye as the resumption of air travel all around the world, a quick getaway to a nearby country might be the best option when it comes to safe, international travel.
From Singapore to Dubai to Malaysia, India has travel bubbles and plenty of departures from several cities throughout the year. Hop on a short flight, relish in the change of scenery, culture, and cuisine in an all-indulging vacation far, yet not that far, from home, for a refreshing experience. These destinations are waiting for you with adventures for days. Read below our roundup of some of the shortest flights from India to international destinations that will help inspire your next getaway.
1. Dubai

Say hi to high-tech landscaping, sumptuous adventures, the poshest of settings, this and much all the more best characterize an excursion to Dubai. It's a city that is consistently energetic, taking quick, long steps towards urbanization. Shopaholics from the farthest reaches of the world visit Dubai for spending lavishly however much they might want. Alluring and brimming with glitz, it's quickly arising as a significant focus of adventure sports. From short weekend getaways to a much-needed month-long vacay, this is one of the best places in terms of shortest flights from India to international destinations.
Shortest flight duration from India: 3 hours and 35 minutes
The 8 Best Picnic Places in Dubai to Explore
2. Maldives

A dreamy destination that is often mistaken as a made-up postcard, Maldives is where the sun-dappled beach sand is soft, there's an incredible view of the Indian Ocean stretching out to eternity before you. With a margarita in one hand, succulent seafood in another and the option to build sandcastles- Maldives 1,200 islands will make you want to bring your tent and settle down forever there.
Shortest flight duration from India: 4 Hours
12 Exotic Wildlife In Maldives That Is Sure To Thrill Nature Lovers On A 2022 Vacay
3. Singapore

Singapore is renowned for its peddler markets, shopping centres, tall high rises and the Merlion. Named as the Mini Asia of the World, this Garden city is a blend of Chinese, Malayan and Indian cultures. When in Singapore, do incorporate Singapore Zoo, Marina Bay Sands, Gardens by the Bay, Botanic Nurseries, Orchard Road, Singapore Flyer, Chinatown and Sentosa Island in your agenda.
Shortest flight duration from India: 4 hours and 30 minutes
Rock Climbing In Singapore: 5 Thrilling Indoor And Outdoor Spots To Try The Activity
4. Seychelles

The Republic of Seychelles comprises a total of 115 islands with an area of ​​455 square kilometres and is one of the cleanest places in terms of shortest flights from India to international destinations. The granite structures are home to some of the best and unwinding resorts of Seychelles, just nestled outside the main island of Mahe, which is home to the International Airport and the culture capital Victoria from where you can travel to neighbouring destinations like Praslin and La Digue. These inland islands together constitute the cultural and economic centre of Seychelles, containing most of the Seychelles grand markets, lavish restaurants and most impressive beaches.
Shortest flight duration from India: 4 hours 30 minutes
25 Places To Visit In Seychelles: Islands, Beaches, & Tourist Attractions
5. Malaysia

Malaysia is a country that parades its legacy while accepting an invitation to the allure of modern travel. It's one of the most popular tourist destinations in Asia and ideal for a fast escape. With many sights to see, a little excursion to Malaysia can undoubtedly turn into a more drawn out, really loosening up extravagance. It's a South East Asia vacationer centre, renowned for its serene seashores, islands, panoramic views, and lavish food. With an added social flavour of Chinese, Malay, Indian, and other ethnic cultures, Malaysia is intense, splendid and ready for more world travellers.
Shortest flight duration from India: 5 Hours 30 minutes
Top 7 Museums In Malaysia That Are Sure To Leave You Enchanted!
With an unending list of fascinating destinations that we cannot way explore or some gems, we long to rediscover, an international trip at this moment can be a dream for many and a reality for few. But choosing a destination that can be flown in easily, on a short flight with your loved ones can make the dream more attainable, help provide a much safer, and nurturing experience, prioritising your health and safety. Planning ahead, or looking for some inspiration. Explore our best budget international trips from India for more.
For our editorial codes of conduct and copyright disclaimer, please click here.
Frequently Asked Questions For Shortest Flights From India To International Destinations
What is the shortest flight overseas from India?
The shortest flight for an international destination from an Indian city is between Chennai and Colombo in Sri Lanka which will take you approximately 1 hour and 30 minutes from departure.
Is it currently safe to travel to an international destination from India?
These are unprecedented times, and international travel guidelines are constantly changing depending on the evolving number of cases in each country. Please check the latest government announcements or check with the respective agency before you travel.
What are some budget international destinations that can be visited from India?
If you are planning to travel overseas on a budget, some of the best destinations that you can consider are Dubai, Malaysia, Sri Lanka, Nepal, Singapore, and other Australasian places. If you do plan on visiting countries that have a shorter air travel time, the budget for them might be considerably less than for far-flung cities.
How many countries have air-bubble agreements with India?
There are currently 28 countries that have a bilateral agreement with India for international travel which are: Afghanistan, Bahrain, Bangladesh, Bhutan, Canada, Ethiopia, France, Germany, Iraq, Japan, Kenya, Kuwait, the Maldives, Nepal, the Netherlands, Nigeria, Oman, Qatar, Russia, Rwanda, Seychelles, Sri Lanka, Tanzania, Ukraine, the UAE, the UK, Uzbekistan and the US.
Can Indian travellers enter Europe for leisure travel under the "Green Pass" scheme?
Yes, those who have received both doses of their Covishield vaccine are eligible for EU travel in the following countries: France, Austria, Belgium, Bulgaria, Finland, Germany, Greece, Hungary, Iceland, Ireland, Latvia, the Netherlands, Slovenia, Spain, Sweden and Switzerland.