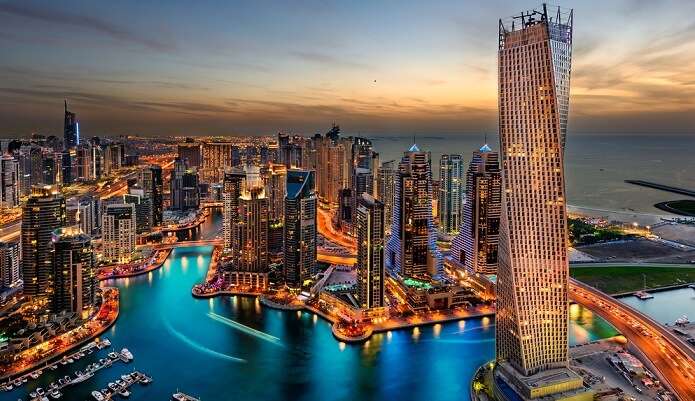 A futuristic destination that instantly makes one leave in awe, Dubai is a city of another world. With its majestic skyscrapers, intersecting network of roads, fine dining options, iconic malls, and ultra-modern architecture, Dubai creates an aura of a different universe. Beyond grandeur, glamour, and glitz, the "City of Gold" offers so much more for individuals of all age groups. Exceeding your expectations are the stupefying picnic places in Dubai that are always ready to spoil you to the hilt.
While Safa Park lets you enjoy a cosy afternoon, Fujairah allows you to indulge in an overnight Dubai desert camp. Besides these, the destination is beautified with a myriad of water parks and adventure spots where one can expect to be completely dipped in tranquillity. So, if your idea of fun is a day out under the bright sunny sky,
count on these best picnic spots in Dubai and psych yourself up for some endearing moments.
8 Best Picnic Places in Dubai
There's no shortage of restful picnic spots in Dubai offering a sweet escape from the crowded areas. Before heading to this breathtaking destination, make sure to add some of these to your itinerary:
1. Jumeirah Beach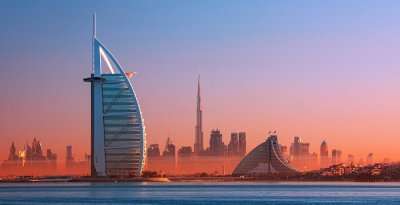 Often believed as an indispensable excursion spot, Jumeirah Beach can be translated to beach lovers' paradise. Being one of the best places for a picnic in Dubai, the beach is studded with several malls and retail stores along its shore. This white sandy beach greatly manages to beguile vacationers from far and wide. With numerous water activities like water skiing, kayaking, paddle boarding, and wakeboarding, the beach lends adventurers sheer satisfaction. If water sports doesn't excite you, reach out to the nearby shopping hubs and eateries where you can indulge in delightful culinary experiences and can also buy some souvenirs. Those who simply want to admire the sea can relax by the beach, get sun-tanned and witness the sparkling waves of the blue sea gushing over one another.
Location: Jumeirah Public Beach, Dubai
A Guide For Spending Winter In Dubai In 2022
2. Safa Park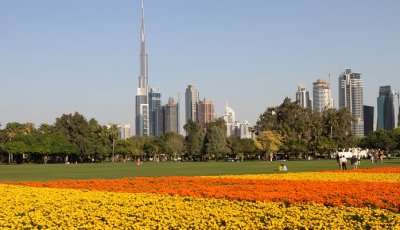 When you are on a picnic spree and exploring the best Dubai picnic points, Safa Park is hard to miss. Positioned in the heart of the city, this leafy sanctuary offers you an exemplary escape. While some can take advantage of bountiful sports facilities like a basketball court, jogging track, football, tennis, etc. others can easily locate a cosy spot and marvel at the lush greenery and serenity of this place. What multiplies its beauty is the 200 species of birds making their abodes in around 16,000 types of well-manicured trees and bushes. The park offers you easy access to various city attractions including The Dubai Mall, Burj Khalifa, Jumeirah, and more. An excellent spot for all age groups, Safa Park will definitely fuel you up with sheer contentment and tranquillity.
Location: Sheikh Zayed Rd – Al Safa – Dubai – United Arab Emirates
Nearby attractions: Mushrif Park, Zabeel Park, Dubai Water Canal, Creek Park
9 Theme Parks In Dubai That Add The Fun Factor To Your UAE Vacation 2022
3. Al Mamzar Beach Park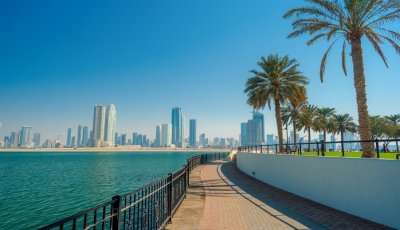 Spread across 200 hectares with 55000 square meters of green lawns, Al Mamzar Beach Park is a world-renowned picnic spot in Dubai that treats its visitors with perks. Positioned in the northeast of Dubai, the park was instituted in 1990 with an aim to offer travellers immense pleasure and relaxation. While possessing 4 public beaches, 1600 Palm Trees, and 300 Coconut Trees, this amazing site is all about nature's bliss wrapped in the utmost beauty. From taking a plunge into the salty waters to savouring some homemade delicacies from your picnic basket, you can enjoy all sorts of picnic fun here. Whenever there's a mention of nice picnic places in Dubai, you will surely find Al Mamzar Beach Park on the list.
Location: 106th St, Al Mamzar, Dubai
Nearby attractions: Jumeirah Beach Park, Museum of Illusions, Al Seef, Dubai Creek
37 Best Places To Visit In Dubai At Night In 2022 For A Vacation In Starry Landscapes
4. Creek Park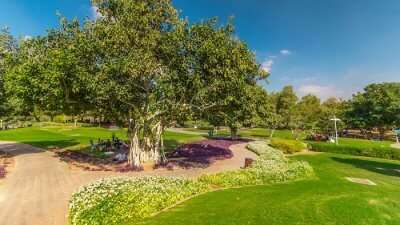 Another gem in Dubai, Creek Park is a picnic spot that satiates all your recreational and fun activities hunger. Nestled upon the edge of Dubai Creek, this park is bestowed with botanical gardens, vast acres of lawns, and children's recreational areas. The park truly justifies being among the top picnic places in Dubai. Kids, as well as adults, can spend a day full of entertainment and relaxation. Treat your eyes while watching the Dolphin show at Dubai Dolphinarium, enjoy a 7D or 5D show, play mini-golf, and go-karting—you will hardly realise how the day got over. While adults can have their cosy time, children can expect a perfect pampering session. Post enjoying the dolphin show, children can head to the phenomenal Children's City that is all about indoor infotainment. While featuring a global exhibition, technology and earth-science gallery, nature centre, and a planetarium, the City has everything to keep children intrigued.
Location: Umm Hurair 2 – Dubai – United Arab Emirates
Nearby attractions: Grand Bur Dubai Masjid, Shiva Temple, Dubai Museum & Al Fahidi Fort
A Guide To Etihad Museum In Dubai For All History Buffs
5. Capital Garden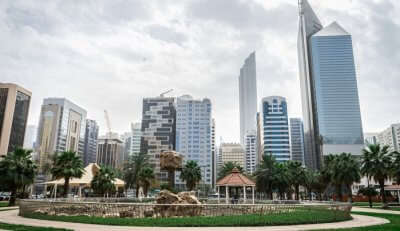 Endowed with lush greenery, Capital Garden enjoys a central location. Often tempered as a "Green Oasis", this picnic spot makes an optimal choice for family picnics and family get-togethers. Although the city is always bustling, this place manages to keep its tranquillity and solitude intact. The park is decked with a pond spouting impressive water displays and numerous mini gardens beautified with slides, swings, and climbing frames as well. For travellers who are seeking the top-rated picnic spots in Abu Dhabi, Capital Garden makes an ideal place.
Location: Capital Garden – Zone 1E8 – Abu Dhabi – United Arab Emirates
Nearby attractions: Emirates Palace, Marina Mall, Ferrari World Yas Island
11 Exquisite Coffee Shops In Dubai To Get Your Soul Caffeinated!
6. The Dubai Mall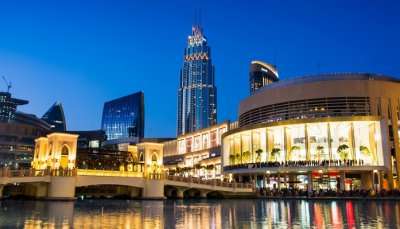 The Dubai Mall is a standing architectural landmark that is home to countless experiences ranging from culinary hotspots to much-needed retail therapy. Covering an area of whopping 502,000 square metres, the mall doesn't let you go without an extravagant delight. The mall features 14,000 parking spaces, and also a 250-room luxury hotel where guests get pampered to the core. Each element of the mall never fails to amaze its visitors. Shop till you drop at any of the 1,200 retail stores, savour some relishing flavours at one of the 120 cafes and restaurants, catch a movie show at any of 22 cinema screens, the choice of enjoyment are plenty. Make sure to visit the Aquarium and Underwater Zoo that is the abode of over 140 underwater species featuring ray fish, tiger sharks, and other marine creatures. After spending hours of supremely fun-packed activities, conclude your day while witnessing the mystifying musical fountain.
Location: Financial Center Street, Along Sheikh Zayed Road, Next to Burj Khalifa – Dubai – United Arab Emirates
Nearby attractions: Burj Khalifa, Burj al Arab, The Dubai Fountain, Souk Al Bahar
5 Haunted Places In Dubai That Will Frighten You From Head To Toe!
7. Wild Wadi Water Park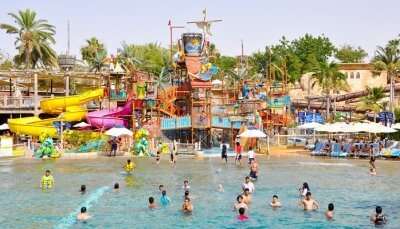 Want to beat the sweltering heat of Dubai? Find your sweet escape at this amusement park that is inspired by the tales of Juha (a famous character from the Arabian Folklore). Thrilling rides, water slides, recreational activities, chilling water, and oodles of enjoyment await you at Wild Wadi Water Park that is among the best places for a picnic in Dubai. Enjoying the vicinity of Burj Al Arab, The Mall, and several other tourist attractions, the waterpark features 30 rides and each one is set to impart you a wonderful experience. For the sensational free-fall water slide, Jumeirah Sceirah, reach up to 33m and fly down the tandem slide with a stupefying speed of 80 km/h. This is surely not for the sensitive souls. Other exciting rides include Burj Surj, Wipeout & Riptide, Breaker's Bay. So, make the most of your day while enjoying the best rides and lazing around the pool, sipping a chilling glass of mocktails.
Location: Opp. Burj Al Arab, Jumeirah St, Umm Suqeim 3, Dubai
Nearby attractions: Souk Madinat Jumeirah, Burj Al Arab, Tao Spa, The Mall
Dubai Then And Now: See The History Of Dubai By Flipping These Pictures
8. Fujairah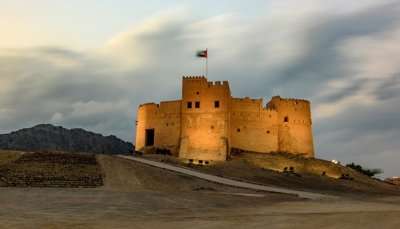 Are you on the lookout for an ideal staycation with peace in abundance? Head straight to Fujairah for such a soul-soothing experience. Encircled by mountains and beaches, Fujairah is ideally positioned in the East Coast of UAE and is a famous desert picnic spot in Dubai. Numerous campsites lie in this secluded place where cosy settings soothe one's mind and soul. Besides camping, you may try your hands at snorkelling and also witness the vibrancy of the marine life underneath. Don't forget to sum up this surreal experience with cherishable clicks that you can keep forever. Already in awe? We bet you can't wait to experience this overnight desert camping.
Location: Fujairah, UAE
Nearby attractions: Sharjah, Ras al Khaimah, Khor Fakkan, Dibba Al Fujairah
7 Vivid National Parks In Dubai & Nearby Places
Already lured by these snug abodes? Now, when you get the gist of the best picnic places in Dubai, plan a trip to Dubai and get ready to detoxify your soul. Apart from the above-mentioned places, Dubai boasts several other spots where you can hang out and find yourself far away from any woes. Whether your base is a desert, park, or mall, the experience will remain captivating. So, head towards a picnic place of your choice and weave cherishable memories with your friends and family.
For our editorial codes of conduct and copyright disclaimer, please click here. 
Frequently Asked Questions About Picnic Places in Dubai
Is Dubai open for travelers now?
As per the latest guidelines, only Indians who own resident visas along with complete vaccination are allowed to visit Dubai post the acceptance from General Directorate of Residency and Foreigners Affairs (GDRFA). However, the ban still remains the same for other travelers. It is recommended to stay updated with the local news and latest guidelines relating to the pandemic.
Which are the best places to plan a picnic in Dubai?
Apart from the above places, some of the other picnic spots in Dubai include:
1. Mushrif Park
2. Dubai Creek Park
3. Al Mamzar Beach Park
4. Jumeirah Beach Park
5. Al Qudra Lake
6. Hatta Hill Par
7. Al Sufouh Park
8. JLT Park
Which are some of the free things to do in Dubai?
There is no dearth of free experiences in Dubai. Here is a list of some of the best things you can enjoy in Dubai at zero cost:
1. Visit camel museum
2. Attend yoga classes from Friends Of Yoga
3. Enjoy a movie under the stars at Pyramids Rooftop Complex
4. Witness the views of the Dubai fountain display
5. Climb Burj Al Arab Jumeirah
6. Enjoy views of Dubai Aquarium
Which are the best parks in Dubai where BBQ is allowed?
There are various public barbeque spots where you can enjoy your day. Some of the best ones include Al Mamzar Beach Park, Mushrif Park, Creek Side Park, Safa Park, Hatta Hill Park, Al Qudra Lakes, and more
People Also Read:
Picnic Spots In Goa Picnic Spots In Bangalore Picnic Spots In Udaipur
Comments
comments