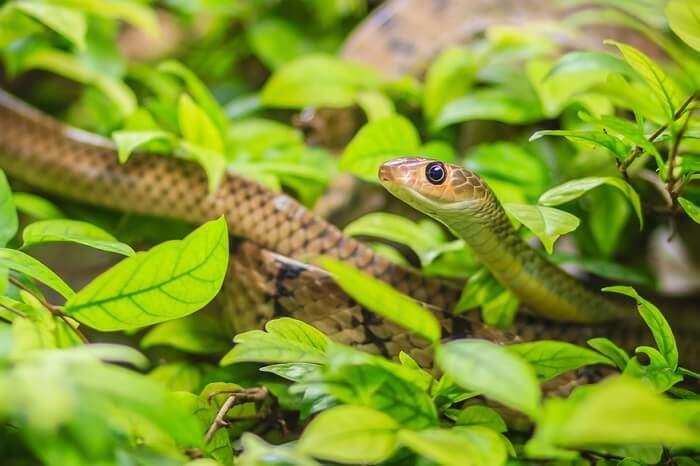 The enchanting island chain of Maldives flanked by the Indian Ocean is naturally enriched with a rich wildlife. The marine life and exotic animals of Maldives have always been and still are the main attractions for the wildlife enthusiasts and the tourists alike.When it comes to discussion about the plant and animal life then there is much to talk about diverse wildlife of Maldives. The land has its own growth trend and gradually it has been shaped by the tropical climate of the Maldives. The Maldives, being and ocean-locked nation, a major parts of it is aquatic and it has an incredible diversity in its sea life of 2000 species ranging from turtles, tiny colourful reef fish to moray eels.
The 26 atolls with their islands having a diverse ecosystem are home to the endemic toad, shrews, flying foxes, lizards, birds, geckos and more such wildlife in Maldives. Apart from the most-celebrated Baa Atoll, protected areas like Fiushee Kandu, Kuda Haa, Lankan Thila and Dhigali Haa are notable for wildlife too.
The Bizarre Wildlife in Maldives
While Maldives vegetation has abundance of Screw Pine, Palm trees as well as shrubs intolerant of salt, the wildlife too thrives well in the favourable temperature ranging from 24-degree to 32-degree centigrade. Here's our pick of the wildlife in Maldives you should not miss while travelling!
1. Fruit Bats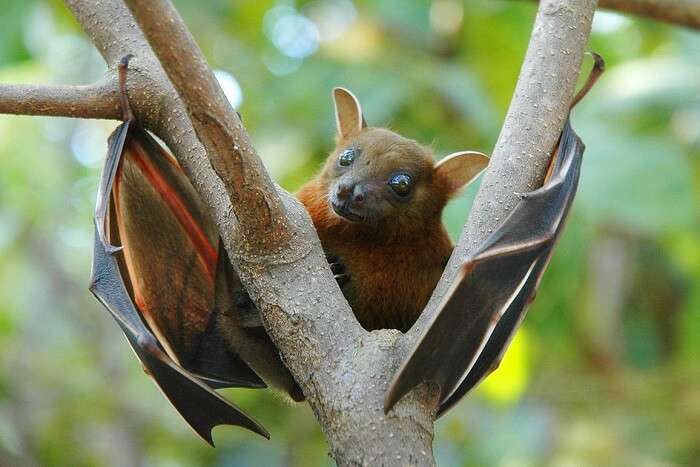 Residing on the Maldives plants, the Flying Foxes or Fruit Bats are quite common around the resorts. During night, you can hear their squabbling as at that time they come out from their tree covers with the advent of dusk. During daytime, they can be seen hanging from the trees with their heads tucked inward; so the best time to photograph them is during the early evening as they start to take off.
Bandos Maldives Island: An Ultimate Guide For A Blissful Staycation
2. Lizards, Skinks And Geckos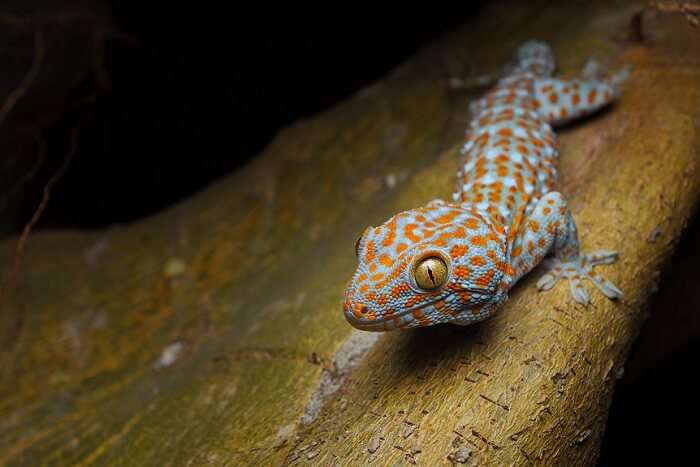 Maldives' natural resources are quite favourable for the endemic land-based rare reptile species, although the islands are small. The gecko and Garden Lizard are the most commonly found reptiles and you will often see the lizards scurrying around the resorts. The Oriental Garden Lizards and the Agamid Lizard (calotes versicolor) are the vibrant lizards that you will love to photograph. With a bit of luck, you can also see the Lygosoma albopunctata, a skink species which is also an endemic in the list of wildlife in Maldives.
5 Underwater Restaurants In Maldives That Offer An Out Of The World Experience!
3. Snakes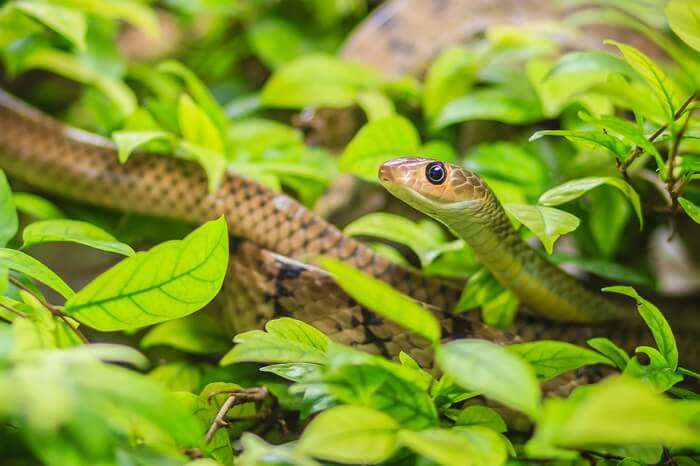 Among the Maldives snakes, the Pelamis platurus and Hydrophis platurus are the common Pelagic Sea Snakes that you can see while you take up a snorkelling session. These are harmless unless disturbed and in warm summers you can see them resting for some time on the beaches. Although the snakes are not so common, the two species of harmless endemic snakes namely Ramphotyphlops braminus or Blind Snake and Lycodon aulicus or Wolf Snakes are endemic to Maldives.
Fulhadhoo Island: An Ultimate Guide For A Blissful Escape In Maldives
4. Turtles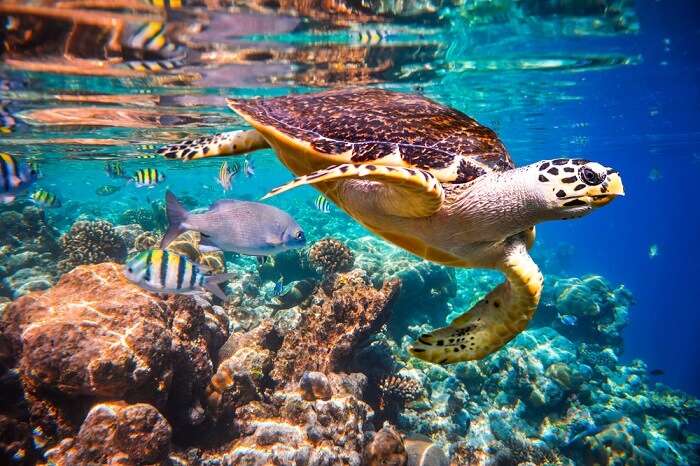 With miles of favourable sea water to thrive, the Sea Turtles like Green Turtle, Leatherback Turtle and Hawksbill Turtle are abundantly found. Maldives wildlife conservation bodies have taken up initiatives to keep the placid waters where the turtles swim, clean. You can also pay a visit to the injured turtles rescue centre. The best time to see turtles is June through November when they lay eggs and with a bit of luck, you can also see the newly hatched turtles heading towards the ocean. These creatures are surely one of the most proud ones in wildlife of Maldives!
Maldives In Monsoon: A Guide On How To Make The Most Of Your Island Trip!
5. Birds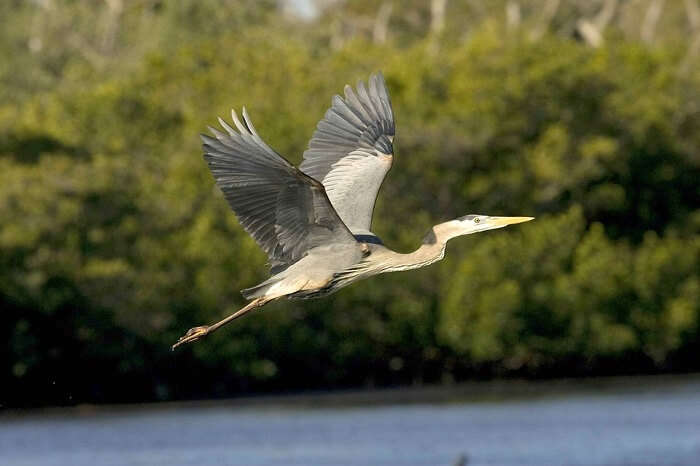 The archipelago surrounded by oceans has helped in keeping the growth of the pelagic birds, of which most migrate from the Eurasian region. The seasonal Frigatebirds can be seen feeding and snatching food from other smaller birds. The White-breasted Waterhens, Common Mynas, House Crows, Pond Herons, Striated Herons, Grey Herons etc. are the common birds listed in Wildlife in Maldives. Due to rich resources, the Black-naped Terns, Saunder's Tern, Sandpiper as well as Addu Atoll's Fairy Terns, White-tailed Tropicbird and Audubon's Shearwater are also seen around the shore.
7 Cottages in Maldives To Savor The Luxury Of The Paradise
6. Whales And Dolphins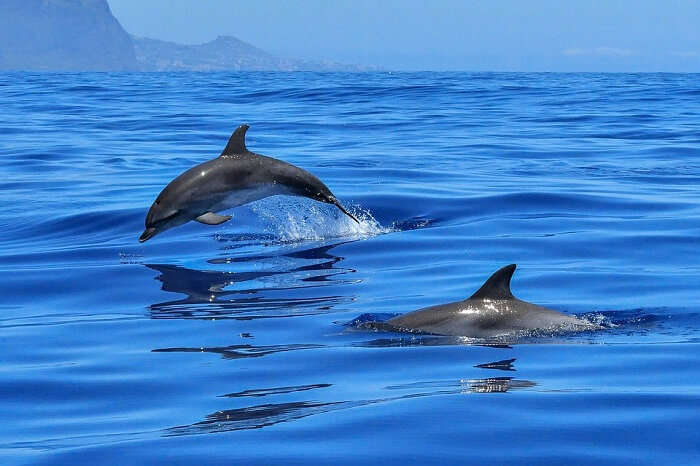 Like the playful pods of dolphins, watching whales at the Maldives is a dream-come-true. If you go a bit further into the Indian Ocean with a charter or boat, the Spotted Dolphins, Bottlenose Dolphins, Risso's Dolphin, Fraser's Dolphin, Rough-toothed Dolphins and Spinner Dolphins can be seen. Among the rare Maldives wildlife, you can see the Dwarf Sperm Whale, False Killer Whale, Deraniyagala's Whale, Pilot Whale, Bryde's Whales, Blue Whales and Melon-headed Whale besides the elusive Longman's Beaked Whale, Dense-beaked Whales, Blainville's Beaked Whale and Cuvier's Beaked Whales. This is surely the sight you mustn't miss if you wish to get the best of marine wildlife in Maldives on your next vacay!
25 Maldives Travel Tips You Must Keep In Mind Before You Plan A Trip In 2022
---
Planning your holiday in Maldives but confused about what to do? These Maldives travel stories help you find your best trip ever!
---
7. Hammerhead Sharks, Reef Sharks And Whale Sharks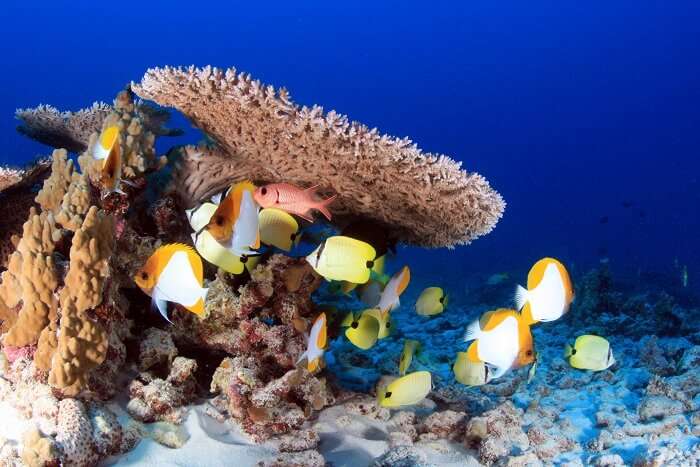 Baa Atoll, Ari Atoll, Maaya Thila and Rasdhoo Atoll are the hotspots for watching the Maldives sharks like Reef Shark, Whale Shark and the elusive Hammerhead Sharks and Nurse Sharks. The Baa Atoll is also famous for the seasonal gathering of the Whale Sharks. The Whitetip and Blacktip Reef Sharks can be seen roaming around in seclusion and as they are habituated with divers, you can swim around them without disturbing. As they are active at night for hunting and feeding, a night dive would be great to catch some action.
Maafushi Island: A Guide To The Unexplored Land In Maldives That'll Leave You Mesmerized
8. Manta Rays, Sting Rays And Eagle Rays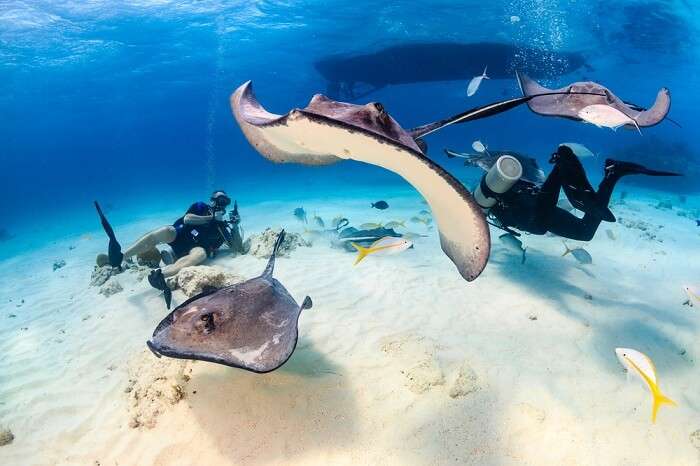 Taking a boat or going out for snorkelling can be a great idea to watch these large marine species and a few resorts in Maldives also have their Stingray or Manta Ray feeding sessions to give visitors a closer glance. Yellowfish Tuna can be the national animal of Maldives but Manta rays gliding elegantly on the corals in search of planktons during southwest Monsoon in Hanifaru Bay or Manta Ray Point will be etched in your mind forever. Eagle Rays are also common along with Manta and Sting Rays during seasonal gatherings. It is better to keep minimum distance of 8 feet to avoid being whipped by their deadly tails as self-defence.
8 Maldives Villas That Are Perfect For A Luxurious Staycation In 2022!
9. Invertebrates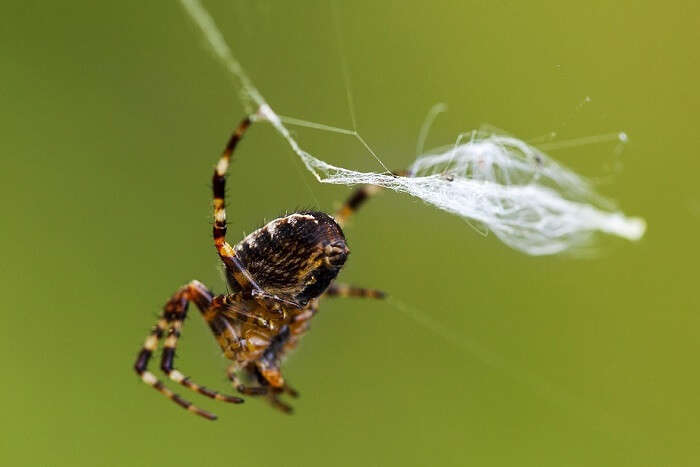 From Maldives Spiders like the Black Widow Spider, Lynx Spiders and Argiope anasuja on the trees to the Hermit crabs on the beaches, the invertebrates in Maldives are numerous. You will get to see a plethora of shellfish, centipede, millipede, squids, octopuses, sea cucumbers, sea urchins, brittle stars, starfish, crabs, lobsters and clams in the shallow lagoons as well as while taking a deep dive into the ocean.
You will also see the magnificent jellyfish and anemones –it is recommended that you deter from touching them or stepping on them to avoid excruciating pain. The UNESCO World Biosphere Reserve of Baa Atoll is famous for 1200 square metres of coral reefs created by polyps –these should not be touched to sustain their normal growth and maintain the norms of wildlife conservation in Maldives.
Como Cocoa Island, Maldives: A Guide To The Most Dreamy Staycation
10. Reef And Marine Fish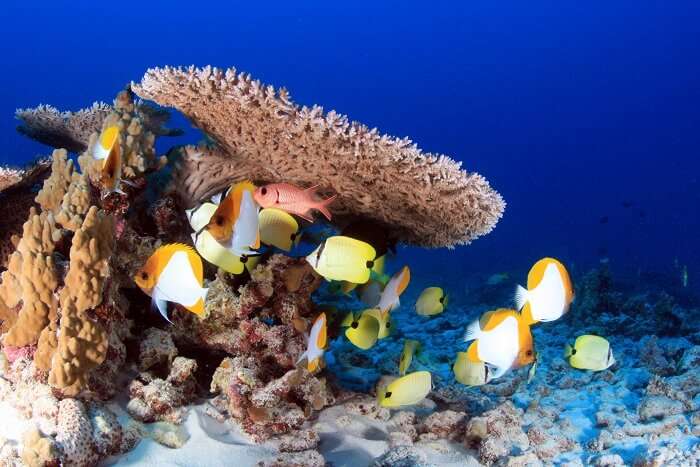 With more than 2000 fish species calling the coral reefs surrounding the 26 atolls and the ocean their home, a quick dive into the deep or a snorkelling trip can show you the underwater wildlife in Maldives. The Tuna and Tilapia are among the most abundantly found fish species in the water along with Clownfish, Parrotfish, Longnose Hawkfish, Angelfish and Butterfly Fish.
When you talk about dangerous wildlife in Maldives, the Lionfish, Stonefish, Barracuda, Bluestripe Snapper, Spotted Tornado, Moray Eels, Giant Triggerfish (especially if you go near their nests), Surgeonfish, Squirrelfish and Brown-spotted Spinefoot should be mentioned for their aggressiveness whenever you go too close.
28 Best Islands In Maldives For Honeymoon In 2022 For An Instant Cupid-Strike
11. Arthropods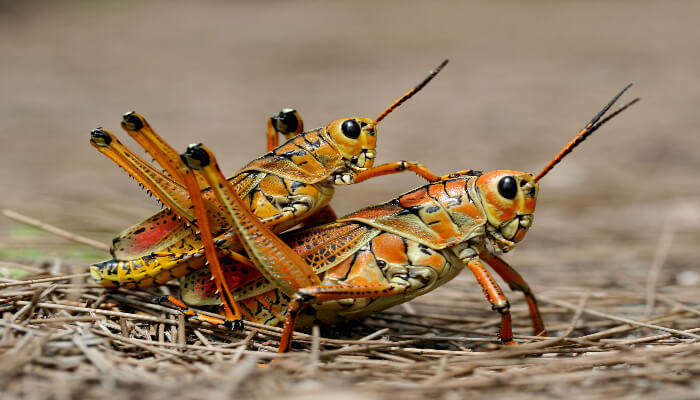 There are some land-based species, known as Arthropods found in the wildlife of maldives. These species have segmented body with exoskeleton formation. The species are also known as millipedes and centipedes. There are few spider species such as lynx spiders and black widows sometimes found on the Male International Airport and Hulhumale Island. Wildlife of maldives are quite vibrant regarding the species found there and these species are quite interesting in their nature. 
15 Exciting Water Sports In Maldives For Your Adrenaline Fix In 2022
12. Flora of the Maldives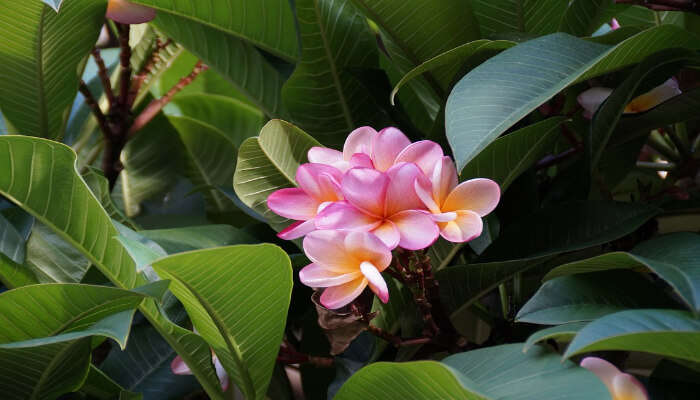 If you are wondering what animals are there in the Maldives then you need to shift your focus to the flora of the Maldives which comes up with lush green and diverse in its variety. In the Maldives, the southern and northern Islands are more fertile than the central Islands and eastern Islands of the Maldives are more fertile than the Islands situated in the western part. A major part of the Islands are covered with dense forests and the existence of plenty of tropical trees such as breadfruit, mango, coconut palms, plantain and banyan makes the Islands of Maldives picture-perfect.
8 Maldives Villas That Offer Utmost Luxury To Travelers
The wildlife in Maldives especially the sharks, coral and turtles are under great threat from pollution and global warming. So, book your trip to Maldives and enjoy the exotic fauna of this place before it's too late! Did this entice you enough? Get packing and plan your trip right away to find out the hidden secrets of this land!
For our editorial codes of conduct and copyright disclaimer, please click here.
Frequently Asked Questions About Wildlife In Maldives
What are some of the exotic wildlife species of animals found in Maldives?
Maldives always surprises the tourists by the number of rare species of wildlife animals it has. Some of the most exotic species of wildlife in Maldives include fruit bats, hammerhead sharks, whale sharks, whales, dolphins, reef sharks, turtles, reef and marine fish, manta rays, eagle rays, skinks, geckos and many more.
What kind of sharks are found in Maldives?
You will find different types of reef sharks in Maldives that are quite beautiful but not at all harmful to human Tourists often swim with them during scuba diving in the Maldives.
Does Maldives has different categories of spiders?
Yes, Maldives is quite well-known for the exhaustive categories of spiders present over there, including Plexippus paykulli, Argiope Anasuja, and many more.
Can one view crocodiles in Maldives?
Reportedly there are over thirteen seawater crocodiles in the Maldives. So, yes, if you are lucky, you might be able to witness a crocodile on your trip to Maldives.
Does Maldives have sea snakes?
Maldives does have sea snakes. One of the most common categories of sea snakes that are found in the sea is the Pelagic sea snake. They are quite rarely seen and most tourists do not get the opportunity to witness them.
What types of turtles are found in Maldives?
You will find different categories of turtles in Maldives, including Green turtles, leatherback turtle, hawksbill turtle, and many more.
Can one witness different varieties of dolphins in Maldives?
Maldives is famous for different varieties of dolphins, including Fraser's dolphin, Risso's dolphin, Spinner dolphin, bottlenose dolphin, spotted dolphins, and many more.
How many different categories of coral reef can one witness in Maldives?
If you visit Maldives, you will be mesmerized by the sheer number of different reefs available there. You will be able to witness more than 2000 coral reefs in there.
---
Looking To Book An International Holiday?
---
People Also Read:
Maldives Holiday For Couples Brazil Wildlife Estonia Wildlife
Comments
comments