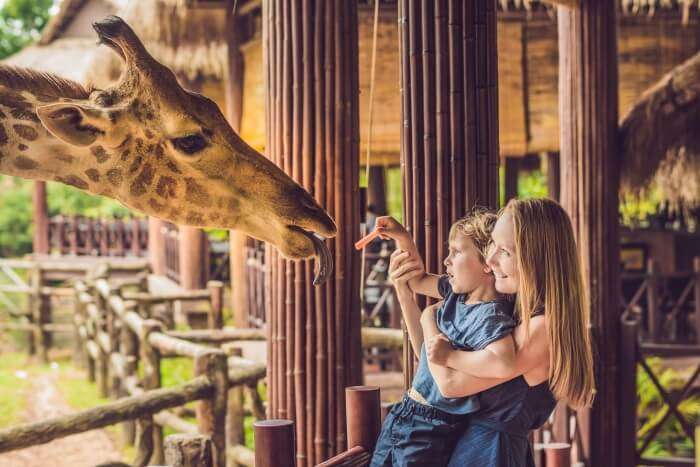 Brisbane, the bustling capital of Queensland in Australia has evolved to become one of the most frequently visited cities. A city that is raging with creativity, music and some of the best eateries. Brisbane is not only that but the zoos in Brisbane are also places that should be on your bucket list if you're visiting the city.
The 4 Best Zoos in Brisbane
Zoos and wildlife sanctuaries are the best way to spend time close to flora and fauna of a country. If you feel the same, read here about the best zoos in the city:
1. Lone Pine Koala Sanctuary
Located 12 kilometers away from the main city of Brisbane, the Lone Pine Koala Sanctuary is abode to a hundred and thirty koalas and kangaroos. The Sanctuary was opened in 1927 to protect and give homes to orphaned, sick and injured koalas. It was the need of the hour as it was a time when Koala fur was being exploited for trade and that's when Lone Pine's founder, Claude Reid stepped in and built the Sanctuary.
The best part about this Sanctuary is that it gives you a chance to meet and greet the Koalas and the other wild animals that live in the Sanctuary. Activities like Koala holding, hand-feeding kangaroos and wallabies, feeding wild exotic birds like the Lorikeet are some of the things that you can do at this Sanctuary.
Don't only go by the name as the sanctuary is alive with wildlife ranging from koalas to platypus to freshwater crocodiles. The team at Lone Pine Koala Sanctuary has formed a group called the 'Green Team' that comes together to research and evaluate our consumption patterns and even brainstorms methods to reduce negative impacts that we have on the environment.
Timings: Open on all days from 9 am to 5 pm.
Price for this Brisbane zoo's tickets: INR 2691 (per adult); INR 1600 (per child, aged between 3 to 13 years).
Where? 708 Jesmond Rd, Fig Tree Pocket QLD 4069, Australia.
How to reach? You can take the train from Central (platform 5) and alight from the train at Sherwood (platform 1), a one-way train journey will cost about INR 200 per person and takes about 35 minutes to reach you to Sherwood. From Sherwood, the Lone Pine Koala Sanctuary is just a fifteen-minute walk. If you choose to go by taxi from the main Brisbane city to the Sanctuary, it will take you about fifteen minutes to reach the Lone Pine Sanctuary and cost around INR 2000.
Suggested Read: 11 Boutique Australian Music Festivals To Make Your Feet Tap
2. Walkabout Creek Wildlife Centre
The Walkabout Creek Wildlife Centre in Brisbane is a unique wildlife center and in that, it has created a natural habitat for the wild animals that live here. You can literally walk about the Walkabout Creek and explore the two scenic paths. The first path is called the Corymbia Circuit which is a 1.5-kilometer walk (return trip) and takes about forty-five minutes to explore.
Some parts of this track are slippery and steep so be careful when you're walking here. The second path is called the Araucaria Track that affords some spectacular bird-watching opportunities for those walking on this path.
When you're walking about the wildlife center, you'll see pademelons, wombats and kangaroos. You can't miss out on the Gondwana Platypus Rock Pool which gives you a chance to watch the lives of the platypuses in their habitats and learn about them.
Originally opened in 1988, Walkabout Creek is also open to events and conferences. The best part about the Walkabout Creek is the in-house cafe called the Walkabout Creek Cafe that is located just above the wildlife center and serves some very tasty food, they also cater to any specific dietary requirements.
The Walkabout Creek Visitor Centre is a place you must go to, in case you're traveling with kids as they virtually take you through most of the national parks in South East Queensland.
Timings: Open from 9 am to 4 pm, on all days of the week.
Prices for this Brisbane wildlife center's tickets: INR 500 per adult, INR 250 for children from 4 to 17 years. If you're visiting with your family, consider buying the family pass for INR 1288 which is inclusive of two adults and four children.
Where? 60 Mount Nebo Rd, Enoggera Reservoir QLD 4520, Australia

How to reach? You can take a line 385 bus from Roma Street busway (platform 1) which drops you to The Gap Park 'n' Ride in about twenty minutes and costs INR 250 to INR 340 (one way, per person). From Gap Park 'n' Ride, the Walkabout Creek is just ten minutes away.
Suggested Read: Visit These 10 Uninhabited Islands For A Trip Of A Lifetime
3. Brisbane Valley Ostrich and Fish Farm
The Brisbane Valley Ostrich and Fish Farm was opened in 1992 with only four ostrich chicks which later grew the place into a full-fledged farm and a super tourist attraction in Brisbane. When you visit the Brisbane Valley Farm, they take you through the whole farm where you can learn and meet ostriches.
If you're looking for an animal petting zoo in Brisbane, the Brisbane Valley Ostrich and Fish Farm is the best place you can go to. Here, you can hand feed the ostriches while also gently petting them. If you think the farm only has ostriches, wait till you see the tamed pet emu, chickens, peacocks, ducks and geese, white swans, sugar gliders and koalas.
The Brisbane Valley Ostrich and Fish Farm also has a 'Catch, Kiss and Release' activity wherein you can catch fish with the help of barbless hooks, have a closer look at it and then put it back in the water. Fish that are in the farm lake are the golden and silver perch, bass, catfish and the Murray Cod.
Timings: 9 am to 4 pm, confirm the timings with the owner before you set out.
Price for this Brisbane farm's tickets: INR 730 per person, make sure you've booked in advance. They also serve tea and lunch at an added cost. You can also carry your own food.
Where? 3695 Gatton Esk Rd, Esk QLD 4312, Australia.
How to reach? Reaching the Ostrich and Fish Farm from Brisbane by bus will take about 3 hours and cost around INR 3000 (per person). The bus route includes one transfer from Ipswich to reach Ipswich St. Near Redbank St., from here the farm is about a 2-minute taxi ride which costs about INR 550.
Suggested Read: 10 Sydney Travel Tips To Make Your First Vacation As Memorable As Possible
4. Brisbane Forest Park
The Brisbane Forest Park lies on the western side of the main city of Brisbane and is now known as the D'Aguilar National Park. The forest park was first created to protect the bush-land area and to provide a protected home to the different plant species in the park. D'aguilar National Park is a gargantuan park that covers 50,000 hectares of land. Looking to challenge the inner trekker in you?
Trek the path that leads you to most picturesque views of Lake Somerset and Lake Wivenhoe. Drives around the forest park give you a chance to explore some of the most beautiful sights. If mountains are your thing, take a drive along the Mount Nebo Road which looks like a picture right from a postcard.
As we already know, the National Park is huge and so are the opportunities to hike, trek or walk through the forest. Walking along the Greene's Falls Track is a 4.3-kilometer path that will transport you to a jungle scene straight from a movie as you walk over rainforest pools, looking over the Greenes Falls surrounded by thick trees on all sides. With all the trekking and hiking, you must've worked up an appetite so next, head to the Jolly's Lookout picnic spot where you can enjoy some juicy barbecues and overlook the Moreton Island, the Brisbane Valley, and the Glasshouse Mountains.
If you are also planning to visit the Walkabout Creek, plan your day in a way that you can cover the Brisbane Forest Park and the Walkabout Creek one after the other as the two places are located very close to each other.
Timings: Open all throughout the day and night, all days of the week.
Price for this Brisbane park's tickets: Free entry
Where? Brisbane Forest Park, QLD, Australia.
How to reach? Take a bus from King George Square that drops you off at The Gap park 'n' ride which takes about twenty-five minutes and costs around INR 250 (per person, one way). From The Gap park 'n' ride, hail a taxi to the Brisbane Forest Park which will again take another twenty-five minutes and cost around INR 3500.
Suggested Read: Scuba Diving In Australia: 10 Best Spots For Indulging In Diving Activities
Best Time To Visit Brisbane
Brisbane has a tropical climate type which makes visits all around the year very pleasant. However, the best months to visit Brisbane would be April and May as the average temperature around this time is 24 degrees Celsius.
Further Read: Drop Everything And Head To These 9 Islands Near Australia Now
Now that you know about all the zoos in Brisbane, make sure you add them to your holiday package when visiting Australia. If you already have, then nothing can be any better. Also, while you're at it, check out other things that you must know about the Land of Kangaroo. 
Frequently Asked Questions About Zoos In Brisbane
What are the fun tours you can take at the Australian Zoo?

Aussie animals, Furry Fun, Conservation Crusaders, and many more fun tours are available where you hand-feed and cuddle these animals. Feed Koalas, Kangaroos, Wombats, take Segway tours, walk with the Tiger, among many more exciting and extreme encounter activities available at this zoo.

Which are kid-friendly zoos in Brisbane?

Walkabout Creek Wildlife Center and Queens Park Nature Center are perfect for kids and senior citizens. There are cafes and scenic areas to take a walk inside these parks.

Which are special zoos in Australia?

There are special zoos that conserve endangered species in Australia. David Fleay Wildlife Park and Lyell Deer Sanctuary are special zoos that conserve rare and endangered birds and animals. There are leather and craft workshops that you can attend here.

What are the things to do at the Walkabout Creek Wildlife Center?

This is a natural habitat of Platypus. You can have a close encounter with this mammal at this center. One of the most beautiful national parks in Queensland that have scenic paths, picnic spots, and places for many outdoor activities.

What outdoor activities are available at the Walkabout Creek Wildlife Center?

You can enjoy paddling, kayaking, mountain rides, cycling, and take scenic walking trails.

How many Koalas does the Lone Pine Sanctuary have?

This is the most gigantic Koala sanctuary in the world. It has 130 Koalas. You are allowed to hold and feed the Koalas at this sanctuary.

What are the best picnic places inside Brisbane Forest Park?

Bellbird Grove is a scenic picnic spot that has shelter sheds with benches and BBQ facilities. Mount Nebo has gift shops and cafes. Lomandra inside the Brisbane Forest Park is also an excellent picnic spot that gives a glimpse of wildlife.
---