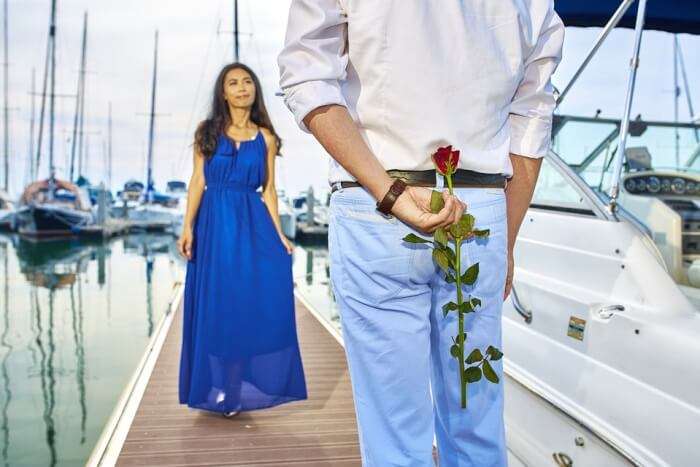 Getting married this summer? Boy, we totally empathize with you. Not because you're getting married. Oh no! For that we wish to congratulate you. But we feel sorry because you'd have already become so disappointed with the lack of options of the honeymoon destinations in July month.
With the freezing temperatures of Australia & New Zealand and the severe monsoons in Thailand-Singapore-Maldives, you might have already thought of postponing your honeymoon plans to the later months. But what if we tell you that you can actually enjoy some of the best honeymoon destinations in July?
Yeah! You read that right! Read on to know more about the best places to visit in July for honeymoon before you book your honeymoon package.
Wanna visit one of the best honeymoon places in India in July?
1. Keylong: Plan a trip to the melting pot of religion, nature, & romance

Couples looking forward to lazy walks through nature in one of the best honeymoon destinations in July can actually head to Keylong, a spectacular destination in Lahaul & Spiti district of Himachal. And the first showers of rainfall make the velvety valleys look greener and all the more vibrant.
Best honeymoon experiences in Keylong
Take a romantic walk by the banks of the River Chandra.
Walk through the peaceful woods while enjoying the nature at the Pin Valley National Park.
Visit Deepak Tal & Suraj Tal that are formed from the streams of freshly melted snowcaps
How to reach
By air: Bhuntar Airport (Kullu), 165 km from Keylong, is the closest airport. Buses are easily available from here.
By rail: Amb Andaura (Una district), 133 km from Keylong, is the closest railway head.
Must Read: 60 Best Hill Stations In India
2. Tawang: Find romance in northeast's cultural hub

There are numerous arguments in support of people's opinion of Tawang as the best place to visit in July for honeymoon in India. The scenic Arunachal Pradesh destination, located at an elevation of 10,000 feet above the sea level, boasts of some amazingly vibrant monasteries. And its luxuriant surroundings are much alike the dream settings any honeymooner could hope for.
Best honeymoon experiences in Tawang
Fly over the hamlet in a helicopter and enjoy the rain-swept views of the hamlet.
Go for romantic strolls around Paradise Lake, Pangang Teng Tso Lake, and Nuranang Waterfall.
Spend some romantic time in the sprawling fields with colorful flowers or witness the myriad colors of flowers from your hotel balcony itself..
How to reach
By air: Tezpur Airport, 316 km from Tawang, is the closest air connect.
By rail: Amongst the rail heads, Tezpur railway station – 326 km away – is the closest to Tawang.
3. Valley Of Flowers: Add some more colors to your newly married life

Those looking to visit one of the honeymoon destinations in July month in India should surely consider the charming Valley of Flowers, especially if trekking up the hills is not a problem. The UNESCO-listed World Heritage Site is the best among the many flower valleys in India and is widely reputed for its colorful combinations of seasonal flowers and rich wildlife.
The early monsoon showers make the valley look its best during the months of July and August. It is, perhaps, because of the same reason that these months are considered the most suitable for a romantic trip to the flower valley.
Best honeymoon experiences in Valley of Flowers
Relish the kaleidoscopic beauty of the vibrant color beds.
Go for a trek to Valley of Flowers and take detour en route to the Hemkund Saheb Gurudwara.
How to reach
The nearest airport is at Dehradun and the closest railway connect is at Haridwar. Thereafter, one needs to drive up to Joshimath and then take a trek to Valley of Flowers.
Suggested Read: 15 Captivating Honeymoon Destinations In North East India
Or would you rather visit one of the best honeymoon places in July outside India?
4. Quebec, Canada: Enjoy the scenic views in the offbeat honeymoon destination

The predominantly French-speaking province in Eastern Canada is just as romantic as the best French destinations, if not more. While the oldest European settlement in this continent might not have any minaret or monument of romantic significance, its sheer beauty is sufficient for it to be considered as one of the best honeymoon destinations in July.
Best honeymoon experiences in Quebec
Enjoy music & drinks at the jazz bars or savor the delicious Québécois cuisine at the chic restaurants.
Go ice-skating at the outdoor skating rink in Palais Montcalm.
Take kayak or canoe tours in the beautiful St. Lawrence River.
Visit the various tourist attractions; such as Montmorency Falls, Cathedral Basilica of Notre Dam, and Château Frontenac
Best places to stay in Quebec: Hôtel Le Priori, Auberge Saint-Antoine, Manoir Victoria, and Hôtel Clarendon
How to reach
The Jean Lesage International Airport, located about 13 km from Quebec City, is well-connected to all major cities across the globe. These include Indian cities like New Delhi, Mumbai, and Bengaluru; connected by flights run by Air France, Air Canada, and United Airlines. From the airport, taxis can easily be availed.
5. Costa Rica: Experience the luxury of this exotic honeymoon destination in July

A honeymoon in Costa Rica offers a luxury like only a few other honeymoon destinations in the world in July. And in addition to the luxury offered at its chic resorts, there are stunning beaches and lush green landscapes that will take your romantic experience to a whole new level.
Best honeymoon experiences in Costa Rica
Board a classy catamaran and enjoy barbecue on the deck while witnessing an amazing sunset.
Take kayak or canoe tours in the various water bodies.
Renew your wedding vows on a scenic beach.
Visit Irazu Volcano and the flower fields near Cartago.
Take a dip in the picturesque La Fortuna waterfall and the hot springs at the foot of Arenal Volcano.
Best places to stay in Costa Rica: Lapa Rios in Puerto Jiménez, Hotel Arenal Springs in La Fortuna, Hotel Belmar in Monteverde, and Hotel Grano de Oro in San Jose
How to reach
Juan Santamaria international airport, just outside San José, caters to flights from all major cities. Daniel Oduber international airport near Liberia, on the other hand, handles fewer flights; that too from US & Canada only.
Suggested Read: 15 Most Romantic Cities In The World
---
6. Botswana: Combine a typical safari honeymoon with plenty of other experiences

A honeymoon offers a chance to really push the boat out. And the major hindrance in this process is often offered by the differences in the two personalities. Luckily for Botswana, this is never an issue – not because only like-minded people visit the place, but because the safari honeymoon destination offers incredibly varied experiences. An you don't really have to travel around to change your experience.
Best honeymoon experiences in Botswana
Spend a night under the sky in Kalahari desert camps in Okavango Delta.
Alternatively, stay over in a lodge on a delta island.
Take a helicopter ride over the delta.
Ride a dug-out canoe in the delta waters.
Relax in an infinity pool in the lodges.
Best places to stay in Botswana: Mombo, Zarafa, Little Kwara, Chitabe, Vumbura Plains, Beyond Xaranna Okavango Delta Camp, and Duma Tau
How to reach
Botswana's main airport, Sir Seretse Khama International Airport (GBE), is located 11 km north of the capital – Gaborone. However, it is more common to fly into Maun Airport (MUB) and Kasana Airport (BBK). These have direct flights to Tambo International Airport (JNB) at Johannesburg in South Africa, which is further connected to the major cities of the world.
7. Mozambique: Island getaway that boasts of intimacy & remoteness

With its exotic & pristine Bazaruto islands, Mozambique does full justice to the choice of the destination as one of the best honeymoon places in July. The destination boasts of rich coral islands, azure waters, and soft sandy beaches. Furthermore, Mozambique is renowned for its diving & snorkeling sites.
Best honeymoon experiences in Mozambique
Swim with whale sharks and manta rays in Tofo.
For some adventure, try snorkeling and scuba diving in Bazaruto archipelago.
Go island hopping around Quirimbas in a dhow boat.
Take kayak tours through the mangroves.
Explore the beaches of Matemo.
Witness the beauty of Quirimbas from high above as you take a helicopter ride over the island group.
Best places to stay in Mozambique: Vamizi Island Lodge, Azura Quilalea Resort, Bahia Mar Boutique Hotel, Coral Lodge, andBeyond Benguerra Lodge
How to reach
Several international and regional airlines connect the international airports at Maputo, Beira, and Nampula to destinations in Africa, Asia and Europe. Of these, Mozambique's national airline – Linhas Aereas de Mozambique – flies to many international capitals; including Paris, Lisbon, Johannesburg, and Harare.
Suggested Read: Honeymoon In Africa: Top 11 Romantic Getaways For Best And Unique Experiences!
8. Cape Town, South Africa: Enjoy romance at the point where the South Atlantic Ocean meets the Indian Ocean

Cape Town, a port city of South Africa, is often selected over other honeymoon destinations in July outside India for its natural wonders and rich culture. Its sweeping views, together with its romantic adventures & comfortable stay options, never cease to amaze the wandering souls on a Cape Town honeymoon.
Best honeymoon experiences in Cape Town
Go for cruise rides from Victoria & Alfred Waterfront.
Behold magnificent views from the tip of the African continent.
Take a Flying Dutchman Funicular ride to the base of the Lighthouse.
Walk down to the Sea Point Promenade and take hikes up to Table Mountain & Lion's Head.
Best places to stay in Cape Town: Holiday Inn Express, The Table Bay Hotel, & Taj Cape Town
How to reach
The Cape Town International Airport is well-connected to all major international cities; including Indian cities like Delhi, Mumbai, Chennai, Bengaluru, Kolkata, Hyderabad, Ahmedabad, and Kochi. The airport is further connected to the main city with an extensive supply of buses & taxis.
Suggested Read: Get Lovestruck With These 35 Most Romantic Hotels In The World
Bonus: Honeymoon destinations in Europe

For those who wish to play safe and experiment less, there's a long list of honeymoon destinations in Europe. These include:
Switzerland: Zurich, and Interlaken
Other parts of Europe: Scotland, Budapest, Prague, and Amsterdam
Further Read: Pick From Hottest Honeymoon Trends To Explore Offbeat Themes & Unique Ideas Of Romance
Have you decided on your destination for a honeymoon for this July? Let us know for we might be able to help you plan your dream vacation with your beloved.
People Also Read:
Best Honeymoon Destinations In Europe In Summer Honeymoon Places In India In July Honeymoon Places In The World
---