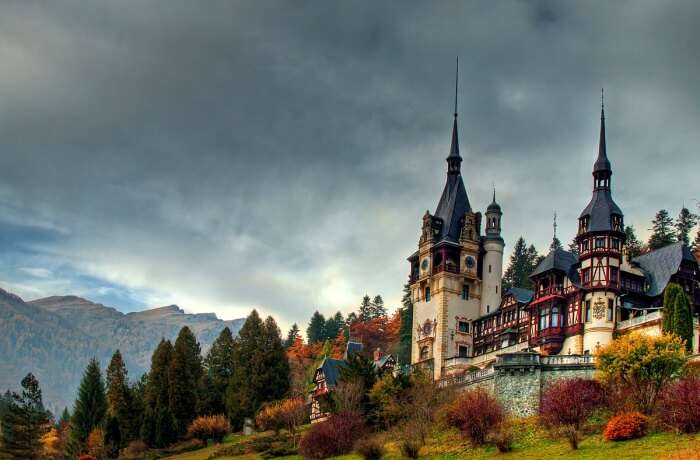 Bucharest is one of the most beautiful cities in the world apart from being the capital of Romania. The city has so much to offer to the people and this is the reason it is packed with tourists all year around. The beaches, the monuments, the art galleries, the museums, the buildings, and the roads, everything about this city is beautiful and mesmerizing. The vibrant culture of Romania and the high spirits of the Romanian people are an example to the rest of the world as to how they should live their lives. The temperature of Bucharest is moderate and the winters here are very beautiful. And while it is the snowfall that makes the city looks like a white doll, it's the castles in Bucharest that give it the fairy-tale feel.
10 Best Castles In Bucharest
Here's a list of the 10 best castles in Bucharest which you ought to visit for its historical significance and iconic architecture that'll leave you stunned.
1. Rotari Residence

The Rotari castle is one of the finest castles in Romania that describes the royal legacy of Bucharest and Romania as a whole. If you are passionate about stories of royalty, ancient history and excellent architecture, this castle is a must visit. Amongst other Bucharest castles, this is probably the best and most frequently visited. A rich history of the country has been associated with this beautiful and
majestic castle that you would love to know.
Location: Strada Vasile Voiculescu 13, București, Romania
Timings: 10 AM to 7 PM; Sunday 10 AM to 1 PM
Entry Fees: NA
Suggested Read: Summer In Bucharest: 10 Things To Do For A Refreshing & Rejuvenating Vacation In 2022!
2. Cantacuzino Castle

The Cantacuzino Castle is a part of the majestic cultural and material legacy of the family of Cantacuzino whose origins are thousands of years old. The ancestry of the Princely family can be seen very well in the castle and it looks amazingly beautiful both from inside as well as from the outside. If you are an art lover, the paintings in the walls of the castle will surely win your heart. The designs on the windows looks absolutely beautiful and reflect the architecture of that time.
Location: Aleea Peleșului 2, Sinaia 106100, Romania
Timings: 10 AM to 6 PM every day except Saturday
Entry Fees: 350 INR
3. Bran Castle

Bran castle is a beautiful castle in Bucharest Romania which is a national monument and landmark in the country. Each and everything about this beautiful castle depict the rich culture and heritage of this magnificent country. Each corner reflects the royalty of the ancient time and the art and the paintings on the wall will leave you mesmerized. This amazing castle is now a museum that is dedicated to displaying the furniture and art collected by Queen Marie. The Popular character Dracula was created from Bran castle only.
Location: Strada General Traian Moșoiu 24, Bran 507025, Romania
Timings: 9 AM to 4 PM every day; Monday 12-4 PM
Entry Fees: 680 INR
Suggested Read: Bucharest In Winter 2022: A Guide To Enjoy The Chilly Weather At The Romanian Winterland!
4. Lulia Hasdeu Castle

Lulia Hasdeu Castle is a folly which is built in a form of a castle by a famous historian Hasdeu after his daughter died at a very young age. The castle had seen world war and was severely affected by it and was restored later and opened to public in 1955. The castle is full of the things used by the Hasdeu family like furniture, family photos, manuscripts and original documents which are worth a look.
Location: Bulevardul Carol I 199, Câmpina 105600, Romania
Timings: 8 AM to 4 PM every day; Monday Closed
Entry Fees: 170 INR
5. Mogoșoaia Palace

This amazing and beautiful castle is situated about 10 km from Bucharest and is a one day trip from Bucharest. The castle has so many amazing things that you will take at least a day to visit all the places inside. Some of the best and precious art collection of this palace went missing between 1945 to 1947. This castle must be visited if you are an art and history lover
Location: Strada Valea Parcului 1, Mogoșoaia, Romania
Timings: 10 AM to 6 PM every day; Monday Closed
Entry Fees: 7900 INR
Suggested Read: Bucharest Nightlife: All About The Glamorous Nightclubs & Electrifying Parties!
6. Snagov Palace

It is a former royal residence located on the shore of Lake Snagov and is located about 40 kilometres of north east of Bucharest. Situated in the commune of Snagov, this place was built in early 1930's by Henrieta for the prince of Romania, known famously as Nicholas. The palace has beautiful gardens and the beauty of the garden is increased by the wonderful fountains. In garden there is a guest house filled with Romanian art, craft style which was built in the beginning of the 20th century.
Location: Strada Vasile Voiculescu 13, București, Romania
Timing: 7:30 AM to 6 PM
Entry Fee: INR 2800
7. Foisor Castle

The palace with 43 rooms was the favourite place of the Romanian King. It was built earlier than the Peles Castle and later on became the provisional palace of the king and the queen. The castle consists of big rooms, offices, parlors, fancy living rooms, gardens, and more. The place is full of greenery and is a nice place to explore.
Location: Sinaia 106100, Romania
Timing: 9 AM to 5 PM
Entry Fee: INR 1200
Suggested Read: 10 Mountains In Europe That Will Put To Test All Adrenaline Junkies In 2022
8. Pelisor Castle

It's a very nice location to visit with friends and family. This castle was open for public in 1993. It has a museum with an items of invaluable value including historical and artistic things. The building is very vast and spacious it was created by King Carol in the valley of the Peles Stream. The interior decoration was designed by Queen Maria and it explores the real culture of Romania. It is considered as a masterpiece in the categories of castles and is lovely place for exploring the culture of Romania.
Location: Valea Peleșului, Sinaia 106100, Romania
Timing: 9:15 AM to 5 PM
Entry Fee: INR 280
9. Peles Castle

The history of this castle says that King Carol 1 of Romania felt is love with magnificent mountain scenery. The first three design plans of this castle was copied from other palaces of Western Europe but king rejected them all due to lacking of originality and it was too costly. The castle is very beautiful from the outside and it showcase the real beauty of Romania.
Location: Aleea Peleșului 2, Sinaia 106100, Romania
Timing: 9:15 AM to 5PM
Entry Fee: INR 1020
Suggested Read: 14 Places To Visit In Czechia On Your Europe Backpacking Trip
10. Magic Castle

Magic castle is something which is very nice and surprising for the people who visit here for the first time. You will love the ambience and greenery of this place. The aim of the castle is to involve the kids into the world of knowledge. They teach children such as how to showcase your opinion publically, how to make decisions, how to initiate social contacts, who they are, how they are, why they are etc. The qualified staff teach them about teamwork, empathy and how to learn from mistakes.
Location: Strada Mureșana 26, București, Romania
Timing: (Sat & Sun) 8 AM to 10 PM, (Mon to Fri) 9 AM to 10 PM
Entry Fee: INR 1400
Further Read: 10 Best Castles in Luxembourg That Are Replacements For Sheer Magnificence!
There are a lot of castles in Bucharest, Romania which are very beautiful and worth a visit. These castles reflect the Romanian architecture and the history of this beautiful country. So, if you planning a trip to Europe with TravelTriangle anytime soon, don't forget that the Bucharest castles tour is a must!
---
Looking To Book An International Holiday?
Book memorable holidays on TravelTriangle with 650+ verified travel agents for 65+ domestic and international destinations.
---