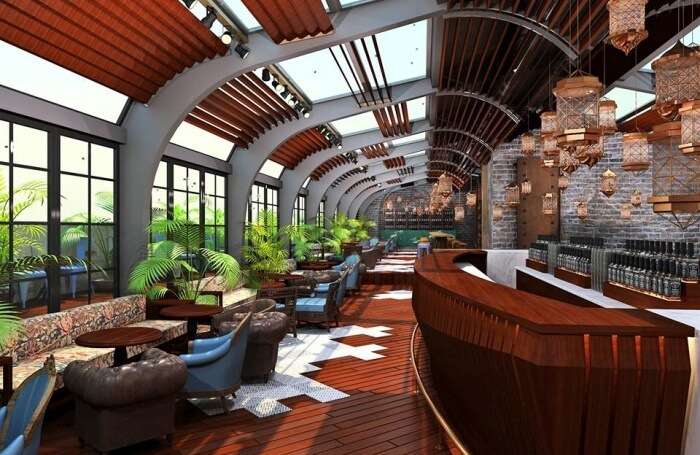 Romania's capital Bucharest is the most important commercial center. There are some beautiful places in Bucharest. It is said that the Bucharest nightlife is quite happening and stunning at the same time. The nightlife is also said to be an energetic one. However, there are many churches that are also found in this city. Romanian Tourism is very famous and renowned in the whole world. There are ample nearby attractions that are always visited by the tourists. There are some renowned places that strongly reflect the Romanian culture and traditions. If you love witnessing the nightlife of new places then pick the classiest outfit you have and go gaga about the enticing Bucharest nightlife!
9 Spots For Enjoying Bucharest Nightlife
Already excited about partying in Bucharest? Here is a perfect list to give you a glimpse of some dashing nightlife in Bucharest. Take a look!
Player Club
Control Club
Shoteria
Nomad Skybar
Mojo Music Club
Fire Club
The Vintage Pub
Happy Pub
Club Revenge
1. Player Club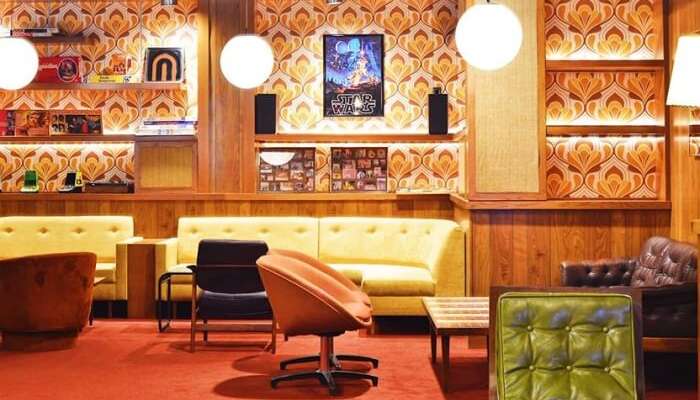 It is a wonderful place where one can spend an amazing nightlife. During summer, this club is famous for pool parties. The place is highly enjoyed by the young groups. James Zabiela, Audiofly performs here on a regular basis. As Friday night is mostly crowded with people so it is better to book a table. It is said to be one of the best nightlife in Bucharest.
Location: 1 Montreal Square, Bucharest 004493
Timing: Sun-Sat 10:00 am - 8:00 am | Wed 11:00 pm - 6:00 am | Fri - Sat 11:00 pm - 6:00 am
Ratings: 5/5
Must Read: Tour Du Mont Blanc: A Complete Guide To Trek Through The Magical Beauty Of Europe
---
Europe Holiday Packages On TravelTriangle
Explore the most beautiful places to visit in Europe, from Paris to the Venice canals and from the Greek islands to the Swiss alps. Book customized packages by expert agents on TravelTriangle. Inclusive of airport transfers, cab, resort, sightseeing and meals. Best holiday experience Guaranteed. Book Now
---
2. Control Club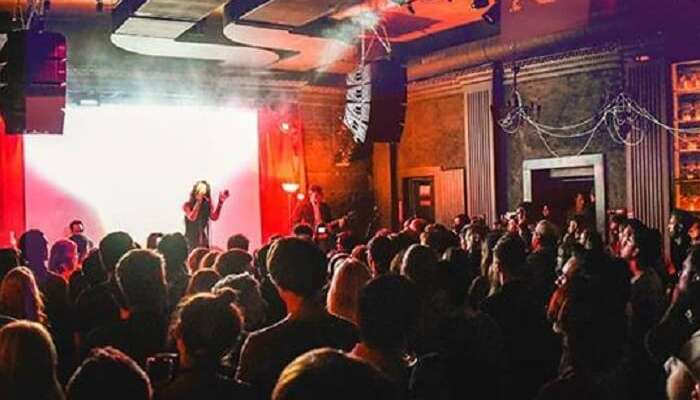 This club is closely located in the old town of Bucharest. Mainly the local and foreign bands perform here. They are quite popular in this club. It is a wonderful pub with a beautiful terrace. During the summer season, most of the events take place in the open area. During parties, the open area is beautifully decorated. All the drinks and foods are served to the guests. The employees of the club are very well behaved and are quite aware of the basic common senses.
Location: Strada Mille Constantin Nr. 4 | Sector 2, Bucharest 010142.
Timing: Sun - Mon 1:00 pm - 4:00 am | Tue - Thu 1:00 pm - 5:00 am | Fri 1:00 pm - 6:00 am | Sat 2:00 pm - 6:00 am
Entry Fee: 10 RON
Ratings: 4/5
3. Shoteria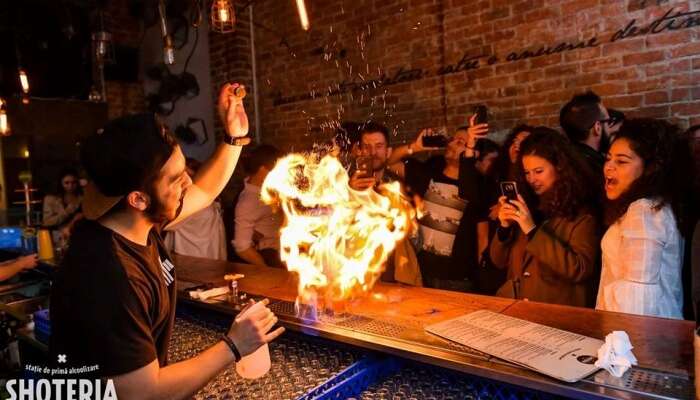 This club is located in the heart of Bucharest. Wonderful drinks and cocktails are available here. A person can enjoy a wide variety of shots in this club. Apart from this, there are DJ nights that are highly relaxing and enjoyable. During special events, the DJ nights are the most interesting things to see. People highly enjoy it. It is like energy.
Location: Strada Selari NR 17, Bucharest 030068
Timings: Thu - Sat 9:00 pm - 5:00 am
Ratings: 5/5
Suggested Read: 10 Mountains In Europe That Will Put To Test The Adrenaline Junkie In You
4. Nomad Skybar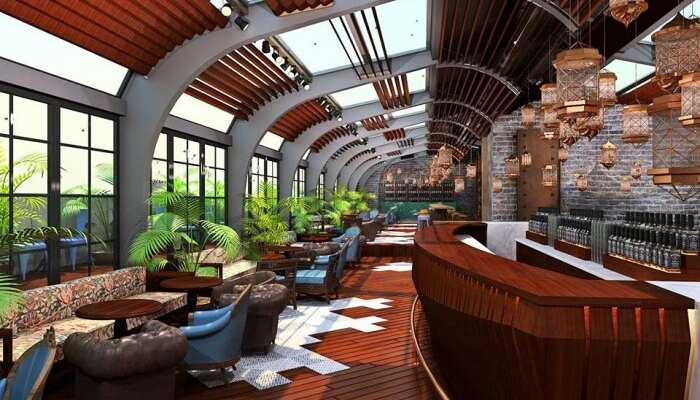 This bar brings and serves to the visitor with a wide variety of foods along with amazing drinks. A person who is quite a foodie highly enjoys this type of places. They are quite tasty and safe at the same time.
Location: Strada Smardan 30, Bucharest 030076
Opening Hours: Mon - Thu 4:00 pm - 2:00 am | Fri - Sat 4:00 pm - 6:00 am | Sun 4:00 pm - 12:00 am
Ratings: 4/5
5. Mojo Music Club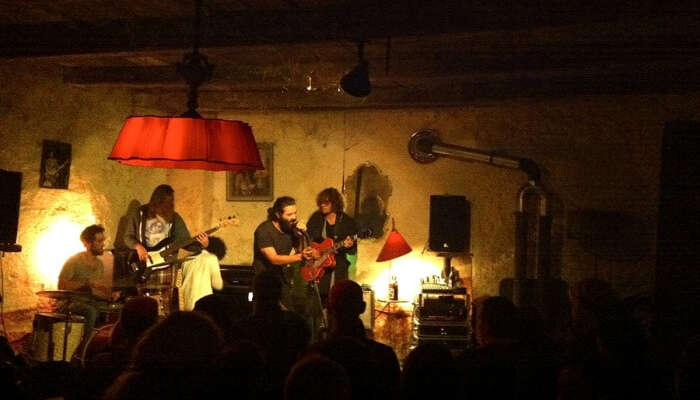 If you have a strong passion for music, then this club is the best one. The bar also offers a wide variety of drinks by English speaking staffs. Apart from this, there are Romanian Sports channels that are also found here.
Location: Str. Gabroveni Nr. 14, Bucharest, Romania
Opening Hours: 1:00 pm - 5:00 am
Ratings: 4.5/5
Suggested Read: Denmark Nightlife: Get Ready To Party Hard At These 10 Places In The Dairy Of Northern Europe
6. Fire Club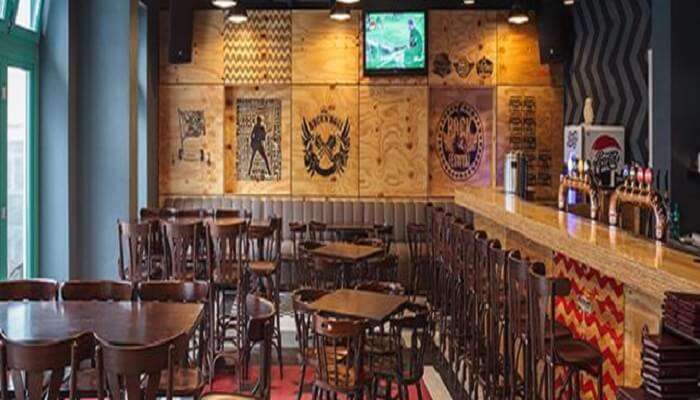 This club is said to be perfect for football fans or one who has a great passion for playing football. This club also offers pizzas, sandwiches and another type of foods along with amazing drinks. They become a perfect combination. This place is really ideal for food lovers.
Location: Strada Gabroveni 12, Bucharest 030167
Opening Hours: Sun - Thu 10:00 am - 4:00 am | Fri - Sat 10:00 am - 6:00 am
Ratings: 4/5
7. The Vintage Pub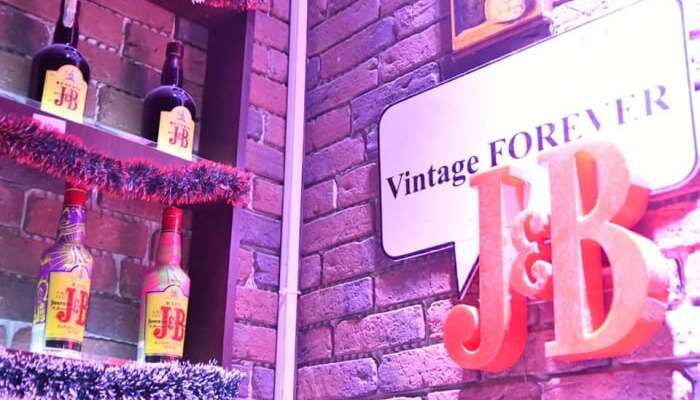 This club is located on a very popular street of Bucharest named as Smardan Street. It is a great place for both drinking and having delicious foods. If you are really looking to spend a good time with friends and loved ones, then this is the right place. It is a huge area and if anyone wishes then they can throw the party at the terrace or in the open area.
Location: Str Smardan 43, Bucharest 8700
Opening Hours: 9:00 am - 7:00 am
Ratings: ⅘
Suggested Read: 10 Cafes In Malta Where You Can Satiate Your Caffeine Cravings In A European Way
8. Happy Pub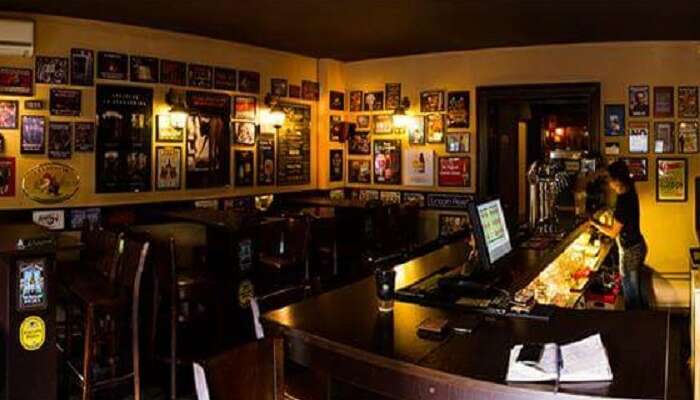 This club is located in the central part of Bucharest. It is a great place for those who love music and also have a strong love for craft beer. You can spend ample time without any tension. Apart from this, the visitors can enjoy about 160 types of beer. It is really a great experience to taste the flavors of various types of beer.
Location: Strada Căderea Bastiliei 36, Bucharest
Opening Hours: Mon - Fri 4:00 pm - 1:00 am | Sat 6:00 pm - 2:00 am | Sun 6:00 pm - 12:00 am
Ratings: 4.5/5
Suggested Read: Belgium In June: Explore The Best Of This Charming European Land With This Pocket Guide!
9. Club Revenge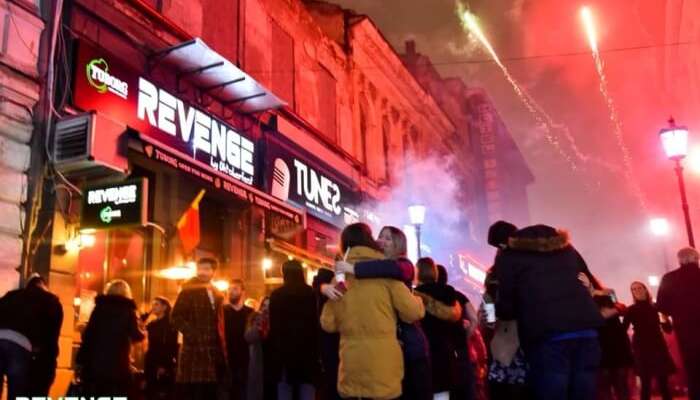 Revenge club is a perfect destination for all types of foods and drinks. People usually enjoy the wonderful ambiance of the club. The price of every drink is very reasonable. This is the most vital thing about this place. The cost of each and every beer is 1.10 USD. This is really very cheap. Even the whiskey is also available at 1.10USD. It sounds great.
Location: Str Gabroveni NR 16, Bucharest 030088
Timings: Thu 5:30 pm - 7:00 am | Fri - Sat 5:30 pm - 7:30 am
Ratings: 5/5
Further Read: 14 Places To Visit In Czechia On Your Europe Backpacking Trip
It has been seen that the Bucharest nightlife area seems to be very gorgeous and stunning. The whole area is flooded with light and seems that it is daytime. Especially during the weekends it nearly becomes impossible to work by the side of the road. There are many people who mostly come to cherish the nightlife in Bucharest. People mostly step out with friends and relatives in order to spend a lovely time at these clubs. The clubs have all the latest amenities and facilities. The food served is basically of top quality. So get packed, cherish and enjoy fully the amazing nightlife in Bucharest on your international vacation. We bet, you will never forget it in your whole lifetime!
Frequently Asked Questions About Bucharest Nightlife
Q. What is Bucharest known for?
A.The city of Bucharest is renowned as "Paris of the east" and is known for its Art Nouveau architecture and structures with French designs. This beautiful city is blessed with a number of attractions and monuments, beautiful gardens and lakes which makes it a place worth visiting.
Q. When is the best time to visit Bucharest?
A. The months of April, May, June, September, or October is considered to be the best time to visit Bucharest as you get to enjoy wonderful weather conditions which is perfect for sightseeing.
Q. What is there to do in Bucharest?
A. Some of the best things to do in Bucharest are:
1. Explore the beautiful Stavropoleos Church
2. Enjoy boating at Herastrau Park
3. Admire the spectacular structure of the Palace of Parliament
4. Spend a relaxing day at Cismigiu Garden
5. Explore the Romanian Athenaeum
Q. Does Bucharest have a good nightlife?
A. The lively nightlife of Bucharest comes into full action usually begins by 9 PM as the bars, cafes, and restaurants start packing up with guests. Most of the bars and clubs come alive with live performances by local bands which makes the nightlife an electrifying event.
Q. Which area is the best to enjoy nightlife in Bucharest?
A. Some of the most popular areas in Bucharest with a number of night attractions are:
1. The Lipscani
2. Smardan
3. Gabroveni
4. Piata Universitatii
5. Piata Unirii
6. Calea Victoriei
Q. Is it safe to walk in Bucharest at night?
A. The city of Bucharest is quite safe for you to walk even at night but it's always wise to take precautions while traveling in a foreign land.
---
Looking To Book An International Holiday?
Book memorable holidays on TravelTriangle with 650+ verified travel agents for 65+ domestic and international destinations.
---
Comments
comments