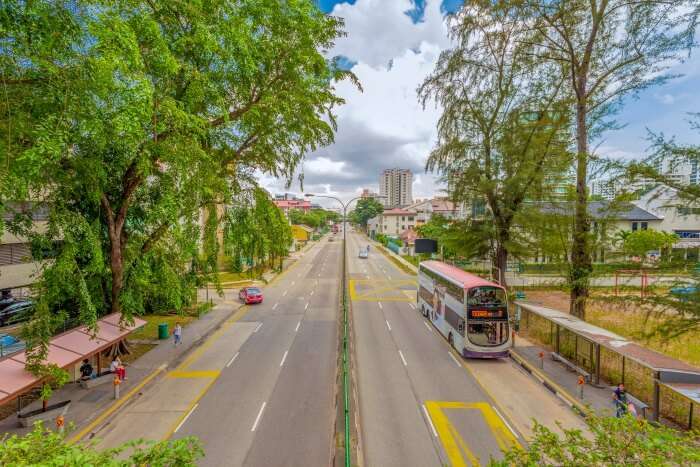 Geylang offers a rather contrasting view as compared to the rest of modern Singapore. The township covers an area of 9.64 square kilometers; it is split into near halves by the three kilometers long Geylang Road which links the business district with eastern suburban areas. A lot of tourists visit this township because there are a plethora of places to visit in Geylang!
A working-class neighborhood, Geylang is populated with many migrant workers and their quarters along with some shophouses, making it a bustling suburb where people work hard day and night to make an honest living. Geylang has apparently had an adventurous history, having gone through seismic developments since the beginning of the 20th century that made it a unique place to visit in order to gain insight into not only an alternative view of a dominantly modernistic country but also to get a peek into its history.
Geylang has somehow managed to stay away from the reach of the urban sprawl, at least partly. Many shops populate the Geylang Road. The trunk road consists of many lanes or "lorongos" that depart at right angles from it. Geylang is also very popular for its karaoke lounges and restaurants that on a whole, make it the scene of a vibrant nightlife where it's working-class populace unwinds. Apart from that, there are other various places to visit in Geylang that will ensure a wonderful trip.
12 Famous Places To Visit In Geylang
When you'll plan a vacation in this city, it is advised you to stay prepared with a comprehensive itinerary. Make sure you give the following places to go in Geylang, Singapore a try in order to experience the authenticity of the culture here!
The Intan
Sri Sivan Temple
Malay Village
Rumah Bebe
Peranakan Houses
Khadijah Mosque
Geylang Serai Market
Wisma Geylang Serai
Char Yong (Dabu) Association
Geylang Fire Station
The Former Queens Theatre
Chinatown
1. The Intan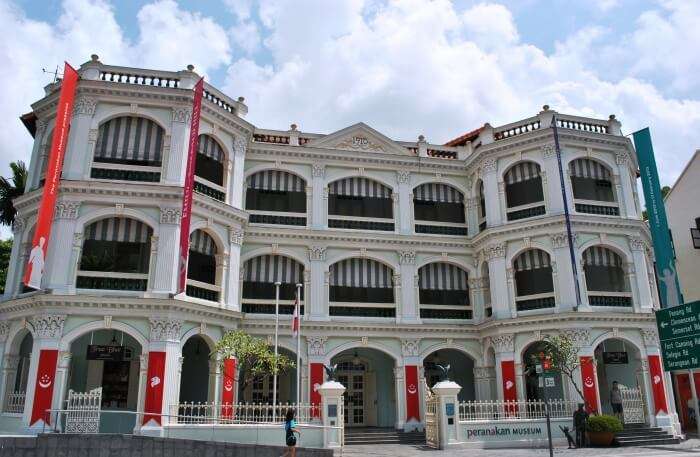 For its Intan Signature Tea Experience, it won the Singapore Tourism Award for best tour experience in 2016. The Intan (meaning rose-cut diamond) is also Singapores smallest museum and offers a glimpse into the local Peranakan culture- a result of Chinese immigrants marrying locals from the Malayan straits.
Owned by Mr. Alvin Yapp, it is nothing like your usual museum, as it was privately owned and used to be his home. It has put up for display a wide array of antiques that offer an exclusively wholesome and unique glimpse into Peranakan culture.
Address: 69 Joo Chiat Terrace, Singapore 427231
Contact: +65 6440 1148
---
Singapore Holiday Packages On TravelTriangle
Go on a luxurious Singapore holiday and visit Universal Studios, Singapore Flyer, Gardens by the Bay, Marina Life Park, and Marina Bay Sands. Packages Inclusive of airport transfer, 4-star hotel stay, breakfast, visa, sightseeing, & more at unbelievably affordable rates!
---
2. Sri Sivan Temple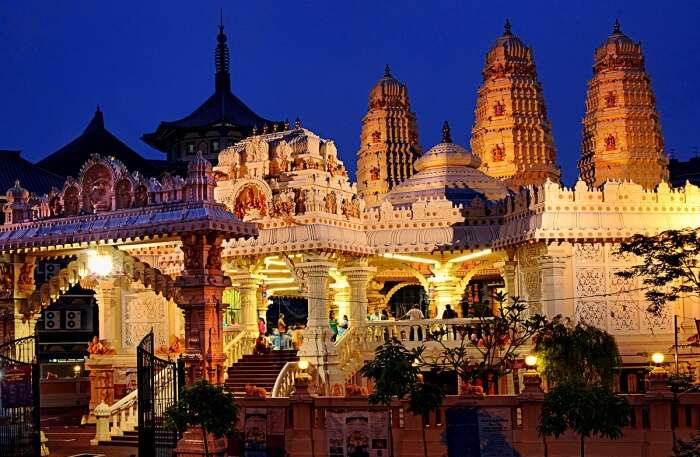 Image Source
A Hindu temple, it was built in the name of the presiding deity, Lord Shiva. It also reflects the Indian populace that has settled in Singapore and offers a glimpse into their style of architecture and religious beliefs. The temple has undergone reconstruction several times, one of which was due to the damage caused by the Second World War.
Along with poojas being conducted every day, many Hindu festivals such as Maha Shivratri, Navratri, Guru Peyarchi, etc. are celebrated every year with much pomp. So, make sure you include this temple amongst the places to visit in Geylang and experience its unique octagonal structure.
Address: 24 Geylang East Ave 2, Singapore 389752
Contact: 67434566
Must Read: Best Hill Stations Near Singapore To Escape The Metropolitan's Maddening Crowd
3. Malay Village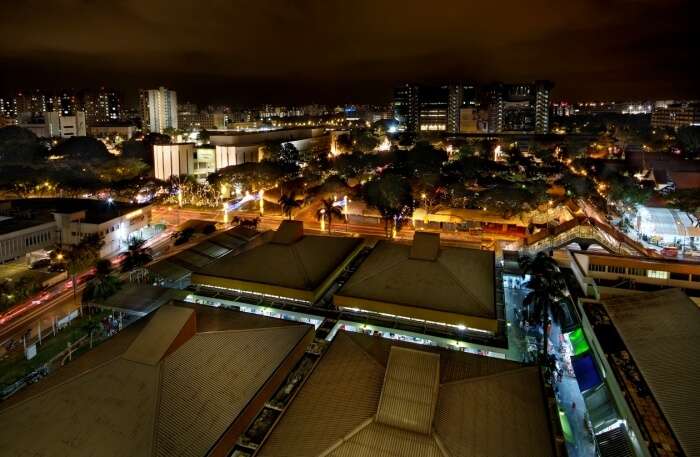 Image Source
If you are looking for places to visit in Geylang, Serai, then this is it! Built in 1989, The Malay Village of Geylang, Serai is an exhibitions site, styled like a museum that offers a glimpse into the way of life of local Malays before the sixties, also known as Kampung Days.
Occupying an area of one hectare, it offers a rather comprehensive view of their culture in order to preserve Malay heritage. It displays musical instruments, traditional clothes, and tools. Visitors can also view traditional dances, plays and rituals at 6:30 pm daily. It is open from 10am to 10pm and costs 5$ per person.
Address: Geylang Serai Malay Village, Singapore 409215, a short distance from Paya Lebar Station
Contact: + 65 67484700
Suggested Read: Geylang Nightlife: 9 Places In Singapore Town That Get Super Lively At Night
4. Rumah Bebe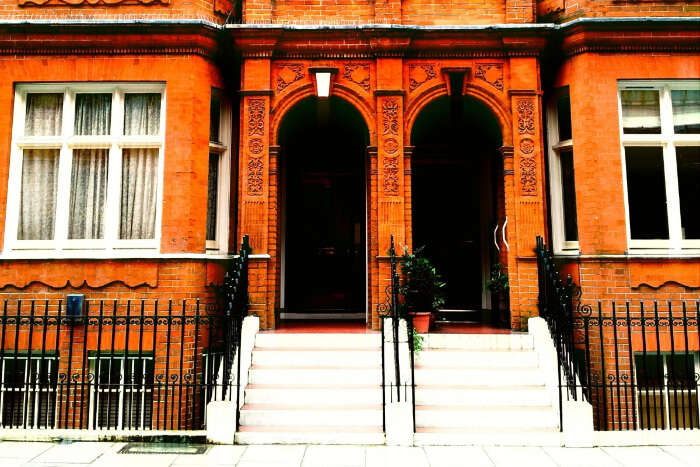 Built in 1928, this shophouse is currently owned by Bebe Seet and is a testament to the magnificent prowess of Peranakan architecture.. She is an expert in the traditional Peranakan craft of beading slippers. You can buy traditional kebayas which are Nonya-style blouses with decorative lace.
These kebayas stand out amongst others sold in the market as they have been modernized with contemporary and subversive twists and touches. You can also buy some exquisitely beaded shoes from here. It also has an in-house bake-cook shop where you can enjoy delectable Peranakan cuisine.
Address: 113 E Coast Rd, Singapore 428803
Contact: +65 6247 8781
Suggested Read: 10 Best Hostels In Singapore That Are Perfect For A Budget Holiday In The City Of Riches
5. Peranakan Houses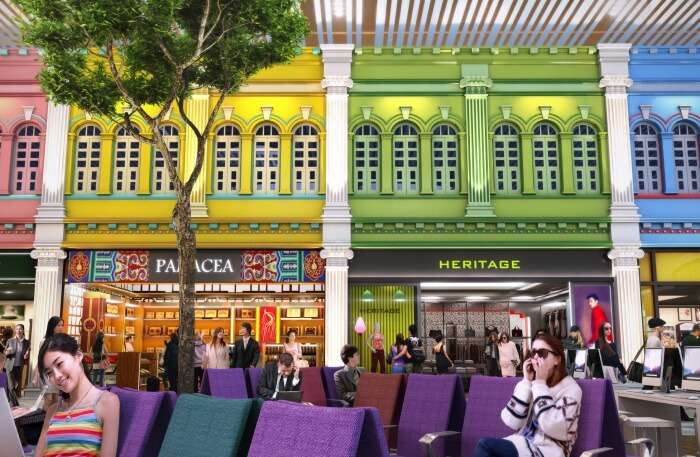 Image Source
Located on Joo Chiat Road, the Peranakan Houses is a heterogenous mixture of both early 20th century local and colonial designs. They offer a colourfully exquisite vista for you to take in as you walk through Joo Chiat Street. They are mainly two-storied terrace houses with ornate embellishments ad ceramic tiles beautifying its exteriors.
You can get a view of this serene neighbourhood anytime of the day you like. Its one of the popular places to visit in Geylang among tourists who have a disposition towards architecture that reveals not just culture but history as well.
Address: Singapore, 287 Joo Chiat Rd, Singapore 427540
Suggested Read: 8 Islands near Singapore That Make A Quick Weekend Escape
6. Khadijah Mosque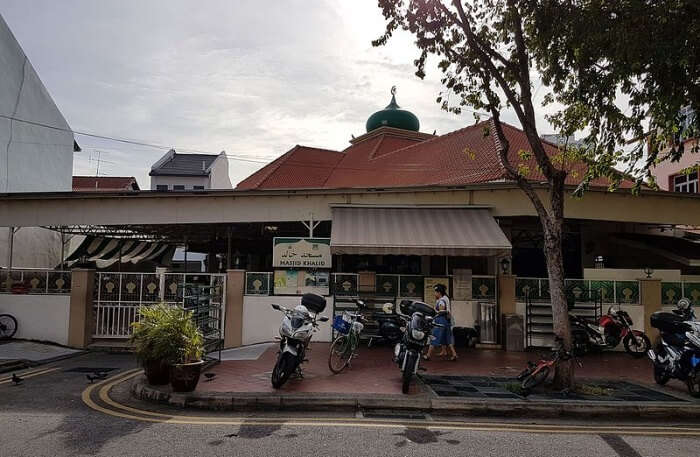 Image Source
It was built according to the wishes of Indian woman trader and philanthropist Khadijah Mohammed, who left behind more than 50,000$ to build a mosque and shophouses as part of her wakaf (endowment to the Muslim community), in 1915.
Kelvin Ang, director of conservation management at the Urban Redevelopment Authority, says: "That the mosque was built in the South Indian style is very rare. And that a woman's will was carried out at that time was even more of a rare occurrence."
The mosque also departed from conventional features of contemporary Middle Eastern mosques of its time, in that it does not have a minaret or a dome when it was built.
Address: 583 Geylang Rd, Singapore 389522
Contact: +65 6747 5607
7. Geylang Serai Market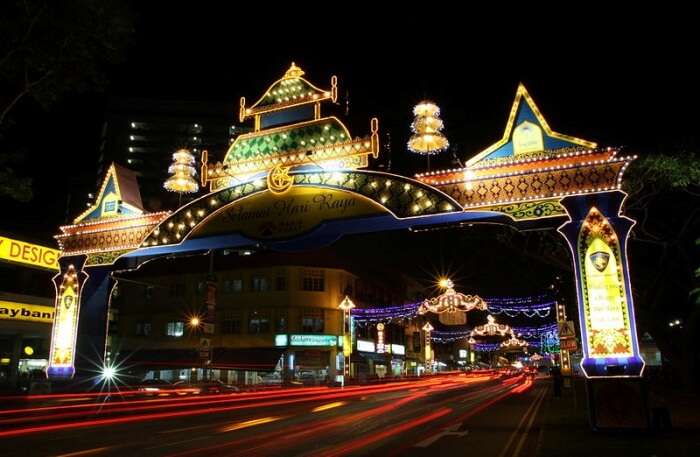 Image Source

Treat yourself to the diverse range of cuisines available at the myriad of restaurants that are located in this market. The market is only 5 minutes away from MRT Paya Lebar. It is lined with two-story buildings and sells Middle Eastern products, mainly halal, such as cosmetics, spices, batiks, scarves and vegetables.
You can also try some snakes and turtle eggs if you have the gut for it. You can also treat yourself to some authentic yet cheap Malay food in it vast food court. The market is, thus, a bustling microcosm of the multi-racial diversity of cultures that populate not just Geyang, but Singapore as a whole.
Opening Hours: Early morning
Location: 5 minutes from MRT Paya Lebar
Suggested Read: The Ultimate Palawan Beach Guide To Help You Plan Your Next Escape To Singapore
8. Wisma Geylang Serai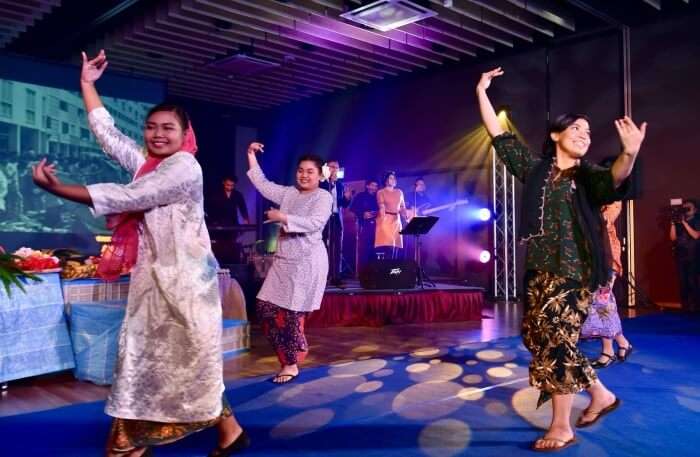 Image Source

This tourist spot in Geylang, Singapore is a cultural and heritage space, built recently. It comprises the South East Community Development Council office, a senior care centre, family service centre, Malay Heritage Gallery, and arts facilities and has therefore been claimed as Singapores first social Hub.
It organizes musical events as well.
Address: 1 Engku Aman Turn, Singapore 408528
Contact: +65 6747 2919
Suggested Read: 10 Scenic Gardens In Singapore For A Heavy Dose Of Awesomeness
9. Char Yong (Dabu) Association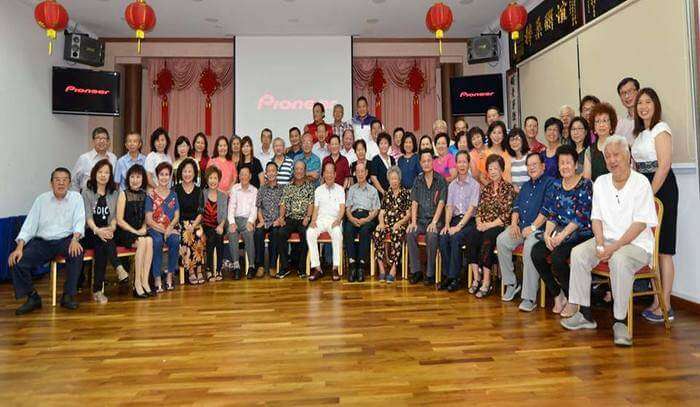 A multi-storeyed building, it was built and founded in 1858, more than a century old (although the building has been renovated several times). This association is of significant cultural and historical importance, as it is one of the oldest Chinese associations in Singapore founded by the earlier descendents of Dabu, China who settled in Singapore.
One can see the names of the founding members of association inscribed on the original tablets of the buildings walls.
10. Geylang Fire Station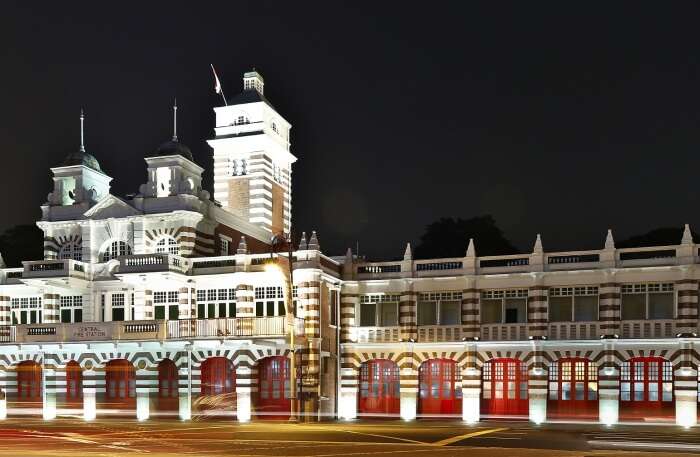 Image Source
Having opened in 1929, this is the second-oldest fire station in Singapore, although it is no longer in operation. Closed down in 2002, it is still an attraction for tourists who have an aesthetic inclination for buildings with remarkably bright, red doors.
It is now leased out to industrial spaces but you sure can head over for a visit.
Address: 29 Paya Lebar Road, 409005
11. The Former Queens Theatre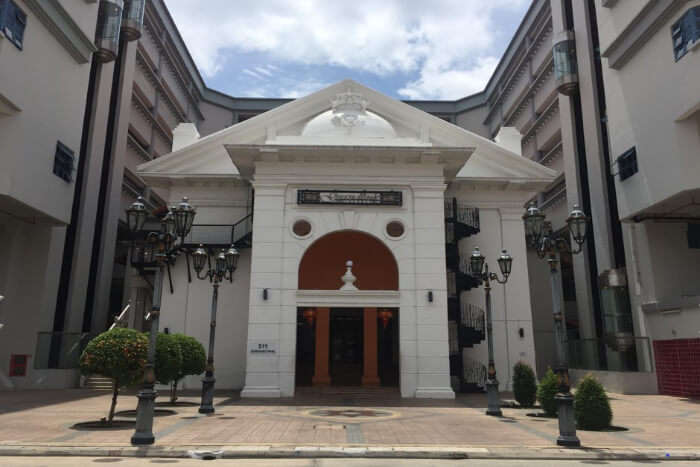 It was known as Wembley Cinema and Ritz Cinema before it landed the name, Queens Theatre from 1939. It used to be the main entertainment hub from 1930 to 1982 when people would come to catch a film or two.
Although, now, it has become a historical landmark displaying Palladian and Renaissance style architecture signaling Britains colonial occupation of the country.
Address: 511 Guillemard Rd, Singapore 399849
12. Chinatown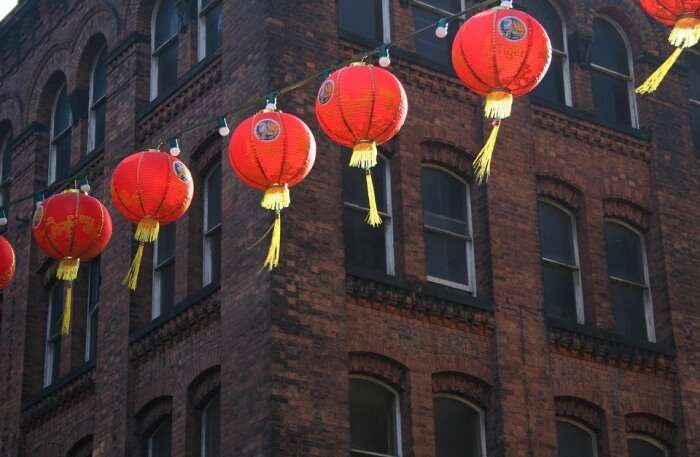 Image Source
This new Chinatown is different and separate from the official Singapore Chinatown. Considering the official Chinatown too touristy, the increasing number of Chinese immigrants made their own to reflect more authentically the concept of Tang Ren Jie.
The famous painter Xu Bei Hong had made the Nanyan Huang Clan Association his residence for a while. It is home to an increasing number of businesses owned by Chinese immigrants and also has many Chinese restaurants serving authentic cuisines.
Further Read: Top 5 Water Parks In Singapore That Let You Beat The Heat In The Lion City, In Style!
Geylang is therefore a melting pot of a myriad cultures and races that are bustling with energy at all times, as has surely been made evident with the places listed above. Make sure you do not miss any of these places to visit in Geylang when you're spending your vacation in Singapore.
Frequently Asked Questions About Places To Visit In Geylang
What is the best in Geylang?
Geylang is an offbeat destination in the central region of Singapore which is often referred to for the oldest Malay settlements, Geylang Serai and their influence on the local culture. While it is a great area to explore for its history and old-world charm, it is also the the eastern fringe which is home to Singapore's legal red-light district.
What is there to do in Geylang at night?
If you are planning to enjoy the nightlife in Geylang, some of the places that you can visit for a memorable experience are Gardens by the Bay, Chinatown and Orchard Road.
What is Geylang Serai known for?
Geylang Serai is home to the Malayas community in Singapore known for their lemon grass plantations who would trade them as cash crops as they settled around the Singapore River mouth in the 1840s.
Is Geylang safe at night?
Geylang is a perfect place for nightlife activities which makes the sundown busy with a lot of tourists and local out and about. Whether you are travelling solo or with a group of friends, make sure you plan for the transportation and the places you want to visit to have a safe experience.
How much does it cost to visit Geylang?
Being one of the more offbeat places in Singapore, if you are planning to visit Geylang for 24 hours or less, it will cost you around $200.
People Also Read:
Places To Visit In Punggol Places To Visit In Singapore Places To Visit In Bukit Panjang
---
Looking To Book An International Holiday?
Book memorable holidays on TravelTriangle with 650+ verified travel agents for 65+ domestic and international destinations.
---