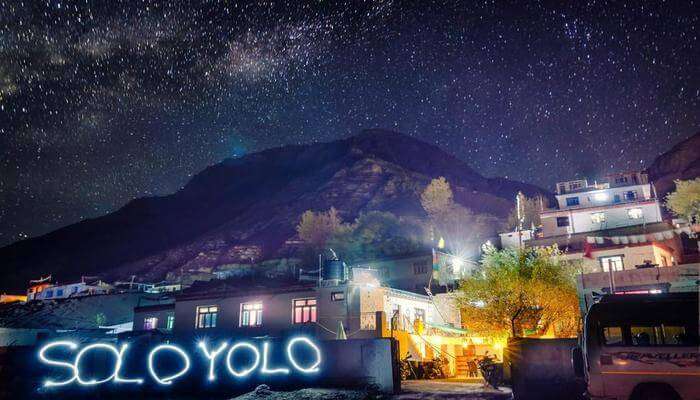 Nestled in the imperial Lahaul and Spiti Valley of Himachal Pradesh, Kaza is located at an elevation of 12,500ft., on the bank of the Spiti river. An abode to numerous astonishing monasteries, gompas, forts, and lakes, Kaza is enveloped by huge mountains, beautiful landscapes, and streams. These homestays in Kaza are a popular choice of accommodation as these places feel homely and introduce you to the local culture. Along with being the perfect destination for admiring the scenic beauty of nature, it is also the best spot for all the adventurers. Kaza is linked to the old-established villages of Spiti valley that profoundly portrays its rich culture and folklore.
Being split up into Kaza Khas and Kaza Soma, which are also known as old and new Kaza regions, respectively, Kaza has a lot to be explored. Hence, to exclusively peek through this incredible place, you surely need a considerable number of days. To relax your feet after your tour or trek, homestays in Kaza are the best nooks to head to. They bestow you a warm and cozy setting in the frigid climate of Kaza.
Homestays In Kaza
Here are some of the best homestays in Kaza where you can check-in during your trip.
Tendel Homestay
Solo Yolo Homestay
Norling Homestay
Tethys Himalayan Den
Spiti Sojourn
Komik House
NotOnMap – Sonam's House
Mangalam Guest House
1. Tendel Homestay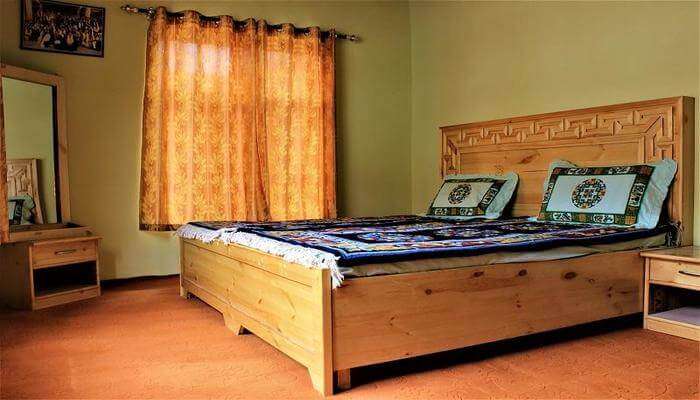 Located 15 km away from Kaza in Sumling farmland, this is one of the most beautiful homestays in Kaza. The property constitutes of standard twin bedroom, along with a living room, lawn, and seating area, thus being ideal for group stays. From here, you can enjoy the fantastic views of the mountains that will surely leave you awestruck. Besides this, Tenel Homestay provides you with free parking, housekeeping, kitchenette plus room, and first-aid services. The humble and polite staff is always on the spot to assist or guide you throughout your journey. Moreover, it also arranges for exciting outdoor activities, such as tours and treks or a bonfire to add warmth to your chilled evening.
Location: Sumling Post Office Rangrik, Teh Spiti Lahaul and Spiti (15km away from Kaza on Manali- Kaza road), Kaza, India
Tariff: 1,990 INR/night
Must Read: 17 Stunning Lakes In Himachal Pradesh That Are Absolute Natural Wonders
2. Solo Yolo Homestay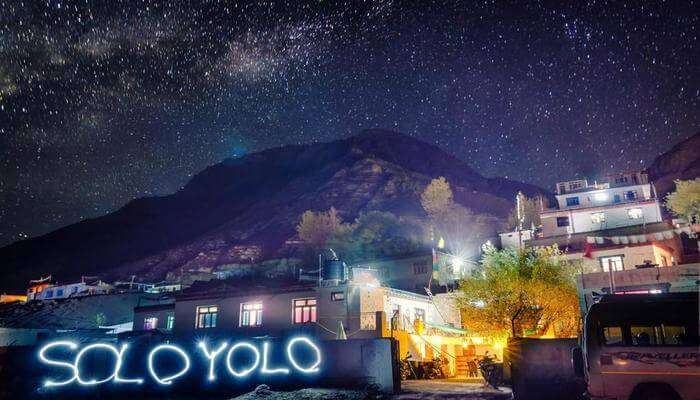 Being among the top homestays in Kaza, this is the most desirable place for all the solo-travelers, especially for the bike riders who wander all the way through to reach this remarkable location — Kaza. It comprises of a dormitory room, including ten beds and a shared washroom. The beautifully set ambiance lets you connect to the fellow visitors and share stories and experiences of your journey so far. Whether you want to curl up in your bed or sit beside the bonfire to let the solace soak in, this best homestay in Kaza has got it all covered for you. Besides, to fuel up your vehicle, you can head to the nearby fuel station, which is just at a distance of 100 meters from the stay.
Address: Near Police Station, Kaza, Tehsil Spiti district, Kaza, India
Tariff: 503 INR/night
Suggested Read: Himachal Pradesh In May: 16 Places To Escape The Busy Life In Summer 2022
3. Norling Homestay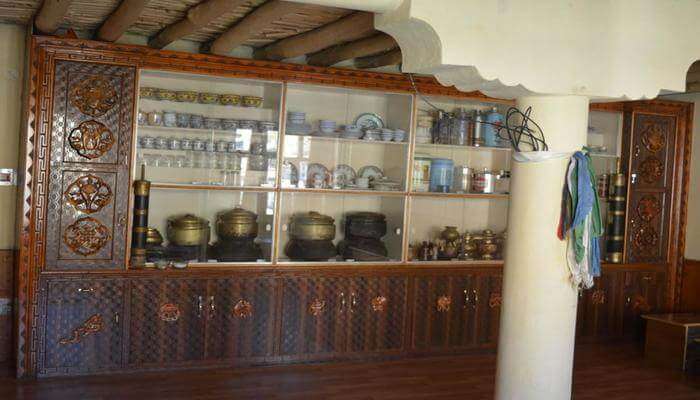 If you are touring with your folk, it is a decent homestay in Kaza for families. This location provides you with well-furnished rooms with attached bathrooms, a telephone, and a refrigerator, along with housekeeping and room services. The balcony and terrace area let you have a glance at the nearby locales and the natives of Kaza. Further, for your convenience, it also offers paid pickup drop transfer facility. The house is equipped with a power backup, plus installed CCTV cameras to ensure the security and safety of the visitors 24×7. Besides this, you can sort out all your queries at the reception area regarding your stay.
Address: Village and PO Kibber, District Lahaul Spiti, Himachal Pradesh, near Kibber bus stop, 172114, Kaza, India
Tariff: 2,964 INR/ night
Suggested Read: 11 Travel Tips For Himachal Pradesh That Will Come In Handy For Your Trip In 2022
4. Tethys Himalayan Den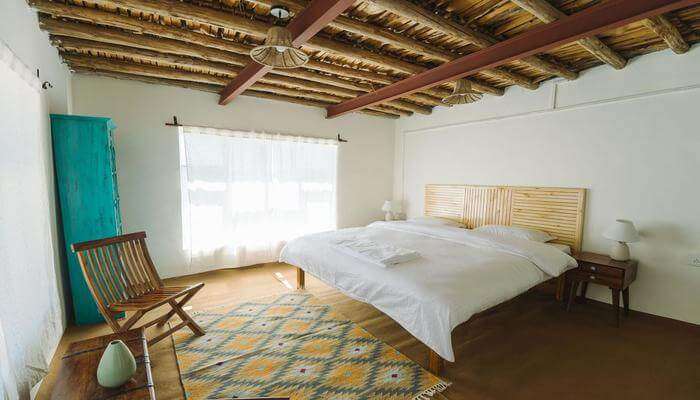 When it comes to comfort, this finely designed abode feels no less than a home. It constitutes of spacious open rooms featuring breathtaking mountain views. The accommodation provides you with dining and seating space, along with a garden area for all your outdoor activities. From thrilling hiking to walking or biking tours, the house organizes all sorts of fun and entertainment activities for their guests. Adding on to this, you can also enjoy several delicious English, Irish, or Continental platters and drinks served under the restaurant attached to the property.
Address: Tethys Himalayan DEN Chicham Khas, Kaza, India
Tariff: 1,890 INR/ night
Suggested Read: 15 Places To Visit In Himachal Pradesh In December 2022
5. Spiti Sojourn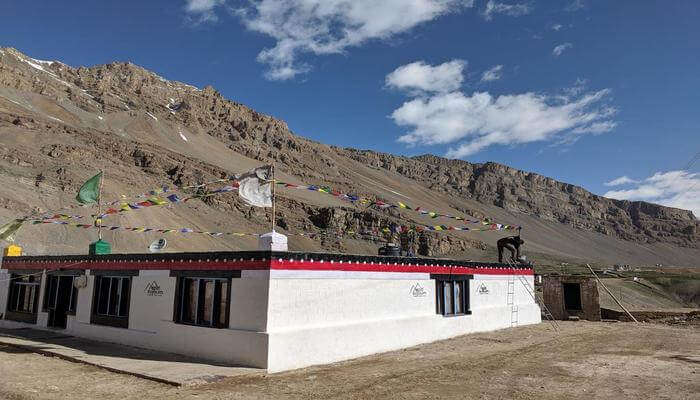 Situated in the lap of Spiti Valley, this homestay is counted under the top homestays in Kaza hosted by Tenzin Namka. Its dwelling features an exotic location surrounding the pleasant scenes of the lovely Pangmo village, near Kaza. This stay includes clean, tidy rooms along with a shared lounge and TV area for your comfort as well as entertainment. Nevertheless, though being amongst the cheap homestays in Kaza, Spiti Sojourn is an all in one homestay, camp, plus a Dhaba that serves you with some of the famous delicacies of Kaza. However, after gobbling the flavorful food and resting your feet, you can spend some of your leisure time shopping through the Kaza supermarket located around the property.
Address: Dhar Pangmo, Himachal Pradesh, India
Tariff: 788 INR/ night
Suggested Read: Top 12 Waterfalls In Himachal Pradesh That Treat Your Eyes To The Best Sights Ever!
6. NotOnMap – Komik House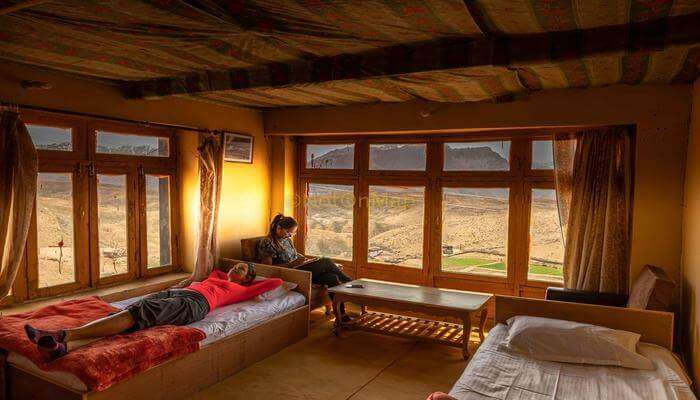 Featuring the trickling river and high cliff panoramas, this comes as the most convenient place while hunting for homestays in Kaza for families. It furnishes carpeted neat and tidy rooms along with the private bathrooms. The site also provides separate rooms for the families as well. Being a pet-friendly space, this homestay in Kaza, Himachal, also welcomes your pets with the utmost compassion. The friendly and cooperative staff offers you a 24-hour front desk service, plus a free parking facility.
Address: Spiti, Kaza, India
Tariff: 1,500 INR/night
Suggested Read: Kerala Vs Himachal For Honeymoon: Which Is The Ideal Retreat For Newlywed Couples?
7. NotOnMap – Sonam's House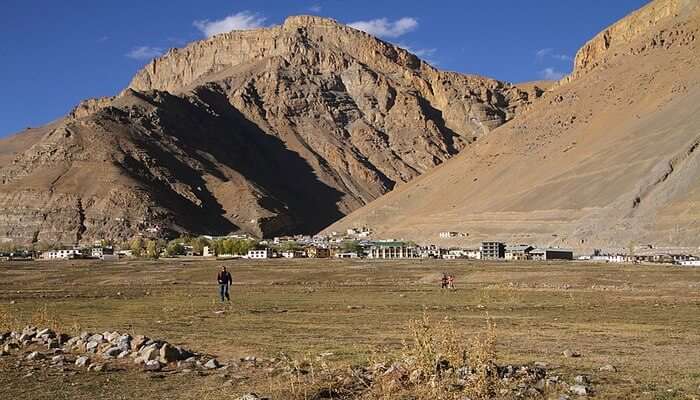 Located off from the hustle and bustle of the recently evolved tourist place of Kaza, this is the perfect dwelling to stop by while looking out for homestay in Kaza, Himachal. The squeaky-clean rooms with attached balconies bestow you with appall sight of the Spiti river and the tremendous Langza mountain. Moreover, the open terrace has also been arranged with conventional seating to overview the eye-pleasing sites. The welcoming hosts serve you with the mouthwatering local dishes of Kaza and guide you to places that are worth visiting during your trip.
Address: Kaza village, Himachal Pradesh, India, 172114
Tariff: 1,505 INR/night
Suggested Read: A Guide For Trekking In Solan Valley: A Paradise For Trekkers In Himachal Pradesh!
8. Mangalam Guest House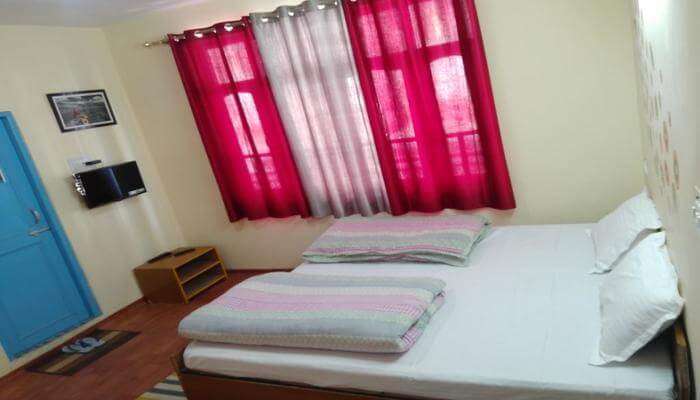 Located 450m away from the town center, this is an excellent spot to stay at. However, if you are on a tight budget and searching for cheap homestays in Kaza, then it is the most viable option to go with. The residence provides you with clean and comfortable rooms, along with attached bathrooms that are well equipped with all the necessary accessories and a TV. Yet, for pastime, you can also move with the exciting board games and puzzles. Also, you can head towards the fascinating Zomba cafe/bar nearby to spend some quality time.
Address: Near new petrol pump, Opposite Kaza Monastery, Kaza, 172114, India
Tariff: NA
Suggested Read: 12 Kinds Of Himachal Pradesh Cuisines That'll Entice You To Come Again
Travel Tips For Kaza
The best time to visit Kaza is during summers i.e., from April- May as the weather is extremely cold during winters and is unfavorable for any outing. Also, do get along all your heavy woollens as the climate can often be frigid at times.
Primarily, planning a solo trip to Kaza is not advisable as it is located at high altitude plus the roads are also not well maintained and chances of landslides are quite often.
Be prepared for detaching yourself from the connectivity via phone as you'll hardly be able to get any network coverage area. You can reach out to telephone booths in case of emergencies or anything as such.
Don't miss out on trying cuisines like Thukpa and several varieties of momos and other delicacies of Kaza. More so, wander through the villages of Kibber and Tabo where lies one of the major spiritual attractions of Kaza – The Tabo monastery.
Further Read: 10 Best Homestays In Himachal Pradesh That'll Make You Fall In Love At First Sight!
With thousands of tourists making their way to Spiti Valley, Kaza turns out to be a viable option to plan your stay. While at it, you must get along with an early booking at one of the homestays in Kaza so that there's no inconvenience at the last moment. Alongside this, be watchful for the favorable timing of the year when it comes to finalizing your Kaza trip. Summers will showcase the best Kaza has got for you, so visiting during May to August should bestow the most promising experience.
Frequently Asked Questions About Homstays In Kaza
Which homestays in Kaza are good for couples?
Sakya Homestay, Norling Homestay, Lara's Homestay, and Tashi homestay are some of the places that are good for couples.
Which homestays in Kaza offer nice views?
Spiti Sojourn, Solo Yolo Homestay, and Komik House are a few of the homestays in kaza that offer nice views.
What are the popular places or landmark to book homestays in Kaza?
Sakya Tangud Monastery and Kaza Police Station are some of the famous landmarks to book homestays in Kaza.
What remains the pricing of homestays in Kaza?
Depending on the luxury options you're scouring, homestays can be booked starting from INR 600 and go all the way to 15,999. This means you must have a well-articulated idea of the facilities you require before taking the plunge.
---
Looking To Book A Holiday Package?
---
Comments
comments